Early Vote Count Exceeds 1,500 For School Debt Exclusion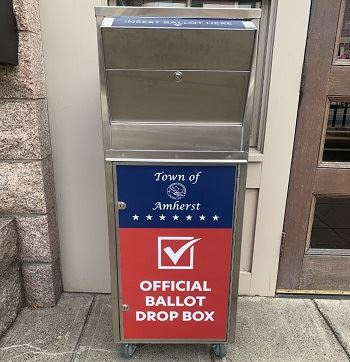 1,585 votes have been cast in advance of the May 2 election day for a debt exclusion override vote to fund a new $97 million elementary school at Fort River.
In a report to the Town Council dated May 1, 2023, Town Manager Paul Bockelman reported that, as of Friday April 28, 1,105 of the 1,750 mailed ballots had been returned (63%), 464 people had cast their vote in person during the four days of early voting, and 26 absentee ballots had been received. This represents 11.7% of the 13,551 registered voters. The vote requires a simple majority in favor to pass.
Almost all of the letters published in the press in the run up to the May 2 election have been highly supportive of the project. The plan is for a new three-story, 105,750 square foot school for 575 students in grades K-5, at the site of the existing Fort River school. It is designed to be an all-electric net-zero energy building, heated and cooled with a highly-efficient ground source heat pump system, and powered by an estimated 650 kW roof and parking lot canopy-mounted solar array. 
Funding for the project will be a combination of an approximately $40 million state grant, $1.6 million utility incentive, $5 million in capital reserves ($3-4 million of which is expected to be recouped through federal energy incentives), $700,000 in Community Preservation Act funds, and approximately $50 million in borrowings to be repaid through increased property taxes over a 30-year period.
If the vote passes, the project design team will launch a series of building subcommittee meetings to garner deeper input on the site and building design, as well as energy use reduction aspects such as kitchen equipment choices. Construction is expected to begin in August 2024 and be completed for fall 2026.
Registered voters who haven't yet cast their ballots can do so at their polling station between 7:00 a.m. and 8:00 p.m. on Tuesday, May 2.