What Is Amherst's Top Spending Priority? The Answer May Surprise You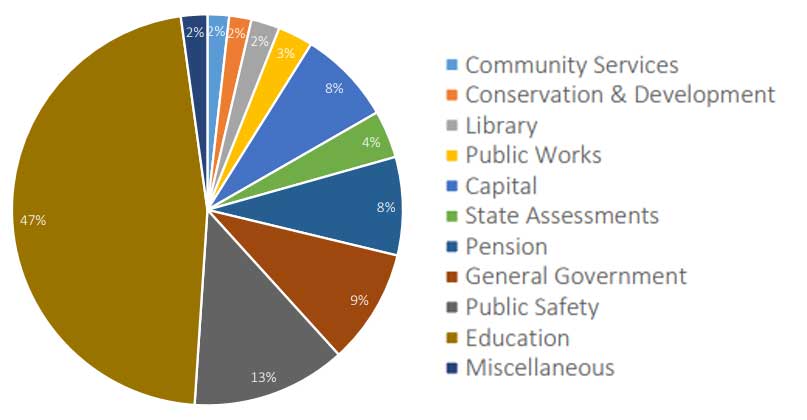 What is Amherst government's highest spending priority?
Many will be quick to answer "education." Amherst is home to three prestigious institutions of higher ed, the excellence of our public schools has long been a source of pride and a reason many people choose to live here, and, like most Massachusetts communities, education is by far the largest category of spending in our annual budget.
However, a dive into Massachusetts Department of Revenue (DOR) statistics reveals that, compared to municipalities across the state, education is not our most generous spending target.
Consider Amherst's investment in public education.
The DOR's Division of Local Services (DLS) publishes a dashboard showing trends in general fund revenues and expenditures for major government spending categories across all 351 communities in the Commonwealth. The DLS describes the general fund as the overall account which cities and towns maintain and use to pay for government services.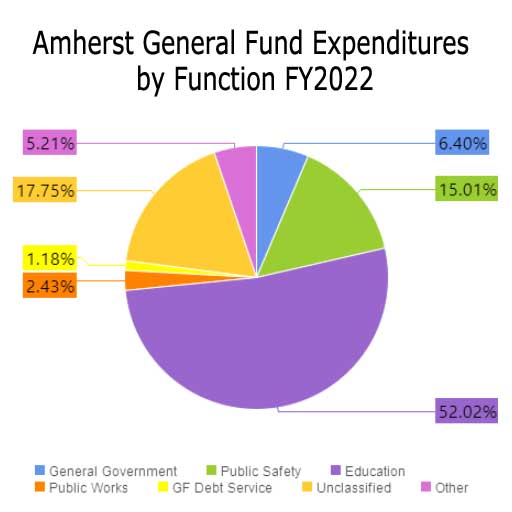 In FY2022 Amherst spent $40.9 million on public education out of total general fund expenditures of $78.6 million , or 52.0%. On average, Massachusetts municipalities used 49.9% of general fund expenditures on education, putting Amherst a little over the average in education spending. Amherst ranks 160th in the state for percentage of general fund expenditures allocated to education.
Out of the 20 communities in Hampshire County, Amherst ranks 9th in the percentage of expenses used for education. Huntington is highest in the county, at 67.9%, while Middlefield is lowest, directing 27.7% of its general fund expenses to education. The average education expenditure for all Hampshire County cities and towns is 49.0%. It is interesting to note that the two Franklin County towns in the Amherst-Pelham regional school district, Leverett and Shutesbury, apportion 60.7% and 62.1% of their general fund expenditures to education, respectively.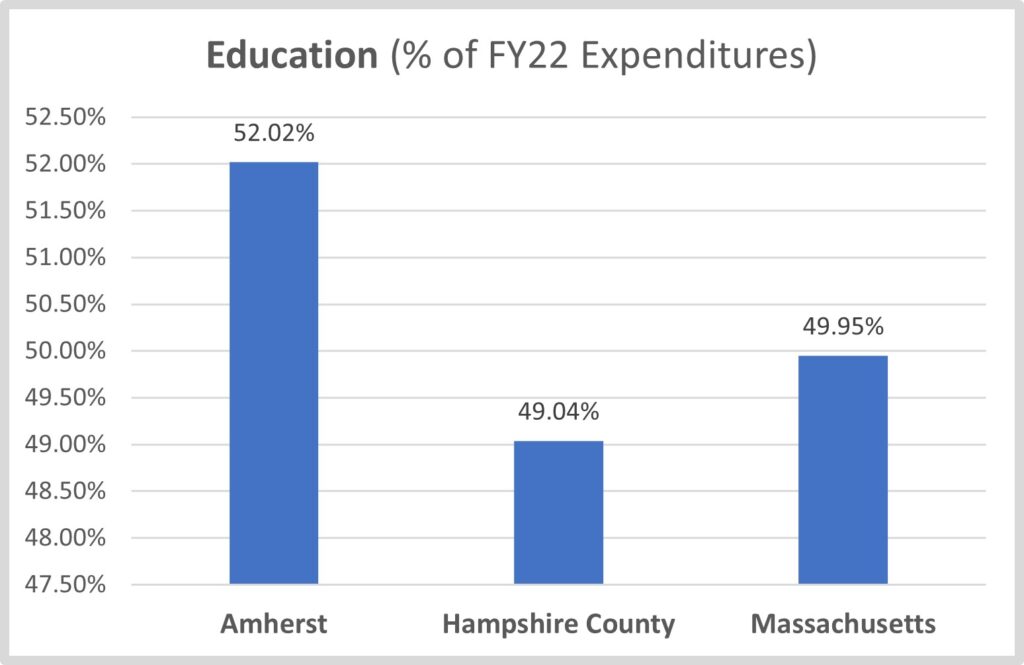 So, Amherst is moderately though not extremely generous in its appropriation of funds for education. There is another government service, however, where Amherst ranks close to the top in the state for percentage of funds expended. That is public library spending.
The DLS reports that Amherst's $2.1 million Jones Library appropriation represents 2.65% of its general fund expenses for FY22. These funds are used to pay the salaries of Library staff. Amherst ranks fourth in the state for percentage spent on libraries, after Wenham on the North Shore, and the Martha's Vineyard towns of West Tisbury and Chilmark.
Amherst library spending percentage is more than double the averages for Hampshire County (1.12%) and Massachusetts (1.11%) as shown in the chart below.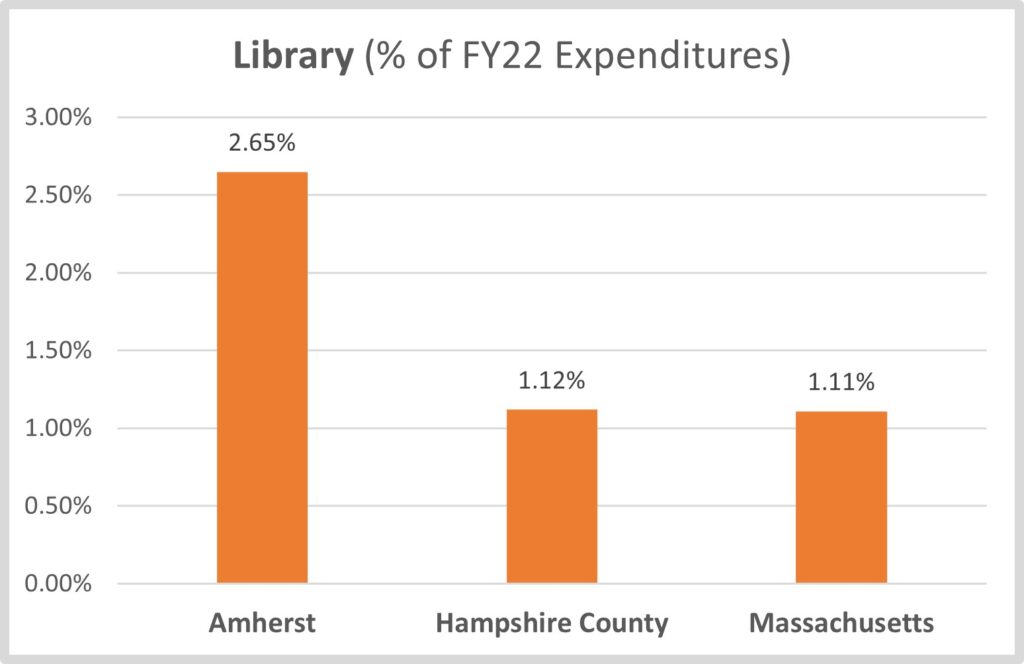 Note that the expense figures for both education and libraries do not include costs for building projects funded through borrowing. The DLS dashboard maintains a separate category for debt service.
Finally, the data shows that Amherst has been exceptional in the lack of spending it devotes to Public Works (roads and sidewalks). In FY22 Amherst dedicated 2.43% of its general fund expenses to Public Works – less than its library expenditure – which places it 6th from the bottom relative to all 351 Massachusetts communities. The state average is 8.47% of general fund expenditures spent on Public Works. In Hampshire County the average is 11.23% and Amherst ranks dead last.
May is the start of the review period for the FY24 budget recommended by the Town Manager. Throughout the month the Finance Committee will be meeting twice a week, on Tuesdays from 5:30-7:30pm and on Fridays from 1-4pm, and working on a version of the budget to be recommended to the Town Council for final approval. All meetings will be posted on the Town Calendar and will feature a public comment period.