Open Call For Artists: 8th Annual Juried Show At Gallery A3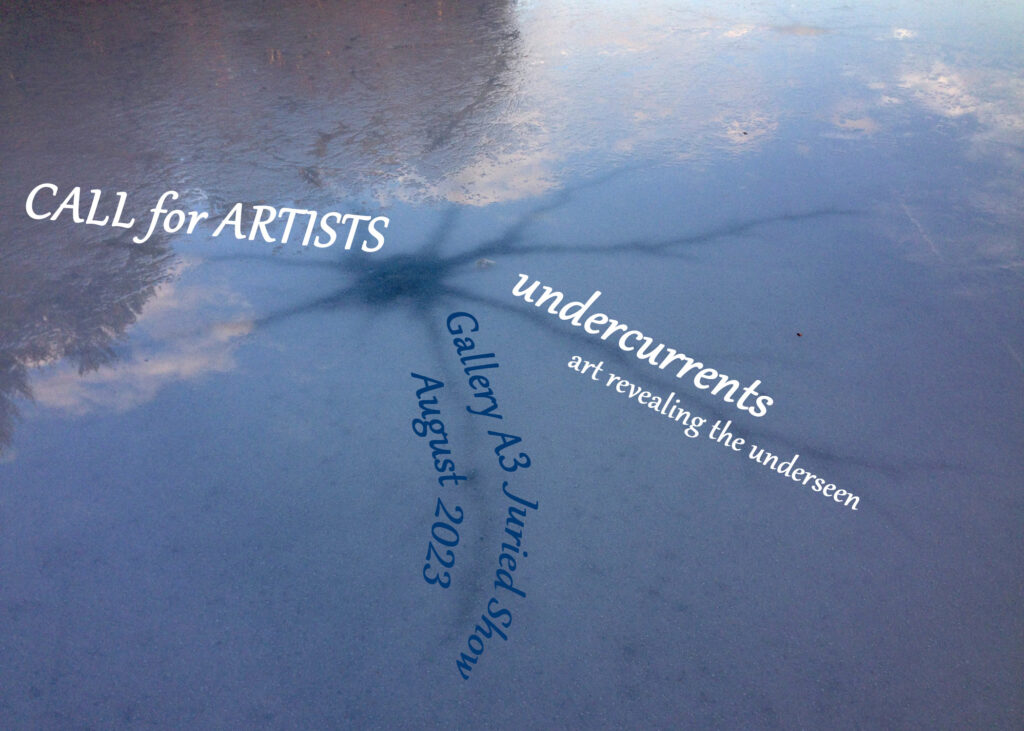 Source: Gallery A3

Gallery A3, 28 Amity Street 1D, announces an open call for artists for its 8th Annual Juried Show, "undercurrents, Art That Reveals The Underseen", to be held August 3-September 2, 2023. Submissions will be accepted May 15-July 1, 2023.
For the past seven years, Gallery A3's Annual Juried Show has offered local and regional artists an opportunity to exhibit their work in a downtown Amherst gallery and, in turn, gives the community a chance to discover artists who may be living just across town or just across state lines. This year, an exciting new development for the annual exhibit is the special theme of "undercurrents: Art that Reveals the Underseen", seeking art that illuminates the rarely seen and overlooked, reveals mysteries, or introduces us to new views of our natural world, human relationships, unknown histories, or crucial issues of today. The juror, Amanda Herman, is a multi-media artist and visual arts education curator at the University Museum of Contemporary Art (UMass). The Opening Reception for "undercurrents" is Thursday, August 3, from 5-8:00 p.m. and a free Art Forum, open to the public, is scheduled for Thursday, August 17, at 7:30 pm.
Guidelines For Submissions
May 15-July 1, 2023
Artists are invited to submit images May 15-July 1, 2023.  Fees: $38 for three entries, $7 for one additional entry, maximum four entries per artist. Art work must be no wider than 26 inches. Jury results will be posted online on July 15, and accepted art should be delivered to the gallery on July 30 and July 31. More information on how to submit work, or at ArtCall (after May 15th):https://gallerya3-8thannualjuriedshow.artcall.org
Juror Biography
Amanda Herman is a multi-media artist who works directly with communities and individuals to create films, photos, and public interactions that address complex social issues. She is the Education Curator of Visual Arts at the University Museum of Contemporary Art (UMCA) at UMass Amherst, where she designs educational programs with faculty across disciplines, trains students to be educators in the museum, advises graduate students in an annual fellowship exhibition, and plans the museum's public events. She co-teaches the UMCA student-led acquisition program, Collecting 101, and the accompanying public event, Vote for Art. 
She holds an MFA in Social Practice from California College of the Arts in San Francisco and has been a visiting lecturer of photography and Social Practice at Smith, Hampshire, Amherst, and Mt. Holyoke Colleges. She is Vice-President of the Board of Trustees at Historic Northampton and visual arts curator for The Art Salon and Florence Night Out. Her past projects can be found at www.amandaherman.com
About Gallery A3
A cooperative, contemporary fine arts gallery, Gallery A3 is in the Cinema Complex in downtown Amherst.  Current members include painters, sculptors, photographers, printmakers, and mixed media artists. During its 21-year history, A3 has been home to over 60 artists, mounting monthly exhibits and offering cultural events and community collaborations. The Gallery's opening receptions take place on the first Thursday of every month; Art Forums, free and open to the public, are scheduled on the third Thursday. This Art in Community outreach program is supported in part by grants from the Amherst Cultural Council, Pelham Cultural Council, and Springfield Cultural Council, all local agencies, which are supported by the Massachusetts Cultural Council, a state agency.