Community Event: The Power Of Dialogue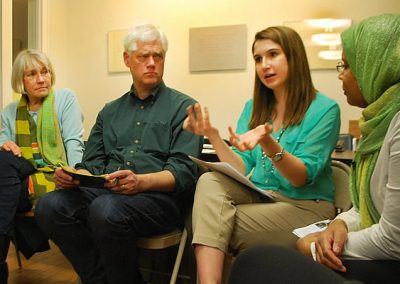 Source: Karuna Center For Peacebuilding

Karuna Center for Peacebuilding will host a free community event, "Bringing
the Lessons Home: The Power of Dialogue, Locally and Globally" on Sunday, June 11 from 3:00-4:30pm at the Amherst Women's Club. The event will bring community members together to discuss strategies for strengthening cooperation across divides, and building local resilience against rising political polarization, extremism, and hate. Two special guests will speak from their experience as leaders within
some of Karuna's current local and global initiatives:
Sam Camera, an Assistant Principal at Amherst-Pelham Regional High
School, will share insights from her role as a core participant in
Karuna's new Building Resilience Against Violent Extremism in Schools
(BRAVE Schools) project. BRAVE Schools works with participating middle
and high schools throughout Western Massachusetts to stop the spread
of violence and hate, and deepen their work with restorative
practices.
Seth Karamage, a Karuna dialogue expert and trainer with more than 10
years' experience in community peacebuilding, will be visiting from
Rwanda. Mr. Karamage will share insights from his role leading
community-based dialogue efforts within Karuna's Protecting Our
Communities Initiative (POCI) in Nigeria, as well as previously in
post-genocide Rwanda. POCI has established local peacebuilding systems
in 18 communities throughout rural Nigeria, amid rising threats from
extremism, insecurity, and the effects of climate change.
"We have so much to learn from peacebuilders around the world who are
facing many of the same challenges we are—whether we are talking about
hate and dehumanization toward minority groups, the rise of
authoritarianism, or climate change impacts," commented Karuna's
executive director, Polly Byers. "We constantly witness the power of
local communities to lead change, often through unlikely
collaborations. We look forward to discussing some inspiring examples
of successes and how we can work to address our current challenges at
home."
The event is free and open to all, with light refreshments; more
information is available at karunacenter.org/events. RSVP here (helpful but not required).
Karuna Center fo Peacebuilding, founded in 1994 by Dr. Paula Green, has used
dialogue-based strategies to drive local peacebuilding initiatives in
more than 35 countries, including the United States.