Communications Director Brianna Sunryd Leaving September 8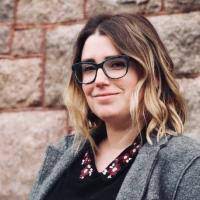 Director of Communications and Civic Innovations Brianna Sunryd will be leaving her position on September 8. Sunryd has worked for the Town of Amherst since 2007 when she was an undergraduate at UMass. With the change in government in 2018, she was named one of three community participation officers, and during the pandemic she helped expand the on-line offerings for the town. In addition, she has been the liaison to Amherst Media and has served on the International City/County Management Association Digital Strategy Advisory Board. She earned a Master's Degree in Public Policy and Administration at UMass in 2021.
As of September 11, Sunryd will be joining the Edward J. Collins, Jr Institute for Public Management at the University of Massachusetts, Boston. The Collins Institute was established by the state legislature in 2008 with the goal of "helping governments work better. "

Sunryd will be working remotely from her Amherst home. "Maybe I'll join a town committee," she said.
For more information, see this article in the Daily Hampshire Gazette.