DP Dough Returns To Amherst But Sign Design Questioned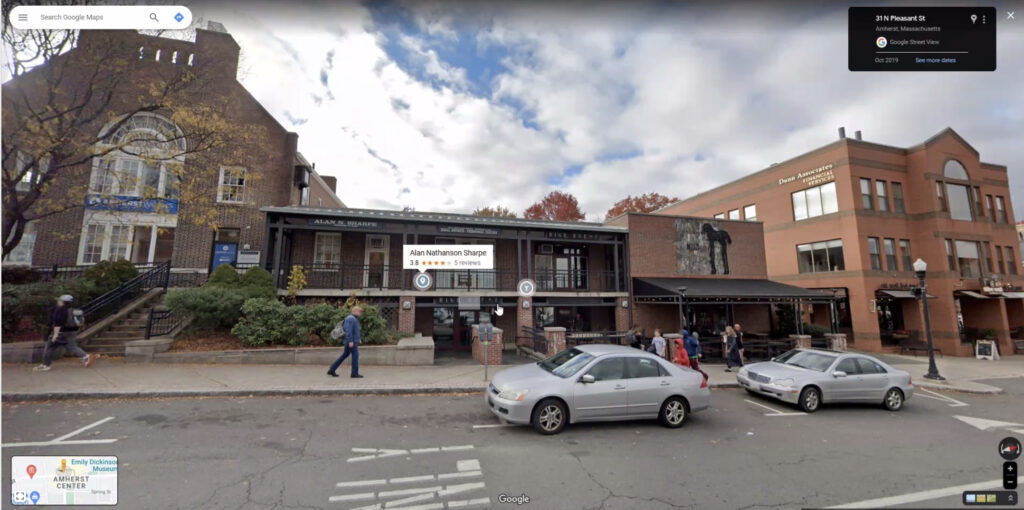 Report On The Meeting Of The Design Review Board, August 28, 2023
This meeting was held over Zoom and was recorded.
Present
Erika Zekos, (Chair), Catherine Porter, Lindsay Schnarr, Pat Auth (Historical Commission Representative), Planning Board Representative: vacant
Staff: Chris Brestrup (Planning Director), Rob Watchilla (Planner)
Board Sends Sign Design Back For Revision
DP Dough, which began in Amherst in 1987 and is now a national calzone franchise that recently returned to Amherst after a 10-year absence, has rented space in the lower level of the building that was once the First National Bank of Amherst and how is home to The Drake. All of the existing signs on the building have white letters on a black background and are of similar size and font (see above).
Robert Salvini, representing Sunraise Printing which is making the new sign (see photo below) appeared before the Design Review Board (DRB).The proposed sign is approximately eleven feet long by twelve inches high and made of quarter inch plastic to fill an existing frame.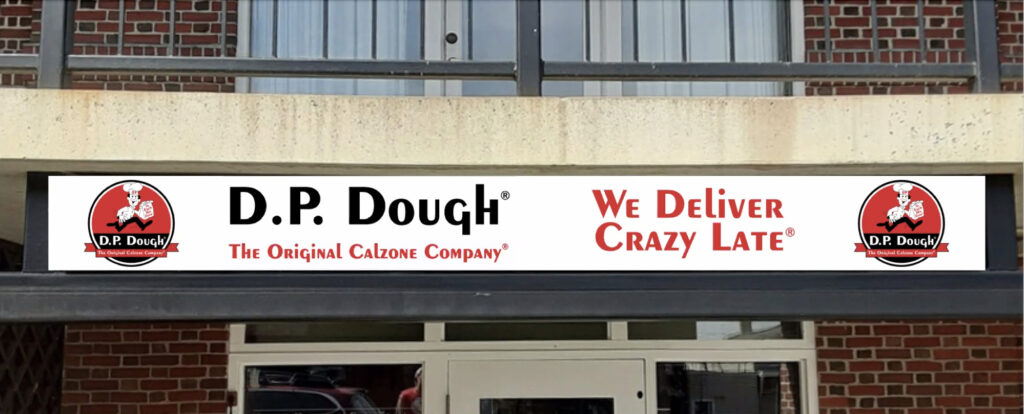 DRB member Lindsay Schnarr remarked that the stark white plastic against the aged concrete of the building is "too jarring—too harsh" and asked Salvini to consider a black background, so that it blends in with the other signs on the east facade of the building. Catherine Porter noted that DP Dough is a chain, and the sign contains their corporate logo. She noted that, given the location of the sign, it will certainly catch the eye of the public, even on a black background. Salvini countered that there is already a new sign for the White Lion Brewery on the same facade that is big and bright blue.
Erika Zekos and Pat Auth agreed with Salvini and attempted to find various ways to reach a compromise that retains the logo while blending in with what exists on site. Ways to improve the design by mitigating the stark white background of the logo were discussed in order to blend in with the aesthetic of the site, while, at the same time, recognizing the board's role in supporting downtown businesses.
Salvini agreed to talk to the company owners regarding three possible design options for the sign that included ways to make its white lettering on black while retaining the corporate logo. In order for the lessee to avoid waiting a month for a decision at the next DRB meeting, it was agreed that he would reply to the Chair about the owners' preferred sign design by email. It was unclear if the chair alone would approve the design sent by email, but discussing the proposal with other DRB members would be a violation of Open Meeting Law.