How A Strip Mall In Hadley Became The Center Of The Modern Day Labor Movement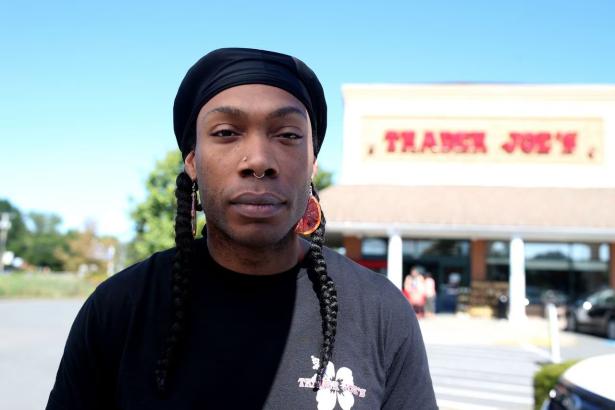 Workers At Three Stores All In A Row In This Western Mass. Town Are Forming Unions.
by Diti Kohli
The following article, "How A Strip Mall In Hadley Became The Center Of The Modern Day Labor Movement" appeared in Portside on September 12, 2023. It appeared orginally in the Boston Globe on September 7, 2023.
Picture a sprawling suburban strip mall, and Route 9 in this Western Massachusetts town may come to mind. The busy commercial corridor is dotted with curb strips and parking lots, with neatly painted lines and weeds pushing through cracks in the asphalt. National brands fill the low-lying storefronts one after another: Home Depot, Whole Foods, Marshalls, Ulta.
But a half-mile stretch of the roadway between Amherst and Northampton is unusual for one reason: It has become a hotbed for labor activism.
Starting last year, workers at three big-box stores — Trader Joe's, Barnes & Noble, and Michaels — formed unions in and around the Mountain Farms Mall. Each became the first freestanding location in their respective national chains to organize, transforming an anonymous shopping center into a hub of the next-generation labor movement.
"A lot of people don't expect this to happen in Hadley," an agricultural hamlet better know for its asparagus farms and flower stands, said Jamie Edwards, president of Trader Joe's United and a night crew member at the grocer. "I mean, why would it happen in this small town with as many cows as humans? It's just that here, people saw what was possible."
The simplest explanation for the boom is word of mouth, said Clare Hammonds, a professor of practice at the University of Massachusetts Amherst Labor Center.
In the private sector, unionization was traditionally reserved for industries like coal or construction, where skilled workers could organize en masse for better pay and working conditions. But since COVID struck, service and retail workers have taken cues from one another and started to organize industries typically seen as lower-skilled and more transient. It's a big reason why the number of unionized workers nationwide grew by 2 percent last year, according to the Bureau of Labor Statistics.
"Call it a contagion effect with labor activity," Hammonds said. "When workers actually win a union and start that process, it raises expectations at nearby places that are similar in a sense that they're corporate retail jobs."
That story matches Maeg Yosef's experience to a tee. Early in the pandemic, the 42-year-old Trader Joe's employee felt that the company had neglected safety standards and withheld information about government-subsidized COVID sick leave from her and her co-workers. Those complaints bubbled inside her when she watched the NBC sitcom "Superstore" and saw the characters unionize, and again when Starbucks baristas organized at one location after another nationwide. If they can do it, Yosef thought, why can't we?
Early last year, she and Edwards introduced the idea of a union to their Trader Joe's colleagues. By that July, the vote came down 45-31 in favor. Their drive inspired the Barnes & Noble workers across the street in May; Barnes & Noble gave hope to Michaels five doors down in August; and so on.
"We can't take credit for all of it," Yosef added. "But when those folks say they're inspired by what we did, it feels good. What comes of it is this trio of solidarity. We may not talk all the time, but we support each other on social media. We go to each other's rallies. We see each other in the parking lot."
Workers and researchers alike said the culture of Hadley is a factor, too.
It helps that the Pioneer Valley is home to five colleges — UMass, Mount Holyoke, Hampshire, Smith, and Amherst College — and thousands of progressive students, said Drew Weisse, an organizer at UFCW Local 1459, who represents workers at both Barnes & Noble and Michaels. Many retail workers are college students or recent graduates, educated about the economy and the dizzying cost of food and housing. Add that to persistent worries about higher education debt, and you're left with a contingent of radicalized young people, ready to demand more.
"They have little to lose when going for something like this," Weisse said. "The alternative is to take minimum wage and just hope. They're done hoping."
Just ask Peter Boots-Faubert, a framer at Michaels who graduated from UMass Amherst last year with a stockpile of knowledge about political activism, union busting, and the intertwined history of labor and folk music. When a union began to surface, Boots-Faubert jumped in "without a thought."
Or Alex Sussman. The 19-year-old cashier at Michaels and part-time student at Holyoke Community College noticed what needed to change at work immediately after starting there in November. The company schedules employees erratically and provides scant training, particularly when it comes to janitorial duties. On top of it all, Michaels wages sit below the $16 to $18 averages given to workers at nearby stores, Sussman said.
(Representatives for Michaels did not respond to requests for comment.)
"I'm a Gen Z college student," Sussman said. "I feel like the world is going down in flames around me, and I don't have much hope for the future. Going to another job is not going to change anything. But I can change my work and make it better for the people working there now and the people who work there in the future."
And they're doing it in a place with a deep history of labor activism. Western Massachusetts was once at the forefront of the abolitionist movement and often positions itself at the forefront of the crusade on LGBTQ+ issues. Thousands of Stop & Shop workers in Massachusetts have long been organized, and growers and trimmers at the Pittsfield cannabis company Berkshire Roots joined a union in 2020. As far back as the early 1900s, the region burst with union activity, said Elisabeth Armstrong, a professor of women and gender at Smith College.
That's when Western Massachusetts was a hub for metal workers, making everything from cutlery to weaponry in the Connecticut River Valley. By the 1930s, those skilled employees turned to the United Electrical, Radio and Machine Workers of America union, Armstrong added. And the most surprising part? They avoided a "closed-rank system" and included everyone — women, immigrants, and employees of all races.
The union eventually weakened, but "the concentration of UE union workers created a kind of radicalism that permeated the culture," said Armstrong, a two-decade resident of the region. "When you live here, you can feel the old pro-union base. It's quiet and subtle, almost bubbling below the surface."
Now, many of the Hadley workers hope that spirit perseveres as Michaels employees get ready to vote on forming a union next week. And workers at Trader Joe's and Barnes & Noble are weeding through the difficult process of negotiating their first contracts, each against a company with the time and money to drag things out.
Trader Joe's workers have also filed multiple complaints against the company with the National Labor Relations Board, alleging it bargained in bad faith and terminated a union employee without cause. (The company did not comment on the allegations.)
Yet hope persists for a fairer Hadley, where the everyday worker is king. Clarke Daniels, a Barnes & Noble senior bookseller, imagines a future where the town turns into a union mecca, where the rural mall among the stables and barns becomes a destination of thousands of organized workers — perhaps at the Marshalls or Panera Bread.
"My dream," they said, "is for every store in that plaza to be union."
---
Diti Kohli can be reached at diti.kohli@globe.com.
Follow her @ditikohli_ .