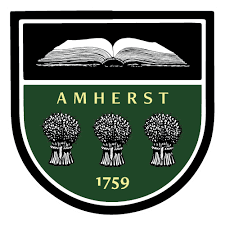 Source: amherstma.gov

Editor's note: Town Manager Paul Bockelman submits a comprehensive report to the Town Council, usually at the first Town Council meeting of each month. The reports, usually 9 to 15 pages in length, provide up-to-date information on what is happening within and across town departments. The Manager's Report is usually one of the last items on the agenda and is often taken up late at night, leaving little time for Bockelman to do more than mention a few highlights and this is usually all that gets entered into the Council minutes. What follows is a complete, unedited version of the Town Manager's Report. All Town Manager Reports are available here on the Town's website

All Town Manager Reports are available on the Town's website here: Town Manager Reports
TOWN MANAGER
• Outreach:
• Cuppa Joe with Paul:
▪ We had a Cuppa Joe with Paul on Friday, September 8th with special guest Brianna
Sunryd. We held it outside under a tent in Sweetser Park and had a great turnout.
▪ The next Cuppa is scheduled for Friday, October 13th; special guest and location to be announced.
• Community Outreach Officers:
▪  CPOs will attend the Well Being Fair at Amherst College on Friday, September 15th  – to encourage the Amherst College Community to "Get Involved!". Staff will offer information about voter registration, volunteer opportunities, polling information, and sign-ups for safety alerts.
▪ CPOs are organizing a robust Town government staff presence at the BID Block Party on Thursday September 21st. Multiple groups and committees will be represented in front of the Fire Station. Please stop by and say hello!
DEPARTMENT UPDATES
• Administration and Finance
o Human Resources:
▪  Public Health Director Search: The appointment for the Public Health Director is on the Town Council's agenda on Monday. If approved, the Public Health Director will begin her duties on October 2nd.
▪ Town Manager Performance Review: The Human Resources department will again offer support to the Town Council in the management of the performance review of the Town Manager.
▪   Finance Director Search: The Human Resources Director will also be initiating the search for a new Finance Director after the position description is updated and reviewed.
Communications Director: We will be initiating the search for a new Communications Director after reviewing and updating the position description.

Police Chief Search
We have enaged the professional search firm GovHR Inc
https://www.govhrusa.com/ to conduct outreach to the community, develop a position profile, and support the Human Resources Director in advertising and recruiting; to develop interview standards and questions; and to conduct a background check on the appointed candidate.
• We are seeking public comment on the qualities and characteristics the community would like to see in a Police Chief for the Town of Amherst.
• We have scheduled the consultants to meet with members of the community in person on Monday and Tuesday.
•  There will also be times for one-on- one meetings for members of the Town Council, the Community Safety and Social Justice Committee, and the Human Rights Commission on Monday- Wednesday, September 18-20.
•  There will also be two public forums. Both will be drop-in sessions that will allow members of the public to stop by at their convenience:
o One will be on Tuesday, September 12th at 9:00 a.m. in the Bangs Community Center;
o One will be on Tuesday, September 12th at 6:00 p.m. in the Jones Library.
•   There is also an online Public Feedback Form people can fill out on the Police Chief Search page, which can be found here: www.amherstma.gov/apdchief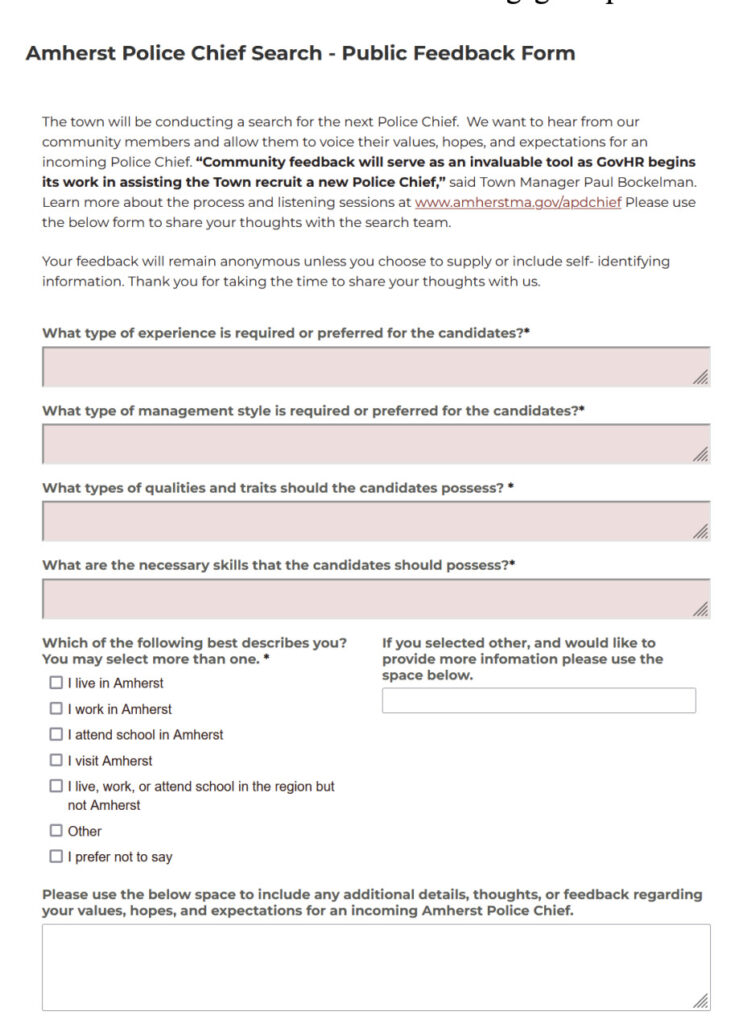 o Finance:
▪ Staffing:
• I have appointed Comptroller Holly Drake and Treasurer/Collector Jennifer
LaFountain as co-interim Finance Directors.
• Clerk of the Council Athena O'Keeffe will take on a leadership role in the budget development process. Working with the co-interim Finance Directors and me, Athena will coordinate and review department budgets and work on developing the final budget documents. This is an excellent opportunity to expand skillsets. I am very grateful to Athena, Holly, and Jennifer for stepping up to take on these additional tasks.
▪   Budget: The Finance staff and Clerk of the Council are finalizing the budget deadlines and tasks as we start to move into our budget season. And, yes, it does seem like we just finished our last budget season! (At least, that is what our department heads said! I will provide you with a full calendar in the near future with all of the events and timelines for the preparation of the Town Council's financial guidelines and the development of the FY25 Town budget.
▪ Audit: The Town's auditors are engaged in their preliminary field work where they select a specific department and audit financial actions in that department. The auditors are scheduled to be in Town during the weeks of November 6th and 27th.
▪ Community Fellow: Our Local Finance Commonwealth Fellow, Ray Than, concluded his engagement with the Town under the mentorship of Finance Director Sean Mangano. He made his final presentation to Town staff and others on August 25th.
▪   Cybersecurity: The Town has been aggressive in ensuring the Town's information technology infrastructure is protected and staff are trained to avoid unwanted intrusions. We continue to receive every more sophisticated attempts to breach our system. I urge all users with Town email addresses – including Town Councilors –to be vigilant about email you receive and to NOT click on any links unless you are 100% positive about the sender. We continue to "harden" our systems to try to prevent intrusions and to isolate damage, if there is a breach.
▪ ARPA: I am reviewing the comments received after discussions with the Town
Council and will prepare a final plan in the coming weeks.
o Town Clerk:
▪ Nomination Papers:
• Nomination papers for Councilor-at-Large, District Councilors, School Committee, Housing Authority, Elector of the Oliver Smith Will, and Jones Library Trustee are available at the Town Clerk's office.
• Nomination papers for all of the above offices must be filed at the
Town Clerk's office by 5:00 p.m. on Tuesday, September 19, 2023.
• For full information, please visit our Running for Elected Office webpage here https://www.amherstma.gov/1079/Running-for-Elected-Office
o DEI Department:
▪  New Offices! At the Director's request, the DEI office has been relocated to the top floor of the Bangs Community Center. While I am very sad to lose my trusted colleagues on the Town Hall mezzanine, the space in the Bangs Community Center offers real offices the allow for needed privacy and additional space to house the AmeriCorps volunteer. We are building out a space specifically designed for the DEI Department just down the hall.
▪ Events:
• Latinx Heritage Day: Plans are under way as a collaboration among the Human Rights Commission, Recreation Department, and DEI Department. The event will take place on Sunday September 24th on the Town Common from 1:00 -3:00 p.m.
• Puerto Rican Heritage Day: The School Department is organizing this event, which is tentatively scheduled for September 22nd.
• The Department will be offering some new events this year, as well, including a celebration of marriage equality.
▪ Workshops:
• The Assistant Director of Workforce Equity and Inclusive Leadership at Amherst College has agreed to offer two DEI workshops for Town staff in October and November.
• We will be promoting this and sharing additional workshops that will be held during the next six months.
• Staff at Jones Library will be offered a DEI workshop next week.
• Staff in Town Hall and the Recreation Department will have two dates offered in October.
▪ Reparations: The African Heritage Reparation Assembly continues its work under the leadership of Councilor Miller.
▪ Community Visioning:
• The DEI Department is working on multiple community visioning
sessions, focused on the "Beloved Community" model and working with Dr. Barbara Love. We are completing the procurement process for the community visioning contract.
• The train the trainer sessions will take place in the Bangs Center on Monday and Tuesday evening September 25th and 26th from 5:00 to 9:30 p.m.
▪ Resident Oversight Board: The RFP process for the Resident Oversight Board did not result in our engaging a consultant. The DEI Director has developed several alternative paths to expedite the process of establishing a Board and has met with the procurement staff and anticipate having the procurement process within the next two weeks.
▪ Police Protocols: Work on police protocols will be a priority for the permanent chief, once appointed.
▪ CRESS: We are evaluating the progress of the CRESS program. We are eager to evaluate how much we have accomplished in its first year of operation, celebrate our successes, and engage in looking at the Department's future.
▪ Youth Empowerment:
• AmeriCorps Member Asa Stanley-Kemler has completed one week on the job and is meeting with partners in Town to start outreach to youth. This position will be working exclusively on youth programming, which is an initial step of involving youth in the development of an Empowerment Center. The first gathering of youth will take place in October (not September, as previously reported).
•   I am working to establish a task force to move the concept of a Youth Empowerment Center forward.
Public Safety
o First Responders Lunch: A big 'thank you" to the Amherst Area Chamber of Commerce who partnered with the BID, Coolidge Dickinson Health Care, Cowls, and Integrity Construction to provide a Thank you lunch at the Mill District for First Responders from the Town including our CRESS, Fire, and Police first responders, and first responders from our neighboring communities and the University. It's a really nice gesture to thank our people who are on the front lines every day.
o Police Department:
▪ Staff Update: Town police officers must attend a police academy that provides
over 20 weeks of intensive, standardized training in all aspects of law enforcement. In keeping with mandates established by the landmark 2020 police reform law, the curriculum includes de-escalation training based on new use-of- force policies and regulations. Student officers also receive uniform training based on best practices related to essential modern-day policing needs, including effective communication skills, victim-centered and trauma-informed incident response, missing persons and human trafficking investigations, mental health- related emergency response, active shooter and hostile event response, patrol duties, and officer safety and wellness. Upon successful completion of the Academy, officers will have met all training requirements to be eligible for Peace Officer Standards and Training (POST) Commission certification.
• One police officer graduated from the police academy on September 1st and is currently in field training.
• Another officer is scheduled to graduate from the police academy on
September 29th.
• Four new recruits who are awaiting entrance to the police academy are slated to begin on October 16th.
• We have three new dispatchers who have begun staffing the understaffed Dispatch Office. We are working on a plan to maintain consistent staffing for Dispatch, which has been a real challenge.
o Fire Department:
▪ Staffing: The Fire Department's three new recruits have been in training for
several weeks and have taken well to it. The department is interviewing to fill six additional positions this week. Once hired, we are hoping they will be able to enter the October fire academy.
o Community Responders Department:
▪ Government Performance Lab: The Town was admitted into the 2023-2024
Alternative 9-1-1 Emergency Response Implementation Cohort of the Government Performance Lab (GPL) at the Kennedy School of Government at Harvard University.
• Community Services
o Public Health: Some issues are newly emerging, and some have been here all along and are being uncovered as the COVID pandemic recedes and becomes endemic.
o Recreation: The Recreation Department is preparing for Halloween-fest at the Bangs
Community Center on October 29th.
o Senior Center:
▪  Newsletter: The new newsletter from the Department of Senior Services – which includes a listing of all of the dozens of workshops and meetings being offered by the Department –  Amherst Senior Spirit, is now available: https://www.amherstma.gov/ArchiveCenter/ViewFile/Item/16125
Rainbow Coffee Hour: The Senior Center is sponsoring a monthly gathering of members of the LGBTQI+ communities for a social hour with "No agenda; No format; Just community." The coffee hour is held in the Bangs Community Center.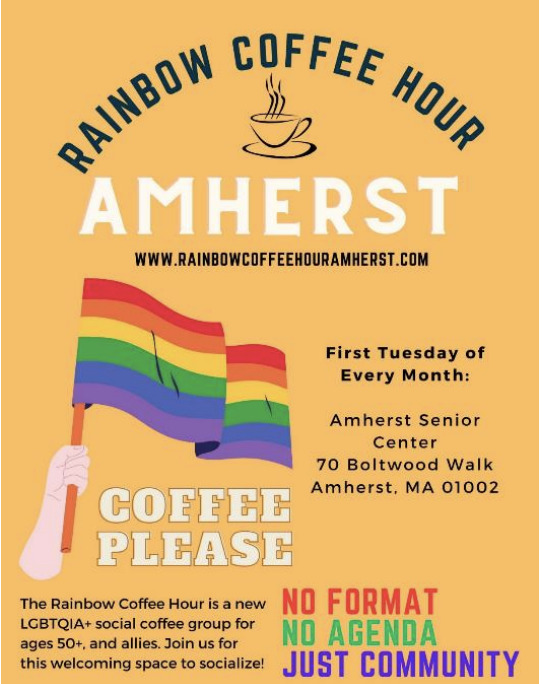 ▪   CR Café: The Senior Center is continuing its weekly CR Café, which stands for "Can't Remember" café! Every Wednesday from 10am – 12noon, Town residents are invited to the Senior Center to enjoy company, entertainment, and some good treats!
o Veterans Services:
▪ The Department holds a monthly Veterans
Lunch program, sponsored by the CRESS Department, on the last Wednesday of every month at 12:00 noon at the Unitarian
Universalist Society. We encourage Town Councilors – and any members of the public, to stop by and support our Veterans.
▪ The Department is preparing for Veterans Day on November 11th. We anticipate the flag ceremony will occur again on the Town Common – provisions are being made to accommodate this ceremony – and for a breakfast and gift bag delivery. We are hoping all of these events can happen!
o Sheltering:
▪ Craig's Doors maintains its (air conditioned) Resource Center Monday-Friday
from 9am to 5pm. They welcome anyone in need of relief from the heat to visit. They have a ready supply of snacks, water, Wi-Fi, showers, and good company. The Resource Center is located at 434 North Pleasant Street (green trailer behind First Baptist church).
• Conservation and Development
o Neighborhood Outreach: The University and the Town will be holding Neighborhood
Resource Fairs in the following neighborhoods which are open to the public:
▪ Fearing Street Neighborhood: September 14th; 4:30 – 7:00 p.m.; Philips Street between Nutting and Allen
▪ Farview Neighborhood: September 19th; 4:30 – 7:00 p.m.; Valley Lane cul-de-sac
o Planning:
▪ The Town has reactivated our search for a Planner as the Department is still short
of one staff member. The Town is also seeking a housing planner utilizing funds specifically designed to support affordable housing.
▪ The Town's Community Preservation Act Grant application window opens on September 1st and closes on September 30th. The Community Preservation Act Committee welcomes applications for projects in support of Community Housing, Historic Preservation, Open Space, and Recreation. Information can be found here: https://www.amherstma.gov/3511/Apply-for-CPA-Funds
o Economic Development:
▪ Block Party: The BID Block Party is scheduled for September 21st. There will be added features including a second stage for entertainment in the Kendrick Park area and collaboration with the Cultural Council to add even more attractions.
▪ Cultural Council:
• The 2023-24 Grant Cycle has officially opened and there is an information scheduled for September 28th at 6:00 via Zoom. Go to https://www.amherstma.gov/1221/Cultural-Council for links to the Zoom sessions, application portal, and more.
• Please fill out the Council's Community Survey by October 22nd (link also posted at the page above).
• The Cultural Council will have a strong presence at the BID Block Party on September 21st from 5:00-9:00 as the Council is sponsoring the Showcase Stage for performing artists.
o Sustainability:
▪ Valley Green Energy: Amherst, Northampton, and Pelham formed Valley Green
Energy, a new electricity program that intends to bring cleaner electricity, stable electricity prices, and new electricity choices.
▪ Solar: The solar community outreach report from GZA is complete and has been provided to the Solar Bylaw Working Group and Energy and Climate Action Committee, as well as Department Heads. The solar feasibility mapping tool is nearly complete and anticipated to be available soon.
▪ ValleyBike: The ValleyBike network communities have decided not to deploy bikes this season and are concentrating efforts on developing an RFP to identify a new vendor/operator for the system.
▪ Fellows: The Town's Fellows from the University of New Hampshire's Sustainability Institute concluded their work and made a presentation to key Town staff.
▪ Dashboard: The Sustainability Director and Director of Civic Engagement and Innovation met with KLA Associates to discuss development of a Community Dashboard that will prominently feature sustainability and climate change related initiatives. This project is being funded with ARPA Funds.
o Housing: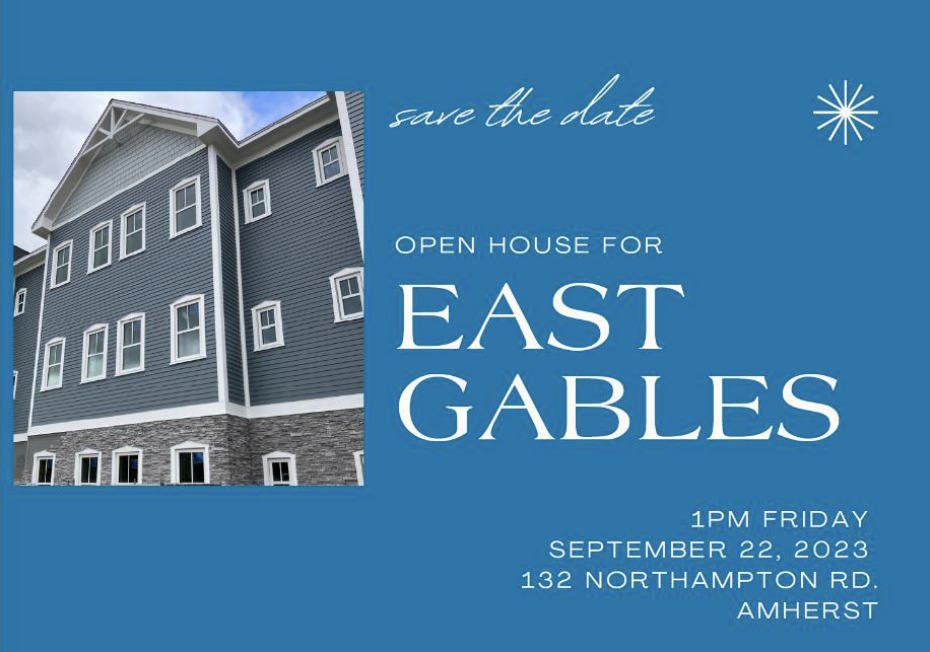 ▪ 132 Northampton Road:
• Thanks to incredible support from the community, funders, and the skilled contractors
from Western Builders, East Gables is almost finished and ready for people to move in!
Gables development on Friday, September 22nd at 1:00 p.m. All Town
Councilors are invited.
• The development is accepting applications for this newly constructed development consisting of 28 studio apartment homes. East Gables homes include off street parking, connecting walkways, covered bike storage area, and on-site laundry. https://www.valleycdc.org/affordable-housing/ball- lane-community-homes/ Valley received over 500 applicants for the 28 studio apartments, more than 250 of whom are currently unhoused. It
would be hard to find a more striking illustration of the massive shortage of affordable housing.
▪ Ball Lane: Valley Community Development is making progress in its efforts to build an affordable homeownership development which will create an estimated
30 homes on an 8.33-acre property in North Amherst. The development will be duplex condominiums clustered around shared open spaces, and shared parking
arrangements will minimize vehicular traffic and emphasize pedestrian connections.
▪ East Street/Belchertown Road: The Town is working with the chosen developer, Wayfinders, on a land development agreement. The work on the development is moving forward nicely. With the due diligence work and designs well underway, we anticipate submitting the Project Eligibility Letter application to DHCD this spring to move the 40B process forward. Other work being done includes site design, wetlands flagging, and analysis of culverts.
▪ VFW – The site assessment and survey work is complete. Before demolition of the existing building can commence, the Town will need to assess the building for hazardous materials. The Town has been in discussions with various State
agencies about this project.
• Public Works
o Roads:
▪  Snell Street Sewer Main Break: A sewer main break caused the closure of Snell Street for about a week. The Road was closed at the Rail Trail bridge, with access maintained to properties on both sides of the break. The repair work, which included replacing an extensive amount of sewer main, was completed and the road reopened on August 14th.
▪ Pomeroy Village: Final touches are being made at the Pomeroy Village Roundabout. The roundabout is operational as the final pieces of the work continue. There will be additional signage and punch-list items and we expect the work to be completed by October 1st.
▪ Kellogg Avenue: Taylor Davis Construction continues work on the sidewalk and road reconstruction on Kellogg Avenue and a small part of Boltwood Walk. This
is a Community Development Block Grant (CDBG) funded project to improve the sidewalks and accessibility in this area.
▪ North Pleasant Street: Taylor Davis Construction has completed construction of a new mulit-purpose sidewalk on a heavily traveled part of North Pleasant Street, near the intersection of Pine and Meadow Streets.
▪   Northampton Road: Caracas Construction continues construction. This project is part of the Massachusetts Department of Transportation roadway reconstruction project that extends between University Drive and South Pleasant Street. The last word we had was that they expected construction to be completed in early November.
▪ College Street: This is an Eversource project to install new conduit to bring more electricity from the College Street substation to the downtown area. The efforts to electrify our buildings, especially the new buildings downtown, has required additional infrastructure to support the demand. This work, also, is expected to be completed by the end of October.
o Hazardous Waste Collection: The next collection of hazardous waste is September 23rd.
Pre-registration is required. Information can be found here: Form Center • T own of
Amherst • C ivi cEngage ( amherstm a.gov)
DELEGATED AUTHORITY
• Short-Term Event Uses of Town Commons (Section 1a of the Town Council Policy):
• Short-Term Parking Requests (Section 2a of the Town Council Policy):
• Short-Term Public Way Closures (Section 3b of the Town Council Policy):
o Business Improvement District Block Party – September 21, 2023 – 12:00 noon – 11:59 p.m. – North Pleasant Street from Main to Hallack Street
o Jewish Federation of Western Massachusetts Ride to Provide 2023 – October 15, 2023 –
9:00 a.m. – parts of North Pleasant Street, Fearing Street, and Phillips Street
o Western Mass 10 – Hartford Marathon Foundation – November 5, 2023 – 8:30 – 10:00 a.m. – Triangle Street to North Pleasant Street to College Street to College Street to Main Street to Dickinson Street to Norwottuck Rail Trail
• Placement of Road and Temporary Signs (Section 3d of the Town Council Policy):
o Placement of one sandwich-board-style sign advertising the Amherst Mobile Market (permanently from June 6th – September 30th) to operate the Amherst Mobile Market in the public way near the Valley Bike Station on East Hadley Road during the 2023 Mobile Market season.
o Installation of Rectangular Rapid-Flashing Beacons (RRFB) at the following locations:
▪ Triangle Street at the intersection of Pray Street and Cottage Street;
▪ Triangle Street at Lessey Street;
▪ Amity Street at the intersection of Lincoln Avenue;
▪ East Pleasant Street at the intersection of Chestnut Street;
▪ East Pleasant Street at the intersection of Pray Street;
o Installation of a Reduced School Speed Limit Ahead for the School Zone on West Street near the Crocker Farm Elementary School.
MAJOR CAPITAL PROJECTS
• Jones Library:
o Up-to-the-minute updates can be found here:
https://www.joneslibrary.org/buildingproject
o The Town will be seeking bids to rent or lease about 29,000 square feet of interior space for temporary use while the Jones Library is under construction. The property must be located within three miles of the existing Jones Library and be handicap accessible. The property must possess restrooms that can accommodate large numbers of visitors and possess ample parking. The space must be flexible and able to be remodeled by the Town,
if necessary, at the cost of the Town. The property must be available for move in by
January 1, 2024 and remained available to the Town until December 1, 2025.
• DPW Building/Fire Building:
o The Town appropriated $100,000 to make emergency repairs to the existing DPW building to address some of the numerous issues that plague that structure. The Building Commissioner will examine the building to determine the highest priorities for utilizing these funds to make repairs. We will continue to assess the condition of the structure and the work conditions for the employees.
o Staff continue to explore multiple options for a new site for the DPW.
• Elementary School Building Committee:
o Schedule:
▪ The design team is meeting with the Town's development review team, which
includes Inspection Services, Fire, Conservation, Planning, Health, Public Works, etc. in one meeting to map out the permit path.
▪  Design Development plans are scheduled to be submitted to the MSBA on October 1st.
PROJECTS UPDATE
•   Town Hall Steps: Repairs to the front steps of the Amherst Town Hall at the Boltwood Avenue side of the building have begun. The project is expected to last another 6-8 weeks The public is advised to use the accessible entrance on the Main St. side of the building during this time. Pedestrian access will remain open across the front of Town Hall, however there may be short durations when it's blocked for the loading and unloading of materials. The two closest parking spaces and the entire entry area including the bike racks have been blocked during the duration of this project.
•   Centennial Water Treatment Facility: Construction on the Centennial Water Treatment Facility has begun site preparation and we are completing the financing and construction agreements with the Massachusetts Clean Water Trust which had voted to create a commitment for the Town's loan. The agreement includes a Project Regulatory Agreement; Financing Agreement; and Loan Closings for the interim loan (0% interest); and permanent loan (1.5%). The Town had to cancel the ground-breaking event due to weather and site conditions.
• Pomeroy Village MassWorks Grant: As reported above, final touches are being made on the Pomeroy Village Roundabout. The roundabout is operational as the final pieces of the work continue. There will be additional signage and punch-list items and we expect the work to be completed by October 1st.
•   North Common Restoration/Main Street Parking Lot: The Department of Public Works removed benches and other appurtenances from the North Common and conducted tree pruning in anticipation of turning the site over to the contractor on September 11th  so they can begin work. The initial phases will be work on the sewer, water, and drainage infrastructure underground.
• North Amherst Library: Work is nearing completion. The garage has been removed and final landscape improvements will be made. The parking lot is now paved. We anticipate the work will be complete by October 1st. We will be scheduling a ribbon cutting ceremony in October.
• Hickory Ridge:
o Solar: Construction will begin again in late October or early November. Next steps include removing the trees, finishing permitted wetlands crossings, site work, and moving forward with installation of the panels now that a building permit has been issued. We do not have a definitive new schedule for this work. The solar developer spent extensive time this summer working with the Massachusetts Natural Heritage and Endangered Species Program updating project materials and timelines.
UPCOMING MEETINGS AND EVENTS
➢ September 18th – Town Council Meeting
➢ September 21st – BID Block Party
➢ October 2nd – Town Council Meeting
➢ October 9th – Indigenous Peoples Day
➢ October 16th – Town Council Meeting
➢ November 7th – Election Day
➢ November 13th – Town Council Meeting
➢ November 20th – Town Council Meeting
➢ November 23-24 – Thanksgiving Holiday
➢ December 4th – Town Council Meeting
➢ December 18th – Town Council Meeting
➢ December 22nd – Christmas Eve (half-day holiday observed)
➢ December 25th – Christmas Day Holiday
➢ January 1st – New Year's Day Holiday
➢ January 2nd – Town Council Swearing-in Ceremony
➢ January 2nd – Town Council Meeting