California Energy Democracy Organizer Addresses Local Energy Advocates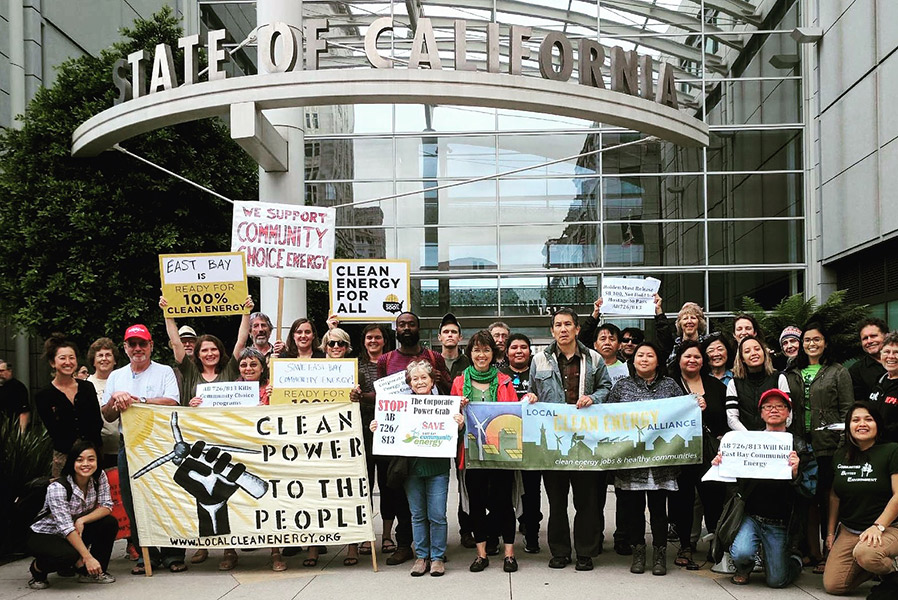 Local and Green: California Leads The Nation In Renewable Energy Advocacy
Local Energy Advocates of Western MA is excited to be hosting a meeting with Jessica Guadalupe Tovar, on September 19, at 7 p.m. on Zoom. Tovar will be presenting about cutting edge California climate justice work. For more information and to register for this presentation, go to LocalEnergyAdvocates.org/whats-new. Tovar is an energy democracy organizer for the Local Clean Energy Alliance (LCEA) and coordinator of East Bay Clean Power Alliance. She will be providing tips from East Bay's trailblazing energy democracy work, especially with regard to community advocacy in relation to the local electricity aggregation.
After growing up in East Los Angeles, Tovar worked for over two decades as an environmental justice organizer in a variety of urban, rural, and indigenous communities throughout California and Arizona. Before working for LCEA, she was an organizer for Communities for a Better Environment in Richmond, California, where she successfully mobilized against expansion of the Chevron oil refinery.
California is years ahead of the rest of the country in renewable energy advocacy. Part of the reason for that is the changeover in the last decade to community choice aggregation. According to Lean Energy, US, local governments spanning virtually the entire coast of California and serving more than 38% of the population, have transitioned to Community Choice Aggregation (CCA) in order to expand the use of renewable energy. Since inception, California CCAs have contracted for more than 11,000 megawatts (MW) of new renewables through long-term power purchase agreements with terms of 10 years or more, fueling renewable energy development, green jobs, and economic growth throughout California.
One of the features of California CCAs is the Community Advisory Committee. The Community Advisory Committee serves the function of giving official voice to community members in the decision-making of the CCA Board on energy matters. This is a feature that is under consideration for our own upcoming Valley Green Energy electricity aggregation. Through her work, Tovar has experience with both CCAs and Community Advisory Committees and can recommend best practices.
Local Clean Energy Alliance is the "non-profit partner" of the East Bay CCA, . The non-profit partner plays the "outside game" to the Community Advisory Committee's "inside game", in pushing energy democracy and the needs of the community.
The Local Clean Energy Alliance works at the local, state, and national level to promote a clean energy future through the development and democratization of local renewable energy resources. LCEA views energy resources as key to addressing climate change, advancing social and racial justice, and building sustainable and resilient communities.
Some of the many climate justice activities engaged in by LCEA include budget advocacy with the CCA Board for more equitable use of funds, advocacy for more rooftop solar/distributed energy resources, for CCA adoption, and for the creation of resilience hubs paired with micro grids.
LCEA was instrumental in the grassroots defeat of Prop 16 (Pacific Gas and Electric's power grab in 2010), led the effort to defeat AB 2145 (the utility bill to kill Community Choice energy in 2014), is active in local energy/climate efforts on both sides of the Bay—including the establishment of East Bay Community Energy in 2017, and has been a leader in the movement to democratize energy at the national level.
It is notable that one of LCEA's primary movers and shakers, Al Weinrub, passed away on August 30. Much of his work as an author will be preserved in the UMass Amherst Library collection of the Al Weinrub Justice Papers. You can read his most recent article here: "The New (Renewable) Energy Tyranny" published in The Nonprofit Quarterly July 13, 2023.
Local Energy Advocates of Western Mass invites all to attend this exciting presentation. The event is co-sponsored by eighteen local and state climate justice organizations.
Local Energy Advocates of Western Mass was created to generate ideas to reduce greenhouse gas (GHG) emissions, help implement plans to reduce GHG emissions, increase the resiliency of our local energy systems and support our local inter-municipal CCA.
Darcy DuMont is a former Town Councilor and sponsor of the legislation creating the Amherst Energy and Climate Action Committee. She is a founding member of Zero Waste Amherst, Local Energy Advocates of Western MA, and the Amherst Climate Justice Alliance.