Little of Title IX Report Expected to be Shared with Public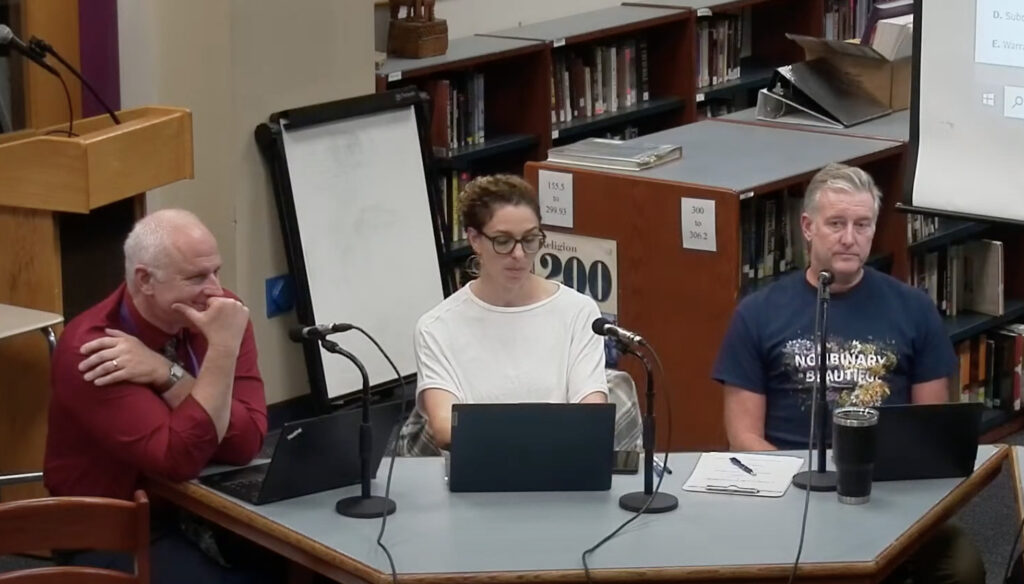 Report On The Meeting of the Regional, Pelham, and Union 26 School Committees, September 19, 2023
This meeting was recorded and can be viewed here.
At the joint meeting of the Regional School Committee (RSC), the Pelham School Committee, and the Union 26 School Committee on September 19, Interim Superintendent Doug Slaughter said that complainants and respondents have received a draft of the Title IX report regarding the alleged bullying of gay and trans youth at the Amherst Regional Middle School. The complainants and respondents have 10 days to comment, ask questions, and provide commentary. The tenth day will be September 28. This initial report will make a determination as to whether Title IX was violated. A second report will deal with personnel actions.
Slaughter said that Title IX and personnel reports will contain personnel information, so the school system needs to be conscientious about what can be made public and that he will work with counsel to ensure that no personnel rights are violated. He said he will make anything he can public, but that it most likely will be "pretty limited," and that anything released publicly will be heavily redacted. "The public probably won't be happy," he said.
If the reports involve any actions by former Superintendent Mike Morris or Assistant Superintendent Doreen Cunningham, who is on paid administrative leave, those aspects may come before the school committees (SC), but will be dealt with in executive session. He added that, for now, the schools are to take what is learned from the reports and change district policies and processes to remedy problems that have occurred.
RSC member and Union 26 Chair Irv Rhodes lamented that the committee would not have more information to fulfill its role of oversight of the superintendent. "Since we won't have the information, we can't see if policies were violated," he said. "Our hands are tied. We do not have control of the ship we are charged with guiding. We have to assume that there were breakdowns in command and control and that early warning systems were not in place. How do we explain to public that we don't know?"
Slaughter said he understands the frustration expressed, but the SC and public will have to trust that he and the small number of staff who have the information are taking appropriate actions. In addition to him, the Title IX coordinator and the principal of the middle school will receive the report. He said he probably will be able to make a statement as to whether there was a determination of responsibility in the report. Because Cunningham was in charge of hiring for the district and her assistant is on maternity leave, former HR Director Kathy Mazur has returned from retirement to help fill vacant positions.
SC member Bill Sherr from Pelham said that, because the SC won't get clarity from the report, it has to "stand up and find out where the breakdown was." He added that, because the SC opted to wait until the Title IX report was in to examine the policy and process failures, it is now late in the game with the new school year having started.
Jennifer Shiao and Rhodes agreed, saying it is critical to know what was missing in previous policies in order to protect students, and to know what steps could be put in place to remedy the situation. Shutesbury SC member Anna Heard said she hopes that the new policies will specify who will handle complaints if the person in charge is suspected of malfeasance. Slaughter said that the district will need to put in a system of checks and balances similar to what exists in the Finance Department, where the person who writes checks cannot sign them.
The Title IX and personnel reports are expected to be finalized in October or November.