In Memoriam: Demetria "Dee" Shabazz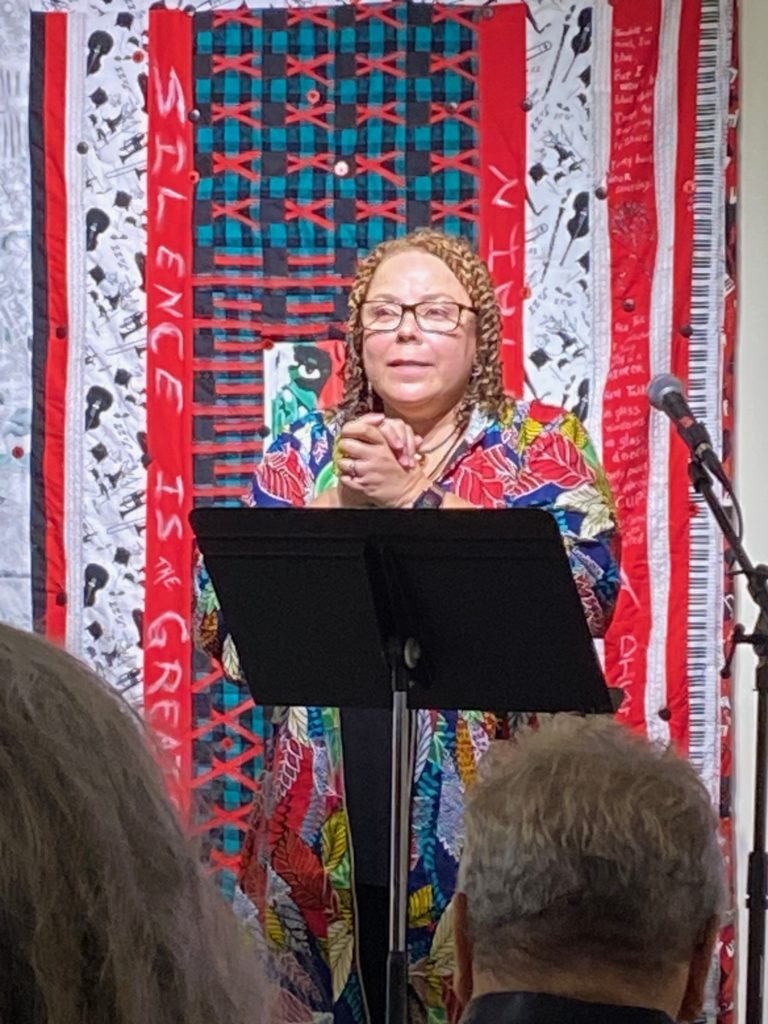 Demetria "Dee" Shabazz died from cancer on September 11, 2023. We share below six tributes to Dee Shabazz that express the community's grief at her passing and their deep gratitude for her invaluable work as a scholar, teacher, mentor, activist, engaged citizen, colleague, and friend Her official obituary can be found here. Tributes posted at Amherst Media can be found here.

Community Safety Working Group

Remembering Dr. Demetria Shabazz, Her Legacy, and Long-Lasting Impact on the Amherst Community
A genuine leader is not a searcher for consensus but a molder of consensus. -Dr. Martin Luther King Jr.
The Community Safety Working Group (CSWG) was formed in 2020 after the murder of George Floyd to (a) make recommendations on alternative ways of providing public safety services to the community and (b) make recommendations on reforms to the current organizational and oversight structures of the Amherst Police Department to make systemic reforms in Amherst. Our group was founded, inspired, and fueled by the long-term activism work of Dr. Demetria "Dee" Shabazz. Dee was an incredible mentor, friend, neighbor, leader, and an advocate who dedicated her life to making Amherst more diverse, vibrant, and inclusive.
Dee's consulting group, 7GenerationMovementCollective, played a vital role in the recommendations we made to provide alternative ways of providing public safety services and the historical founding of the program Community Responders for Equity, Safety, and Service (CRESS) and the ongoing work of the Community Safety and Social Justice Committee (CSSJC). A department and long-standing committee with their missions aligned in anti racism and community engagement.
Her consulting group, 7GenerationMovementCollective, engaged members of the Amherst community in a way it had never had before. They used an innovative approach called Participatory Action Research (PAR), which allowed her researchers to protect the identity of participants who had poor experiences with safety services and feared retaliation, while also finding a way to report it to Town Councilors who had an opportunity to retain information and take informed action. This research provided Amherst with the opportunity to make pivotal changes to make the community more equitable and inclusive.
Beyond her role as a consultant for our group, Dee engaged with every CSWG meeting, joining us for over 200 hours of deliberation, research, and conversation on ways our group could make Amherst safer for all. She encouraged folks in her network to engage in our work through meetings, public comment and emailing the CSWG to keep us connected to the community. When our leadership shifted and Ellisha Walker and Brianna Owen, the two young leaders, co-chaired our group, Dee played a critical role in uplifting them through the support of creating effective presentations, public speaking in virtual spaces, and overall guidance on ways to speak truth to power. In November 2022 Dee nominated and presented the CSWG with the Jean Haggerty Award in recognition of our group's commitment to community engagement and social change.
Dee's legacy is one that lives on through all the lives she has touched- the young leaders she has uplifted to be in spaces to be agents of change, neighbors in town she has empowered to participate in local government and have their voices heard, local leaders she has supported and recognized for their social justice work, and her long lasting commitment to designing longstanding spaces for voices of all experiences and backgrounds to be heard and validated.
Brianna Owen (Co-Chair)
Ellisha Walker (Co-Chair)
On behalf of Community Safety Working Group (CSWG)
Tashina Bowman
Darius Cage
Debora Ferreira
Russ Vernon Jones
Pat Ononibaku
Brianna Owen
Ellisha Walker
Community Safety and Social Justice Committee
 
A Tribute for Dr. Demetria "Dee" Shabazz
Words are not enough to communicate the heartfelt loss of Dr. Demetria "Dee" Shabazz. She was a fierce warrior for justice. Someone who was unyielding in making sure everyone was treated fairly, with respect and equitably. Dee, as she was affectionately known, was a bridge builder. Never wavering in her support for social justice, she had a talent for communicating across differences. She was inclusive of all voices. She led while supporting others to lead.
Dee and her consulting group 7th Generation Movement Collective were central to the work of the Community Safety Working Group (CSWG). The data that her group was able to gather from the voices of those who were most impacted by the police, was critical to the recommendations that CSWG made. Dee and 7th Generation were professional, thorough, yet compassionate, sensitive, and caring as they conducted the interviews at the height of the pandemic. They were able to build trust with the community to have people from every background, differing languages, and generations share information about their experiences with the police.
During her time as co-chair of the Community Safety and Social Justice Committee (CSSJC), she helped the committee and the community navigate the aftermath of the July 5th incident between Amherst youth and police. She skillfully facilitated discussions, meticulously researched policies, and fiercely advocated to keep the voices of those most impacted by the incident centered. She was a wonderful writer and editor, often crafting powerful statements regarding the work of the committee. She delivered an informative presentation on the POST commission, and the importance of establishing a similar process for accountability in Amherst.
She asked thoughtful questions of our CRESS and DEI department directors to ensure they were heeding the recommendations of the CSWG. What was most endearing about serving on the committee with Dee is that it felt like sitting around the kitchen table with a group of good friends. She was warm, cared deeply for her colleagues, and had a sly sense of humor. She encouraged us all to stand strong and keep showing up, even when things were difficult. When she resigned from the committee, it was a huge loss. Now, the community suffers an even greater loss. Her spirit will continue with us and will carry us on as we march forward.
Allegra Clark, Co-Chair
Deborah Ferreira, Member
On behalf of Community Safety and Social Justice Committee

7 Generations Movement Collective
Dee was someone who when she witnessed a challenge, an issue, an inequity, she brought people together to address it. She called on "folx" as she often addressed us, (or more directly, "y'all"), and nurtured the distinctive talents of everyone involved, fostering creativity, and most importantly, bringing people together through her introductions. In her presence, everyone felt included. Everyone had a purpose. And everyone left the gathering with a new friend. She had an amazing talent of creating community while, bettering it.
Her effort to develop the 7 Generations Movement Collective was no different. At work one day, I received a call which I tabled until my lunch hour. When we connected, Dee shared her vision for the use of Participatory Action Research (something I had mentioned to her in passing) to address a contemporary need in the community. With a few additional phone calls to local activist-experts, and multiple Zoom sessions later, the 7 Generations Movement Collective was born. 7 Gen MC is a diversity training, community engagement and culture shifting consultancy for small or large organizations, and businesses interested in creating a better, more culturally appreciative workforce and improving dynamics within a group setting. It was everything Dee stood for.
Dee had vision, and she made things happen because her enthusiasm and passion were infectious. Her absence is already felt, but her spirit lives on in each of us through our own activist channels. Dee, you will forever be in our hearts and in our minds as our guiding force, and for that we are truly grateful to you.

Katie Lazdowski

Sankofa Gumbo
Demetria Shabazz always brought respect, intelligence, a wealth of knowledge, and common sense to every group she joined. Her work with Sankofa Gumbo was no exception.
Sankofa Gumbo was founded to celebrate, educate, and preserve the stories, foodways and cultural traditions of African-descendant people locally and globally. The organization was a natural fit for Dee. Food and culture were intertwined throughout her life, shaped by a childhood rich in food traditions. Gatherings were not complete without big pots of gumbo bubbling on the stove. Growing up in Galveston, Texas, traditional Juneteenth celebrations were part of her DNA. She shared her devotion to that holiday freely, modeling how the day should be honored everywhere she lived, and she became one of the founders of an annual Juneteenth celebrations in Amherst. Dee extended this love of food and tradition to Sankofa Gumbo, cofounding the organization and serving on the Board of Directors, helping to identify realistic goals and ways to amplify its message.
The world has lost some of its radiance, but there will always be a place at the table for Dee. May we lift a glass of red drink with its roots in the hibiscus flower and honor her spirit by furthering the causes and interests she held dear.
Anita Sarro

Black Business Association Of Amherst Area
The Black Business Association of Amherst Area (BBAAA) Mourns the Passing of Our Beloved Board Member Dr. Demetria Shabazz. Dr Demetria Shabazz was one of the pillars of the black business community and she carried her leadership role with humility, compassion, honesty, generosity, and kindness. She devoted her resources to helping our organization. She was instrumental and the driving force in ensuring that BBAAA obtained a nonprofit 501(c) (3) status. She generously and quietly used her personal finances to uplift some members of BBAAA still struggling financially from the negative effect of the pandemic. BBAAA is what it is today and what we are trying to become is a tribute to her and the work she did collaboratively with the Board.
Dee, as she was fondly called, encouraged us to be brave and speak truth to power. She was a solid persistent advocate for the black business community, and she challenged our basic assumptions about inclusivity within the larger business community. She pushed us to think and care harder for each other. Dee was open-minded, and her insight could be relied upon during meeting deliberations for us to make the right decisions. She was a great supporter of the Buy Local Movement. She patronized local businesses and encouraged others to shop locally. Dee was the founder and CEO of 7Generations Movement Collective, LLC and co-owner of Black Star Transportation, LLC.
Dee was a remarkable woman, her respect and appreciation for her elders was unmatched. She actively sought wisdom, advice, and inspiration with gratitude consistent with the Black culture. She cared deeply for her community elders and checked on them for their wellbeing. Dee was known for her love for her family and community. She and her family graciously opened their home for community gatherings for several years. We cherish great memories at her home.
Dee was an enthusiastic passionate leader of change who served admirably and made a huge impact on those who were fortunate to know her very well, and she stood by the side of justice in the community. She inspired us to be our best, we found guidance, friendship, compassion, everything in one person. We offer our condolences to her beloved family in their time of grieving. To honor her memory and her legacy, please consider donating to Demetria Shabazz Foundation. Rest in Power and Peace Dee.

Pat Ononibaku, President
Kathleen Anderson, Vice-President
On behalf of Black Business Association of Amherst Area Board

Progressive Coalition of Amherst
Progressive Coalition of Amherst (PCA) Grieves Community Organizer and Activist-Dr. Demetria "Dee" Shabazz
Progressive Coalition of Amherst (PCA) is saddened by the passing of agent of change-Dr. Demetria "Dee" Shabazz, a true visionary. She supported the creation of the Progressive Coalition of Amherst (PCA) organization in 2021 that would push for an inclusive and transparent town government to meet the needs of all residents regardless of race, class, age, gender, sexual orientation, disability, or immigration status. She actively recruited people in her network to join and support the organization's mission.
As a founding member of the PCA, Dr. Dee Shabazz devoted herself tirelessly toward the effort of helping Amherst to become a more welcoming, just, and safe community for all. By helping to organize, host and MC countless community events, rallies, and political actions, by sitting in on, chairing and being a spokesperson at countless community and town committee meetings, Dee gracefully shared her insight and fierce dedication to justice – eloquently, thoughtfully, and courageously. She was an effective community organizer and activist. She advocated passionately for social justice issues and remained unintimidated to lend her voice for causes she cared about, even when they were unpopular.
Perhaps the greatest treasure of Dee is that she was kind, easefully compassionate, and welcoming to all. Even in the face of disagreement, she was tactful, respectful, and dignified. Never fiercer than when she was advocating for the children, Dee left an indelible mark on all who had the honor of encountering her. She will be missed greatly by those who knew her well and adored her, and by those who had the good fortune of only meeting her a handful of times.

Pat Ononibaku, Chair
Deb Neubauer, Co-Chair
On behalf of Progressive Coalition of Amherst

Bridge4Unity
In Memory of My Beloved Friend, Dee Shabazz
I first met Dee Shabazz when I joined Bridge4Unity, an interracial dialogue and cultural exchange project that brings together three distinct communities with diverse cultural, social, historical and political profiles. My motivation stemmed from being a mother of biracial children and having a deep-seated interest in social issues and human connection. Little did I anticipate the profound impact this experience would have on my life.
The plan was that each of us in South Carolina would host guests from one of two other areas (Western Massachusetts and Letcher County, Kentucky). Our designated guests were Amilcar and Demetria Shabazz. I was excited, albeit a bit nervous, about the experience. I learned that Shabazz (as Amilcar is known) and "Dee" were highly esteemed academicians from the University of Massachusetts Amherst. Amilcar was the chair of Afro-American Studies, and Dee was a professor and lecturer within the same department. I was in awe, and I wanted to make the very best impression. To be honest, I was feeling somewhat adrift at that time in my life. As a homeschooling mom, what I had discovered about our country's history of enslavement had left a significant impact on me, especially when considered alongside ensuing injustice and the deeply troubling disenfranchisement I had been witnessing in my community. And now, we were on the brink of welcoming into our home two individuals with profound knowledge and experience. I felt unworthy and afraid I would put my foot in my mouth.
As it turned out, I indeed found myself repeatedly stumbling over my words, even during the culmination of the experience when I clumsily expressed to Dee that I had never imagined meeting someone quite like her. Amidst my tears and self-doubt, it was not the eloquent sentiment I had hoped to convey after such a powerful experience. Since that moment, I have yearned to clarify what I truly meant. So, I'd like to take this moment to more thoughtfully and specifically share my true feelings about Dee and her remarkable qualities.
Above all else, Dee was a devoted family woman. Her bond with Amilcar was a treasure to behold. The depth of their respect and love for one another radiated brightly. Their relationship was a testament to seeing the best in one another, not only in terms of accomplishments but, more profoundly, in the character of their life partner. In addition, their family pride was palpable from the moment we first met. It brought me immense joy to have the opportunity to meet their children, Ursa and Amilcar, when the roles were reversed a few months later, and we became guests in their home.
Sitting in their cozy family room, surrounded by the comforting aroma of food being prepared and the jovial exchange of jokes, is a cherished memory I hold dear. Their home exuded a beautiful aura of love, joy and togetherness.

From the moment I met Dee, she treated me like a sister, my husband like a brother and my children like her own. Any expectations of formality or pretense were quickly cast aside, and an immediate bond formed between us. Despite my insecurities, uncertainties and awkwardness, Dee seemed to recognize the person I aspired to be. She offered reassurance without a hint of condescension and showed compassion without a trace of pity. She became the friend I didn't realize I desperately needed.
Our bond deepened through our mutual love for our families, the exchange of thought-provoking readings and, perhaps most memorably, our shared laughter. There's one instance I vividly recall when we were discussing the topic of Black women's hair in our dialogue group. As a white woman with a mohawk-like hairstyle, I found myself pondering whether to raise my hand when the question was posed, "Who has experienced people touching their hair without invitation?" I glanced over at Dee, and it was as though she instantly comprehended the whirlwind of thoughts in my mind. In that moment, she replaced all my worries and overthinking with friendship, understanding and infectious laughter. Later that week, she again caught me having a moment as I found myself trying to process what was going on as Shabazz ran by looking for Pokémon. And then, there was the unforgettable time when Shabazz emerged from his pool shed, microphone in hand, for an impromptu karaoke session. To this day, my husband and I fondly reminisce about that night as one of our all-time favorites. So much laughter. So much joy. So much love.
Dee was unquestionably a teacher at heart, personifying patience, empathy and an unwavering passion for imparting knowledge. Whether in a formal academic environment or during a casual conversation, Dee exuded an authentic enthusiasm for guiding others on their journey of learning and personal growth. Her steadfast commitment to her students was unparalleled, and it's challenging to fully imagine the profound impact she must have had on their lives. Dee not only nurtured their intellect but also cultivated their character and instilled a lifelong love for learning. Moreover, she skillfully used her wisdom and her spirit to inspire action and dismantle injustice, leaving an enduring legacy of empowerment and enlightenment.
How is it that someone could be a devoted family woman, a dear friend, a gifted teacher and an activist as well? That was Dee, and I marveled at it. She was so kind, so approachable, so loving, yet she spoke her mind. She was informed, unapologetic and resolute without being hateful. She was a force for all that is good and right, and I was mesmerized by it. She used her wisdom and experience to drive awareness, uplift others and drive meaningful change. In the words of John Lewis, she was continuously getting into good trouble, and I loved her for it.
What I longed to express to Dee was that she embodied everything I aspired to be. What I yearned to convey to Dee was that her love and her courage had the remarkable power to transform everything that was amiss and set it on the right path. She gave me a blueprint for how to combine love and conviction, and she filled me with hope and happiness at a time when I so desperately needed it.
I am beyond shaken up by the sudden loss of my dear friend. My heart is heavy with grief, and the only thing I know for sure at this moment is that my life was enriched by the gift of having known such an extraordinary human being. In honoring Dee's memory, I will strive to embody the qualities that made her so special, and in doing so, I will always keep her spirit alive in my heart. Dee's love and influence will forever dwell within me, a guiding light in my darkest hour and a source of inspiration for all my days to come. Rest in peace, sweet Dee, knowing that you will be deeply missed but never forgotten.

With eternal love and admiration,

Gina Miller