School Committee Candidates Weigh in on District Priorities, Accountability, Equity, and Transparency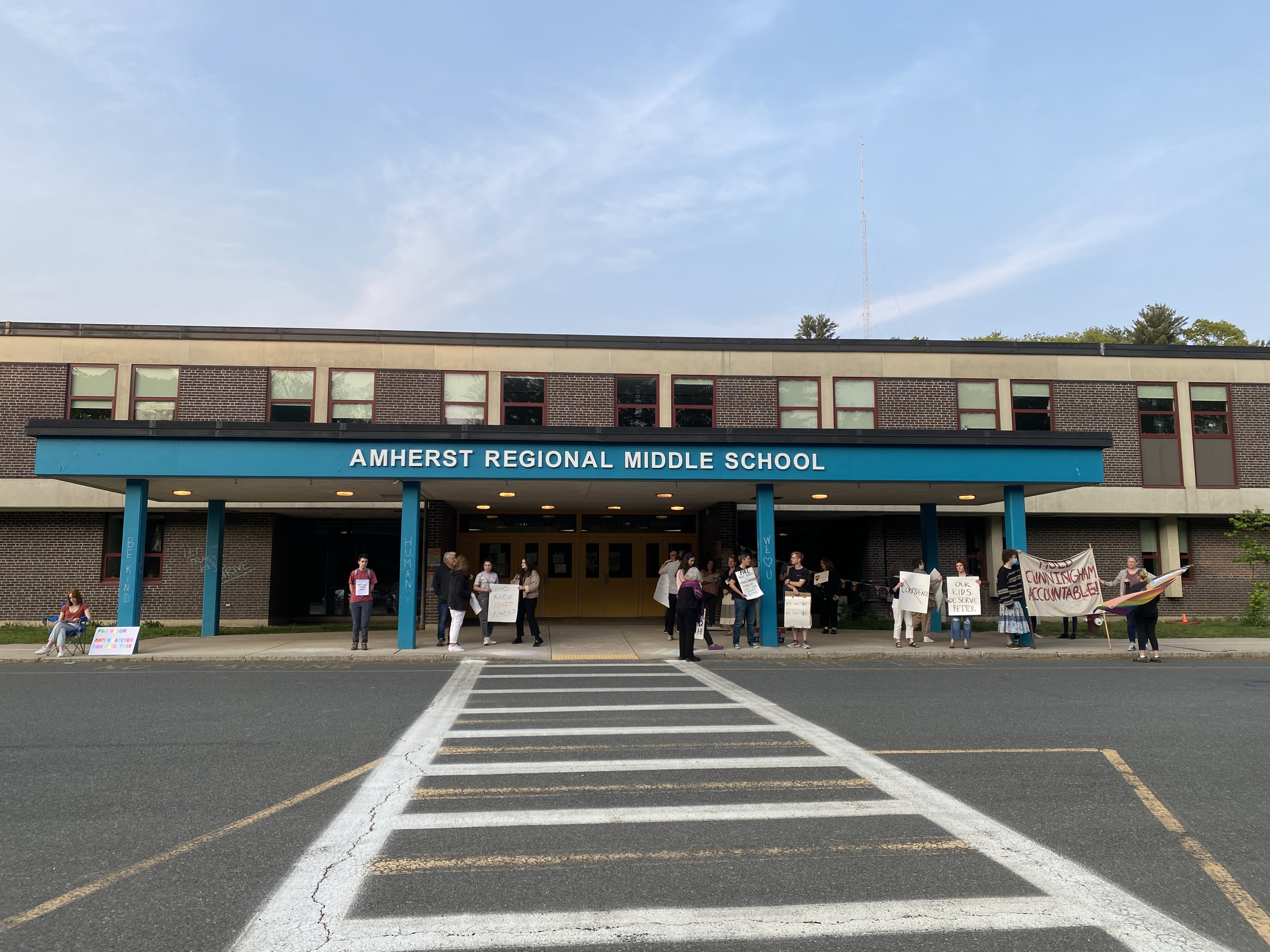 By The Amherst Indy

As we have done in previous elections, the Indy offered candidates for the offices of Town Council, School Committee, and Library Trustee an opportunity to post personal campaign statements in our publication. We also offered candidates an opportunity to respond to a brief questionnaire in order to give voters a clear indication of where they stand on some of the pressing issues facing our town. Invitations were sent to all candidates in early October.
The candidates' unedited responses to five questions appear below. We did not receive a School Committee questionnaire response from Deborah Leonard. Responses to questionnaires for Town Council and Library Trustee appear elsewhere in this issue.

Find a comprehensive compilation of information on the November Election here.
1.What would be your top three priorities as a member of the School Committee?
Laura Hunter
Transparency, Equity, Accountability
Bridget HynesImproving communication on the School Committee, by
1) being clear, open and transparent with the public and

2) reaching out to listen well to all constituencies needs and concerns. 2. Ensuring equity across groups of students (for example, look at Amherst's academic disparities in the 2023 MCAS subgroups, the recent LGBTQ mistreatment, or current challenges faced in staffing special education). Rising tides lift all boats.

3. Committing to rigor and excellence in the process of searching for a new Superintendent and working toward the next school budget.

Sarah Marshall
1. Designing a budget that supports our core educational objectives and our most at-risk students during a time of severe financial pressure. The disappearance of pandemic emergency funds will significantly reduce our available funds, for example. I would add that Committee members are responsible not just for budgeting but also for advocating for greater funding and fairer funding formulas with state and local officials so that deep cuts can be averted.

2. Hiring a new Superintendent with deep managerial experience, commitment to our community values and goals, an inspiring vision, and stellar communication skills. The hiring process is getting underway now but the incoming Committee will choose the next Superintendent. Public involvement is necessary to ensure that we identify the necessary skills and attributes of the next leader and that we have a diverse pool of applicants. Our system is complex, involving four towns and four sets of elected officials, so we need a Superintendent adept at politics as well as managing schools.

3. Overseeing effective planning to reconfigure our system, including for the movement of 6th-graders to the Middle School building, melding of Wildwood and Fort River elementary school cultures and practices, and redistricting. The Committee must deal with immediate issues like a Superintendent search but also needs to look ahead to ensure that necessary changes in our system are thoughtfully designed and supported by the community.

Irv Rhodes
(1) to review the Investigative and Title Nine report involving anti-LGBTQ+ students at the middle school and to report to the public how the administration, staff, and school committee failed to act expeditiously, apologize for the school committee's failures, take immediate corrective action and move on to a better future.

(2) Hiring a new Superintendent by creating a search committee that is representative of the school community to include students and APEA members and ensure representation of underrepresented community members.

(3) Preparing for the budget year to ensure that cuts are made furthest from the classroom so that teacher and para positions are maintained at current levels.

Jennifer Shiao
1. An inclusive and transparent search process for a new superintendent that results in hiring a highly qualified and experienced person who understands the unique needs of our districts and is excited to come here. Finding the right person for this position will not be easy, but I am energized by the task. I think this is a great opportunity to hear from the community about what is important to students, parents and guardians, school staff, and the community, in a new superintendent. I intend to ensure an open and comprehensive search process.

2. Addressing the harms done by school staff and administrators towards our LGBTQIA+ students and the LGBTQIA+ community. We need a full reckoning of what occurred, and then a robust plan for addressing the harms done to individuals and the community, and minimizing the chances that something like this could happen again to any historically marginalized community.

3. A transparent budget process where the community has input on where and how their tax dollars are spent, and understands how decisions are made.

Martha Toro
I want to bring an objective point of view and perspective when making any decisions in the search, hiring and supervision of the superintendent's performance. Work as a team to evaluate an itemized budget before approving it, review and abide by the policies of the town and follow the laws of the state. As an elected School Committee member I plan to keep an open communication between school and community, always maintaining the well-being of students.

2.Name one or two issues that you wish the School Committee had addressed or acted on differently and describe what your approach would be to that/those issue(s).

Laura Hunter
Had I been on the School Committee this spring, I would have listened to the voices of concerned parents and students, and to the APEA. The APEA vote of No Confidence in the administration should have been immediately taken seriously and addressed as such, and it was because the School Committee decided to ignore the APEA concerns that more damage was done to the relationship between the SC and the district. Our educators are the lifeblood of the district, and their workplace should be supportive and enriching for them, so they can continue to enrich the lives of our students.

Sarah Marshall
The Amherst School Committee voted about two years ago to move 6th-graders to the Regional Middle School as part of the plan for a new elementary school that will host K-5th grade. But last year the Committee agreed to remove a specific deadline for the move. I would have preferred, for two reasons, that the Committee stick to a deadline of fall, 2024. First, there is currently overcrowding in at least one elementary school, so moving 6th-graders out would immediately address this problem. Second, the possibility that the new elementary school will open at the same time that 6th-graders move is daunting, in that tremendous amounts of planning – including redistricting – will have to happen at the same time. I hope the Committee, administration, staff, and families can handle these simultaneous demands.
Bridget Hynes
I was distressed to see how antagonistic the relationship between a small group of School Committee members and the teachers union had become. It started in the pandemic and carried over in contract negotiations. The School Committee should be in partnership with its teachers and staff, not antagonists to them. An oppositional model isn't healthy in a community this size and overlooks the key fact that the heart and soul of any school is its educators. Supporting the wellbeing and morale of teachers supports the education of our children. There will be challenges ahead for the schools and the more School Committee and the APEA can collaborate to solve them the better. I think to European models of governance. No board that creates the working conditions for people should do so without their active input. I also think teachers and the School Committee need to work together early in the year before getting committed to positions which then entrench into sides. Inviting teachers and the union to have input into agendas and priorities for the year ahead makes sense. More informal meetings with teachers to get a feel for issues are also important for those elected. I'm open to hearing what has and hasn't worked in the past to help the committee do MUCH better at this. We are all on the side of the students and need to work as a team.

Irv Rhodes
Clearly the number one issue was and is the School Committees response and actions surrounding the issues related to the treatment of LGBTQ+ students at the middle school. Given what I know now about the Investigative report that was done in response to the Title IX complaint filed. If I had known then what I know now, I would have taken more forceful and immediate actions as a school committee member. I would have insisted that the school committee immediately place on administrative leave the Superintendent, Assistant Superintendent and all staff directly implicated. As I stated in my dissent from the majority who voted for the MUTUAL SEPARATION AGREEMENT for the Superintendent, "I strongly disagree with the proposed agreement based on the fact that the committee does not have any written results from the full Title IX report in hand that would be actionable. How is it possible for the committee to commit to a payment to the Superintendent without the full written report in hand"?

Jennifer Shiao
The School Committee needs to do a deep dive into the documentation and reports from the investigator, and perform or request further investigation if warranted. Without compromising individual confidentiality, the documentation needs to be made public, so that the community knows what the SC knows. The SC is a public body, and as such our default should be transparency. One of the most important things is to restore trust with teachers for district leadership and the School Committee. I can't say that I know how to do that, but it must be addressed. Trust must be earned, and I know that the SC needs to work on earning the trust of the school staff and the community.

Martha Toro
Some members of the School Committee became complaisant and lost the objectivity needed to properly support and supervise the superintendent. The School Committee should have done yearly supervisions and evaluations of the superintendent and required itemized budget reports. I will make sure to have factual information that has been discussed and used in the decision making of the district and work as a team in collaboration, keeping student centered interests as a main focus. As a School Committee member, i will expect transparency from the superintendent and the district's reports and hold accountability as needed.
3.In the last year, parents, teachers, and staff have alleged that their reports concerning discrimination against LGBTQIA+ students were dismissed or ignored at the highest levels of the school administration. How can the School Committee best assess such complaints? How can the School Committee best respond to or remedy the conditions leading to complaints about the administrative response?

Laura Hunter
There were failures at many levels in the district, and among the most serious was the culture of fear that educators experienced if they came forward. The School Committee should be an ally of the APEA and the educators, and I believe should now be highlighting the incredible work that teachers, particularly at ARMS but across the district, do every day to support our most vulnerable and marginalized students. The SC can support anti-racism training, can work to name and undo white supremacy, and can provide ongoing support and education for staff and administrators at all levels. If we have learned from the impact on our students, then we must be proactive in all of our next steps. I do believe the School Committee owes an apology to the APEA. I believe that the results of the Title IX report and the personnel reports should be broadly summarized, in order to prevent any repeats of these issues. We need to understand what happened in depth, so that we can repair and grow.

Bridget Hynes
There is still work to do from the crisis created when LGBTQ students were bullied, harassed and subjected to therapists trying to change their identities. Foremost, many parents still feel concerned about the safety of their children and are not able to trust in leadership as they dismissed their concerns for so long. At the same time, the leadership has to hold confidential portions of the investigation that touch on personnel and privacy issues. It falls on the School Committee to instruct the superintendent (and the team of lawyers hired) to find a balance and create a record of the investigations that can be shared with the public. That document will be redacted and summarized for the affected students' privacy and the legal rights of staff involved, but it must include recommendations and procedures to prevent this type of behavior from being left unaddressed. One policy suggestion I have is an online Bias Response Form to complement the bullying form. It should have a team responsible for meeting and responding to it in a quick timeline (say, 48 hours). Imagine a child out with COVID for 5 days and all the schoolwork they miss. Similarly, a child subjected to a bias incident will be unavailable for learning with the mental weight of an incident or incidents. They should be able to get a quick clear resolution to this type of harm as a matter of policy and practice.

Sarah Marshall
Normally, the School Committees does not even know about Title IX investigations. Harm should not have happened in the first place, and school staff should have taken immediate and effective action once notified. Once an issue becomes public, the Committee must honor privacy laws while responding to a public that may strongly desire more information than the Committee may give it. Regarding the recent complaints of harm to trans students, the job of the Committee is (or would have been) to allow the investigation to unfold, to interrogate the Superintendent about the adequacy of and compliance with policies around harassment and bullying, and to discipline the Superintendent if he had been found to have failed in his responsibilities. That the Superintendent immediately went on medical leave for two months after the Graphic's first reporting and then left his position likely made it harder for the School Committee to address these issues and respond to public concern. More generally, the Committee can question the Superintendent in executive session about complaints and, perhaps, hire its own investigator. Going forward, it can ask for a review of hiring practices (including whether applicants will uphold the commitment to non-discrimination on the basis of gender identity), how staff are trained, request data regarding bullying and harassment complaints, and can either make or demand improvements in policies and practices. The Committee, in its oversight role, should make its priorities for the Superintendent clear through the goals it establishes for the performance reviews.

Irv Rhodes
Based upon current information most of the complaints and allegations have been corroborated. Going forward the School Committee needs to and will institute a full management and administrative audit of the office of the Superintendent to determine where, when, how and what broke down in the management and administrative system that allowed the events surrounding the allegations not to be reported in a timely manner to the administration and thus not reported to the School Committee in an expeditious manner. I will strongly vote in favor of the school committee apologizing to all parties directly harmed by the school committees and administration lack of a timelier response, take effective and corrective action steps to ensure that this never happens again and move on to a better future.

Martha Toro
The issue of the students who were bullied and neglected by staff at the middle school should have been addressed immediately. The information was kept from the School Committee and manipulated by the higher administration. All school employees are mandated reporters and this practice was not followed by the superintendent. The School Committee should have required that the superintendent keep them fully informed of questionable practices occurring in schools. The superintendent should have been put in administrative leave along with all the parties involved, since he had been informed about the incidents and did not address them in a timely manner as required by MA anti-bullying law (MGL c.71, § 37O) The superintendent is the one person responsible to oversee that these things don't happen.

4.Last year saw several calls from elected officials to limit public comment at government meetings. What is the best way to guarantee that the public will be heard by their representatives? Do you think the current arrangements for public comment offer too much, just enough, or not enough opportunities for public comment at government meetings ?

Laura Hunter
There is a long way to go to improve the communication between the SC and the public. The School Committee can hold open forums for the community – and should do so – where a free and open exchange of ideas is welcomed, not feared. Written public comment should be read aloud as a matter of policy. Elected officials are responsible to those who elect them, and should be willing and open to discussion and challenge. I'd love to see educators empowered to speak at meetings, rather than being afraid to do so. I'd love to see students at meetings! Students should be encouraged in civic engagement.
Bridget Hynes
First and foremost a School Committee (SC) member is, like all public servants, responsible for dynamically listening to and serving the community that elected them. So why is it so hard to figure out how to make a public comment that will be read or even to know when the next meeting is? That's an exclusionary design. I'd like to see weekly PGO newsletters include the SC meeting date, the agenda and a "Comment Here" button for families. The more people a governing body hears from, the further from groupthink (a known death knell to good governance) it gets. I am ready and willing to consider my own blind spots and take input that's better than my own.

Sarah Marshall
I believe there was a proposal to limit oral public comment at Council meetings in order to shorten the length of meetings. But, at least with respect to the School Committee, members of the public have several means of expressing their opinions – email and phone messages in addition to oral comment at meetings. All of those comments are shared with the public. In my role on town committees, I have taken all public comments seriously no matter how they were submitted and I will continue to do so if elected to School Committee. Given that public meetings are generally at night and we want our officials to move through their responsibilities thoughtfully but without undue delay, I do not think it is unreasonable to establish that, for instance, the oral public comment period is limited to 30 minutes (or whatever), or that speakers be limited to a specific number of minutes. There is no limit to the length of written comments that one may submit. Thus, I think the public has sufficient opportunities to express its opinions to the School Committee, even if the time for oral comment is limited.

Irv Rhodes
Public Comment should not be limited in any way by the School Committee. Currently, public Comment can be made in person, via voicemail, sending an email or text message. I believe that public comment should be expanded to include the reading of public comments sent in via email or text at all School committee meetings.

Jennifer Shiao
Public comment is critical to a functioning democracy. Public comment at meetings is not just about the public letting elected officials know what they think, but also the general public. People can always email SC members with their comments, but public comment at meetings is about stating their comments for all to hear. It should be part of every meeting. But really, the only way to guarantee that the public will be heard by elected officials is to elect officials who care what the public thinks.iao

Martha Toro
The practice for public comments that is in place now is not working. I would suggest that there should be a specific number of public comments allowed and that the comments be read and either addressed immediately or written into future agendas for discussion or clarification.

5.The rankings of Amherst Schools have fallen precipitously over the last decade or so. Do you think that should be a concern of the School Committee? If so, what do you think accounts for this fall, and what might you as a School Committee member propose to do about it?

Laura Hunter
This is a very serious problem, and there is a lot of data that we can analyze, including finding out where students are going and why they are leaving. Amherst can hold students to high standards while still providing all the necessary supports. I think we must analyze our budget to make sure that all budget decisions are student centered. Transparency and equity and accountability are critical. I am optimistic that with student-centered, educator-centered leadership that our district can once again be a shining star in our state, and in the nation. We also must come up with creative revenue streams to make sure our budget priorities are reflected in our actions!

Bridget Hynes
There are several issues confronting school enrollment simultaneously. First, we face a decline in the total number of students overall after this year's class graduates. Next, fewer families are moving into town due to shrinking affordable housing stocks. Finally, in 2017, 55% of the town budget went to the schools, now it's 47%. As a Town, we are nearly smack in the middle for percent of municipal spending on schools statewide. Some towns with great schools spend 65%. When I moved to Amherst the high school was #9 in the state and now it is middle of the pack. I know Amherst isn't aspiring for average schools so we have to increase funding. That said, we have to be cognizant of the tax burden and look to outside sources as well. The Town has to be more assertive with local partners in receiving PILOT. Williams College funded the construction of a new Elementary School in Williamstown and Amherst College endowment is 2 million dollars per Amherst College student. And School Committee members need to be loud and proud when advocating for school funding. I'd also look to state and federal funding and grants to supplement school budgets. Senator Comerford and Rep Domb would get tired of me, but hearing how budget cuts are impacting Amherst students is important. Finally, when budget cuts do happen, cuts should happen as far from the students as possible for minimal impact of learning.

Sarah Marshall
I am not familiar with the data that underlie the assertion that our schools (elementary only?) have slipped dramatically. Presumably, rankings come from data available at DESE (e.g., https://www.doe.mass.edu/accountability/performance/default.html), and I believe that the reason(s) for any drop are likely found therein. I imagine that many factors could contribute to the change in rankings: – student-related, such as a change in preparedness of students before they enter school, a change in the number or percent of students who have special needs or are English-language learners, or – educational program-related, such as availability of intervention services, a change in time on learning, or poor choice of curriculum, or – staff-related, such as a loss of experienced teachers and staff, or insufficient staff, or – something else entirely, such as a non-random drop in the number of students who take MCAS, departure of high-achieving students for charter schools, or extreme learning loss during the pandemic. I have no idea which, if any, of these factors are relevant to the question. Of course the School Committee should be highly interested in the topic if those rankings are felt to be accurate indicators of our program and student learning. What I might propose the Committee do to change the situation would depend heavily on the underlying causes. I would certainly press the Superintendent, the chief education officer of the district, for explanations and potential remedies. Correction of problems might then drive budgetary decisions around staffing and programs.

Irv Rhodes
Our ranking as a top tier school system should always be a goal and objective. Afterall parents move to Amherst because of the schools. Any drop in the perception of the general public's view of Amherst not being a top tier school system would be and is a concern. Amherst faces the dual challenge of decreasing enrollment and increasing demand for educational services and curricular offerings. At the same time the physical plant of the Middle School and High School continues to suffer from deferred maintenance. There are no quick and easy solutions for these problems. However, the town government and the educational community can come together to address these problems. After all we are talking about the education of OUR KIDS.

Jennifer Shiao
I don't put a lot of stock in rankings like "best schools in the US/MA." Rankings are flawed, are based on a specific set of criteria, and they don't reflect whether or not a district is fulfilling its obligations to all students. I care less about what people outside of our districts think, and I care more about serving the students in our districts. In the same way, I care less about people "moving to Amherst for the schools" and more about serving the students currently in our schools.

Martha Toro
The School Committee is a public service to serve students and schools. The rankings of the district is very important because it is the way to measure how the students' performance is doing. The district has to provide a rich, varied and challenging curriculum to maintain and attract families to the district. The schools should offer a safe learning environment to all students with the support fo all staff, parents and the community