Frustrations Abound Over Delay In Creating Safety Zone Near Cushman School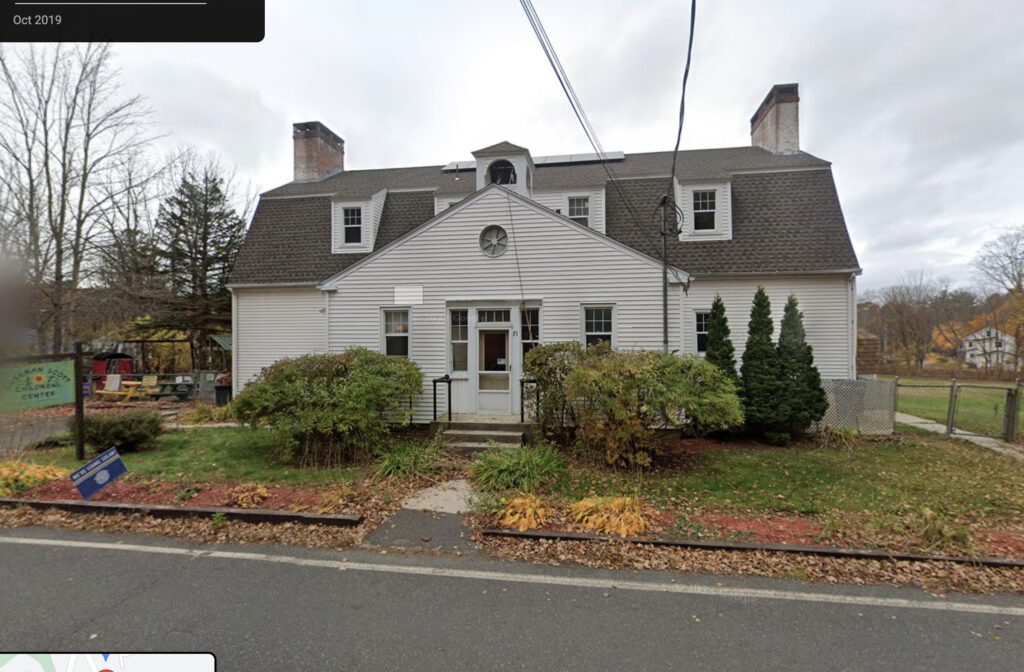 Motion to Create a Safety Zone Referred To Transportation Advisory Committee
By Art Keene and Maura Keene
Nearly everyone at the Town Services and Outreach (TSO) committee meeting on November 16 (view recording here) expressed some degree of frustration over the absence of a safety zone in front of the Cushman Scott Children's Center on Henry Street between Market Hill Road and Pine Street.
Parents who use the school have been lobbying for years to get the town to create a safety zone with traffic calming measures in front of the school. Studies by traffic engineers and the Amherst Police Department have shown that drivers frequently speed past the school, creating a hazard for the young children who attend as well as for parents who must park across the street from the school and then cross Henry street when dropping off and picking up children.

At least one councilor objected to the unwieldy bureaucracy that is delaying addressing a hazard to children.

Members of the Transportation Advisory Committee (TAC) expressed frustration that the Town Council does not seek or use their counsel on transportation matters, about which they have considerable expertise.
The Town Manager noted that there are many individual cases in Amherst neighborhoods where a particular traffic intervention is desired and said that it is not effective for the town to address each one piecemeal — that the town needs to adopt a formal process to govern how to make these decisions.
At its November 13 meeting, the Town Council had referred to the TSO a proposal to create such a zone. The motion, which was made by Councilors Lynn Griesemer of District 2 and Cathy Schoen of District 1, would impose a speed limit of 20 mph on a quarter-mile stretch of Henry Street (between Market Hill and the intersection with Pine Street), install one or two speed bumps near the children's center, and create a three-way stop where Henry Street meets Pine Street. After considerable discussion, TSO voted unanimously (4-0 with one absent) to refer the proposal to the TAC with a request that they report back to the Town Council with their recommendations by December 18.

Discussion
The discussion focused on three major points.
The town currently lacks a formal process to establish safety zones or to undertake similar interventions.
Some councilors are concerned about taking action on this request without first adopting a formal protocol to determine what needs to be done by whom, how requests should be prioritized, and how costs of such projects should be considered.
The complexity of the bureaucratic process is delaying a necessary intervention when public safety is at stake.
Jeremy Andersen, a parent of two children at Cushman Scott, encouraged TSO to support the Griesemer / Schoen motion. He said that he had reached out to Amherst police in 2020 after a child was almost hit as they ran away from a parent into the road. He noted that the residents of Henry Street have been asking the town to address this danger for over 30 years, with appeals to the DPW, Amherst Police, and the Town Council. He reported that the town has already done two studies.  One study, conducted by the police department, found that most vehicles going past the school are moving in excess of 25 miles an hour with speeds of almost 50 miles an hour being reported, even when a police officer with a radar gun was visible to drivers. A second study was conducted by the town traffic engineer to assess the need for a stop sign.

Andersen concluded, "We've gone through every hoop that the town has asked us to. We've met multiple times with the Town Manager. We've met with town councilors. We've had an engineering study done. We had the good graciousness of the police department, who have been there multiple times and have gone above and beyond. And it was the police department who recommended the stop sign. They saw the conditions on the street. They saw how fast cars drive through there, and they said we need to do something. They also recommended making it a one-way street to reduce traffic congestion and to create a safer environment. So our police department is thinking, that's how dangerous this is. Why can't we recommend something today to move this forward to protect our children?"

Kim Tremblay, a member of TAC, warned that the town needs to figure out how to set priorities for requests such as this one so that the loudest voices or the best organized constituencies, or the best connected neighborhoods are not necessarily the ones who go to the front of the line. She said that there is a lot of demand for traffic interventions across the town, especially with the current poor conditions of our roads, and that safety is a concern for everyone. She said that TAC has the technical expertise to help determine where the work is most needed and can assist the council in ensuring that all needs are fairly considered.
Acting Chair Ana Devlin Gauthier (District 5) noted that TSO has already had two discussions on the adoption process and members are still not clear about what they can do regarding this particular motion. She noted that Bockelman had said that the next necessary step is to decide what the decision process is because the law doesn't specify that. She noted that the town needs to be consistent in defining what a safety zone should be.
Councilor Dorothy Pam (District 3) expressed her frustration with how long it is taking to address this request. She said, "I listen to that part of the discussion [about the need to establish a process] and feel overwhelmed with bureaucracy, understanding the need for it, but [also feeling] overwhelmed by it, and seeing how that could drag on and on and on. And I will say that the history that has been revealed tonight suggests that we should do something if it's possible — and maybe do something now on a temporary basis, while we research and set up the formal process. I would like that, to do some kind of temporary measure while we go through and get the procedure down and dot the i's, and make sure that it meets the requirements of the law."

Bockleman said that the town traffic engineer reported that the request for a stop sign did not meet any of the "regulatory requirements" but acknowledged that "the experiences of people living there and dropping their children off is very real." He reminded councilors that even if the town engineer did not recommend a stop sign at that location, the Town Council has the privilege of saying "we still want it." He said, "The residents who are bringing this forward have extreme frustration with the process. If I were in their shoes, you know, and I heard, oh, now it's gonna take even longer, I would be frustrated. But I think the concern from the town staff point of view is, 'Are we going to handle every one of these as a one off?' As you know, there are dozens of neighborhoods that want speed bumps. And everyone has a compelling argument. Do you have a process for addressing this?" He added that he sees this particular case as an opportunity to run something through a proposed process, "sort of as a pilot and see how it works."

Pam said, "This is not a very complicated request, and as we add layers of complexity to it, it gets more frustrating, and it makes people lose faith in the town. We're talking about a small business. If parents decide, [if they] perceive, rightly or wrongly, that it's not safe, that business can close. I think the town is interested in keeping businesses. So we have two reasons, keeping the business going and protecting children's safety. It's installing a speed bump. It shouldn't require studies and all kinds of commissions, and whatever, to do that. If we're that inflexible, then there's something seriously wrong. So yes, you do need to get the process straight. But you shouldn't be strait-jacketed, unable to move and do things which common sense dictates because then the people aren't going to even talk to us at all."

Councilor Andy Steinberg concurred, saying "We shouldn't delay a request that involves children's safety. It should be given some priority for consideration." Still, he was concerned about costs, saying he had "no idea" what it would cost to install a speed bump and pointing out that the costs of the intervention on Henry Street would impact repairs that might be done on other streets. "Every time we make a decision like this there is a cost consequence," he said. "I think that if money was no object, I would be absolutely right on board with saying that there needs to be two speed bumps on either side of that school. And that we need to drop the speed limit. But dropping the speed limit without speed bumps will make it very difficult to get the effect we want [but] I really believe that it's a matter of posting it so it's enforceable."
Tracy Zafian, a member of TAC indicated that TAC would be happy to study the proposal and  advise the council but that it is likely that more studies are needed and that TAC would likely seek further input from the town traffic engineer.

Devlin Gauthier said that perhaps what is being considered is not a formal safety zone (because the council currently lacks a process to establish one) but could be seen as an intervention with some traffic calming measure.
TAC and Public Comment
During public comment at the beginning of the meeting, Zafian, Tremblay and Marcus Smith all spoke of their frustration that the council does not seek input from TAC, and hence the considerable transportation expertise within that body does not benefit the council or the town. All three urged TSO and by extension the council to seek TAC's advice on transportation matters.

Cushman Scott Children's Center
Cushman Scott Children's Center at 71 Henry Street, is a private preschool serving children ages 15 months to 6 years of age and has an enrollment of roughly 45 children.