RECAP: MEETING OF THE OUTREACH, COMMUNICATIONS AND APPOINTMENT COMMITTEE OF THE TOWN COUNCIL (OCA) – (6/24/19)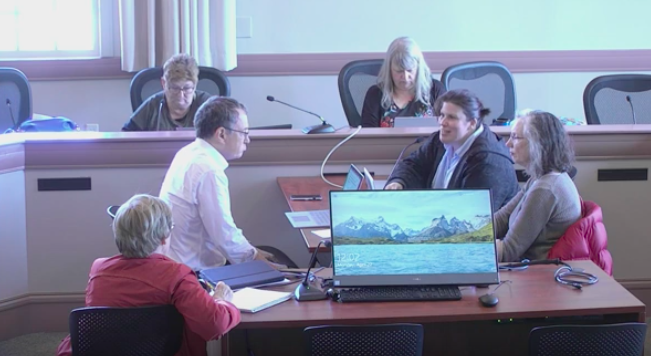 Editor's Note: Last week, The Indy began posting recaps of OCA meetings and we will endeavor to find volunteers to cover the other standing committees of the council as well. Much of the critical discussion that shapes what happens at Town Council meetings takes place in standing committees. For example, all appointments to town committees pass through OCA before going to the council for final approval and OCA has spent considerable time over the past few months debating and developing the policies that govern appointments. But the time gap between the actual meetings and the posting of minutes and video of the proceedings is typically more than a month, making it difficult for residents to track issues that are coming before the council and to weigh in while policy is still in formation.
Readers who would like to assist in covering standing committee meetings should contact us at amherstindy@gmail.com

The charge for OCA can be found here.
Meeting of OCA of 6/24/19, 9:30-Noon in the Town Room of Town Hall

Present: Councilors Sarah Swartz (chair), Alisa Brewer, Darcy Dumont, Evan Ross and George Ryan. Ryan served as recorder in the absence of Phyllis Lerher who usually takes the minutes.

Highlights

There was considerable discussion about an application for a position on the Finance Committee that was not forwarded by town staff to OCA. The source of the error was diagnosed and proposals were offered to improve collaboration between OCA and staff in the future.


Andy Steinberg, chair of the Finance Committee, appeared before OCA to raise his concerns (as an individual councilor) about the nominees for resident non-voting members of the Finance Committee. He requested that the Finance Committee play a larger role in vetting and selection. The request was not well received by the committee.


Councilors raised the issue of whether the nominations that they had for Finance Committee were valid given that at least one applicant was left out of the pool and others withdrew after being told that they had to be able to attend Finance Committee meetings at their scheduled time. The committee debated whether the process needed to be restarted and will take this up again at their meeting on July 1.


Councilors debated whether term limits disqualified one of OCA's appointees to the Finance Committee. The committee did not reach consensus on this issue and will continue the discussion at their next meeting.
Swartz stepped down as chair for personal reasons. She nominated Ross to replace her and he was appointed as the new chair by unanimous vote.
Missing Application(s) Investigated

The meeting began with the committee hearing from Angela Mills, executive assistant to the Town Manager. One of her duties is to coordinate interviews for appointments and to write the appointment letters. She addressed the issue, raised at the last OCA meeting, that at least one Community Activity Form (CAF) of an applicant to the finance committee was not forwarded to OCA for consideration.

For the excluded person, Mills recalls having an extensive conversation (meaning more than 3 and less than 20 minutes). She knew that person had already been appointed to another committee and in her judgment would not have been interested in a second appointment so she didn't forward the CAF to OCA. Her impression was that one committee was as much as this person could do. Apparently the applicant, in separate conversations, indicated that he has a different recollection of this (according to Councilor Brewer), but the applicant confirmed with Mills in an email dated 6/21 that he had no interest in a second appointment.

Councilor Dumont said that because there are differences in the appointment process used by the council and by the Town Manager, these differences might produce confusion and it would be helpful to OCA if they were copied on all correspondence about OCA appointments from the beginning – e.g., getting a spreadsheet with more information about the candidates and with all of the applicants' names (vs. just the names of those for whom interviews have been scheduled) and cc'ing of emails exchanged between town hall staff and the candidates. Mills warned that that could be over 20 emails for some candidates.

Councilor Ross pointed out that it is problematic that candidates can submit one CAF for multiple positions, meaning that he, as a screener for OCA, sees the CAF's for some people applying for appointments by the Town Manager as well as for council appointments (but he is not really supposed to see the Town Manager's candidates' names).

Councilor Swartz said that OCA will clarify for Town Hall staff exactly what they need and share it with Mills verbally and in writing so that the procedure gets cleaned up.

Brewer pointed out that this process has made a lot more work for staff than was the case when the Select Board did the appointing. But, she said, moving forward it's not acceptable for staff to be pulling any candidates out of the pool. She noted that OCA does not get to evaluate the size of the pool as they only see the CAF's after the interviews are scheduled. They have not been party to making the decisions of how this should work and she wondered if this (exclusion of candidates by staff) has happened before? Have other applications been pulled because the candidate withdrew or was perceived to have withdrawn? Brewer also cited an example of someone who applied after the closing date and who was turned away and she concluded that OCA needs more knowledge of the pool.

Swartz concurred that OCA needs to see the entire pool so they can assess if it is large enough and whether they have enough applicants to move forward and whether the pool is sufficiently diverse, and also so they know if anyone withdraws before the interviews. "We need more control over this," she said.. "And we need a written record of communications between government and applicants." Swartz noted that she always follows up a phone call with an email so there is a written record of the interaction.

All agreed that OCA needs to make sure that this never happens again.

Brewer questioned whether OCA can move forward with the appointments they currently have in front of them. The committee then took a brief recess to consult with Mills who had returned to her office following her testimony. At this point Mills provided the email that confirmed that the candidate in question had withdrawn from consideration for a Finance Committee Appointment.

Requests from the Finance Committee for Greater Input to Appointment Process

Andy Steinberg, chair of the Finance Committee requested time to address OCA.

He noted that he was not speaking on behalf of the Finance Committee but as an individual councilor. Steinberg said it would be useful to have some information, not only on folks who were recommended by OCA, but for folks who were not, acknowledging that there was a delicate balance that needed to be mediated in protecting candidates' privacy.

He noted that the Finance Committee is the only standing committee that includes non-elected citizens. Hence, he believes that someone on the Finance Committee ought to have a chance to at least meet with the nominees before their names go to the full council for a vote. He said that this is necessary to assure that they understand what is expected from them and to also allow the Finance Committee to independently assess the recommendations. Steinberg said that he opposed the recent recommendations to the Planning Board because term limits were invoked to prevent the appointment of the previous chair, Greg Stutsman. He spoke against the concept of term limits, but noted that nominee Marylou Theilman has been nominated to the Finance Committee while having served more than six years (including as chair), the limit specified in the Town Committee Handbook and he believes that it is inconsistent and unfair to appoint Theilman when Stutsman was disqualified.

A brief discussion followed among the councilors to determine whether it was appropriate to respond to Steinberg's comments since there is a standing policy that the council does not respond to public comments. They determined in short order that Steinberg appeared before OCA as a member of the council and the Finance Committee to engage the members of OCA and that it would be appropriate to respond. They then proceeded without objection to engage Steinberg.

Swartz pointed out that the interview process has built-in checks and balances and that the results are vetted before they are passed on to council. It is OCA policy that there will be no public discussion of names of applicants who have not been brought forward and so Steinberg's request falls outside the bounds of adopted policy and protocols; policy and protocols Swartz noted, that OCA had spent the better part of the last several months developing.

Ross complained that requiring availability for the stated meeting time was an issue (that is, he was concerned at a number of people withdrew when notified of the fixed meeting time). Schoen said that the inability to meet from 2-4 on Thursdays should not be a disqualifier (note: the Finance Committee is one of the few committees that meets during the day).

Dumont pointed out that the 2-4 PM time on Thursdays was noted in the materials given to candidates in advance of their interviews and was also listed in written materials provided to OCA by the Finance Committee.

Brewer reminded Steinberg that the Finance Committee had far more input into the process than any other committee and that input included composing the handout for candidates and the questions to be asked in the interviews. She questioned why the Finance Committee would need even more input.

Swartz offered that while OCA, by policy, does not screen by the ability of a candidate to meet at a committee's established meeting time, applicants nonetheless need to apply with a commitment to the meeting time and required overall time commitment. Brewer concurred noting that "we can't ask entire boards and committees (some of which have staff support) to change their meeting time for a potential applicant." And, she noted, it is not really workable to try to find a common meeting time after all appointments have been made. Steinberg then raised the possibility that what he is asking for is no different than a member of the council offering input to the committee on an individual candidate.

Ross said that since the Finance Committee has shown flexibility and a willingness to consider a time change that he is uncomfortable with being inflexible about making candidates make a commitment to a set meeting time and is concerned that the process used in screening candidates for the Finance Committee was unfair to some of them and that qualified people were unnecessarily turned away.

Swartz noted that OCA has stressed consistency in policy development. She wants the Finance Committee to either set a time for meetings or tell people interviewing that the time is not fixed and would be determined after appointments were made so as to meet the needs of all of the members. Brewer emphasized that " if we appoint three new people and none of them can meet at the same time then we won't have filled the positions and we will have wasted our time." She then went on to question the need for non-voting members and said that the decision to have non-voting resident members in the charter was a "stupid choice." Brewer pointed out that the charter says that the council MAY include resident non-voting members but that this is not required so the council could remove them in the future. She went on to ask OCA to consider whether such members serve any useful purpose.

Dumont disagreed, reminding OCA of the intent of the charter authors, i.e., to ensure broad representation of Amherst residents in the finance process. Swartz added that they are there to aid the Finance Committee in the budget process but it's not clear what that means.

Swartz expressed her frustration with the request to change the appointment process retroactively while acknowledging that there are indeed problems with the process and that this is something that the full council will want to discuss.

The councilors were left with the question of what to do next.

Swartz asked Steinberg to go back to the Finance Committee and

Raise the question of announced meeting time and its impact on the applicant pool.
Ask, now that they have gone through a budget cycle, whether they still need resident non-voting members and if so,
what do they need them for?
Swartz reminded Steinberg that OCA followed the established process to the letter with considerable input from the Finance Committee.

OCA then turned to a discussion of the nominations themselves with the objective of coming to a decision on whether to recommend the current nominees and also to determine their terms.

Nominees to the Finance Committee – Terms of Appointment

A lengthy discussion about the terms of resident non-voting members ensued. The
original specification in the charter was for three years – with a rationale that a long term was necessary so people could learn the job. Brewer suggested staggered terms so that there is not massive turnover at one time. The charge for the Finance Committee (developed by the Government, Organization and Legislation Committee (GOL)) says that everyone is to be appointed for 2 years with a recommendation that for the first time only, it should be 3 years so that the appointees would outlast the terms of the councilors.

Brewer moved that resident non-voting members be appointed for terms of a maximum of two years. (Approved 5-0).

The councilors then proposed a straw poll to get the sense of the committee on the nominees before them but they ran out of time before each councilor had a chance to weigh in.

Brewer pointed out that term limits were applied differentially with the ZBA and the Planning Board appointments–implying that the issue might not be germane to consideration of Finance Committee appointments. She noted that term limits have always been applied situationally (as in the case of the recent ZBA appointments where retaining experience was deemed essential) and with flexibility. Dumont noted that no one discussed the term limit issue with her as the OCA designee (i.e. interviewer and screener) before she began to review applications nor was this information given to applicants in advance. She asserted that this information should be in the application materials so people know what is expected and whether it is worth their time to apply.

Ryan noted that he does not fault Dumont for the concerns that have arisen but he is inclined to vote no on these nominees nonetheless. But he also said that "we are so far into the process that it would be disrespctful to everyone to remove candidates at this point." He suggested that they use staggered terms to mediate that problem with a single year appointment offered to Theilman.

Ross then stated that he has questions about the appointees themselves. He asked, as he has at other nomination sessions, why these candidates have been put forward and not others? He said he doesn't have enough information to answer that question so he is not ready to move forward.

The councilors then ran up against the hard stop that they had specified for noon and agreed to pick up the discussion at their next meeting. Brewer asked for more input from the Finance Committee.

Prior to adjournment, Swartz announced that she was stepping down as chair for personal reasons but would remain on the committee. She nominated Ross to serve as the new chair and he was elected by a vote of 5-0. Dumont nominated Brewer to continue as vice-chair and she was elected by a vote of 5-0. Members of the council then expressed their gratitude to Swartz for her hard work as chair.

The meeting adjourned at noon.