REPORT: MEETING OF THE ORGANIZATION, COMMUNICATIONS AND APPOINTMENTS COMMITTEE (OCA) (9/23/19)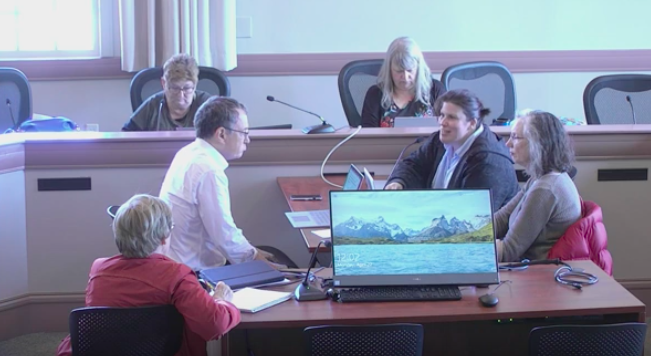 Editor's Note:
1) Documents discussed at this meeting were not available to the public at the time of the meeting. They are now available here.
2) The Town Manager's three nomination memos were posted to the town website at the time of the meeting. Links are provided below.
3) WHAT IS OCA? It is a committee of the Town Council, made up of five Town Councilors. The committee has spent much of the year developing protocols to govern appointments to town boards, commissions, and committees, and making those appointments. The official charge for the committee includes the following:
Advise the Town Council on matters related to District Meetings [Sec. 2.7], Public Forums [Sec. 2.13 and 5.3], and other strategies to broaden participation, ensure regular and transparent communication and outreach to residents of Amherst.
Work with the Residents' Advisory Committee (RAC) as outlined in the Charter. [Sec. 3.3(c)]
Work with the Community Participation Officer(s) as outlined in the Charter. [Sec. 3.3(d)]
Make recommendations to the Town Council regarding all appointments by the Town Council. [Sec. 2.9]
Serve as the committee to review and advise the Town Council on all candidates forwarded by the Town Manager for employment as department heads. [Sec. 2.11(a)]
Serve as the committee to review and advise the Town Council on all candidates forwarded by the Town Manager for appointment to multiple-member bodies. [Sec. 2.11(b)]
Coordinate the annual review process of the Town Manager. [Sec. 3.9
Highlights of OCA Meeting of 9/23
Approved Town Manager's appointments to the Community Development Block Grant Committee, Water Supply Protection Committee and the Registrar of Voters.
Continued discussion of revised procedures for appointments to multi-member bodies, especially re: size and diversity of candidate pools, and term limits
Addressed a request from The Indy for the timely public posting of materials to be discussed at the meeting.
Present: Alisa Brewer (At-large), Darcy Dumont (District 5), Evan Ross (Chair) (District 4), George Ryan (District 3), Sarah Swartz (District 1).
Announcements
A new minute-taker, replacing volunteer Phyllis Lehrer, was announced and the procedure for reviewing and approving minutes was reviewed.
There is a vacancy on the Zoning Board of Appeals (ZBA) because of the resignation of Matthew Wilk. OCA will nominate a replacement. The vacancy was posted to the Town Bulletin Board on 9/12 and requires a fourteen-day waiting period before OCA can begin to consider candidates. Filling the vacancy will be taken up at OCA's meeting on 10/7.
Town Manager's Appointments to Multi-member Bodies.
The committee reviewed the nominations of the Town Manager to the following bodies: Registrar of Voters, Community Development Block Grant (CDBG) Advisory Committee, and Water Supply Protection Board. In each case, OCA voted unanimously to recommend these nominations to the full council.
Nominated to the CDBG Advisory Committee: Gail Lansky (three-year term), Stephanie Leombruno (two-year term). Paul Goulston, Nathaniel Larson, and Keith Nesbitt will continue as members with terms expiring on June 30, 2020. Andrew Grant-Thomas will continue as a member with a term expiring June 30, 2021. There remains one vacancy to fill.
Brief profiles of the nominees can be found in the Town Manager's nominating memo here.
Nominated to the Water Supply Protection Committee were Linda Arsenault, Anna Martini, and John Tobiason (three year terms), and Lyons Witten and Brian Yellen (two year terms). Christina Cianfrani and Jack Jemsek will continue as members with terms expiring June 30, 2020. John Tobiason is also a member of the Board of Health. Jack Jemsek is also a member of the Planning Board.
Brief profiles of the nominees can be found in the Town Manager's nominating memo here.
Nominated to the Registrar of Voters were Demetria Shabazz for a three year term and Jacqueline Gordon for a two year term. Jaime Wagner continues to serve until June 30, 2020 and Acting Town Clerk, Sue Audette continues as an ex officio member.
Brief profiles of the nominees can be found in the Town Manager's nominating memo here.
Discussion
In the discussion, Councilor Dumont (District 5) asked about the appointment of Gail Lansky to the CDBG Advisory Committee noting that she sat in on the interviews and was also a nominee. Town Manager Paul Bockelman noted that Lansky, already a member of the committee, was the designated representative for interviews and was nominated for reappointment. Dumont pointed out that OCA has debated in the past (apparently without agreement) whether committee members who are up for re-appointment should be allowed to sit in on interviews and whether candidates for reappointments should be interviewed the same way as other candidates (currently they are not).
Councilor Evan Ross (District 4) pointed out that it is ultimately the Town Manager's decision on how to run his nominating process and that OCA has no say in the matter. However, Councilor Alisa Brewer (At-large) reminded the committee that although it doesn't have jurisdiction over the Town Manager's process, concerns such as who is permitted to sit in on interviews are within OCA's purview, and that it is reasonable for OCA to consider these concerns about appointments in general as well as part of their own appointment process.
Bockelman noted that it is important to have a representative of the committee to which an appointment is being made participate in candidate interviews so that it is not exclusively staff who are making these decisions.
Brewer responded that other arrangements are possible: that the Manager could have members who are not up for reappointment represent the committee; or the committee's chairperson could be consulted outside of the interview process.
These issues have been taken up previously by OCA and are summarized in OCA's 8/19 Report to the Council.
Dumont asked Bockelman if he has a plan to reopen applications for the Recycling and Refuse Management Committee. He responded that he has no plan to do so because the committee seems to be dormant, with few issues for it to consider. Dumont disagreed, suggesting that there is a lot of work for the committee. She said she hopes the committee will be reconstituted. Brewer pointed out that the plan developed by the last committee and director has not been adopted or implemented.

New Application Procedures
Ross briefly touched on a new Community Activity Form (CAF) protocol that was presented to Town Council on 9/23.

OCA continued an ongoing discussion of procedures for appointments to multi-member bodies that began at its meeting of 9/16. (The committee's minutes for that meeting have not yet been posted as of 9/27). OCA spent considerable time discussing sufficiency of the applicant pool for council appointments, raising the following questions:
Should a threshold number of CAFs be required to proceed with interviews for a position?
If so, how should candidates up for reappointment be considered?

What should OCA/Town Council do if not enough CAFs are received to fill vacancies?

Should diversity and demographics be considered in assessing the sufficiency of the pool?
If so, how?
Councilor Ryan (District 3) pointed out that a small number of applicants can become politically consequential or contentious, especially for some mulit-member bodies, such as the Planning Board, Zoning Board of Appeals, and Finance Committee, and that OCA might want to consider making sure that there are at least a minimum number of applicants, such as, one applicant more than there are vacancies.

Ross said that if there are not enough applications to fill the vacancies, OCA might want to follow a procedure that includes additional recruiting and/or keeping the positions open until enough candidates apply.
Brewer suggested not filling all vacancies (the Town Manager has left vacancies unfilled), keeping positions open while continuing to recruit. She cautioned that this can't be done formulaically and that OCA must take into consideration the specific circumstances associated with each search and applicant pool.
Ross asked whether "vacancy" is defined as the ending of a term and whether incumbents' terms are automatically renewed. This is likely to be resolved in an upcoming discussion of term limits. According to Brewer, a vacancy is when an actual seat is not filled (anticipated departures are not vacancies) and cautioned OCA to be careful about terminology. In addition, she said she is unwilling to set a fixed threshold of required applicants, which would delay appointments if it is not met, even if a highly qualified person is available.

Ryan asked again about the handful of multi-member bodies that are politically contentious, and suggested requiring that multiple candidates be considered for positions on the ZBA, Planning Board, and Finance Committee even if there is "a candidate from heaven." Brewer repeated that this cannot be done by formula and that OCA cannot hold a position open when it has a good candidate to fill it. Perception is important, Ryan said, and repeated that OCA needs to make sure that there is a sufficient pool for certain positions.

Ross then asked for a straw poll. Ryan, Dumont, and Swartz supported the idea of a required minimum size for applicant pools (or for Planning Board, ZB,A and Finance Committee). Ross and Brewer opposed it. 
Ross also asked about whether and how diversity should be taken into consideration for an applicant pool, and whether additional outreach should be done if an applicant pool has inadequate diversity. Dumont responded in the affirmative, citing the importance of taking diversity seriously. Swartz pointed out that minority applicants might need more support and encouragement to apply than majority applicants.
Brewer noted that Amherst does not have much in place for outreach except for posting an announcement on the town website. OCA needs to think about what an additional round of outreach could look like and said that we know that website announcements don't do much. She added that when councilors talked to some people individually at the recent town block party, there seemed to be some interest amongst folks who were not previously engaged. Brewer said that CAFs are really useless in determining the degree to which applicant are qualified, adding that "if I sit down and talk with someone for fifteen minutes I can find a good fit for some new person for almost any committee," that "the current process is fundamentally unfair" and that, "No matter how we change the CAF, it's not going to give people the opportunity to express their full story."

Ryan said we need to find a balance between our need to fill critical bodies and our commitment to diversity but that he is reluctant to mandate another round of applications if the pool is not diverse. He suggested that although it should be taken seriously, it is a long-term effort and should be addressed in other ways outside of the appointment process.

Swartz said that the existing process might have kept her from running for Town Council; the solicitation and encouragement of others led her to do something that she might not have initially considered or that she might have approached apprehensively.

Ryan asked for clarification on what OCA means by "demographic diversity," noting that in Amherst over half the population is under 24 years old, yet young adults have little representation in town government.

Brewer said – we are talking about stuff that is both hypothetical and practical. Historically, none of our pools have been diverse in terms of people of color and age.

The discussion continued for some time with members emphasizing points that had been made previously. Ross endeavored to summarize the positions. He said –what he is hearing from the group is that demography and diversity are important considerations but how this will be addressed needs more discussion and will be taken up at later meetings.

Ross then opened discussion of criteria for what makes a good multi-member body. He referred to two documents in the packet, a memo from Swartz and the Town's Appointed Committee Handbook (especially sections 2.3 and sections 2.5) which can be found here.

This commenced a substantial discussion of term limits.

Term Limits
Sections 2.3 and 2.5 of the handbook were reviewed.

Ryan returned to his concern with politically contentious committees (Planning, Zoning and Finance) where it also takes a number of years for a person to get up to speed. He expressed reservations about applying term limits to these bodies, noting,they might make sense in other contexts but not here where there is a steep learning curve.
Ross reminded that group that at some point they might think about revising the handbook.
Ryan reiterated his considerable reservations about term limits for the three aforementioned bodies. He asked that OCA get feedback from people who have served on these bodies in the past as well as members of the planning department.
Brewer said that part of the reason new members of ZBA and Planning Board have difficulty is that they don't get adequate training and that's why it's tough for them to get up to speed. She noted that new members on the Board of Assessors are required to attend a specific training and that while practically, not everyone can actually do this, it does make a difference in getting people up to speed.
She suggested that the current wording in the handbook is adequate and addresses Ryan's concerns. She noted that the goal is not to keep people in their appointments indefinitely. . The goal is to have healthy functioning committees. But we must build in protection "so we're not dumping people who ask too many questions or who hold positions that we don't like." And if we continue to reappoint people to multiple terms, then we need to be honest about it. People will not apply if we are going to give high priority to reappointments. We have to make the case that it is worth the while of new people to apply.
Dumont asked – in the case of people who have served multiple terms that because there were no new applicants?
Brewer responded – it was because they acquired special skills and became increasingly valuable to the board. So there was incentive to keep them. But there was also a lack of recruitment. Up until 2011 the town was not even interviewing for these positions – there really wasn't much of a process for seeking new people.
Swartz asked OCA to think about how a committee naturally turns over and generates new ideas. Institutional knowledge is critical but if you want things to be healthy and balanced you need that mix of considerable experience plus new/younger members. The chair is very important. And you also need people who are poised to step up into that position. But if the perception in the larger community is that people are going to stay on the committee permanently (because they are doing such a great job) it undermines the incentive for new people to apply. Term limits are there to keep the committee fresh. This requires turn over.
Ross concluded that there is no consensus on OCA concerning term limits and that discussions will resume in November. He took a quick straw poll on the following premises.
a person who serves their first term should be guaranteed a reappointment (zero supported).
Generally, the successful completion of a first term ought to be given preference for a second term (supported by Dumont, Ross, Ryan, Swartz).
there should be no preference for re-appopintment (supported by Brewer reluctantly after noting that these possibilities did not encompass the full range of options).
A second straw poll considered the following options.
There should be hard term limits after a second term regardless of who the other applicants are. (no support)
Preference should be given to new applicants after a second term – that is, there should be soft term limits. (supported by Dumont, Ross, Ryan and Swartz)
Ryan noted that there is no rule that prevents OCA from talking to staff and committee chairs to assess how well a long-term member is fulfilling their role and what kinds of special value they may have.
CAF's
The committee briefly considered a report by Ross on proposed changes to CAFs and the way that they will be handled.

Public Comment
This writer, speaking as both an editor of The Indy and as an interested citizen, complained that the packet for this meeting was not made available to the public prior to the meeting and that following the proceedings and reporting on them is difficult without access to those documents. He asked that the committee provide him with a copy of the packet. He noted that the packet is posted to members of the council via the council's internal file system (Sharepoint) and that he saw no reason why the same content could not be posted for public access at the same time. He also noted that this is a persisting problem and that he has made this request before.
Brewer responded that it is not the job of town councilors to provide access to this information and that Keene should take up his request with the town manager. She noted that it would be inappropriate to share the packet with any individual without making it available to the public as a whole and she asked that other members of the committee to not provide the requested documents to Keene though she acknowledged that it would be appropriate for OCA members to respond to specific questions posed by individuals. Ross subsequently requested that the Clerk's staff post the packet to the web and it is now accessible here.