REPORT: MEETING OF THE OUTREACH, COMMUNICATIONS AND APPOINTMENTS COMMITTEE (OCA) (10/21/19)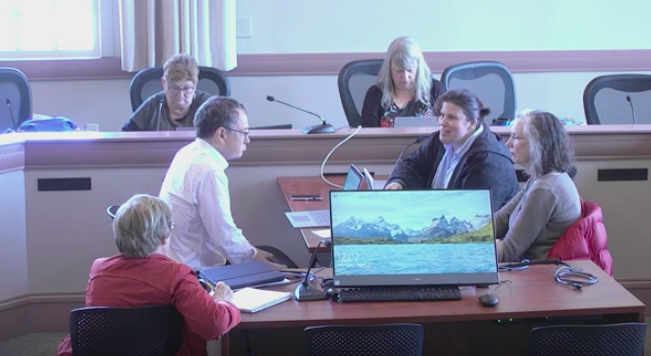 Present : Councilors Alisa Brewer, Darcy Dumont, Evan Ross (Chair), George Ryan, and Sarah Swartz.
Highlights
OCA approved the Town Manager's nominees to the Council on Aging, noting that the Town Manager had withdrawn the names of two nominees after discovering that they are not residents of Amherst. The Council on Aging will now have two vacancies.
OCA engaged in considerable discussion of nominations for the Community Preservation Act Committee (CPAC) and spent considerable time on its concerns that the Town Manager is not providing OCA with all of the information it has requested about nominees. OCA recommended that the full Town Council not act on these nominations, in response to the lack of cooperation from the Town Manager.
Evan Ross emphasized the urgency of filling one vacancy on the Zoning Board of Appeals and one on the Planning Board.
OCA began a discussion of what a new process for filling intra-term vacancies might look like.
Announcements
Councilor Evan Ross (District 4) announced that the room's camera is not working and the meeting is not being recorded.
Town Council approved a 10/7/19 proposal to separate community activity forms (CAFs) for committees of the council and CAF's for Town Manager Paul Bockelman's appointments to multi-member bodies. This was implemented on 10/18 and is now effective with links on the town web page. CAFs will now be distributed automatically to all Town Councilors.
Planning Board Vacancy
There is a vacancy on the Planning Board. At its last meeting, OCA decided to wait until a new appointment process is established before making new appointments, but the Planning Board vacancy has been deemed urgent because a recent resignation leaves the board with only six members and a minimum of five is required for most decisions. Ross noted that the Planning Board does not have associate members who can fill in for absent members, as is the case with the Zoning Board of Appeals (ZBA), and this could prevent it from making timely decisions. Finding a replacement will be prioritized, though it was unclear whether it would happen before a new appointment process is adopted. Ross urged OCA to prioritize and expedite adopting a new appointment process.
Council on Aging Appointments
OCA resumed discussion of appointments to the Council of Aging, which had been tabled at its last meeting.
OCA had requested from the Town Manager a revised appointment memo that includes expanded profiles of the nominees. While revising the memo, Bockelman realized that one of the nominees, Norma Hallock, a candidate for reappointment, is not an Amherst resident. (Appointment of non-residents to committees is permitted, but it is Bockelman's policy to appoint Amherst residents whenever possible.) After providing the revised memo, he realized that a second nominee, Juna Trujillo, lives in the Hadley section of Greenleaves apartments, not in the Amherst section. As a result, he submitted a second revised memo, with only five nominees, leaving two seats unfilled.

The Chair of the Council on Aging, Rosemary Kofler, contacted Councilor Darcy Dumont (District 5) and expressed concern about the vacancies and the loss of Hallock as a nominee, saying that she had been of valuable service to the Council. Dumont took up with matter with Town Manager Bockelman, who said that some Amherst residents had expressed interest in serving on the Council and that he will explore their candidacies soon.

Councilor Alisa Brewer (At-large) pointed out that this situation highlights one of the shortcomings of not looking closely at re-appointments (which has been a subject of much discussion and contention at previous OCA meetings).

Ross reported that "town of residence" has been added to the address box in the draft of the revised Citizen Activity Forms (CAF). Currently it asks for the street address but not the town or state.

Councilor George Ryan (District 3) moved that OCA recommend the Town Council approve the appointments to the Council on Aging.. The motion passed unanimously. Read the Town Manager's appointment memo here.

Appointments to the Community Preservation Act Committee (CPA)
Town Manager Bockelman was not at the meeting, so Ross solicited questions for him about the nominees. Bockelman's responses were sent directly to the Town Council. These can be read here.
Dumont and Brewer commented on the Council's ongoing request that the Town Manager include more information about what each nominee brings to the committee to which he is nominating them and its mission. They noted that the Town Manager continues to offer "generic answers" but that more specifics are needed about each nominee.
Ross reminded OCA that the Council must act on the CPA nominations tonight because the next Council meeting will be after the 30-day appointment window, and failure to act will put the nominations into effect by default, as per the Town Charter.
Councilor Sarah Swartz (District 1), however, recommended that OCA take a stand because it is important that it is given information it requests from the Town Manager.
Councilor George Ryan (District 3) pointed out that there are no objections to the individuals nominated. "The beef," he said, is with the Town Manager. Therefore, he said, he does not support obstructing these appointments. He added that he does not see an egregious violation of procedure. He said it is OCA's job to make sure that the Town Manager has followed procedure, and that he has done so.
The discussion continued for some time, with a general majority (Brewer, Dumont and Swartz) eventually agreeing that some kind of action should be taken to remedy the situation in which the Town Manager is failing to provide OCA with requested information.
The Committee struggled to come to an agreement on how to respond. Ross offered four options:
* Approve the nominations
* Reject the nominations
* Recommend that the Council take no action on the nominations
* Take no action (make no recommendation)
Brewer reminded OCA that the Town Manager works for the Town Council and that he ought to respond to its reasonable requests. She said that "if we ask for something and he refuses to provide it repeatedly, that's a problem." She noted that the Council can override OCA's actions, and that although OCA is charged with assessing candidates and making an informed recommendation to the Council, it is not getting the information it needs to make an informed recommendation. She reminded OCA that "we said last time that we were drawing a line with the Council on Aging, and so here it is." She repeated that the problem is not with the nominees but with the process.
Swartz said that OCA has not been unreasonable, nit-picky, or disrespectful in asking the Town Manager for more information. Swartz said that she did not want to hold up the process but that what they are doing currently is not currently working for OCA – so her initial reaction is to reject these nominees.
Brewer noted that a recommendation that the Town Council not take action would send the message that the Councilors did not have enough information to approve or reject the nominees, and that they will be appointed by default, and that this would not have an impact on the work of the Committee.
Swartz wondered how to make sure that OCA is not put in this position again.
Ryan said he is getting enough information to discharge his duty, to which Brewer responded, "The point here is that we are trying to show the community that this process has integrity. It's not enough that we know these people and that they are cool. We need to offer concrete reasons for why people are appointed."
She moved that OCA recommend that the Town Council take no action. In that case, the nominations would go into effect by default on November 18. The motion passed 3-2, with Ross and Ryan dissenting. (NOTE: At its meeting that evening, the Town Council did not support OCA's recommendation, instead voting 8-4 2 to accept the Town Manager's recommendations.)
Ross said that he would seek feedback on an earlier OCA report seeking to clarify whether OCA provides the Town Council with information it needs.
Vacancies on the Zoning Board of Appeals (ZBA) and Planning Board
Ross reported that he has looked at some other towns without mayors where Town Council has some appointing authority for appointments to the ZBA and Planning Board. He cited three towns with a similar process to ours, Randolph, Franklin, and Branstable. He said that Barnstable is the only town he found in the Commonwealth whose town councils makes those appointments and that he is looking for insight into how to make intra-term replacement appointments.
Brewer shared a review of the process that was usedto fill midterm vacancies in Amherst in the past under its former Town Meeting/Select Board form of governance,. (Note: A document outlining this process had been given to members of OCA was not in the public packet.) When vacancies for the School Committee occurred in the middle of a term, for example, joint elections for replacements were held; there was a call for applications, a group interview of all interested candidates, and a subsequent vote by the members of the Select Board and members of the School Committee. She suggested that OCA consider a similar procedure for filling vacancies in elected bodies and committees of the Town Council, and perhaps other critical committees such as the Planning Board.

Considerable discussion ensued, focusing on who would do the screening of applicants,, the potential role of OCA, the configuration of the meetings, the use of applicant's time, other questions such as how public a process it would be and the nature of the questions that might be asked of candidates.
This discussion will continue at a future meeting, and a proposal for a database of candidates will be discussed at the next OCA meeting, which will be held on Monday, November 4 at 9:30 AM. in the Town Room of Town Hall.