REPORT: TOWN COUNCIL MEETING (10/21/19)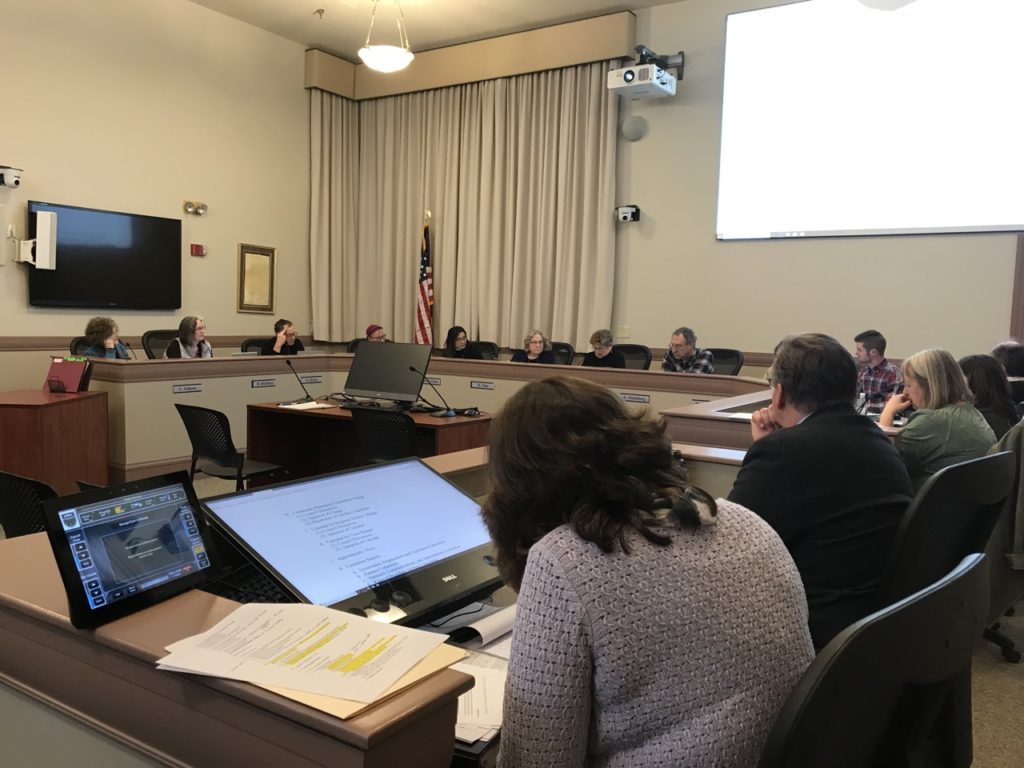 Present.: All Councilors. Staff: David Ziomek, Assistant Town Manager, and Athena O'Keefe, Clerk of the Council
.
Highlights
Public hearing on tax rates, Council approved retaining a single tax rate for all classifications of property
Council approved funding for an engineering study to bring the Centennial Water Treatment Plant back on line
Council debated how they would conduct public listening sessions for the Town's four proposed major capital projects
Council approved recommendations from its Government, Organization and Legislation (GOL) Committee for revised procedures for proclamations, resolutions and citations
Council approved Town Manager's appointments to Council on Aging and Community Preservation Act Committee (CPAC) and discussed ongoing tensions between the Town Manager and the Council concerning the Manager's non-compliance with the Council's request for information about appointees
Council resolved a potential conflict of interest regarding some members of the Planning Board, allowing them to act on Amherst College's proposal to undertake renovations of its athletic fields
Council considered two statewide energy proposals, electing not to support the state's Stretch Net Zero proposal at this time and not voting on its Carbon Pricing proposal.
Announcements
Master Plan Public Forum: October 28 at 5p.m. at Town Hall for a primer, 6 p.m. for a public forum on the Master Plan
League of Women Voters Candidate Night: October 28 at 7p.m. in the Bangs Center
Four Boards Meeting: November 7, time and location to be determined.
State of the Town Address by Council President and Town Manager: December 2 at 5:30p.m., followed by a regular Town Council meeting
Four Towns Meeting (all towns in the regional school district): December 7 at 9a.m .in the Middle School library
Public Hearing on Tax Classification
The meeting opened with a public hearing on fiscal year 2020 tax classification, beginning with a brief presentation by Assessor David Burgess. The Board of Assessors proposed a single tax rate for all properties (residential, open space, commercial, industrial, and personal property). This is the assessment method that has been used in the past. An alternative method is a split rate, charging more for commercial properties, including rentals and farms, and less for residential property. Some towns charge a higher tax rate for houses valued at more than a certain amount and the example of $450,000 was given.. This method is used in 110 municipalities in Massachusetts, as opposed to only 236 who use the single rate that Amherst approved. According to Burgess the total amount of taxes raised would be the same either way. In comparison to other municipalities in Western Massachusetts, Amherst's residential tax rate is high (and its commercial rate is low). The tax classification system is explained in a powerpoint presentation that can be found here. .

There were several questions from the councilors. Sarah Swartz (District 1) asked about the impact of a split rate on farms, which would be taxed at a commercial rate. Apartment complexes are also considered commercial, even if they have some affordable units. There were no comments from the public. Because there has not been a recent assessment on all Amherst properties, it was agreed to leave the single rate in place. Future changes must be passed by a two-thirds vote of the Council. Three motions were passed to support a single tax rate: (1) a motion not to grant exemptions for open space; (2) a motion not to grant exemptions for residential property; and (3) a motion not to grant exemptions for small commercial property. District 5 Councilor Darcy Dumont did not voted in favor of not allowing an exemption for open space. All of the other councilors voted for the single tax rate including open space.
Engineering Study for Centennial Water Treatment Plant in Pelham
The Council voted unanimously to authorize borrowing $692,000 for an engineering study in preparation for rebuilding the Centennial Water Treatment facility in Pelham, which has been closed for the past five years due to a lightning strike. Deputy Superintendent of Public Works Amy Rusiecki spoke about the proposal, which would be paid from the Enterprise Fund for Water, not from the general budget. The source of funding was added to the motion. District 1 Councilor Cathy Schoen wanted assurance that the study would take the Town's net zero bylaw into account and that the building would be designed to be equipped for solar panels and other energy saving measures. The motion for the borrowing passed unanimously
Public Listening Sessions for Capital Projects
The largest amount of time was spent discussing how the Council can inform the public and get feedback from the public about the four capital projects proposed for the near future: elementary school(s) replacement or renovation, a new Department of Public Works (DPW) building, a new fire station, and a newly designed and enlarged main library, the plan for which currently involves demolishing part of the current library. The projects would not have to be built at the same time, which would increase costs. State funding might help pay for some of the projects, and the Town expects to hear from the Massachusetts School Building Association about its proposal for a new elementary school on December 12.
DuMont, Schoen, and District 3 Councilor Dorothy Pam expressed concern that these projects are being discussed separate from other important capital projects, such as roads and sidewalks. At-large Councilor Andy Steinberg countered that the capital budget as a whole will be discussed at a public hearing in December or early January. District 5 Councilor Shalini Bahl-Milne expressed concern about outreach to residents who do not come to these meetings.
After a long discussion, it was decided that a steering committee of three councilors, one school committee member, and one library trustee will prepare a presentation which can be shown at public listening sessions in November and December, will be posted on the Town website, and aired at the November 18 Council meeting.
DuMont was the only councilor who spoke against endorsing all four proposed construction projects right away. In response, District 4 Councilor Evan Ross reiterated his conviction that the Council must develop a plan for going ahead with all four projects, even if they are staggered at some point. A motion to create an informational video or PowerPoint passed 12-1, with DuMont dissenting.
GOL Committee's Revisions of Procedures for Town Proclamations
District 3 Councilor George Ryan, Chair of the Governance, Organization and Legislation Committee (GOL), proposed a revision to the Committee's charge, requiring that any proclamation, resolution, citation, or commemoration would have to be sponsored by a Town Councilor or supported by a petition signed by 150 residents before it can be brought before the Council. The GOL committee will review each proposed proclamation for clarity, consistency, and actionability. See rule 8 of the Council's rules and regulations. This new policy was approved unanimously by the Council.
Ryan also presented a first reading of the Committee's proposal that ad hoc committees rather than work groups be created for short-term needs of committees. Councilor Alissa Brewer (At-large) pointed out that the Council President appoints ad hoc committee members, whereas a council committee can appoint work group members, which makes work groups more nimble. Schoen, DuMont, and Pam agreed with Brewer. The Council will discuss the matter again and vote on it at its November 18 meeting. The proposal can be read here.
Town Manager's Appointments
The Council confirmed by unanimous vote the Town Manager's appointments to the Council on Aging: Rosemary Koffler (reappointment), Ivette Palacin, Sue Dierks, Patricia Rector, and John Wollensak.
More controversial were his appointments to the Community Preservation Act Committee(CPAC). Councilor Ross, Chair of the Outreach, Communications and Appointments Committee (OCA), reported that OCA is dissatisfied with the Town Manager's response to its requests for information about the applicant pool and the qualifications of the applicants, and voted 3-2 not to take action on the applications, which according to the Town's Charter means that they can take effect by default in two weeks. There was a debate over whether this is an effective way to communicate OCA's displeasure to the Town Manager. Brewer maintained that this is not a new problem, and that the Town Manager wants OCA and the Council to approve his nominations without having information they would need to make an assessment. Pam thought the pocket appointment (that is appointment by default without Council action) recommended by OCA could be construed as the council not approving of the nominees. . The Town Manager was not able to attend this meeting and provide his perspective.
In the end, the Council approved the Town Manager's appointments to CPAC: Nate Buddington (reappointment), Sam McLeod, and Diana Stein by an 8-4-1 vote, with Brewer, Pat DeAngelis (District 2), DuMont, and Swartz voting no, and Bahl-Milne abstaining.
Amherst College Athletic Fields Construction
According to Planning Board minutes of October 16 Amherst College has proposed renovating some of its athletic fields, including some new artificial turf, new lighting, and new paths. For the project to advance, five of the six current members of the Planning Board (there is one vacancy) would have to approve it. Two board members, Maria Chao and David Levenstein, however, have family members who work for Amherst College, which is potentially a conflict of interest. They are also abutters of the project. The Town attorney believes that they can file for an exemption from the state's conflict-of-interest laws. If the Planning Board cannot act due to a lack of impartial members, the plan would be approved by default, due to the inaction of the board. The Council decided 11-0-2 (Dumont and Schoen abstained) to allow Chao and Levenstein to vote in the belief that their interest in the project is not substantial.
Town Manager's Report
Minutes from the October 7 Council meeting were approved. Assistant Town Manager Dave Ziomek gave the Town Manager Report, which highlights a new multipurpose path on East Hadley Road and continuing progress on the Groff park playground and water park. The dog park design for the old landfill has been completed. The Town will raise funds to supplement a $400,000 grant it has received for Kendrick Park play structures.
Statewide Clean Energy Proposals
Council President Lynn Griesemer (District 2) introduced two statewide clean energy proposals, which had been received earlier in the day. The proposals will have hearings before the Town Council meets again. They are: Net Zero Stretch Code, proposed by the Massachusetts Board of Building Regulation and Standards and Carbon Pricing Legislation, which refers to a bill currently before the legislature.
The Council was generally supportive of the proposals but several Councilors said they need more time to study them and that they should be referred to GOL. The vote on the Net Zero Stretch Code was 4-8-1, with DeAngelis, DuMont, Mandi Jo Hanneke (At-large), and Schoen voting in favor; Swartz, Pam, Ryan, Ross, Schreiber, Bahl-Milne, Brewer, and Steinberg voting no; and Griesemer abstaining. No vote was taken on the carbon pricing proposal. Some Councilors might send individual letters to the state in support of the proposals.
The meeting was adjourned at 10:40p.m. Next meeting is November 18.