GOL Recommends Racial Equity Goals After Backlash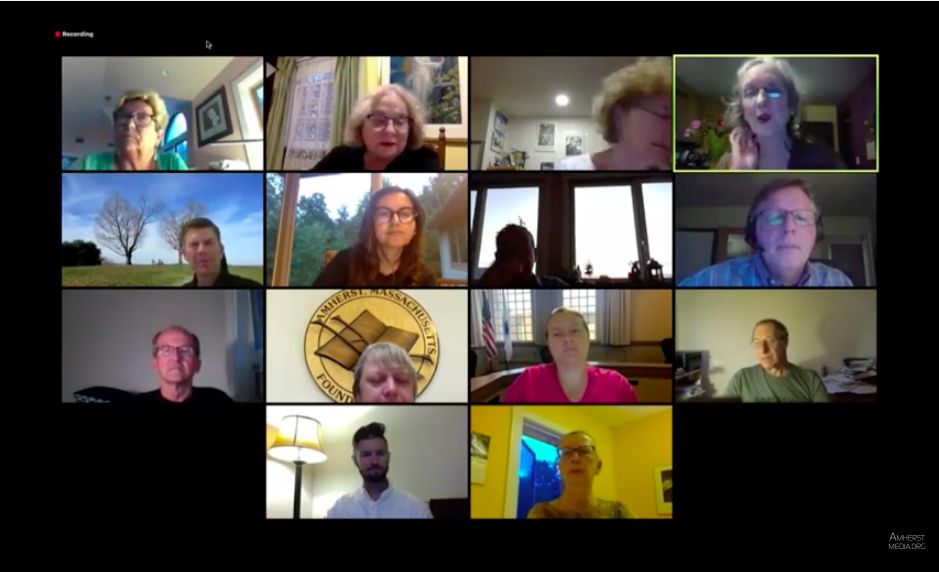 The Government Organization and Legislation Committee of the Town Council (GOL), at their meeting on August 19, added a racial equity component to their draft policy goals for the Town Manager.  The goals were part of a larger document establishing performance objectives for the Town Manager related to his annual performance review by the Council. The addition of explicit racial equity language followed a contentious discussion at the August 5 GOL meeting, where Councilor Pat DeAngelis (District 2) proposed to add explicit social justice language to the document.  This proposal was strongly opposed by GOL Chair George Ryan (District 3) and the committee ultimately decided without a vote to exclude such language. That discussion can be found here  beginning at minute 50.  An excerpt from the transcript is provided below. 
The issue was taken up again at the Town Council meeting of Aug 17 when several Councilors and members of the community spoke passionately about the need to add social justice language to the draft goals. That portion of the meeting can be viewed here beginning at 1:10. A summary of selected comments by Councilors and the public provided below.
The proposed language, included in a newly-added section devoted to racial equity is as follows:

SECTION 6. Racial Equity and Social Justice
Objective: To explore, recommend, and implement policies and procedures that address racial equity and social justice consistent with the Town Council Resolution in the Aftermath of the Death of Mr. George Floyd adopted on June 1, 2020 that (1) ensure all community members feel and are a part of Amherst and feel and are protected, listened to, and served by their public servants, (2) foster a community free of fear, intimidation, and violence, and (3) incorporate significant involvement of black, indigenous and people of color (BIPOC) residents in shaping these policies and procedures.
The entire revised draft document can be read here.

This new draft will be discussed and likely voted on at the next Council meeting on August 31.
Councilors Call For New Language
At the Town Council Meeting of August 17, several Councilors spoke of the need to add social justice and/or racial equity language as well as specific objectives regarding those terms, to the Town Manager's goals. As a preface to the discussion about the goals, Council President, Lynn Griesemer (District 2) pointed out that in establishing these goals for the Town Manager, the Council is also representing the priorities that the Council has set for the Town. Several Councilors who subsequently spoke, addressed the need to highlight racial equity as a Town priority and to codify that with explicit language. They spoke of the need to prioritize racial equity with its own section in the document rather than only alluding to it in the Community Safety section.
Dorothy Pam (District 3) noted that the public safety section ought to include a commitment to a community review board to evaluate police conduct and deal with complaints, something that many members of the public have been demanding for some time.
Cathy Schoen (District 1) asked that the community safety section include a community health component and a commitment to shift some resources around for human services and that it also mention racial equity and inclusion. This suggestion was supported by Shalini Bahl-Milne (District 5), who said that there ought to be a committee set up to take note of and address concerns of community members concerning health and safety.
She also advocated for an advisory committee to make sure that Town government is assessing the impacts of its decisions on different segments of the community. She said the Council is not diverse enough to be fully aware of the impacts of its decisions on different constituencies in the community. She also suggested that the Council ought to undertake sensitivity and empathy training "so we can get better at raising our own awareness and compassion and so we can really hear each other and be more effective in serving all of Amherst. We are not currently creating an environment in which all of our residents feel comfortable or safe in speaking up about their experiences and needs."
Alisa Brewer (At large) said that the Council needs to have this conversation but that they really can't put these specific suggestions into the goals for the Manager  because they haven't had the conversation yet and so they don't know what they agree on.  She suggested that they come to an agreement on some basic things for the draft document and then, in the coming months, have the conversations needed to determine the specifics and then revise the goals.  "We simply can't craft a new set of goals here tonight. But we can map out a path forward," she said.
DeAngelis agreed and asked the Council to follow up on suggestions that had been received from Professor Dee Shabazz as a start. She spoke in support of some kind of a citizens' commission for oversight. She also argued that the Council itself needs to be called out for its blind spots and oversights.
Schoen noted that the Council agreed that it would wait on identifying specifics for the public safety section until they heard from the citizen groups working on this.
Darcy DuMont (District 5) noted that at the GOL meeting on August 5, the Town Manager was asked if he would make any changes to the Goals Document, and he stated that racial equity was missing and that he thought it should be a separate goal (see minute 12 of the recording). "Racial equity spans more than the police department and its funding," she said. "We need to add language about this to underscore and represent our commitment to racial equity."
Andy Steinberg (At large) suggested that the Council does not yet have social justice goals to implement but that Councilors would like to commit to a process that would establish next steps. Griesemer agreed that the Council can't really have a discussion about any next steps without first posting a notice to the public. This could be taken up at a future meeting she said.

Evan Ross (District 4) said that he didn't think racial equity should have a stand alone section but rather should be integrated throughout the document and woven into every aspect of Council goals.
DeAngelis said that for precisely this reason (of interweaving) the Council needs to work explicit social justice language into the goals.
Bahl-Milne said that she has been speaking with Black community leaders and that they have suggested that the Council needs to start not with solutions but with an engagement with the broader community. "Maybe we need police oversight by the community, and we are listening to people who are telling us that this is necessary, but we need to start by hearing from the whole community, finding the needs and then crafting solutions," she said. 

Community Response To Draft Language
Seven members of the community spoke during public comment time,
specifically addressing the absence of social justice language from the original draft.  Several objected strongly to comments made by GOL
Chair George Ryan at the August 5 GOL meeting (see below) in which he opposed inclusion of any social justice language in the draft document.
A sampling of their comments follows.
Demetria Shabazz (District 5) pointed out that "structural racism and bias were on full display at the August 5 GOL meeting" warning that the biases expressed might get written into policy. She advised the Councilors that they have an opportunity to make a difference by making racial equity a concrete achievable goal that the Town strives to accomplish. This only happens when the Town adopts explicit language and establishes explicit goals, she said. She also reminded the Councilors that a citizen oversight commission is necessary to hold the police accountable and that both the Town Manager and the Chief of Police have been receptive to this.
Lydia Irons (District 4) told the Councilors that these meetings are very difficult for many people to access. Councilors say that they are only hearing from a small segment of the town's residents but the Council could do more to make it easier for people to be heard, she said. She stressed that she was offended by Ryan's dismissal of claims coming from the community and said that people are coming forward to speak out about their experiences. People in power need to take them seriously, and it is a poor reflection of the values of the Councilors when they don't.

Allegra Clark (District 2) said that we know that there are racial disparities in heath care and housing and education and that they exist in Amherst. "We need to address these but we can't if we don't acknowledge them," she said.
Isolda Ortega Bustamante pointed out that dozens of people of color have offered suggestions about race and justice in town but you wouldn't know that the Town Council has received them as they have not acknowledged this. She complained about Town Council practices that make participating in government or making one's voice heard difficult and intimidating. Posting of Council business tends to be last minute and is not conducive to allowing the public to review documents and respond, Bustamante noted.  Such was the case with these policy goals where the public had little opportunity to respond to the draft. She said that the Council appears to be avoiding considering input from the BIPOC  community, and the August 5 GOL meeting and August 10 Council meetings show that the Council needs to do much better.  The dismissal and silencing of dissenting voices that seems to be common with this Council reveals anti-democratic tendencies with a particular indifference to the BIPOC community she said. She concluded with a quote from James Baldwin:
"I can't believe what you say because I see what you do. "
Edited transcript of the August 5 GOL Meeting
The original discussion from the August 5 GOL meeting that led to the exclusion of social justice language from the Town Manager goals is reproduced below. That discussion can be found here beginning at minute 50.
DeAngelis raised concern that there is no mention of social justice issues in the draft of goals and asked that social justice be woven into the priorities. The community is not safe if issues of racism and bias are not being addressed, she said. We have made a commitment to social justice issues and that is not reflected in these objectives, she said.
Hanneke: I welcome any revisions and I will admit… that the language isn't very strong.
Ryan: I feel strongly that it shouldn't be strong. The people that I have spoken to, the people that I am hearing from, would not be endorsing the more specific language. Here we run into the difference between the Council's goals and what individual Councilors want. I would be uncomfortable with that kind of language. We have not had any discussion beyond the specific language that is here. I have deep ambivalence about some of the claims that are being made. Just because people claim things doesn't mean that they are true. I would like to keep the language vague.
DeAngelis: I guess we need to have a larger conversation. I don't buy everything that is being said either over the last few weeks about racism in Amherst and defunding the police. But I don't know how any of us can sit here and dismiss claims of aggression and micro-aggression – how can we judge when it's not happening to us. There's a consistency in the way that this is being reported across the community of color. Why do we allocate $80,000 to social justice and then not mention social justice in our policy goals? There are issues being brought up by community members about what it's like to be a person of color in Amherst that we need to address. What is it that you think that the $80,000 is for since it was designated for social justice.
Ryan: This was a decision that was made by the Town Manager.  We never decided on that….We just disagree.  Maybe I'm a symptom of the disease that you are pointing out but I hear from other people including people of color that say different things and I wonder whether those who are speaking out are representative. And I struggle with it.  Just because a group of people comes and tells you something doesn't make it true.  And  that doesn't mean that we have to adopt some major goal around social justice. 
DeAngelis: This is coming from more than Defund 413. I have relationships with a large swath of the communities of color. I'm not holding onto the demands of Defund 413. But when a community can be racist or prejudiced and not have that addressed…maybe we can move more people in Amherst if we make social justice an explicit goal.
Steinberg: It's important to remember that this is evolving so quickly. Let's remember where the $80,000 came from. (Here he refers to the first public forum with Chief of Police Scott Livingstone and Town Manager Paul Bockelman to discuss how the Amherst Police Department functions. As a result, Town Manager Paul Bockelman, in good faith, set aside some money in the budget because it was early enough in the budget process to do this. It went into the community services budget without any specifics because there was nothing in that stage of the budget process that would have enabled defining specifics. After the Defund Movement started, the Town was able to offer this previously allocated $80,000 as a good faith gesture. The question now is what do we do with it?
Griesemer: Let's remember that we can only do so much as the government with respect to social justice. This is bigger than government. And it doesn't just apply to policing. It applies to a lot of other things. It doesn't matter if people believe that they are being treated unequally. I want them to BE treated equally.
Hanneke: Perception is sometimes more important than reality. There are plenty of people in our community who believe that people are already treated equally. But there are a substantial number who believe that they are not being treated equally (whether or not that's actually the case). If people perceive that they are being treated unfairly then we still have a social justice problem.
Ryan: What control do we have over people's beliefs? Let's be realistic here. We are a Town Council and we are trying to give the Town Manager some guidance – we're trying to tell him, this is what's important to us. Surely we are concerned about people's beliefs. But sometimes people are just not credible, and I am entitled to maintain a critical perspective on what people are saying. Sometimes someone comes and says I believe X, but I am not required to do anything about that. I take it seriously, but I may decide that their belief is mistaken. In the end it is not about what people believe – it's about what we do or the police do. I can not be held responsible for what other people believe. We can be held responsible for making sure that people in Amherst are treated fairly, so that might be acceptable in the language. But I can't be responsible for the beliefs of other people. There's been all kinds of things that have been thrown around in the last couple of months and I don't have the slightest desire to respond to them. I would like the term Social Justice removed from the header.