TSO Approves Appointments, Discusses Lincoln Avenue Parking, And Considers Surveillance Technology Bylaw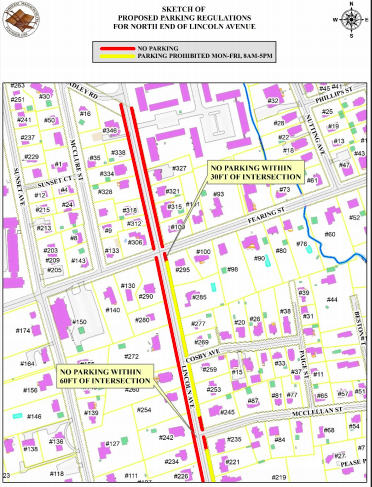 Report On The Meeting of The Town Services and Outreach Committee (TSO) of 8/20/20.
The meeting was held via Zoom webcast and was recorded.
Participating: Town Councilors Darcy Dumont (Chair, District 5), Alisa Brewer (At large), Dorothy Pam (District 3), Evan Ross (District 4), and George Ryan (District 3). Staff: Jennifer Moyston, Community Participation Officer and Staff to the Human Rights Commission.
Town Manager's Appointments
Town Manager Paul Bockelman has nominated four people for appointments to the Human Rights Commission (HRC). TSO approved these nominations by a vote of 5-0-0 and forwarded their recommendation for approval by the full Town Council.
Nominated for a two year term expiring on June 30, 2022:
Sid Ferreira, Pelham Road (reappointment)
Nominated for three year terms expiring on June 30, 2023:
Cedric Gonnet, South Prospect Street
Elizabeth Haygood, Logtown Road
Erika Loper, Colonial Village
Matthew Charity, Benjamin Herrington, Petua Mukimba, Deborah Neubauer, Gazit Chaya Nkosi, will continue as members.
The Town Manager's appointing memo is here.
The Town Manager provided the following personal profiles for the nominees.
Sid Ferreira: has been a member of the Human Rights Commission since 2013. He is the Special Assistant to Vice Chancellor for Campus Life at the University of Massachusetts. He is one of the Resident Directors of A Better Chance, a program that provides young men from around the country with the opportunity to attend Amherst Regional High School to pursue a better education in high school and beyond. He is interested in anti-racism initiatives and he brings an approach that starts by meeting people where they are.

Cedric Gonnet: is a para-educator at the Amherst-Pelham Regional Schools. He also serves as an instructor for LSSE and works as a sports mentor for youth in Amherst. He played D-1A football at the University of Massachusetts at Amherst.

Elizabeth Haygood: is a long-time teacher at the Amherst-Pelham Regional High School and brings a long list of accomplishments and experiences to the Commission. She is the co-advisor for People of Color United (POCU), is a District trainer in Safety Care, takes a non-violent approach to diffusing challenging behaviors, and serves as a member of the newly-formed Educators for Black Lives Matter initiative. She also participated in the Police Citizens Academy and utilized police officers in various trainings and activities as an educator at the high school. Ms. Haygood self describes as "Single, Black, Mother, Teacher, Mentor, Coach."

Erika Loper: has worked in the Amherst public schools as a para-educator for the past seven years. She has been involved in the community for over 25 years with a focus on racial justice and mental health services for low-income residents. She sees herself as a bridge to the Town's youth and works to find ways for their voices to be heard.
The mission of the Human Rights Commission can be found here.
In their discussion of the nominees, Pam raised a concern that three of the nominees were town employees affiliated with the schools and wondered if that posed a potential conflict of interest and whether they might be constrained in their deliberations because of their employment. Moyston responded that Haygood was about to retire.
Pam also asked whether the community groups that are asking for police reforms and/or defunding would find that they do not have representation on this group. Moyston said that openings on the HRC were communicated to groups like Defund 413 and The Racial Equity Task Force and that they had the opportunity to apply. DuMont said that it was her sense that the nominees were well known in the BIPOC community and she heard nothing but positive remarks among her BIPOC constituents regarding these nominations.
A good portion of the meeting was spent debating whether the subsequent proceedings were following TSO's recently adopted protocols. Brewer pointed out that while these debates were frustrating and time consuming the committee would eventually become "a well oiled machine" that would produce better outcomes though she acknowledged that that might not happen until a new group of Councilors is assigned to to take over the committee's duties.
Parking Changes On Lincoln Avenue
TSO heard a preliminary presentation from Ryan and Pam on requested parking changes for Lincoln Avenue.
Need: Residents on Lincoln Avenue feel that the current situation is unsafe because parking by commuters using the downtown and the university have increased as has traffic on the street. They report that there is not room for cars to pass on both sides and that there have been both accidents and many near misses. Residents have had difficulty exiting their driveways. Residents feel that the situation is unsafe and have asked for a weekday parking ban (8AM-5PM) the length of Lincoln.
History: A similar request was made in 2015. Multiple proposals were offered and the Select Board ultimately rejected the Planning Department's recommendation but there were some small changes made to intersections and rights of way.. A public hearing on the requested changes was held in 2020.
Proposal: The current proposal is to change the parking on Lincoln from McClellan Street to Northampton Road from unrestricted parking to no parking M-F from 8 AM-5PM. The proposal is also to change Sunset Avenue from unrestricted parking to restricted (M-F , 8-5) which is the case for most of the other minor streets in this area. Kendrick Place would remain unrestricted. Maps of existing parking arrangements and proposed changes can be found here.
Pam also suggested an alternate possibility – that the parking changes could be limited to Lincoln and Sunset or that Superintendent of Public Works Guilford Mooring might want to undertake a "safer streets" policy that would entail traffic studies that could then be applied uniformly across the town (as there are also concerns from residents of other smaller streets).

DuMont recalled that when this was referred to TSO by Council it was to look at the neighbors' request in a broader way.
Ryan was not certain that this was the mandate and said that TSO needs to look up the directives that were given. Brewer concurred that the charge was to look at the broader issue. DuMont also raised concern that if there is to be an overall town plan then perhaps we need to be cautious about adopting an intervention for Lincoln that might not be consistent with that plan.
Brewer reminded the committee that there are other groups in town thinking about parking and Councilors are hearing from their constituents about this so it would be useful to consider whether the proposal is to go big or not.

The committee agreed that Pam and Ryan would develop a written preliminary report and submit it to TSO for consideration at a future meeting.

Surveillance Technology Bylaw
Dumont noted that TSO has already had a preliminary presentation on this topic. A draft of the bylaw can be read here and an rationale from the sponsor can be found here.

The committee reviewed the work that has been done this far and, determined, after considerable debate, that they were ready to hear the formal presentation from the sponsors at their next meeting.
Ryan raised a number of concerns and reasons why he might oppose the bylaw. He pointed out that he doesn't see a need for it, that a small town doesn't have the means to regulate such technology and that adopting such a bylaw may open up the town to legal liabilities. He asked what kind of surveillance is the town doing now? What kind of legal liability do we have, especially since there is no state law covering surveillance.
Pam asked that the name be changed to say Surveillance in the Town of Amherst
TSO agreed that they would hear from the Town's IT department and the Chief of Police next time. TSO agreed that they would hear the formal presentation on the Surveillance Technology Bylaw at their next meeting. .
Dumont announced the Town had received a grant from the Massachusetts Department of Environmental Protection to explore best practices among hauler systems for reducing waste.

TSO will meet next on September 3 at 6:30 PM.