TSO Approves Modified Surveillance Bylaw, Discusses Transportation Committee's Future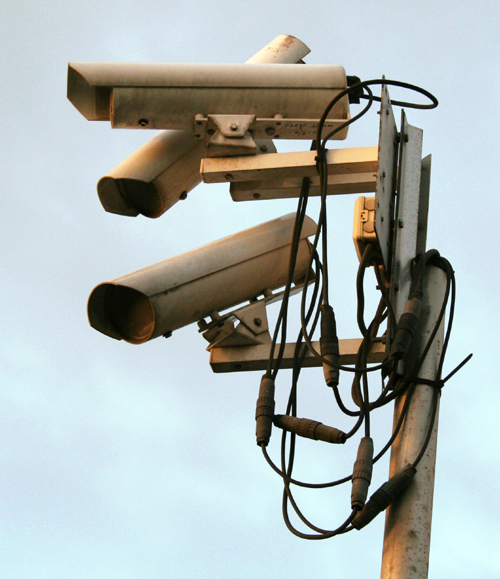 Report on the Meeting of the Town Services and Outreach Committee (10/8/20)
Participants
Committee Members: Darcy DuMont (Chair, District 5), Alisa Brewer (At large) Dorothy Pam (District 3), Evan Ross (District 4), George Ryan (District 3). Also: Councilor Mandi Jo Hanneke (At large) and Councilor Pat DeAngilis (District 2). . Staff: Paul Bockelman (Town Manager), Guilford Mooring (Superintendent of Public Works)

Highlights
approved the Prohibition on Face Recognition Technology Bylaw (the portion of the Surveillance Bylaw proposal that deals with facial recognition technology)
discussed the Transportation Advisory Committee (TAC) and its relationship to TSO
approved the Town Manager's nominations for appointments to the Cultural Council, Community Development Block Grant (CDBG) Advisory Committee, and Design Review Board
Face Recognition Technology Bylaw
Sponsors Pat DeAngelis (District 2) and Mandi Jo Hanneke (At large) made their final presentation on the proposed suveillance bylaw. Their revised proposal partitions the bylaw, separating out the parts that deal with facial recognition technology to make the bylaw more "digestible" so that this aspect can be dealt with more expeditiously. Previous reporting on this bylaw can be found here, here, and here.

The new bylaw sets limits on the Town's use of facial recognition technology, and requires the Town to document its use of facial recognition technology, specify the kinds of data collected, how those data are stored, and who has access to them.
Hanneke discussed limitations that have been added (see revised bylaw).
Alisa Brewer noted that requiring reports is unique to this bylaw. She objected to wording that requires the reports to be approved by the Council, noting that the Council does not approve reports. DeAngelis countered that she wants something in the bylaw that requires that the Council review the reports.
There was a substantial discussion of the exceptions permitted by the bylaw.

Hanneke noted that there are at least six other communities in Massachusetts with facial recognition technology bylaws, including Northampton, Easthampton, Sommerville, Springfield, and Cambridge, and that enforcement of the bylaw is injunctive rather than punitive and does not entail monetary damages.

At the conclusion of the discussion, George Ryan asked, "Why do we need a bylaw for this? Can't the Council just issue instructions to the Town Manager to implement these directives?"
DeAngelis responded that an instruction can be ignored and can easily fall out of use when personnel change. She added that the technology is "incredibly" inaccurate and that people have spent time in jail because of its inappropriate use. "With this bylaw we are demanding that all public officials must follow these directives because [facial recognition technology] is inaccurate and its inappropriate use hurts people, especially BIPOC people," she said. Hanneke added that bylaws are enforceable but memos are not.
TSO unanimously recommended that the bylaw be adopted. It will now move to the Government, Organization and Legislation committee, and a legal opinion will be solicited from the Town's Counsel, KP Law.

Following the vote, there was a short exchange between Ryan and DeAngelis about how much weight KP Law's opinion should be given, regarding this bylaw, compared to other legal opinions, such as opinions from the ACLU and lawyers for towns that have adopted similar bylaws.
The Future of the Transportation Advisory Committee (TAC)
TSO resumed a discussion begun at its last meeting on restarting the of TAC which until last week had not met since early March. 

Background
Apparently at stake was whether TAC would continue to operate as a town committee. Several weeks ago, TAC member Tracy Zafian had reached out to Superintendent of Public Works Guilford Mooring and asked when the TAC would restart. Mooring responded that there were no plans to schedule another TAC meeting. Zafian and former TAC member Eve Vogel appeared before the TSO at their previous meeting and reported on the expansive work that TAC had been doing prior to the pandemic. TAC resumed meeting on October 1. 
TAC Report
TSO Chair Darcy DuMont framed the discussion as "the beginning of a conversation to help us think about how we are going to be working together." TAC Chair Aaron Hayden reported on the prior work of the TAC with the stated purpose of establishing communications between TSO and TAC "because their responsibilities overlap." Throughout his presentation, Hayden emphasized that the role of TAC was advisory and that its work aimed at providing the Council with detailed information on transportation, regulations and policy that the Council might not have the time to research themselves. He underscored that TAC exists to support the needs of the Council and that the work of TAC should be directed by the Council. Hayden said that while the TAC charge, written in 2016, is unusually long and complex, it boils down to this:
TAC's primary purpose is to effectively communicate transportation concerns/needs within the Town to the Town Manager, Town Council and to the Superintendent of Public Works." Every one of the town's 50 or so committees came into existence in response to a community concern", he said.
Hayden said that TAC gets many requests focused on transportation needs and safety concerns and that it plays an important communicative role in getting that information to the appropriate authorities. He said that TAC's mission complements the work of TSO. He noted that part of TAC's job is to stay on top of state regulations which are expansive and complex and noted that the regulations for replacing a crosswalk, for example, have changed twice in the last year and that it would be unreasonable to expect Town Councilors, with so much else on their plates, to be able to keep up with this. And he said that prior to the pandemic, TAC was trying to develop a tool for setting transportation priorities. He concluded by saying that he was hoping for an affirmation from TSO that TAC's efforts to support the work of TSO are welcome.
Ryan said, "We're trying to figure out how we can use all of the research energy of TAC effectively. We need to figure out how and when to make that happen." Ryan asked that TAC consider revising their charge.
Hayden responded that "we're happy to be the wide end of the funnel — to gather the interests, concerns, and data and to offer this to the Town Council. We are not assuming any power. We're here to serve and that includes communicating ideas from the community to the Town Manager and the Town Council."
Brewer agreed that TAC has no power except that the Town Council may give weight to what they say. "They don't decide anything unless their opinion is asked for," she said. She raised a concern about TAC holding public meetings without consulting the Town Council. She said that she wasn't saying that they needed the Council's permission but wanted to emphasize her feeling that the effort ought to be collaborative.

Mooring and Bockelman both said that there needed to be a clear path for receiving complaints and requests from the public — that there's a danger of those inputs going to different sources and getting lost in the process and there needs to be a way to centralize those streams of information. They said that TSO and the Council need to decide how decisions about transportation are going to be made.

Bockelman asked TSO to consider what they (and the Council) need to exercise their responsibilities as" keepers of the public way." "TAC should not be replicating work that is being done by the Council," he said, "so let's think about what you need and let's also look into how other communities around are managing the public way. "

Pam said that the Council needs to make a decision on the disposition of TAC.
DuMont pointed out that TAC is not a committee of the Council but rather the Town Manager's and it is his decision what to do with it.

Ryan asked, "Do we want to cede some of our authority over the public way to another body [TAC)? Let's see if we have some consensus within TSO. "
Ryan and Pam emphasized that they wanted more input from Mooring on this issue.

DuMont said that there is room on the next TSO agenda for more discussion about TAC, including the questions that had been raised today.
Public Comment
Tracy Zafian, a member of TAC, offered a few comments about the Town of Amherst Complete Streets Policy and how it works, emphasizing the complexities governing transportation policy and how it works. Zafian discussed how it was adopted by the Select Board in 2018 and submitted to the Massachusetts Department of Transportation (MassDOT) for approval. She mentioned too that the two main tasks the TAC was working on when it stopped meeting in March 2020 – the Prioritization Plan and the Pedestrian and Bicycle Network Plan – appeared in the Complete Streets Policy's list of next steps for implementation. Under the MassDOT's Complete Streets Program, Amherst becomes eligible for MassDOT Complete Streets funding after it completes a Prioritization Plan and the plan is approved by MassDOT. 
Appointments
TSO unanimously approved the Town Manager's nominations for appointments to the Cultural Council, the Community Development Block Grant (CDBG) Advisory Committee, and the Design Review Board. The Town Manager provided brief biographical profiles for each of the nominees. The approved nominations will be sent to the full Town Council for approval and will likely be taken up at its next meeting, which is on October 19.
The appointments are as follows.
Cultural Council. The Cultural Council allocates state Arts Lottery funds and works to support and nurture arts activities in the community by seeking private or other public funds and initiatives.
Appointed for a three-year term (expiring June 30, 2023) as a voting member:
Matt Holloway, Maplewood Drive
Nominated for one-year terms (expiring June 30, 2021) as non-voting associate members:
Nandi Chivende, Bedford Court
Sydney Mager, Crosby Avenue
Leah Neuburger, 4South Pleasant Street
Georgie Barnhill, Nicolas Graber-Mitchell, and Sondra Radosh will continue to serve with terms ending June 30, 2021. Julianne Applegate, Jennifer Lind, and Arthur Pero will continue to serve with terms ending June 30, 2022. Robin Thompson and Rachel Wang will continue to serve with terms ending June 30, 2023.
The interview team received interest from, and interviewed, three students from the Amherst-Pelham Regional School District. At the conclusion of the interview process, the team recommended these students as non-voting associate members. Encouraging students to participate in the work of the Cultural Council will bring much-needed diversity of opinion and perspective to the Council's deliberations and a broader engagement of the youth of Amherst. In accordance with local cultural council guidelines issued by the Massachusetts Cultural Council, communities may "designate former officers or members as non-voting, ex-officio council members." Some communities have done this. For example, the Town of Hanover has student associate members in its Cultural Council. And in addition to the members they already have, the Acton-Boxborough Cultural Council currently has two youth members .

Profiles
Matt Holloway is an educator, a new Amherst resident, a new father, and first-time homeowner who is inspired to be involved in his community. He has a strong background in public policy and seeks to serve in a capacity that spurs cultural and economic growth for the Town while protecting historical and environmental resources.
Nandi Chivende is a member of People of Color Unite (POCU) at Amherst Regional High School and is interested in serving on the Council to enhance the culture and arts that are already there. She has special interests in theater and museums, especially the Emily Dickinson Museum.
Sydney Mage is eager to make the arts more accessible to everyone. She sings with the Hurricane Singers and the Hampshire Young People's Chorus. She has danced with Amherst Ballet for eleven years and is now dancing with the Massachusetts Academy of Ballet in Holyoke.
Leah Neuburger has been interested in the arts for as long as she can remember. She is a dancer and visual artist and hopes that she can work with the Council to create art experiences that help bring the community together. She wants to become more involved in the Town's thriving art community and believes there are a lot of people her age who would appreciate the art that's available if they knew about it.
CDBG Advisory Committee.
The CDBG (Community Development Block Grant) Committee makes recommendations to the Town Manager regarding the Town's CDBG program that includes both social service and non-social service community development activities. CDBG funds — $825,000 in FY19 — are awarded to projects, programs, and services that improve the lives of Amherst's low- and moderate-income residents and/or increase the accessibility for individuals with disabilities.

Nominated for three-year terms (expiring June 30, 2023):
Paul Goulston, Middle Street (reappointment)
Nathanael Larson, Summerfield Road (reappointment)
Becky Michaels, Evergreen Lane
Nominated for a two-year term (expiring June 30, 2022):
Lucas Hanscom, Bay Road
Gail Lansky will continue as a member with her term expiring June 30, 2022. Andrew Grant-Thomas and Stephanie Leombruno will continue as members with terms expiring June 30, 2021.
Profiles
Paul Goulston has been a member of the Committee since 2017. He has completed his first term. As a retired social worker with the Department of Children and Families, Mr. Goulston brings experience working with social services and developing programs.
Nathaniel Larson has been a member of the Committee since 2018. He has completed his first term. Mr. Larson has been a lawyer and investment banker and brings experience in reviewing and analyzing budgets and financial proposals with impartiality and with an open mind.

Becky Michaels brings years of experience to the Committee with service as co-President of the Amherst Education Foundation, as a volunteer at Not Bread Alone, as well as serving on the Fort River School Council and as an LSSE soccer coach. During recent months, Ms. Michaels has delivered meals for the Senior Center which gave her a new window into the needs of the community. As an Assistant District Attorney, Ms. Michaels participates in the office's Restorative Justice Committee.
Lucas Hanscom has expressed interest in serving the Town and brings his perspective that climate change is an important issue for the Town. He recognizes that he will need to educate himself about the Community Development Block Grant program and is willing to dedicate the time to do that.
Design Review Board.
The purpose of the Design Review Board (DRB) is to preserve and enhance the Town's cultural, economic and historical resources by providing for a detailed review of all changes in land use, the appearance of structures, and the appearance of sites which may affect these resources.
The DRB exercises this responsibility by providing design review and recommendations to private applicants and permit granting boards within specific overlay zoning districts in the Town Center: the Design Review (DR) overlay district and the Town Common Design Review (TCDR) overlay district. Design Review is also provided for Town departments and permit granting boards with respect to Town projects anywhere in Amherst "which will result in substantial alteration to the form or appearance of a structure or site."
Nominated For a one-year term (expiring June 30, 2021):
Thom Long – Heaterstone Road (representing the Planning Board)
The Design Review Board provides that two members shall represent the Planning Board and Historical Commission. At its meeting on September 16, 2020, the Planning Board voted to have member Thom Long represent the Board on the Design Review Board. The appointment for the Historical Commission will be forthcoming.

Profiles
No biographical profile was provided for Long.