Opinion: Impeach Trump Again And Bar Him From Future Office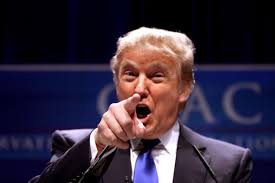 by Ben Clements, John Bonifaz, and Ron Fein
Editor's note: this column is excerpted from an op/ed that appeared in The Boston Globe on January 5, 2021. The original can be found here. In light of the insurrection in Washington D.C yesterday (1/6) that included a violent occupation of the Capitol building, the authors have renewed their call for immediate impeachment and have drafted new, model articles of impeachment that consider yesterday's riot.
---
On Sunday (1/3/21), America heard a recording of a phone call in which President Trump pressured Georgia secretary of state Brad Raffensperger to "find 11,780 votes" to reverse that state's presidential election result. Some say we should focus on moving forward and putting this presidency in the rearview forever. But for the survival of our constitutional democracy, Congress must impeach him again — and, this time, disqualify him from future federal office.
It hasn't been even a year since the Senate failed to convict Trump on an earlier effort to subvert the 2020 election. After Trump improperly pressured the president of Ukraine to announce phony investigations into Joe Biden's family, and then obstructed a congressional investigation, the House passed two narrow articles of impeachment. Unfortunately, the Senate protected Trump from the consequences of his actions.
Trump has proved that he should not be allowed anywhere near public office. To secure our fragile democracy, Congress must impeach Trump again — and this time, get it right. The Constitution provides that judgment of impeachment may include "disqualification to hold and enjoy any Office of honor, Trust or Profit under the United States." Under longstanding precedent, the Senate can exercise this power — first used in 1862 to disqualify a judge who had joined the Confederacy — by a simple majority vote after an initial two-thirds vote to convict him of an impeachable offense.
The first article of impeachment is obvious. Trump's full-court press on Raffensperger almost certainly violates federal and state criminal law. But most important, it subverts the very idea of constitutional democracy for the president of the United States to demand that a state official cheat voters out of a free and fair election.
But Congress shouldn't stop there. The House's narrow articles of impeachment in 2019 omitted over a dozen other impeachable offenses, including unconstitutionally profiting from emoluments from foreign governments and US taxpayers; directing law enforcement to investigate and prosecute his political adversaries; and cruelly and unconstitutionally imprisoning children and their families with his "zero-tolerance" immigration policy. And that was before Trump spent 2020 sabotaging the national response to the coronavirus pandemic, undermining the legitimacy of elections, and endangering our unbroken history of peaceful transfers of power.
The point of impeaching again isn't to remove Trump from office; the voters did that. Nor is it to punish him — as Supreme Court Justice Joseph Story noted in 1833, impeachment "is not so much designed to punish an offender, as to secure the state." And we need to secure the state from this man. A renewed impeachment would also put Congress in a stronger position to challenge a potential presidential self-pardon.
The House may not be eager to impeach Trump again, and we entertain no illusions about the Senate convicting him before Jan. 20. But as the National Review's Andrew McCarthy explained in 2016, "the Constitution does not limit impeachment to incumbent officials." Rather, impeachment also applies to "former officials who might seek to wield power again
For now, America has pulled through. The voters have spoken, and Trump will soon be out of office. But after he spent his entire first term enriching himself, abusing the office of the president of the United States, and undermining our system of government, we can't risk a sequel. The Constitution provides the remedy; Congress must use it.
Ben Clements is a former federal prosecutor, former chief legal counsel to the governor of Massachusetts, and chair of Free Speech for People. John Bonifaz is cofounder and president of Free Speech for People. Ron Fein is legal director of Free Speech for People. They are the authors of "The Constitution Demands It: The Case for the Impeachment of Donald Trump."