Zoning Board Of Appeals Debates Garage Conversion On Strong Street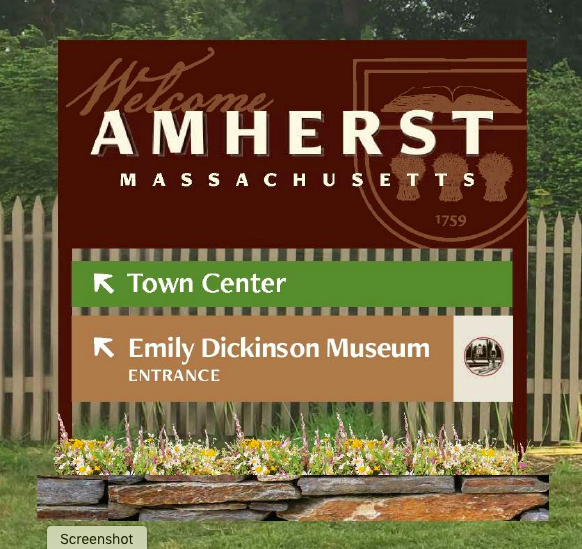 Report On The Meeting Of The ZBA, January 7, 2021
The meeting was held as a Zoom webinar and was recorded.
Participants: Full ZBA members: Steve Judge, Keith Langsdale, Dillon Maxfield, Joan O'Meara, Tammy Parks Associate ZBA Member: Craig Meadows. Staff: Rob Morra, Building Commissioner; Dave Waskiewicz, Building Inspector; Christine Brestrup, Planning Director; and Ben Breger, Planner
Zoning Bylaw Revisions
In the category "Agenda items not known 48 hours before the meeting," Board members heard from Amherst's Planning Director, Christine Brestrup, about the Town Council directive to the Planning Department to begin changing the Zoning Bylaws in accordance with the Council's List of Zoning Priorities, along with the Council's timeline for doing so (as soon as March, 2021 for some). 
She pointed out that she and Building Commissioner Rob Morra have been reviewing the current Zoning Bylaw to fix inconsistencies and numbering, as well as reformat the text so that it is more user-friendly. One of the goals is to construct a searchable document. She noted that some sections need revising, including those addressing parking, signage, and inclusionary zoning.
The Town Council is most interested in the areas in Town that can accommodate more housing. Members of the ZBA understand that their purview is to enforce zoning regulations, not write them, but they know from using the Bylaw where many of its inconsistencies and interpretation difficulties lie.
A copy of the Town Council's draft Comprehensive Housing Policy document developed this past November was sent to the ZBA members to discuss at a later meeting. .
Wayfinding Signs, the Height of a Fence, and a Garage Conversion 
Public hearings were then held for three issues.
There will be four wayfinding signs in Town, all using the same design. Three of them are in the public way, so do not require approval.
The fourth would replace the Emily Dickinson Homestead sign at the intersection of Triangle and Main Streets with a sign that would direct drivers to the Emily Dickinson Homestead and downtown Amherst on the next block. It is on private property and is larger than allowed in the General Residence zone. It has already been approved by the Local Historic District Commission, and the ZBA followed suit.
The Board also approved the height of a screening fence for a previously approved Special Permit on South East Street and removed a condition that a single-family residence on Summer Street must be owner-occupied.
Garage Conversion on Strong Street
Lastly, Pioneer Property Services, LLC (Owners, Jennifer and Neil Mendelsohn of 25 Gray Street), were represented by Attorney Michael Pill and Civil Engineer Bucky Sparks in their request to convert the detached garage of a small, non-owner-occupied house with three bedrooms into an additional housing unit. The house (275 East Pleasant Street) is on the corner of East Pleasant Street and Strong Street, and the garage is on Strong Street. Abutters expressed concern over appropriate property management, stormwater runoff, and the safety of egress from the parking spots onto Strong Street. At this hearing, which was continued from October 1 and November 12, 2020, designs for a downsized unit were presented, as well information on lighting and stormwater drainage control that had been previously requested by the Board. .
Three bedrooms in the unit, which is less than a total of 800 square feet, have been reduced to two bedrooms and eight parking places were reduced to four plus a turnaround so that cars do not have to back up onto Strong Street. A six-foot fence will screen the headlights of the cars from the neighboring house. A permanent grassy berm will direct stormwater to a rain garden in the southeast corner of the property, sparing an ash tree.
Abutters said that converting this garage into housing on a lot that is considerably smaller (by 10,000 square feet) than allowed and has less than half of the required setback of 20 feet in the front is a significant change to the neighborhood, which is single-family structures with a few in-law apartments. They also noted the number of homes on East Pleasant Street that have already been converted into student rentals. Town Councilor Steve Schreiber of High Street, though not an abutter and speaking for himself, not as an elected official, said that allowing this conversion is spot zoning and that densification of neighborhoods leads to deterioration — ironic in that he voted in the affirmative for zoning changes that encourage densification in neighborhoods at the Town Council meeting three nights before this hearing.
The interpretation of the Bylaw 3.3241 of the Use Table and 9.22 (Nonconforming Structures and Uses) was disputed, with five lawyers weighing in: Attorney Joel Bard for the Town, Michael Pill for the applicant, Thomas Reidy for the abutters, two abutters who are lawyers and have served as Planning Board members in the past.
The hearing will continue on January 28 at 6 p.m. with further public comment.