Letter: Increasing Density In RG Zone Will Destroy The Character Of The Neighborhoods Without Adding Economic Benefits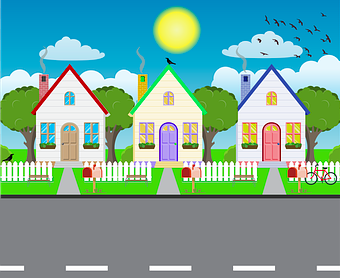 Editor's note: The following letter was sent to the Planning Board on February 24, 2021.
I believe that many of the changes currently under consideration to increase density wherever there is open space in RG neighborhoods and where there are existing homes and businesses in the BL zoning districts are seriously misguided. Recent apartment house construction has already destroyed downtown businesses that will not likely be able to return to downtown Amherst. Continuing to destroy businesses in the name of more housing that will appeal primarily to UMass graduate students, most of whom will not care about the long-term interests of Amherst, is ill-advised. Continuing to create housing without parking in a downtown that lacks most vital businesses and does not have frequent public transportation to anywhere other than UMass will not attract many of the working professionals and families you hope for.
I realize that there have been studies done and that there is a Master Plan, but those happened before COVID, which has changed the nature of work and education, likely long-term. We do not know how Amherst will evolve. I suggest you put a moratorium on your planning decisions until we know more about what Amherst should and could be in the age of the new normal.
My husband and I have lived in The Crow Hill neighborhood of Amherst for 41 years. The residents are homeowners and renters of single- and two-family houses. We bought one of the least expensive homes in town 39 years ago and are still living in it. Our house lacks the requisite setback but otherwise the lot complies with the current RG lot size regulations. Our home would sell now for under $400,000. If an 800-square-foot dwelling were to be added to the property, most of the yard would be gone. There are very few lots in this neighborhood where a 1,200 square foot secondary dwelling would fit. Such a building would be larger than our house was originally, and on most lots would consume substantial areas of open space. This kind of generalized infill would negatively impact the quality of life here. I would not object in principle to such a change BY SPECIAL PERMIT on a large lot if there would still be green space, in keeping with the character of the neighborhood.
Amherst is a town, not a city. Those of us who have lived here for a while wanted to live where we could walk into town, where there were once many businesses. Most of us could not afford or did not care to own new, large homes on large parcels of land. Nor did we want to live where small apartment houses with the associated on-street parking dotted our narrow streets. It is reasonable for larger multi-family dwellings to be built on major streets, on the borders of neighborhoods of smaller dwellings or adjacent to businesses. It is reasonable to continue to allow relatively small lots for single- or two-family houses in the RG zoning district. However, I have serious objections to multi-family structures filling up mid-block lots where there are otherwise single- and two-family houses. Infill of undeveloped lots must be in character with the rest of the homes on a particular street.
There are several undeveloped mid-block lots in my immediate neighborhood. They could be sold off at any time, especially given that some of the owners are elderly. The zoning bylaw cannot allow large-coverage multi-family dwellings to be built between or amidst single- and two-family homes. Allowing high-coverage infill will invite multi-family residences with insufficient off-street parking. They would not maintain the character of this neighborhood and indeed, the 24/7 on-street parking they would cause could be hazardous on our narrow streets.
I know that traffic and parking on streets like Lincoln Avenue have been serious safety concerns for many years. Relief for that neighborhood is currently under active consideration. North Whitney Street, while not as trafficked as Lincoln Avenue, is a commonly used cut-through street for people coming from the east and headed to UMass or to drop their children off or attend events at the middle or high schools. Allowing infill of multi-family structures with insufficient off-street parking will create the kind of safety concerns you are trying to mitigate elsewhere in town.
I believe that the general densification of RG neighborhoods is not in the interest of these neighborhoods at all. I urge you not to make any changes at this time that will have a long-term impact in this town that is so dependent on transient populations. Planning decisions made several years ago may or may not be reasonable in post-COVID Amherst.
Myra Ross
Myra Ross is a 41-year resident of Amherst (District 4).