National Pollinator Week Day 3: Pollinator Gardens, Pollinator Lawns, and Sidewalk Strips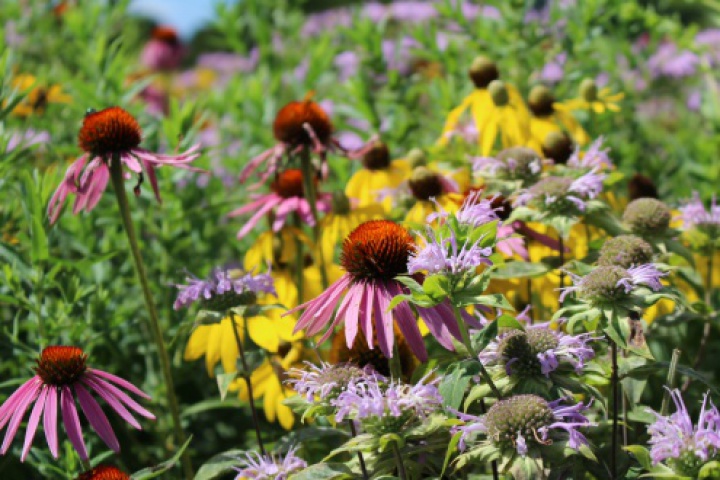 Pollinator gardens are a great way to welcome native bees, butterflies, and other pollinators. Just spread out the banquet and they will come! You don't need a lot of space for a basic garden; 100 square feet or so will suffice. Some people like to start even smaller and expand their garden beds gradually. 
I don't recommend spreading wildflower seed on bare ground, as weeds are bound to proliferate in disturbed soil and mulching a newly-seed bed is not an option. However, starting plants from seed, either indoors or outside in flats, is certainly doable if you have the time and patience. Check out Wild Seed Project to learn how. You can also order organic seed from them or any of the following companies: Colonial Seed (CT), Ernst Seed (PA), High Mowing Seeds (VT) New England Wetland Plants (MA), Prairie Moon Nursery (MN), and Vermont Wildflower Seed (VT). Seeds do have a lot of advantages: they're the cheapest way to go, you'll have a lot of plants to establish on your property and/or share with friends and neighbors, and you'll be confident that every seedling is a unique individual that will contribute to the gene pool of that species.
If you'd rather start with plugs or potted plants, they can be purchased at many nurseries in western Massachusetts, including Nasami Farm (Whately), That's a Plenty Farm (Hadley), Tripple Brook Farm (Southampton), and Wing and a Prayer Nursery (Cummington). Avoid cultivars (plants with Latin names followed by a trade name in single quotation marks, such as Echinacea purpurea 'Avalanche') – they often have less of the pollen and nectar that pollinators need, and may not be as hardy as the original "straight" species due to inbreeding. Also, cultivars and non-native plants can't help native plant pollinations rebound, and they need our help just as much as the pollinators that depend on them.
You'll want to have several plants each of about a dozen different species that bloom at different times in order to serve the nutritional needs of a variety of pollinator species from March until October. Check out Cathy Neal's Flowering Calendar for Wildflowers to see when pollinator-friendly plants with flowers of different colors are in bloom. 
Deciding which are the best pollinator plants for your property can be a daunting task. Amy Meltzer, with Grow Native Massachusetts and Landscaper Evan Abrahamson have compiled excellent plant lists and designs for lawns and sidewalk strips as well as gardens that are sunny, shady, or wet. Pollinate Northampton offers these lists as well as a wealth of information about gardening for pollinators. 
Lawns can also be pollinator havens. Mowing every other week at a height of no less than three or four inches will allow low-growing lawn flowers such as thyme, clover, bluets, self-heal, and bugle to bloom. Some of these will show up in your lawn as volunteers, but establishing pollinator-friendly grasses and flowers with plugs or seeds (again, see wmassbees.org/toolkits) is a proactive way to create a pollinator-friendly lawn.
Be an eco-hero and enjoy the delights of nature by creating your own pollinator sanctuary! Also, please contact me if you're interested in participating in Amherst Area Friends of Pollinators by contributing your gardening expertise, volunteering during pollinator garden workdays, donating extra native perennials for public pollinator gardens, participating in pollinator plant swaps, or helping to spread the word to inform and inspire people and organizations about welcoming pollinators. 
Tomorrow: No-dig Sheet Mulching for Preparing Garden Beds