Community Resources Committee Endorses Amendments to Mixed-use Buildings And Parking Bylaws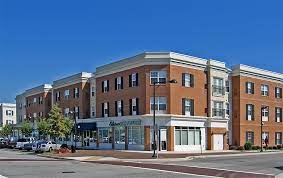 Report On The Meeting Of The Community Resources Committee, August 24, 2021
Present
Committee Members Mandi jo Hanneke (Chair, at large), Shalini Bahl-Milne (District 5), Dorothy Pam (District 3), Evan Ross (District 4), Steve Schreiber (District 4). Also participating: Councilor George Ryan (District 3)
Staff: Planning Director Christine Brestrup and planning staff Nate Malloy, Maureen Pollock, Ben Breger.

The meeting was conducted via Zoom and was recorded. That recording can be viewed here.
Sub-committee of Councilors Eases Requirements for Mixed-use Buildings 
The bulk of the meeting was devoted to a discussion of the mixed-use building bylaw amendment. This bylaw was endorsed 6-0 by the Planning Board last week. 
The bylaw was endorsed unanimously by the Community Resources Committee (CRC), a committee of five town councilors, after approving an amendment loosening up requirements for developers. The changes were proposed by Councilor Evan Ross, with language provided by Building Commissioner Rob Morra (see below).
The loosened regulations means that developers will have greater flexibility in deciding where to locate the commercial space that is required to attain the perks granted to "mixed-use" buildings. To be classified as "mixed-use" in Amherst, at least 40% of a building's ground floor must be devoted to non-residential usage.
The committee also endorsed a parking bylaw that eliminates the current requirement that developers provide a set number of parking spaces and instead requires that they provide "adequate" parking, as determined by the permitting authority. The permitting authority is either the Planning Board or the Zoning Board of Appeals, as determined on a case by case basis by the Building Commissioner/Zoning Enforcement Officer (Rob Morra).  (See Indy zoning primer).
Councilor Dorothy Pam argued vehemently that the bylaw does not even begin to consider the realities of parking in Amherst, and she called for more documentation of those realities. "People have cars and they use them and they need them, and if you want to know who has cars, how many they have and whatever, we can go take a look and study. Or we can talk about what we think people want or do, or what we think they should do. But I am saying [that[ we need to be realistic. We want a town that works, and a town that works has adequate parking. What is adequate parking? Well, obviously it changes from place to place. Let's look at what people [here] do — and then require what's reasonable."
But the other four councilors were unmoved, with some arguing that the cost to developers of providing parking drives the cost of housing up and that there's "no reason" to require it if it is not considered to be needed. In the end the measure passed 4-1, with only Pam dissenting.
Discussion of Mixed-use Buildings
Councilor Evan Ross kicked off the discussion by proposing an amendment to give developers more flexibility and more options for meeting commercial space requirements for mixed-use buildings. He argued for allowing  some of the commercial footage required to be put on a floor other than the first floor, which is the floor that is most accessible to the public. And in a development  with multiple buildings it would allow the developer to distribute  the required square footage across multiple buildings. Last week, some members of the planning board expressed interest in creating more flexibility for developers but continuing to require that they maintain the vibrancy of frontage/public-facing areas.
Pam wondered why a building would still be considered a mixed-use building if it doesn't have commercial space. If it's all residential, she asked, why isn't it an apartment building?
Ross responded that he was "not necessarily" suggesting there be no commercial space at all in some buildings but that buildings "in the back" of a multi-building development — that is, buildings without any street frontage —, might have less than 40% commercial.
In the end the committee settled on language proposed by Morra.

Morra suggested that anything for the use of the residents, such as a gym, would  be considered a residential use and would not be counted toward the required commercial space. However, if the facilities were "open to the public," they might be considered commercial use.
Schreiber noted that in arguing for placing the commercial space elsewhere in a building, such as the top floor, there had been a lot of discussion within CRC of creating roof gardens and rooftop restaurants. He said that as far as he knows, there isn't an apartment building in the United States that has a rooftop garden or restaurant. Hotels yes, but apartment buildings no, he said. He asked, "How have apartment buildings changed over the years from the perspective of architects?" and answered that they have gone from being simply residential spaces to spaces for all kinds of gathering and social interactions (with things like dedicated social gathering spaces and gyms). He suggested that it would be helpful to keep the town's approach to mixed-use simple, and referred to White River Junction, Vermont, which is building "a lot" of mixed-use buildings and only has a basic requirement — 1,000 square feet of commercial usage on the ground floor.
Pam, returning to an argument she has made at past meetings, said, "We need design standards for mixed-use buildings. The debacle on Spring Street is an example of what happens when there are no standards and no means for enforcing them."
Brestrup responded that the planning board already has authority to impose design standards and that this is covered in section 11.24 of the zoning bylaw.

The committee voted unanimously to endorse the mixed-use bylaw amendment using Morra's language, and send it on to the town council for full approval.
Discussion of Parking
The discussion focused on the pros and cons of adopting a parking bylaw with more flexibility for developers, one that does not require them to provide a set number of parking spaces (currently two per residentuial unit are required) and instead requires parking for any development to be "adequate" with adequacy determined for each individual case by the permitting authority.
Ross argued that requiring developers to pave parking spaces that they don't need increases their costs and those costs get passed on to tenants. Although he acknowledged that a lot of developers already get waivers that loosen their parking requirements, he said requiring them to have to apply for a waiver is an unnecessary burden on them. He argued that relaxing parking requirements for developers would align Amherst with what is happening in cities like Minneapolis, Minnesota.
Pam objected to the general move here to do away with requirements for builders and developers regarding parking. "I think that in trying to solve one problem," she said, "we're creating another huge problem. I can see, maybe, not requiring two parking spaces for each dwelling unit, but I think there has to be a minimum of one. I am totally against the idea that adequate parking will be found — and that we've got a great transit system, which is actually a few buses that run when they want to during certain times of the year. We could do a usage study so that we would not just theorize … and go study what is actually happening in this town."
She added that "If you don't require parking to be on-site for apartment houses, then you're putting it on the street, taking away parking spaces from shoppers, and we want shoppers, we want people coming downtown… I think we cannot have the vibrant downtown that people talk about if we don't have easily accessible, adequate parking. And that means not letting anyone off the hook. And I noticed that we theoretically talk about builders who don't provide parking paying into a parking fund, but it never gets included in any language in any amendment. I feel like I'm going against the tide here, but I think I'm talking common sense, and I'm wondering why it's not being heard."
Ross countered that this amendment does not eliminate the requirement for a developer to provide parking. Rather, he said, it just doesn't prescribe a number.
Brestrup offered an example from a current development that might support the idea of relaxing parking requirements for developers, pointing to 462 Main Street, which has 24 dwelling units and 35 bedrooms. The developer, John Wrobeleski, is in the process of amending his site plan review and eventually his special permit on an adjacent parcel. Last week he met with the planning board and that indicated that although there are 24 units and 35 bedrooms, said he's received requests to park only 16 cars. Brestrup noted that his development is on a bus route, and is close to the center of town and within walking distance of UMass. She suggested that we might want to watch this property see how it develops over time.
Pam moved that the committee look at the parking bylaw again after there has been further study. This was seconded by Schreiber, but following further discussion, failed by a vote of 1-4 with only Pam voting in favor. The committee then voted 4-1 to endorse the proposed loosened-up parking bylaw and send it on to the Town Council for approval. Pam dissented..

Bahl-Milne noted that she could not support the motion to further assess parking since we already have other parking studies and they "only give us general ideas and not specifics about what each building and each location requires."
Ross agreed with Bahl-Milne.  "[It] just makes no sense to hold this up for yet another study.This is a town that always wants another study. I don't see the value in putting this off. We can still do the studies, but we need to move forward."
Pam said that when the developers have successfully made the case for less parking than required, we haven't followed up to see how that worked out. She said, "It's worth asking the question, ' 'Do we have enough information?"

Format For CRC Meetings
At the Town Council meeting of August 23, councilors voted to allow each committee of the council to choose the format of its meetings, either fully remote or hybrid. Town committees under the aegis of the town manager will continue to meet via Zoom through Indigenous People's Day.

Bahl-Milne suggested that in order to give staff some time to prepare for adopting the hybrid format, the CRC continue to meet via Zoom through September 30. That motion passed unanimously.

Public Comment
Jennifer Taub of Lincoln Avenue remarked, "I just wanted to share my own little anecdotal experience. I'm on the corner of Lincoln and Cosby, and behind the other side of my backyard fence, which faces Cosby, there are two student houses. It's a flag lot. There are always four students in each house, and eight cars. And then one block to the north, on Fearing and Lincoln, there are three student rental houses. So, literally, from where I sit, I can, during the school year, see 20 cars. And forget that we're on a bus route, and that we're two blocks from campus! The students are certainly entitled to have cars, but the idea that students are tending not to have cars… it's just not the reality we're seeing on the ground. You couldn't get closer to campus just about anywhere in town. What happens is those cars spill over into the adjacent residential neighborhoods, which until we get some parking changes are just wall-to-wall cars. And you know we're not in Minneapolis, or Portland, with a mass transit system. So, I don't see any trend towards students moving away from bringing cars to school."
Janet McGowan of Southeast Street said, "I think we need to do some parking studies first — before we amend the bylaw. Parking studies were called for in the transportation plan that the planning board was asking for last year, when we were saying that we were basically guessing about the need, and the planning director herself also called for some studies, and they're not expensive to do. We have 25 large apartment complexes in Amherst, and so they would be relatively easy to see by proximity to mass transit, by who lives there, and things like that. And I think we should do that before we figure out what to do with the parking bylaw. Spruce Ridge is right next to a property that hasn't opened yet, and they have more than two parking spaces per unit, and on the weekends it's filled. With the idea of adequate parking, you're going to have the planning board have long torturous sessions trying to gather information, and the developers will be downplaying the need, and it just seems like that is going to become a morass."
She continued, "The other thing is that the current parking bylaw allows a waiver and gives criteria for a waiver. It doesn't require a special permit for a waiver. Also, we have the option in the current parking bylaw of shared parking if that's complicated to do in some places, you can do it under site plan review. Some require a special permit and I would be happy just to let the building commissioner do that, and take it away from the board."
She concluded, making several points, "We already have a parking bylaw, and from what I can see it's meeting the needs of tenants, which really should be the focus — and the final thing to think about is that parking needs change over time. An apartment building that starts out with students may switch to families. This is an amendment before analysis and data collection. I also think that our current parking bylaw actually has flexibility and accommodates changes and waivers, so I'm not sure what the problem is. And the final thing is, please don't compare us to Minneapolis or Manhattan or Boston! We're not a city. We have a very car-dependent population. I love the idea that we will all be taking buses anywhere and everywhere, but It just doesn't happen and we need to meet the needs of tenants."
Next Meeting
The CRC will meet next on Tuesday, September 14.