Board of Health Mandates Vaccines For Amherst High School Students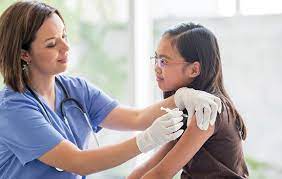 Report On The Meeting September 9, 2021
Present
Board members Nancy Gilbert (Chair), Stephen George, Maureen Millea, and Timothy Randhir
Staff: Jennifer Brown Interim Health Director
COVID Vaccine Will Be Required For Students 16 And Older
The Board of Health (BOH) received a memo from the Regional School Committee (RSC) inquiring whether the BOH was considering adding the COVID vaccine to the  list of vaccines needed for children to attend public school. Puerto Rico passed such a mandate in July and Los Angeles County Unified School district voted on September 9 to require the vaccine for all of its students aged 12 and older by December 31.  The RSC will take up the matter at their next meeting on September 23 and requested guidance from the BOH.
School Superintendent Mike Morris joined the meeting to answer questions. BOH member Stephen George asked if staff would be included in the mandate and whether the vaccine would be required for students under the age of 16. The Pfizer vaccine has received FDA approval for people 16 and older, although everyone age 12 and older is eligible to receive it.
Interim Health Director Jennifer Brown agreed that it would be prudent to add the COVID vaccine to the list of required vaccines, but thought it should only be mandated for those covered under the FDA approval. She pointed out that, unlike some required vaccines such as the one for hepatitis, COVID-19 is a danger, not only to the individual, but also to those around them. Morris thought that FDA approval for children ages 12-15 is only a few weeks away. He said that requiring the vaccine for staff is an employment matter, but the BOH has jurisdiction over public school students, and the RSC must implement public health policy.
Board member Maureen Millea noted that the Los Angeles proposal offered remote schooling for those who were vaccine hesitant, but Morris said that this would not be an option in Amherst. He said that there are two virtual schools of choice in the region. In Massachusetts, only religious and medical exemptions are allowed. There is no provision for philosophical objections.
The Board spent some time trying to establish a timeline for when students would need to be fully vaccinated, but there were too many uncertainties about how soon clinics could be organized. The sentiment was strong enough that members voted 4-0 to add the COVID vaccine to the list of vaccines required for public school attendance upon full FDA approval. Brown will attend the September 23 RSC meeting to answer questions. It was not clear if the mandate would apply to regional school students from Pelham, Leverett, and Shutesbury or if it would need to be approved by the boards of health in those towns.
COVID-19 Cases Rise Dramatically 
Brown noted that, since September 1 there have been 160 new active cases of COVID-19 in Amherst, with over 100 occurring in the past day. The average age of the affected individuals is 21, but there is worry of the virus spreading to more vulnerable populations. UMass has 129 isolation beds. 
Brown stated that, since the beginning of the pandemic in March 2020, 43 Amherst residents have died from COVID-19. She said the state COVID dashboard includes all residents of Amherst, but UMass includes all members of the university community, even if they don't live in Amherst, so the two dashboards are not exactly comparable. George estimated that 76% of Amherst residents have received at least one dose of the vaccine, though many university students probably received their doses in their hometowns.
The town will again be offering vaccine clinics beginning with a pop up clinic at Groff Park on a Thursday during intramural football. Brown announced that Juana Trujillo is a new volunteer who will do outreach to the Spanish speaking population. BOH chair Nancy Gilbert recommended that this be a paid position.

Brown said that the FDA has not approved booster vaccines. A third vaccine dose is approved only for immunocompromised residents, but town is not administering these booster vaccines since eligible residents most likely have serious medical problems and should receive the third vaccine through their physicians.
Brown stated that she has been in contact with UMass officials. They are discussing best ways to proceed to limit the spread of the virus. As of now, UMass is not conducting asymptomatic testing as they did last year when far fewer students were on campus. Contact tracing has shown that many cases result from large parties off campus. UMass did cancel the tailgate party before Saturday's football game, but fans will still be present at the game.
Businesses Unhappy About COVID-19 Restrictions
Brown said the BOH has been reminding businesses about best practices allowing patrons to remove masks only when seated and eating or drinking.  Health and Building Inspector Edmund Smith said that providing safe spacing between tables would reduce capacity by about 20%. Millea pointed out that transmission may occur with patrons eating or drinking at a bar and said consumption of food and beverages should occur only when seated at tables.  
Brown noted that business owners have been great to work with and really want to make things safe.
But the proposed restrictions drew some resistance from restaurant and bar owners in town. Rasif Rafiq of the Monkey Bar noted that these limitations will affect his business. He wanted to know what the increase in cases meant and how many infected people were hospitalized. He thought that illness is not serious when people are vaccinated and objected to complying with measures that decrease his income to protect those who choose to remain unvaccinated. He noted his costs remain the same, no matter what the capacity allowed at his restaurant. He said he would be willing to check vaccination records rather than closing part of his business. But Gilbert pointed out that we need to think of those under age 12 who cannot be vaccinated and that many of the new cases are breakthrough cases in vaccinated people.
Peter (who didn't give his last name) said he was glad the town reinstated the indoor mask mandates but didn't want bar and restaurant owners to bear the brunt of the burden. He encouraged UMass to ramp up asymptomatic testing and to require masking at crowded outdoor events such as football games. Brown said that there was no transmission linked to the Rotary fair in August where masks were required.
Tom Walsh from the Harp said he has concerns about the rising number of COVID cases in town, but said the town needs to address university students. He felt that large house parties were more of a concern than patrons at his establishment. He noted that some his patrons are resistant to masking and vaccines, so those requirements will affect his business.
Kara Fabry of the Spoke agreed that nothing is being done about large house parties, and local businesses are being punished. She said that there has to be a happy medium. Her family has had no income for the past year and a half. She hopes the community can come together to find solution.
Millea said she did not want to push parties out into the neighborhoods by placing regulations on businesses. Board members wondered what the schools are doing for outdoor sporting events and noted that Northampton has a mask mandate for outdoor events.
Timothy Randhir thought the board should wait to see what solutions UMass will come up with before passing new restrictions. However, George said that cases have risen so drastically over the past few days that the BOH should not wait for UMass to act. Brown pointed out that the delta variant of COVID is seven times as infectious as the original strain.
State Representative Mindy Domb said that when thinking about reducing community spread, masks and vaccines act together. Masks reduce the amount of virus transmitted, and vaccines protect against any virus particles not prevented by the masks. She said that the business owners she has spoken to have not said they don't want masks. They don't want their business shut down.
Millea moved to make masks mandatory indoors, except when patrons are seated and eating or drinking. The motion passed 4-0. George wondered if the town could help out businesses by reducing license fees.
Board Of Health Supports Bill Improving Pesticide Protection For Schoolchildren
Lenore Bryck requested that the BOH write a letter of support for Massachusetts House Bill 926 . The bill would specify and further restrict the list of pesticide products eligible for use on the outdoor grounds of schools, and child care centers.  An accessible explanation of the proposed bill can be found here.

Domb, who is on the committee that will be discussing the proposed legislation, said that the hearing will occur in the next month or so. The Amherst school system uses an integrated pest management system to maintain its fields and does not use glipizide (Round Up). The board voted 4-0 to send a letter in support of the bill.
Policies On Racism As A Public Health Issue, Recombinant DNA And Infectious Biologic Agents, And Toxic Chemicals To Be Reviewed
Board members have submitted suggestions to the document naming racism as a public health issue discussed at the July 8 meeting . George will incorporate these suggestions to produce a final version. 
Other policies, such as the 2008 Regulations for Recombinant DNA and Infectious Biologic Agents and the 2010 Toxic Chemical Policy are due to be reviewed. The former will be discussed at the next meeting and the latter in November or December.
Brown noted that PFAS was not found in Amherst water samples.
The meeting adjourned at 7:36. The BOH will next meet on October 14.