Opinion: Why I'm A NO Vote On The Jones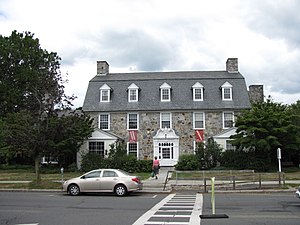 As someone who has a great fondness and gratitude for time spent working toward Bachelor's and Master's degrees in the quiet sanctuary offered by our public library, I generally support a renovation to the Jones. Also, as a mother who brought my daughter and many of her friends to the Jones for many years, to read and take out books, to play and meet other children, I know first hand what an important gathering place the Jones is in our town. Preserving it as an open place for children to gather, meet and learn is a high priority for me.
At the same time, I have deep concerns about this proposed renovation, and have ultimately decided to vote no. For the record, I sit on the Human Rights Commission. But, since I feel reasonably assured that this matter will not come before the Commission, I feel free to offer a public statement, which I make solely as an individual, and in no way speak for the full Commission, or any of the other Commissioners.
There are many issues at stake with this proposal, all important to consider deeply.
First and foremost, what has me most troubled about this proposed Jones Library renovation, is that not a single BIPOC representative was at the table or consulted in the planning stage. The proposal was drafted, considered and voted on by an almost exclusively white resident base. This is not only unfortunate. It is the very definition of white supremacy. For a town that claims to be progressive, to consider issues of social justice, this is completely unacceptable. How will we move forward as an anti-racist community, if all voices are not heard, respected and included? As I am not someone who believes that "the ends justify the means," a beautiful renovation in the end, will not in my opinion, be worth the harm that this lack of inclusion causes.
I also do not understand why the budget for the library is so difficult to find, so that ordinary residents know what they are saying yes or no to? I do not understand why Town Council has not made more of an effort to hear and publicly address concerns that would cause residents to vote no, especially because of budgetary reasons? If questions were answered, and concerns alleviated, I, and likely many others, might have been persuaded to vote yes.
As I understand it, the current budget allows for an expansion of a user base from approximately 19,000 annual users to over 55,000 users. This, in my opinion, denies basic reality. We are living in 2021. People are not thronging back in droves to public libraries no matter how much we may want them to. People are by and large doing their research online, at night, at the kitchen table, on their cell phones, at their office computers, etc. I am a fan of public libraries, and I wish 55,000 users would come to the Jones annually. But I do not agree with allocating so many millions of dollars to support such a pie-in-the-sky endeavor. Ok, maybe 25,000 or 30,000 users, but not 55,000.
As to the suggestion that the multicultural center suggested by the CSWG could possibly be housed at the newly renovated Jones, I just do not believe this was the intention when the CSWG recommended a safe space for BIPOC residents to gather and organize in, that the physical location would be controlled or under the auspices of a building (and trust) managed almost exclusively by white residents.
Further, I do not understand why the Jones is owned by an independent body, "The Trustees," but town taxpayers are voting on and will be funding this project? It is not believable to me that the cost after state grants and private funders will amount to nearly $15 million, but our property taxes will not go up. Further, having been married to a contractor for over 20 years, I have almost never seen a construction project come in on budget. And I don't believe that is going to start now, after Covid, when the cost of building materials has skyrocketed, if you can get them at all. Why is no one talking about this aspect of the cost? And contingencies? If the project exceeds the allotted budget, which it almost certainly will, who is going to pay for that? It is not believable that our taxes will not go up which risks making Amherst even less affordable for all but the upper middle class.
I also do not understand why, with all the deferred maintenance, our town is starting with the library? Not the schools, fire station, roads or sidewalks? I also do not understand why our town's library budget is so much higher than what other towns have been able to renovate their public libraries for.
Finally, with regard to the issue of the Special Collections section, which, I agree, is very concerning that historical documents in this collection have been or will potentially be ruined because they cannot be preserved in a building that does such a poor job at climate control. Why are these documents even still in the Jones? Why have they not been moved to museums? Or placed on loan to other libraries, until the Jones can actually be renovated in a manner that is truly acceptable to the community – the whole community?
These are not just "political talking points," as one candidate for Town Council stated in response to my original Facebook post. I think we as taxpayers and residents in as "representative democracy" deserve to know the answers to these questions. I hope the Town Council and or Town Manager will be offering answers before election day. Sadly, I never see answers to these concerns, I only see "obstructionist", "divisive", and "anti-progress" labels put on the "no" voters." In the absence of answers, I will be voting no.

Deb Neubauer is a Licensed Clinical Social Worker and resident of Amherst