DiNisco Selected As Designer For Elementary School Project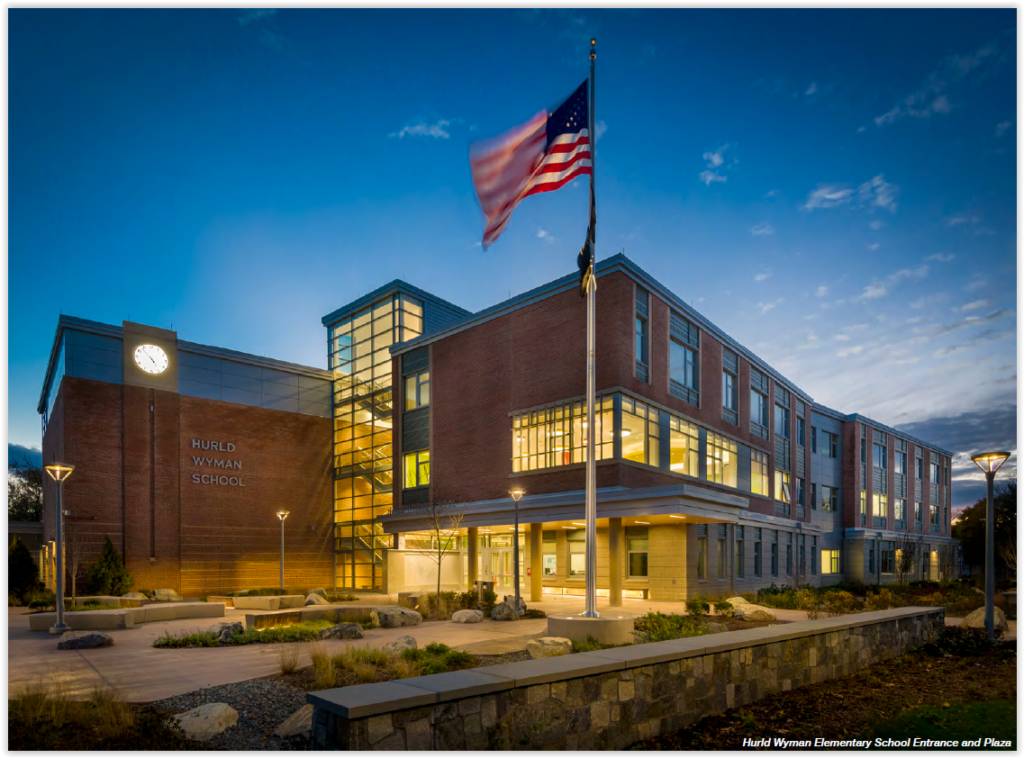 Boston-based architecture firm, DiNisco Design will design Amherst's elementary school building project. At a meeting of the Massachusetts School Building Authority's (MSBA) Designer Selection Panel on November 16, DiNisco scored highest of the three firms shortlisted for interview. JCJ with Moody Nolan were one point behind DiNisco, while LPA|A ranked third.
The three Amherst representatives on the 15-person panel — Superintendent Michael Morris, School Committee member Ben Herrington, and Town Councilor and Building Committee Chairperson Cathy Schoen — all ranked DiNisco their top choice, JCJ with Moody Nolan second, and LPA|A third.
Town Manager Paul Bockelman will negotiate a design fee with DiNisco, and a contract is expected to be signed within a few days.
In the presentation to the panel, DiNisco President Donna DiNisco spoke about the firm's relevant experience which included the net-zero Lexington Children's Place and Maria Hastings Elementary School in Lexington, and the net-zero-ready Cabot Elementary School in Newton, a renovation and addition project.
Tim Cooper, DiNisco Project Manager, and Environmental Permitting consultant Amy Ball presented initial evaluations of the Fort River and Wildwood sites, noting that both sites are viable for new construction or an addition/renovation project.
The lead architect for the Maria Hastings school, Vivian Low, emphasized the importance of the Educational Program which drives the building design. "We will not be coming with preconceived ideas," Low said. "We'll examine what works and what doesn't with your existing program." It was this child-centric focus and educationally-driven design that Herrington most appreciated. "I was blown away by the [DiNisco] presentation," Herrington said.
JCJ was the designer for the previous Wildwood project which failed to advance in 2017, and two architects from that project were also proposed this time — Jim LaPosta and Douglas Roberts. LaPosta spoke of the importance of transparency, diversity, and inclusivity, and noted that authentic new voices would be brought to bear via their collaboration with Moody Nolan, a national firm led by Curtis Moody. MSBA representative Barbara Hansberry was particularly impressed with Julie Janiski of Buro Happold, an engineering firm that consults with JCJ. "Julie was really outstanding in her ability to break down complex information about systems and share it in a way that is accessible to everybody," Hansberry said.
LPA|A's presentation, which was described as "unique, creative, and innovative," emphasized the firm's connections to central and western Massachusetts, strong communication skills, and customer satisfaction, with 100% success rate from feasibility study to fully-funded and occupied MSBA projects.
The Amherst Elementary School Building Committee next meets on November 18 at 8:00 a.m.. In addition to reporting on the designer selection, the committee will discuss the launch of a project website and formation of an informal working group to help with public outreach.
Maria Kopicki contributed to this article.