Court Hears Additional Oral Argument in Amherst Voting Rights Case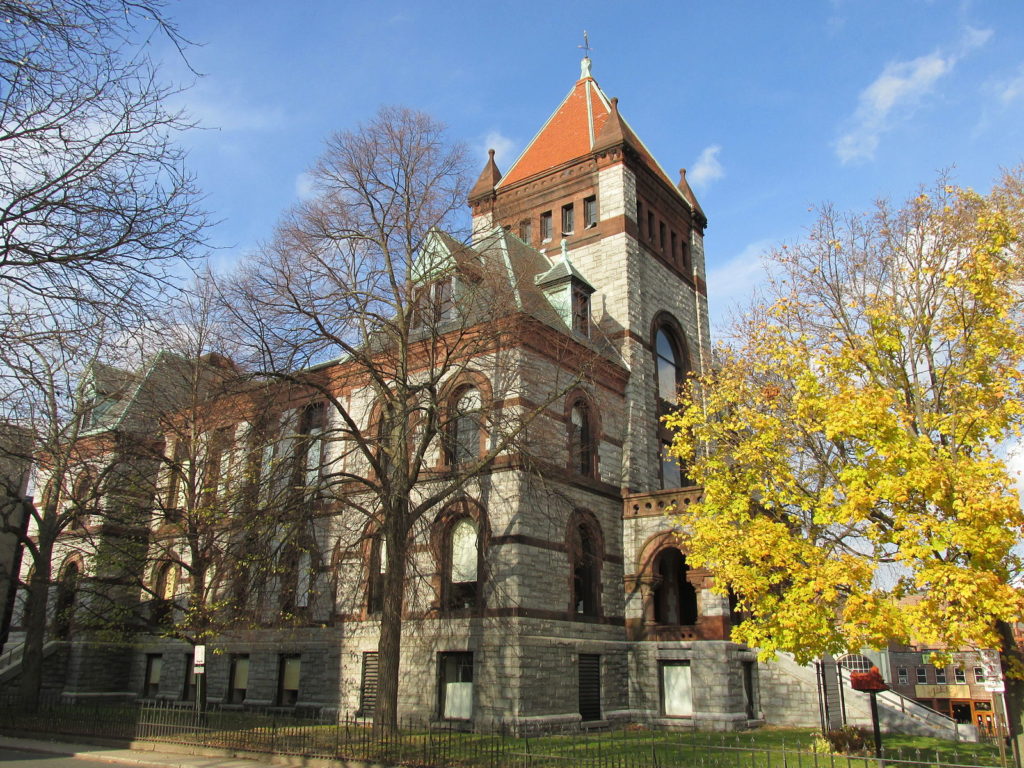 The Amherst voting rights case, Terry Y. Allen, et al. v. Board of Registrars of the Town of Amherst, has entered a critical new phase. Oral argument on Tuesday, November 30, in Superior Court in Northampton, concentrated principally on what majority was needed in order to pass the November 2 referendum on whether to borrow $35.8 million for the Jones Library's proposed demolition/construction project. 
Is it a simple majority? Or a 2/3 majority? The referendum garnered a majority of "Yes" votes in support of the borrowing, that is, 3,231 votes, representing about 19.96% of all registered Amherst voters. "No" votes were 1,709; Blanks were 102. The "Yes" votes fell 63 short of 2/3. The question of which majority applies is not settled. The forty Allen plaintiffs seek a declaratory judgment to settle it.
Unusual for the pandemic, this hearing was held in-person. All court personnel, attorneys, and members of the public were masked. The public could either attend in person, or phone in on a muted public line. This phone-in capability is a COVID innovation. Two Town and two Library officials attended in person. So did several interested Amherst residents. Others phoned in.
Judge Richard J. Carey announced that he had read all the parties' submissions, and that attorneys could remove their masks when they argued if they wished.
Simple Majority or 2/3? An Issue Of First Impression
The issue of whether a municipal referendum on borrowing requires a simple or a 2/3 majority appears to be one of first impression. Massachusetts General Laws, Chapter 44, Section 7, provides only: "Cities and town may incur debt by a two-thirds vote….".  The Massachusetts Department of Revenue (DOR) interprets "city or town" to mean a municipality's legislative body. But DOR's "Informational Guidelines" also state that that view can be "revoked, modified, or superseded…[by]…later court decisions." So the DOR acknowledges explicitly that this issue is open for the courts. No court has apparently ever ruled on it.
The new Amherst Home Rule Charter is silent on the issue. The new Charter's Section 8.4 provides for a referendum after a Voter Veto Petition that garners the requisite number of signatures. Its Section 8.6 provides for a referendum either initiated by Town Council, or conducted at the School Committee's or Library Trustees' request. But nowhere does the new Charter specify which referendum majority is needed to approve borrowing by the Town. The Allen case poses this issue squarely. The court's decision will thus be important not only for Amherst, now and for the future. It's potentially important statewide.
Intrepid Indy readers might recall that the Town's first-ever Voter Veto Petition sought a referendum under Section 8.4 of Amherst's new Charter. The Allen plaintiffs asked the judge to determine whether the Town wrongly disqualified the Voter Veto Petition signatures of 76 registered voters. This defeated the request for a Voter Veto referendum by 22 voters. 
The Town then filed with the court an affidavit by the Assistant Town Clerk who had conducted the certification process. She admitted under oath that she had wrongly disqualified the signatures of 10 voters. In her affidavit, she repeatedly averred: "I do not dispute that this signature should have been certified."
This left only 12 additional certified signatures necessary to trigger a referendum under Section 8.4. Perhaps to forestall signature-by-signature determinations by the judge, however, Town Council authorized a referendum for November 2, under the new Charter's Section 8.6. As mentioned, this referendum vote garnered a simple majority. It fell short of 2/3. The issue of the proper majority is accordingly ripe for the court to decide.
Attorney Carol Gray of Amherst, for the Allen plaintiffs, argued that in every statute in which the Massachusetts General Laws authorize a specific municipal body, e.g., Town Council, to decide on borrowing, that statute requires a 2/3 majority vote. As a matter of public policy, this ensures that a city or town will incur long-term debt only if a supermajority approves.
Furthermore, the November 2 referendum question was precisely pursuant to Massachusetts General Laws, Chapter 44, Section 7. The ballot question itself specifically cited to borrowing "under and pursuant to M.G.L. Chapter 44, Section 7…." As mentioned, this provides simply, "Cities and towns may incur debt…." Unlike other statutes, Section 7 does not specify a particular municipal entity that must authorize the debt.
To be consistent in a referendum, and to accord with the public policy of protecting municipalities from debt absent supermajority approval, the Allen plaintiffs maintain that 2/3 of registered voters who vote on a borrowing must approve it. Plaintiffs noted in addition that the "Voter Veto" section of the Town Charter should require a 2/3 majority for borrowing, since overcoming a veto commonly does not require a lesser threshold than the initial vote. With a referendum on borrowing, furthermore, the voting public constitutes the most representative entity to vote on incurring debt. A referendum pursuant to Chapter 44, Section 7, should thus require a 2/3 majority.
KPLaw's Attorney Gregg Corbo represented the Town. He noted, correctly, that before the new Charter, Amherst had had a bylaw requiring a 2/3 referendum vote for borrowing. He then argued that the new Charter's framers had intentionally avoided this 2/3 requirement. Consequently, in his view, a simple majority of referendum voters was enough. Additional rationales were that (1) the voters, by themselves, had no authority to borrow, so that their only authority was to rescind a Town Council vote, and that (2) a referendum was like an election to public office, in which a simple majority wins.
Plaintiffs countered that the November 2 referendum was not a vote on whether to rescind. Rather, voters knew they were deciding whether to authorize borrowing $35.8 million, to allow the Jones Library project to proceed. Plaintiffs also noted that, in 2017, the town-wide vote on whether to allow a $60+ million school project to proceed failed for lack of a 2/3 vote.
If The November 2 Referendum Required A 2/3 Majority, MBLC Regulations Require Amherst to Return the $2,774,263 MBLC Grant Disbursement
|The Allen plaintiffs also asked the court to issue a Preliminary Injunction, forbidding the town to proceed with the Jones Library project until the court rules on this issue. It is immediately relevant. The Massachusetts Board of Library Commissioners (MBLC) recently disbursed $2,774,263 in grant money to the town. That is 1/5 of the total that MBLC has granted to the town for the Jones expansion and renovation.
If the court determines that the referendum required a 2/3 majority, the Town will be in violation of its written assurance to the MBLC that sufficient local funds were available to cover the project's estimated eligible cost. In that case, the MBLC's regulations require the Town to return the full amount of this grant disbursement, with interest. (See Title 605, Code of Massachusetts Regulations, Section 6.05 (2) (b) and (e)). That would include reimbursing any grant amounts that the Town has spent.
Plaintiffs' "Voter Veto Petition" Voting Rights Issues Are Still Pending Before the Court|
It is worth recalling that the forty Allen plaintiffs still seek a ruling by the court on their voting rights issues. These include whether signatures of voters who live in apartments, and who sign their names "substantially as registered" with their correct street addresses, but who omit their apartment numbers, should be disqualified for that reason. On the Voter Veto Petition, as noted above, the town disqualified 28 such voters' signatures. In two earlier petition drives, however, the town had certified them. 
The Town gave no notice of this about-face. Those gathering Voter Veto Petition signatures, therefore, and those signing, did not know about it. The town has never given a reason for this reversal.
Notably, these 28 signatures, rejected for missing apartment numbers, exceeded the shortfall of 22 signatures that the Town Clerk's Office said were needed for the Voter Veto petition to succeed. The question of whether the town wrongly disqualified up to 76 signatures is still pending before Superior Court. It was not a subject of the November 30 hearing.
New But Related Voting Rights Issue: Plaintiffs Ask Court's OK to Amend Complaint, Request Preliminary Injunction Against Town's New Voter Signature "Guidelines," "Standards"
Finally, an immediate application of these still-unaddressed voting rights issues concerns the Town's new "Signature Gathering Helpful Guidelines." The Town Clerk's office posted the "Guidelines" document this past summer. It provided copies to all candidates in the November 2 election. The Allen plaintiffs have asked the court's leave to amend their Complaint in order to raise the issue of wrongful standards for disqualifying voters' signatures pursuant to these "Guidelines."
These Amherst Town "Guidelines" contain so-called "Standards for certifying signatures." They include: "If voter lives in an apartment building, the apartment number must be listed …. Voter must sign as registered to vote – avoid nicknames or using initials." The "Standards" also state, "If voter shares the same name as someone else in their household, they should specify 'Jr' or 'Sr'".
Massachusetts law, however, provides otherwise. Title 950, Code of Massachusetts Regulations, Section 55.03 (2), provides unequivocally: "[R]egistrars shall certify names in which
A middle initial is inserted or omitted;
A common or known nickname is used;
Two initials are used with a surname;
One initial is used with a surname, if no other registered voter lives at the indicated address;
'Jr.' or 'Sr.' is used or omitted…."
At oral argument, Judge Carey removed his mask to ask Attorney Corbo whether he thought that the local "Guidelines" were "inconsistent with state law," and if so, "what, if anything, will Amherst do about it." Attorney Corbo directly answered Judge Carey's first question only. He replied, "No." He added, incorrectly, that the law "requires a full address, including apartment number." On the issue of apartment numbers, in fact, Massachusetts statutes and regulations both are silent.
As to apartment numbers, Attorney Gray informed the court of a conversation she'd had with a staff member at the Office of the Massachusetts Secretary of State (Secretary of the Commonwealth). The Secretary is in charge of elections. Asked about the effect of a voter's signature that omits an apartment number, the staff member had replied that failure to include an apartment number should not defeat certification. Attorney Gray also pointed out to the court that disqualifying the signatures of apartment dwellers had a disproportionate effect on voters who were poorer, and who might be minorities.
In light of the Town's new "Guidelines" and their "Standards," the Allen plaintiffs have asked leave of court to amend their Complaint. They could then request a preliminary injunction, "to rescind the Town Clerk's 'Standards for Certifying Signatures' posted at the Town Hall and provided this past summer to candidates standing for election in Amherst as such 'standards' are inconsistent with state law."
The judge took the issues under advisement. He did not indicate by when he will issue a decision. After briefing was complete, however, he had scheduled the November 30 oral argument promptly. If the Town must indeed return that $2,774,263 grant disbursement from the MBLC, the judge is aware that interest will have been accruing on it.