CRC Endorses Temporary Solar Moratorium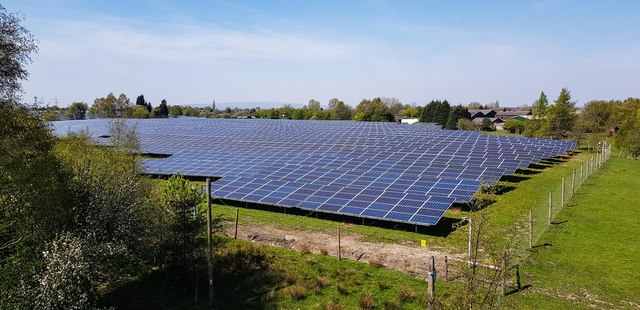 Report On The Meeting Of The Community Resources Committee, January 27, 2022
Present
Councilors Mandi Jo Hanneke (Chair), Shalini Bahl-Milne (District 5), Pat De Angelis (District 1), Pam Rooney (District 4), Jennifer Taub, (District 3)
Staff: Christine Brestrup, Planning Director, David Ziomek, Conservation Director, Stephanie Ciccarello, Sustainability Coordinator
There were roughly 18 members of the public attending including co-sponsors of Article 16, Council President Lynne Griesemer (District 2), and Councilor Ana Devlin-Gauthier (District 5)
Article 16 Temporary Moratorium On New Large-Scale Ground-Mounted Solar Projects
The bulk of the meeting was devoted to deliberations on a proposal for a temporary moratorium on large-scale ground-mounted solar projects in Amherst, following a public hearing on the subject conducted by the CRC on January 10, 2022. The proposed moratorium would prohibit the start of new projects for ground-mounted solar photovoltaic installations producing 250 kilowatts of power or more until May 2023 or until the town adopts a solar installation bylaw. Co-sponsors Ana Devlin-Gauthier and Pat DeAngelis were the primary speakers in favor of the measure. Councilors Mandi Jo Hanneke and Shalini Bahl-Milne spoke against it. Following a lengthy discussion and the adoption of language changes requested by Hanneke, the measure was put to a vote and passed unanimously (5-0). The adopted resolutioin recommends that the town Council adopt Article 16.

Discussion
Devlin-Gauthier spoke of changes that the sponsors had made to the proposal since the public hearing in response to concerns raised by councilors who oppose the measure. She emphasized that Article 16 is not in any way anti-solar but rather an effort to strengthen the town's regulations. This is something that nearly all people seem to agree on, that the town needs solar development and that the town needs a bylaw to regulate that development. The question, Devlin-Gauthier said, is whether we need to take a short break in order to allow us to develop a regulation that will require thoughtful and thorough planning. She said Article 16 is not about any specific project but the whole town moving forward. There is a lot of space in this town for large-scale solar moving forward and we need to understand how to approach that. The current rules we have in place for the kinds of projects that are emerging are not sufficient. Devlin-Gauthier also emphasized that this is not an effort to pause development of solar on impervious surfaces (e.g. roof tops and parking lots), only on permeable surfaces.
Bahl-Milne asked for clarification on what projects developers would be allowed to start under the moratorium, since starting new projects appears to be precluded by the bylaw. Developers can't apply to the Zoning Board of Appeals (ZBA) or the Planning Board to begin the process required for installing large-scale ground-mounted solar under the bylaw. Planning Director Christine Brestrup noted however that developers can still apply to the Conservation Commission to undertake preliminary work with that body, as that is not prohibited under the moratorium.
Bahl-Milne spoke of the need for balance between the potential environmental harm done by large-scale solar installations and the help they would do, and cited (incorrectly) the Energy and Climate Action Committee's (ECAC) endorsement of large-scale solar. (Editor 's note: Individual members of ECAC have spoken against the moratorium but the committee as a whole has not taken a position on the matter—see below). She suggested that we hear more from ECAC and defer to their judgment on it. She said that professors on ECAC have argued that we need another 230 acres of ground-mounted solar in Amherst to meet the town's climate goals and said that more than half of people [in the U.S.] impacted by fossil fuel pollution are people of color. "Are we pushing our needs and desires into other towns and onto other people?" she asked? "This is a very complex issue. Can we look to the ECAC as the experts to guide us?"
DeAngelis responded that ECAC's charge to develop alternative energy and that individual members' advocacy for large solar installations doesn't account for the full range of factors to be considered, so "perhaps it's not the best idea to turn this solely over to them." She pointed out that there are at least as many scientists who argue that the loss of forest and its role in carbon sequestration is substantially impactful and at least as significant as the pressing need for alternative energy sources. She agreed that it is a complex issue—but for that very reason, we need to take a breath and figure out how to do this correctly.

Jennifer Taub said that some members of ECAC are actually very supportive of a solar moratorium bylaw and the committee as a whole did not take a position on the proposed moratorium because of the diversity of perspectives on it. She noted that Article 16 does not stop all solar development for 18 months and that it can continue unabated on hardscape. She also reminded the committee of the letter that ZBA Chair Steve Judge sent to the planning board, arguing that the ZBA does not have enough guidance from the town to do the work that is asked of it for these kinds of large solar projects. And so, she concluded, the benefits of taking this pause seem to outweigh the risks inherent in not taking the pause.
Pam Rooney said that "we should take the time that we need to plan, and then act. Getting our house in order is likely to allow us to proceed more rapidly in the future. I'm not sure that it will take as much as 18 months to get this done—possibly it will be much quicker."
DeAngelis noted that Amp (a solar developer) as well as another developer have asked to be involved in the creation of the bylaw, and cautioned that while their input is welcome, it was not a good idea to have them involved in writing the bylaw, and that it would be a conflict of interest But she emphasized that she has made "a commitment to meeting with these people. That's part of gaining knowledge that is essential to writing a good regulation."
Hanneke expressed strong opposition to the moratorium proposal. She said, "I hear that we need a solar siting bylaw. But we have permitted five projects in the last 5 or 6 years and our regulatory process has proven totally adequate. So I see no reason to pause. We can continue to do what we've been doing while we compose a bylaw. I can't see any benefit in doing this but I can see plenty of damage if projects are delayed." (Editor's note: The largest previous solar project permitted in Amherst was for 26 acres. The proposed Cowls solar project that instigated Article 16 is to be 45 acres with significant deforestation. None of the previously approved projects proposed significant deforestation). Hanneke voiced a concern that although the sponsors assert that Article 16 is not "anti-solar," she believes it could be read that way. She asked for revisions in the language to address that possibility and offered that while she appreciated the effort to revise, previous editorial efforts to accommodate her and others had not gone far enough. She then proposed a series of revisions that included:
exemption language to explicitly exclude application of the bylaw to installation on impervious surfaces
a statement supporting the claim that we would have to develop hundreds of acres of ground-mounted solar in town to meet our town's alternative energy obligation. She said that current language seems to favor prohibiting solar installations in certain locations, rather than promoting solar, and does not specify the extent of our commitment.
She requested more explicit language that shows that Article 16 is not an effort to prevent or curtail solar, instead emphasizing the necessity of large-scale solar installations.
Devlin-Gauthier responded that an important aim of the moratorium is to bring diverse people with diverse knowledge/expertise to the table, certainly ECAC and people from the energy sector but also people from forestry and ecology and from our local institutions of higher education whose support we'll need. This will allow us to approach the challenges and complexity in a thoughtful way, she said. She worries that if we develop a bylaw while projects are being permitted and developed, we are in danger of the bylaw becoming "reactionary," i.e. forming in response to a project on the table, and that would not give us the best bylaw.
There was considerable debate around whether the revision should specify that Amherst is committed to developing hundreds of acres of ground-mounted solar as Hanneke requested. DeAngelis and Taub pointed out that Hanneke had previously asked to purge all position-taking from the document but now was proposing language that explicitly commits the town to a specific type and quantity of development.

Griesemer added that there are two tracks to getting this done: a solar siting study proposed by the ECAC and composing the bylaw itself. A working group to get this done would be appointed by the town manager, not the town council. (it would be similar to the establishment of the Community Safety Working Group). Town staff is already looking for money for a study and has been crafting a Request for Proposals, and is quite aware that the town manager will have to draw resource people from across town committees and staff.
As the discussion appeared to move toward a vote, Bahl-Milne inquired about two possible amendments, each of which was quickly dismissed:

to reduce the moratorium to just six months because 18 "would have all kinds of unintended consequences and it would mean that any new projects would be at least 3 years off." Brestrup responded that six months does not realistically consider all the work necessary to write the bylaw or the time it will take to get the siting study up and running.
to consider limiting the moratorium to only the largest large-scale ground-mounted installations—those of many acres—and perhaps leave room for smaller projects. Brestrup responded that the town attorney at KP Law has already weighed in on this and that a large-scale ground-mounted array is defined as "anything producing [at least] 250 kilowatts ," which comes in at about one acre.
In spite of reservations expressed, the group agreed to adopt all of the language revisions requested by Hanneke. The precise language will be available in the packet for the next CRC meeting.

Setting A Regular Meeting Time For CRC
CRC will henceforth meet from 4:30 to 6:30 p.m. on alternate Thursdays (second and fourth Thursdays of the month), except in February, when they will meet on February 3 and February 24.
Recommendations For Appointments
There are two current vacancies for associate (non-voting) members of the ZBA. These have been posted. These appointments have been delayed because of lack of a sufficient candidate pool the last time they were considered. Even if the current pool is sufficient, CRC won't get around to making the appointments until March, when it will begin the process of filling anticipated full-member vacancies as of June. Current members of the ZBA who seek reappointment are required to reapply and go through the same process as new candidates. Because the two appointment processes are likely to run into each other, CRC decided to combine them into a single process.
RFP For Urban Design Consultant
Brestrup provided an update on the use of consultant money for exploring form-based zoning. The planning department is working on an RFP for an urban design architectural firm for leading a process for visioning the future of the town center. The RFP is based on inquiries that the department has made into how other towns have done a similar process. The aim is to hire the consultant by the end of May.
Public Comment
John Reiff (a resident of Pelham but a consumer on Amherst's water system) voiced concern about the impact of large-scale ground-mounted solar on the watershed and on water quality. He also noted that in the discussions about solar development in Amherst, he did not hear any discussion of how pursuit of energy efficiency might reduce the amount of energy we will need to generate in the future, and requested that we think about how we might be able to reduce our energy consumption.
Janet Keller noted that while she does not even know John Reiff, she was thinking exactly the same thing and agrees heartily with his question and wants to hear more about what we are going to do to reduce the amount of energy we will have to generate.
Lenore Bryck challenged the ECAC's assumptions about our alternative energy obligations, and explained that the state is starting to look at this challenge regionally because it is impossible to do it as a single town. Western Mass' share   could be to protect our green land, as climate collapse is happening hand-in-hand with biodiversity collapse; they feed each other and can't be separated. Towns in western Mass should be thinking about healing and regeneration, not just energy renewal, and taking a broader perspective on how "our part" is defined.
Renee Moss congratulated the group on their process and decision but noted that the process—adding the "100s of acres" language at the last minute, with no opportunity for public consideration and comment, is concerning.