Amherst Commemorates Jewish American Heritage Month And Holocaust Remembrance Day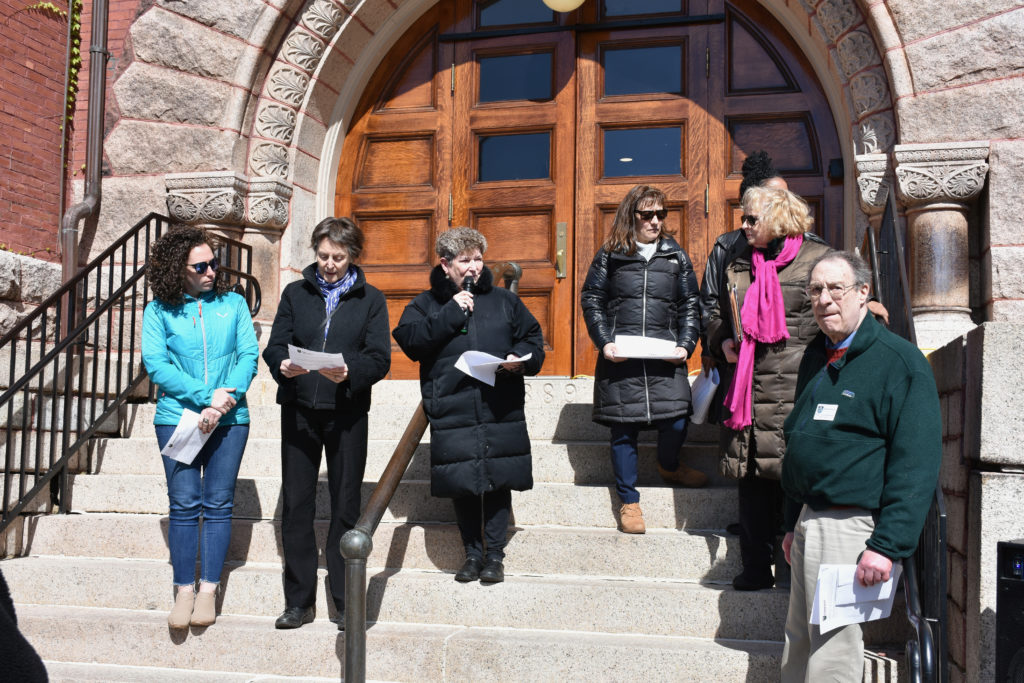 Source: amherstma.gov
About 30 people gathered in front of the steps of town on Thursday afternoon (4/28) to participate in the town's commemoration of Jewish American Heritage Month.. The event included a reading of the Town Council's Jewish American Heritage Month Proclamation (see below), an acknowledgement of Yom HaShoah (Holocaust Remembrance Day) which ended at sundown on April 28, and a live performance of Klezmer music by Amy Rose and Judy Gutlerner. Sponsors of the event included Rabbi Benjamin Weiner, Hilda Greenbaum, and Amherst Town Councilors Dorothy Pam, Cathy Schoen, Andy Steinberg, and Jennifer Taub.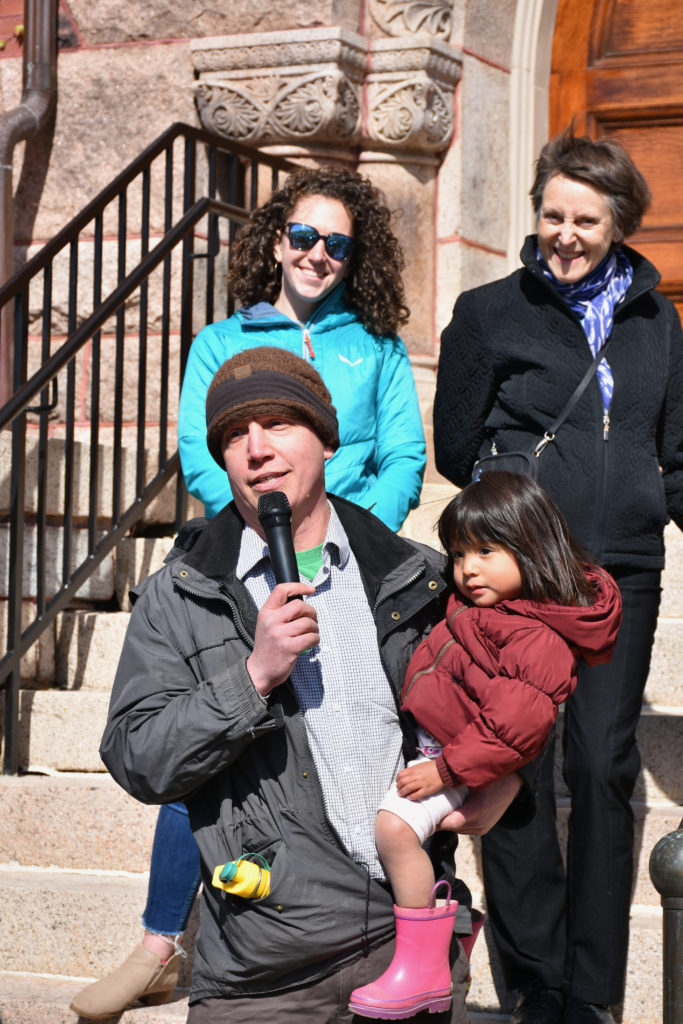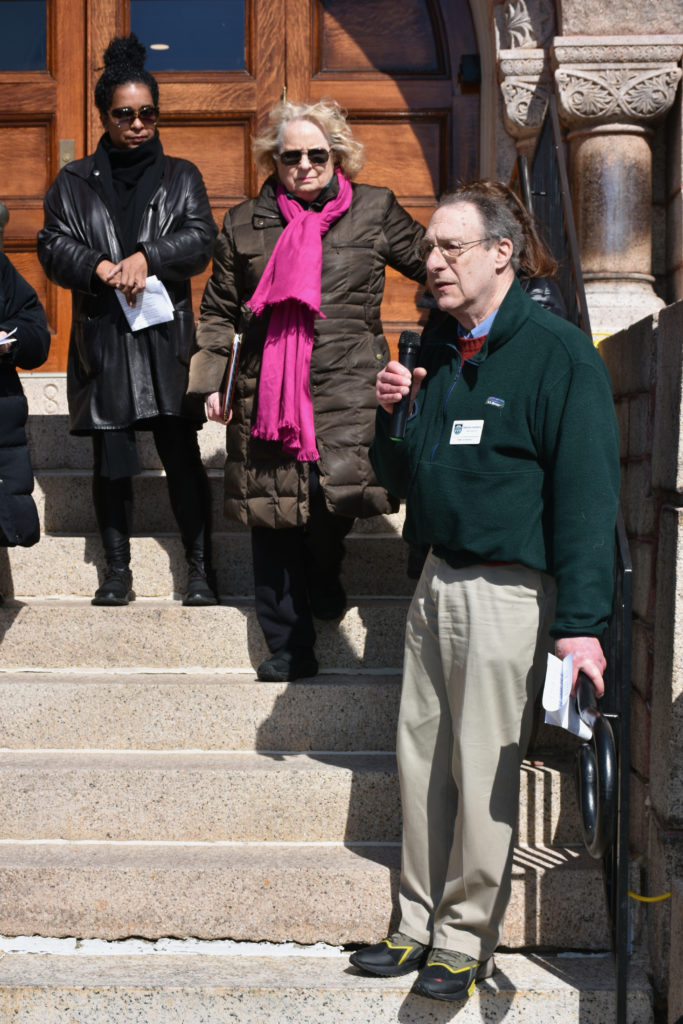 Both Councilors Andy Steinberg and Lynn Griesemer noted the importance of reflecting on the holocaust when another genocidal war is being waged in Ukraine. Steinberg told of his parents escaping to the United States from Germany in 1937 and an uncle who fled to Great Britain as part of the kinder transport and noted the good fortune and safety that his parents found in the United States. Rabbi Weiner noted that his grandfather is from Ukraine and spoke of the safety and freedom that Jews had found in America and the vibrant communities that they were able to build as a result.

The Town Council's proclamation follows
JEWISH AMERICAN HERITAGE MONTH PROCLAMATION, 2022
Council Sponsors: Councilors Pam, Schoen, Steinberg, and Taub; Community Sponsors: Hilda Greenbaum, Rabbi Benjamin Weiner
WHEREAS, on April 20, 2006, after resolutions passed unanimously in both houses of Congress, President George W. Bush proclaimed that May would be Jewish American Heritage Month to recognize the more than 350-year history of Jewish contributions to America and American culture; and
WHEREAS, the proclamation reads that "The Jewish American experience is a story of faith, fortitude, and progress. It is a quintessential American experience — one that is connected to key tenets of American identity, including our Nation's commitment to freedom of religion and conscience. This month, we honor Jewish Americans — past and present — who have inextricably woven their experience and their accomplishments into the fabric of our national identity"; and
WHEREAS, throughout our history, American Jews have made major contributions to society and culture in science, medicine, literature, the arts, sports, business, technology, civil rights, government, and military service; and
WHEREAS, as we celebrate the rich heritage of the Jewish American community in the Town of Amherst and the nation, we recognize that American Jews have joined with all faiths to work for Tikkun Olam, repair of the world, remembering the lessons of the Holocaust, and leading movements for civil rights and social justice; and
WHEREAS, the institutions of higher education in Amherst have led in programs in Jewish Studies including Holocaust and Genocide studies; and
WHEREAS, the influx of Jewish families with the expansion of the University of Massachusetts at Amherst in the 1960's and 70's, whose concern for the Jewish education of their children and for community led to the establishment of the Jewish Community of Amherst, the JCA, which finally found its permanent home in the Second Congregational Church in 1977; and
WHEREAS, the National Yiddish Book Center was founded in Amherst in 1980, to recover, celebrate, and regenerate Yiddish language and modern Jewish literature and culture surviving after the Holocaust through book rescue; and
WHEREAS, Amherst is part of the growing Jewish Farming Movement in the Pioneer Valley, concerned with sustainable agriculture and food justice.
NOW, THEREFORE, we the Amherst Town Council, do hereby proclaim the month of May to be Jewish American Heritage Month in the Town of Amherst and encourage all to celebrate the history and contributions of Jewish Americans to our culture and society.
Voted this 25th day of April 2022. Lynn Griesemer, Amherst Town Council President