Water And Soil Challenges At Wildwood And Fort River Sites Similar And Solvable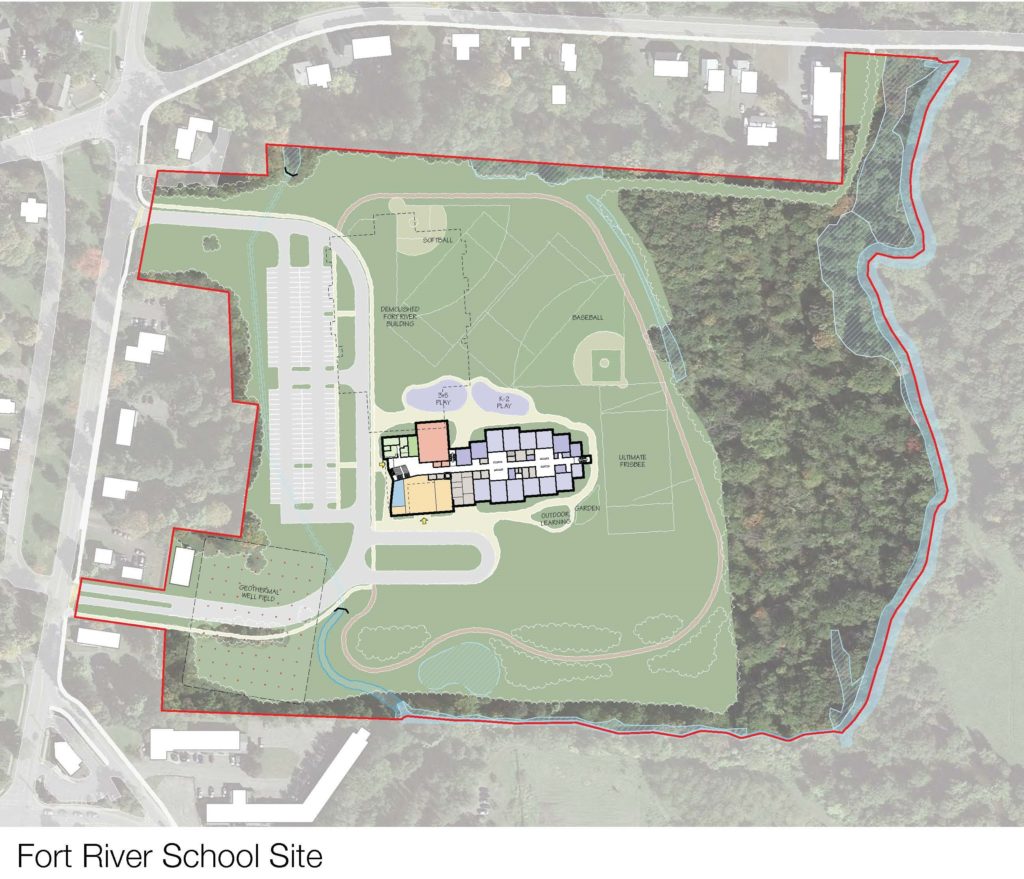 Wildwood and Fort River sites present similar challenges when it comes to constructing a school — but all are solvable, according to comments made by Geotechnical Engineer Mike Talbot of O'Reilly, Talbot & Okun, and Civil Engineer Janet Bernardo of the Horsley Witten Group at the Elementary School Building Committee (ESBC) meeting on April 22.
High groundwater and poorly draining soils are features of both sites, said Talbot, in a presentation to the committee on the geotechnical aspects of the project. The Fort River site is composed primarily of river valley clay, while Wildwood is predominantly glacial till, both soil types that do not permit infiltration of water. The high groundwater and impermeable soils cause water to run along the surface, making the conditions wet and muddy, Talbot said. With groundwater just ~1' to 4 feet below the surface at Fort River and ~2' to 5 feet at Wildwood, Talbot outlined approaches that would ensure any future construction would be protected from moisture infiltration, which included installing sub-slab drainage as well as air and vapor barriers. He also proposed sub-drainage for playing fields. For new construction at Fort River, Talbot recommended raising the grade by about two feet. "Raising the building solves a lot of your problems," he said.
"In no way is the Fort River site unusual in the Connecticut River Valley," Talbot said, sharing that all the playing fields at UMass have similar soil conditions. Referring to the Easthampton High School project completed in 2013, Talbot said, "that site had many of the same issues and concerns and the school has been around for 10 years and has operated without any problems." Built in a swampy area, the high school building was raised four feet to mitigate moisture concerns.
To manage stormwater runoff from the roof and paved surfaces at either site, Bernardo said they would divert the flow away from the building and utilize constructed wetlands and bioswales with plants and vegetation, to detain the runoff and provide water quality treatment before it flows to the Tan Brook (Wildwood) or the Fort River. Existing culverts would be videoed to check they are structurally sound. At Wildwood, the culvert runs underground from a pond across from the entrance on Strong Street, under the driveway and parking lot, and toward the Middle School. At Fort River, they would propose "daylighting" the culvert, that is, opening up buried sections and making it an educational and site feature.
One of the issues at Wildwood, Talbot said, is that the hilly site was leveled when the current school was built, and up to 10 feet of fill was placed below the foundation and playing field. "[This fill] is highly variable and loose in some areas, and is not a suitable bearing material for a new building, so you would have to treat that soil," Talbot said. He outlined two options for soil improvements: 1) excavating the existing soil and recompacting it in layers, or 2) driving in aggregate piers to densify the soil, analogous to a pin cushion that stiffens when pins are inserted. "Both solutions are reasonable and viable. It's a matter of cost," Talbot said. Rammed aggregate piers were also suggested for improving the load-bearing capacity of soil at Fort River. To address settlement, Talbot said they can preload and compress the soil before starting construction, an approach that worked well in Easthampton and other places.
In addition to groundwater, soils, and stormwater, another factor related to the site is where a ground source heat pump ('geothermal') well field could be located. The 31.5 acre Fort River site offers ample room on which to locate a wellfield; however, finding room on the smaller (14.3 acre) Wildwood site, particularly in a new construction scenario, is more challenging. For this reason, the design team has been looking into using the middle school field below, which would require a legal agreement with the Regional School District which owns the property. The designers have also considered using that field for play space for Wildwood students as level playing fields are minimal on the Wildwood site, but the ~15-20 foot slope and the length of ramp that would be required to make it accessible [stretching from the Head Start traffic circle to the middle school tennis courts] make it very challenging, Rick Rice of DiNisco said.
Due to topographic limitations on the site, the footprint of a new school at Wildwood would need to be located in the southeast corner of the site, requiring excavation into the treed hillside below Hills Road, and the construction of a retaining wall and additional drainage. Against that backdrop, and noting the likely costs cutting into the hill would entail, Committee Chair Cathy Schoen observed that, at Wildwood, "the addition/renovation option is a nice fit," taking advantage of the flatter part of the property. "You don't have to go into the hill, you have room for the wells, and it looks like you get daylight," Schoen said. At Fort River, Schoen thought new construction was a stronger solution since it allowed for raising the building to mitigate high groundwater.
A community forum has been scheduled for May 5 to review school options with the public. A preferred solution is expected to be picked by the ESBC in June, which will include site selection (Fort River or Wildwood), the choice of addition/renovation vs all new construction, ground source or air source heat pumps for heating and cooling, and a decision of whether a 1&2-story, 2-story, or 3-story school would be built.