May 14 Actions Planned Across The Country To Protest Anticipated Repeal Of Roe v Wade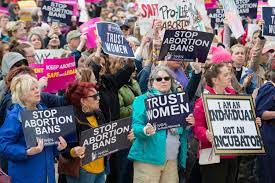 Local Protests Planned In Northampton And Amherst At Noon On May 14

Source: Planned Parenthood Advocacy Fund Of Massachusetts and Valley Women's March
On Monday, May 2, Politico published a leaked draft of the Supreme Court majority opinion in Dobbs v. Jackson Women's Health Organization that explicitly overturns Roe v. Wade. This is an unprecedented leak from the court that, if true, would reverse nearly 50 years of precedent and explicitly end federal constitutional protections for abortion. Twenty-six states have stated that they will move quickly to ban abortion, meaning 36 million people might live without local access to abortion, denying them the power and freedom to make their own personal reproductive health care decisions.
Planned Parenthood Advocacy Fund of Massachusetts and Valley Women's March invite the public to join people across the country, in protesting the anticipated repeal of abortion rights, not only to demonstrate that people support abortion access but also that people will not back down when civil rights are threatened. As of Wednesday (5/11), 373 cites and towns had planned protests.

Northampton Demonstration
A demonstration has been organized for Northampton, MA from Noon – 2 p.m at City Hall on May 14. The Indy will present updates with additional details as they become available and will also providing listings for other events throughout the Valley as they become available.
Amherst Stand Out
An informal standout is planned for downtown Amherst, on May 14 on the corner across from the Bank of America building from Noon to 2 p.m. Bring your own sign.