Affordable Housing Lottery Applications For One University Drive South Due August 12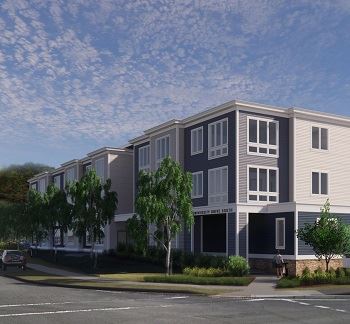 SEB Housing, a Massachusetts-based affordable housing consulting group, is currently working with One University Drive South, The Massachusetts Department of Housing and Community Development, and the Town of Amherst to provide affordable housing rental units. There will be a lottery coming up for an affordable housing opportunity at the new One University South in Amherst. Applications to enter the lottery are due by August 12, 2022.
There are three studios available at the rate of $1,036/month and Two one bedroom apartments at $1,165/month. Rents subject to change in 2023. Rents do not include the cost of electric heat, cooking, hot water, and electricity. Water and sewer expenses are included. There is parking on-site.
One University Drive South is a brand-new, 45 unit rental apartment community located in Amherst on One University Drive South in Amherst. There will be 5 affordable apartments ready for occupancy starting in the Summer of 2022. All affordable apartments will be rented to households with incomes at or below 80% of the area median income through this application process. Apartments feature stainless steel appliances, granite countertops, mini splits, large windows and light filtering window coverings.
The complex also features a state of the art central laundry room with an app to let you know when your laundry is done. One University Drive South is a completely new, thoughtfully designed apartment community created for comfortable living and providing easy access to shops and downtown Amherst. The complex is located less than a block away from the Pioneer Valley Transit Authority (PVTA) bus stop. The building consists of three floors and has an elevator.
MAXIMUM Household Income Limits: $52,750 (1 person), $60,250 (2 people)
A public information session will be held on July 13, 2022 at 6:00 pm via Zoom. Go to Zoom.com – Join – and enter Meeting ID: 818 9317 7595, Passcode: 088159 or join by conference call (425) 436-6200, Code: 862627
Completed Applications and Required Income Documentation must be delivered, or postmarked, by 2 pm on August 12, 2022. Applications postmarked by the deadline must be received no later than 5 business days from the deadline.
The Lottery for eligible households will be held on August 22, 2022 at 6:00 pm via Zoom. Go to Zoom.com – Join – and enter Meeting ID: 857 2736 5609, Passcode: 276410 or join by conference call (425) 436-6200, Code: 862627
For Lottery Information and Applications, or for reasonable accommodations for persons with disabilities, go to www.sebhousing.com or call (617) 782-6900×1 and leave a message or postal mail SEB Housing, 257 Hillside Ave, Needham MA 02494. For TTY Services dial 711. Free translation available.
Traducción gratuita disponible.
For application, information packet and more details visit https://sebhousing.com/property/one-university-drive-south/Additional Info & Access Application