Concerns On Rental Permitting Emphasize Fee Structure And Occupancy Limits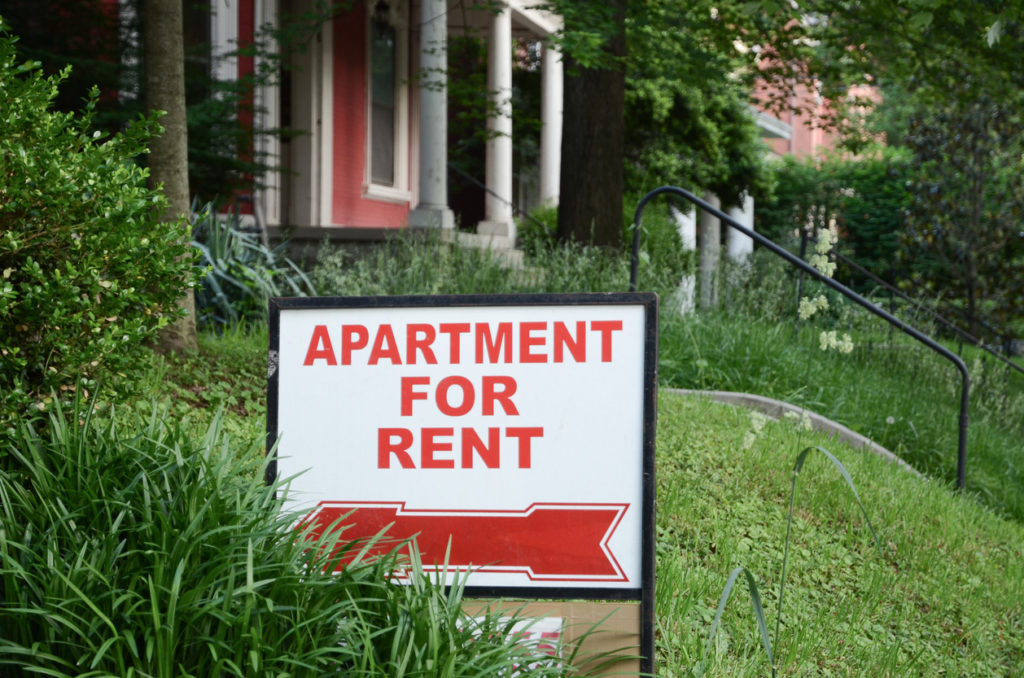 Report On The Public Hearing Of The Community Resources Committee, October 24, 2022
Present
Town Councilors Mandi Jo Hanneke (Chair, at large), Pam Rooney (District 4), Jennifer Taub (District 3), Pat DeAngelis (District 2), Shalini Bahl-Milne (District 5),
Also: Councilor Michele Miller (District 1), Councilor Dorothy Pam (District 3), Rob Morra (Building Commissioner), Dave Ziomek (Assistant Town Manager), and 42 members of the public

The Community Resources Committee (CRC) held a public hearing on the draft of the town's rental permitting bylaw on October 24 via Zoom. The hearing was recorded.
CRC Chair Mandi Jo Hanneke emphasized that the committee was still drafting this bylaw and that the aim of the hearing was to receive input that the committee could use in moving the bylaw toward final form. Hanneke presented three slides dealing with different aspects of the bylaw (scope of permits, inspections, and violations and enforcement), showing differences between the original bylaw and proposed revisions and she invited public comment on each. That Power Point presentation can be viewed here. One of the major issues raised by attendees was the costs of the permitting program and who would pay them.; Questions about costs came up in each section of the hearing.
Unlike conventional committee meetings, where committee members do not respond to statements or queries made during public comment, the hearing offered a space where the councilors and town staff were able to respond to questions and comments and the proceedings resembled a Q &A, more than testimony. Fifteen different members of the public spoke at the hearing, some on multiple occasions.
Pam Rooney reminded those attending of the goals of revising this bylaw: to ensure that rental homes are safe and healthy, and that we have an equitable fee structure and a clear licensing structure. She said that the bylaw should support strong neighborhoods and when we can, we want to address the town's climate action goals. Participant comments and questions were wide-ranging throughout the hearing and emphasized concerns about fee structures, bylaw enforcement, and whether there ought to be /can be different requirements for owner-occupied properties and those managed for absentee landlords. Hanneke thanked all who offered feedback and said that comments offered were helpful and will be taken into consideration in crafting the final draft of the bylaw.

Section I: Scope of Permits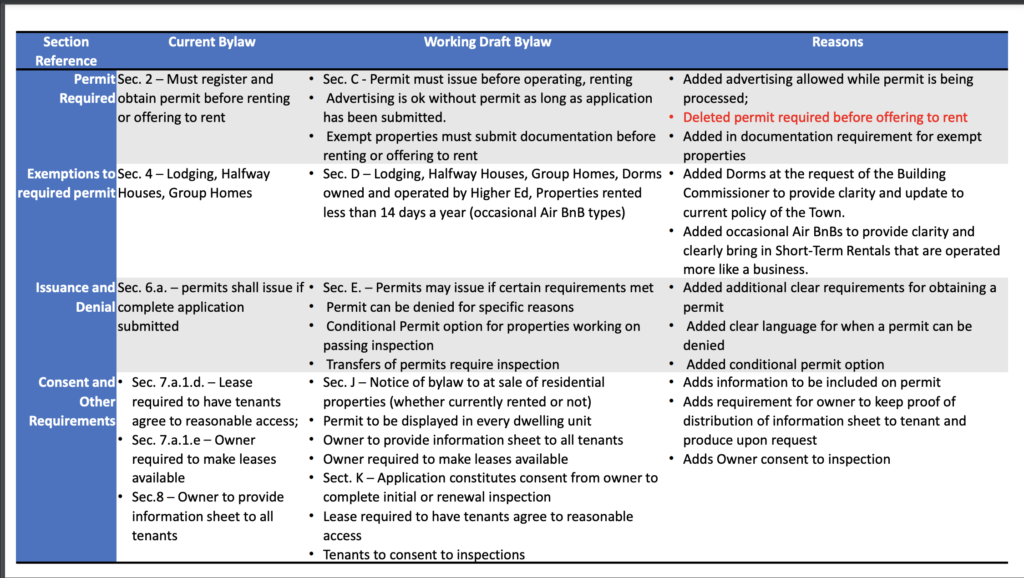 The opening question, by Josna Rege, focused on the possibility of different requirements for different kinds of landlords. She asked if the new regulations would make any distinction between requirements for owner-occupied rental properties, owner-adjacent properties, large corporate owners, and absentee owners? She suggested that the town ought to be more friendly to owner-occupied and owner-adjacent rental properties. "My neighborhood is currently at the tipping point of becoming a student neighborhood," she said, suggesting that owner-occupied properties help keep neighborhoods diverse.
Hanneke responded that one new element of the bylaw draft is the requirement for a "person in charge" to be responsible if the owner does not live in the tri-county area. That's currently the only distinction that's been made thus far regarding different ownership and residence status. She also noted that the committee has only begun to talk about fees and the possibility of a differential fee structure so that ownership status as a distinction might arise again.
CRC member Jennifer Taub added, "We want to do everything we can to encourage owner-occupancy and nothing to discourage that." She said that noise and nuisance complaints are almost never about owner-occupied properties.
CRC member Shalini Bahl-Milne agreed, and reported that tenants responding to an Engage Amherst survey said, pretty uniformly, that they had especially good relationships with their landlords in owner-occupied buildings.
Bob Tancredi said that he has a couple of rental units in his backyard and that he believes that owners of owner-occupied rental units should not have to pay any fees. "Owner-occupied units are not a burden on the town. I pay $100/year to permit my two apartments and a large corporate entity pays $100/year for a hundred units, and that's not fair."
John Varner said, "It seems like a lot of the revisions will require increased enforcement, tracking, and bookkeeping. How are these things going to be funded?"
Hanneke responded that they will likely be self-funded through permitting fees and that the committee has only just begun to develop a fee schedule .
Varner also asked if there would be any provision to have landlords identify the occupancy of their dwellings, for example to identify units as student housing?

Hanneke responded that currently, the bylaw draft requires identification of Section 8 voucher holders and student housing.

Narayan Sampath, a landlord of an owner-occupied property, urged the committee to think about the possibility that new fees might get passed on to tenants.
Ira Bryck called attention to a letter he sent that morning to the Town Council, challenging them to be more proactive in addressing the crisis of student housing and the failure of UMass to take on a reasonable share of the burden. "If you increase fees on landlords, they're going to pass them on to tenants," he said. He suggested that UMass pay the cost of running the permitting and inspection programs since they are the root cause of the student housing problem.

Section #2: Inspections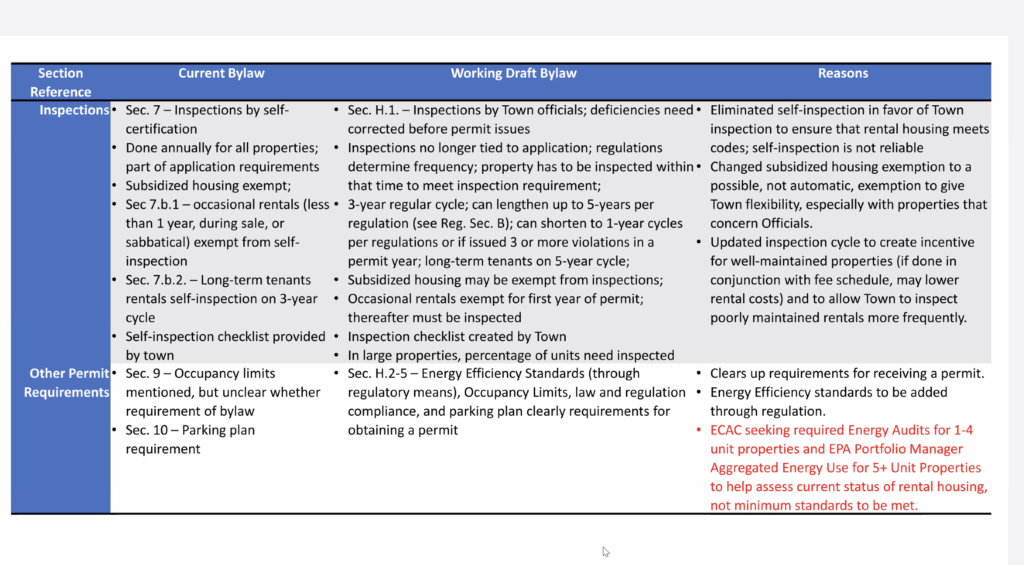 Daniel Raphael Segalyn wanted to know what will change about inspections.

Hanneke responded that under the current bylaw, property inspection depends largely on self-certification by owners and that under the new bylaw, inspections will be the responsibility of the town, with the aim of inspecting every rental property once every three years.

Sampth wanted to know more about the energy audit requirement, and asked about what will be required and what will be optional?
Hanneke responded that the only thing that the town's Energy and Climate Action Committee (ECAC) is asking for is that an energy audit be done for rental properties. Nothing beyond that would be mandatory, including recommendations from the audit. The language for the energy audit requirement is still being developed.
Segalyn asked about the possible difference between the ideal of inspections and the actual practice of inspections.
Hanneke responded that the town has over 1,100 rental properties and it remains to be seen whether they can all be inspected within a three-year cycle.
 Bryck suggested that producing an educational video for both landlords and tenants might be helpful. He imagined a video that would  Inform landlords and tenants on what is involved in an inspection and in keeping properties within code.  He suggested that the town ask UMass to produce it. 
Varner asked about how fines would be assessed.

Building Commissioner Rob Morra replied that this still needs to be worked out but that the town has other means to promote compliance before fines are levied.
Tom Crossman challenged the idea of occupancy limits. He said, "We have a property that is 6,200 square feet with seven bedrooms, but we can only rent to four unrelated people, while at the same time the university is putting students up in hotels. That doesn't seem to make sense. Is there a way to adjust our occupancy limits so we can use existing housing stock to provide housing to those who are interested in living in our community?"
Hanneke replied that occupancy limits are listed twice in the zoning bylaw but not at all in the permitting by law. She noted that for the permitting bylaw, the committee can discuss occupancy in terms of enforcement policy but can't change the numbers.
Taub added that occupancy limits do not apply to families, prompting DeAngelis to remind the committee that they need to think about how they define 'families. Taub responded that the definition of families in Article 12 of the zoning bylaw is expansive.
Asked whether the unrelated persons bylaw is a state regulation, Morra said it is a local bylaw and varies from town to town.
Janet McGowan defended occupancy limits. She said that she grew up in Stony Brook, New York,, now home to one of the largest universities in the SUNY (State University of New York) system. The nearby town of Belle Terre adopted an occupancy limit of four unrelated individuals that ultimately was taken to the Supreme Court and was sustained. "Such restrictions are legal and constitutional," she told committee members. "I know from the Facebook page for the UMass Off Campus Housing Office that there are properties that are renting to more than four students, but we need to keep in mind what we need to sustain neighborhoods.'
Taub reminded the hearing that owner occupied homes can rent to more than four unrelated people.
Bhal-Milne said that the primary purpose of occupancy limits is to protect health and safety, but also to mitigate impacts on the neighborhood,for example, the deleterious impacts of parking many cars on the lawns of over-occupied houses. Are properties able to exceed occupancy limits without hurting the health, safety, and quality of life in the neighborhood? While we can't change the numbers, we will be looking at this in considerable depth," she said.
Section 3: Complaints And Violations.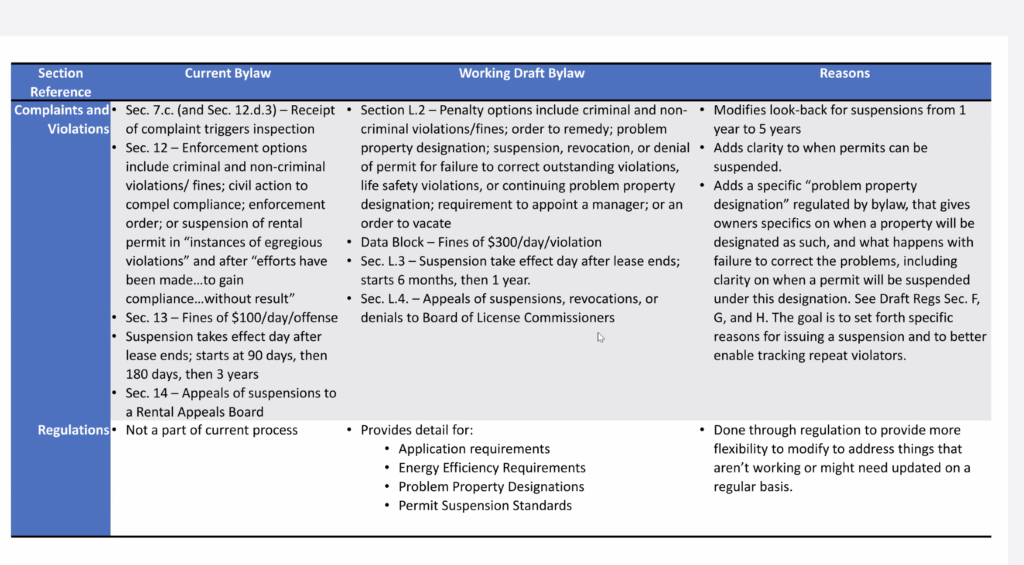 Somone ( name unknown) asked if there is any way the town can help increase knowledge about the identities of scofflaw landlords by increasing the volume and kind of information available and shaming scofflaws so that the public and renters know where the problematic rentals are and what some of the problems are?
Morra responded that unfortunately, the town has lost its ability to list code enforcement on the town's GIS system. "That was our way of keeping the town on top of where problem properties are and the history of these properties," he said. "Since we can no longer use the system in that way, we're looking for alternatives for presenting that information and we are interested in doing that. And perhaps the bylaw will come up with a property grading system."
Renata Shepard suggested that a small percentage of rent on each unit would be one way to fairly assess fees. She added that property managers do not always keep absentee owners well informed.  And she concluded with appreciation for the thought and effort the committee is putting in to make sure that all stakeholders are heard.
Bryck suggested that for this section of the bylaw it would be useful to communicate to tenants and landlords that the reason we have a permitting process is to protect the health and safety of the neighborhood. Keeping the reasons for rules and enforcement clear might help people be more receptive.
Andrew Di Siervo was concerned about the proposed point system to identify problematic properties, and suggested that it is unreasonable to hold landlords responsible for the bad behavior of their tenants.
Hanneke replied that these regulations have not yet been discussed. The points-list in the draft is from State College, Pennsylvania, she said, and was included as one possible model. She said that the committee is not clear on enforcement and welcomes additional feedback.

Rooney asked Di Siervo who he thinks should manage behavior in rental properties, and he responded that he is limited in what he can do to affect the behavior of problematic tenants.
Dorothy Pam said that she has found it is easier to deal with a rowdy house than one might think.
Reva Novey asked for clarification about energy audit requirements (see above) and added that she recommends against the requirements for safety locks on apartment doors, noting that they were prohibited by the fire marshal in the last town she lived in.
Closing Comments And Questions
Varner said that he is still wondering about funding of the system and about the database that will be necessary to manage permits and enforcement, and asked again how it would be managed and paid for.
Morra replied that funds could come out of the town's IT budget, or its capital budget, or out of a self-funding fee structure. That will be part of town budget discussions and hearings that will begin in early November.
Bryck suggested that one more building type be added to categories used for building exemptions: on campus apartment buildings built through a public/private partnership.

Hilda Greenbaum said that the problems that need to be regulated come from the conversion of single-family homes into rental properties. "Everything else is controlled by permit," she said, and added, "The new fees are not fair. People who are the problem ought to pay for the inspections. We don't need to rewrite all of these laws. Let's not make the rents higher. If you need more money for this, take it out of the tax rate. Let neighborhood associations solve their local problems and  let's not impose an inappropriate  solution across the entire town."

Alan St. Hilaire suggested tying fees to the assessed value of the property. "It's formulaic, it's how taxes work, and it already exists," he said.  He reported that smaller landlords are concerned that more fees are just going to get passed along to tenants. There are certainly problem landlords in town but the vast majority are good landlords and to put this on everyone is unfair.  He added that apartment complexes like Puffton Village are not the problem. They are regularly inspected. He pointed out that  insurance companies require even more rigorous standards than the town. It's the single family homes that are the problem and they should carry the costs of the solution," he said.
Novey, who owns a single rental unit, added, "We really need a different fee structure for small holders and large holders. And you should consider helping to educate landlords about how to screen for good tenants. The higher the fee, the more likely that it will get passed on to tenants," she said.
Lily Bruce worried that this is going to scare landlords off from renting to students and that this will exacerbate the existing housing shortage that makes it hard for students to find housing.
Bahl-Milne spoke of situations where landlords and tenants developed good working relationships and that this worked against the emergence of problem houses.
Pam also spoke of successful efforts in her District 3 neighborhood to connect tenants with landlords and neighbors, and the mutual good will that resulted. But she added that when a neighborhood starts to be dominated by student renters, it becomes much harder to integrate them, and that there has to be a balance in neighborhood composition.