Amherst Educators Plead For Living Wage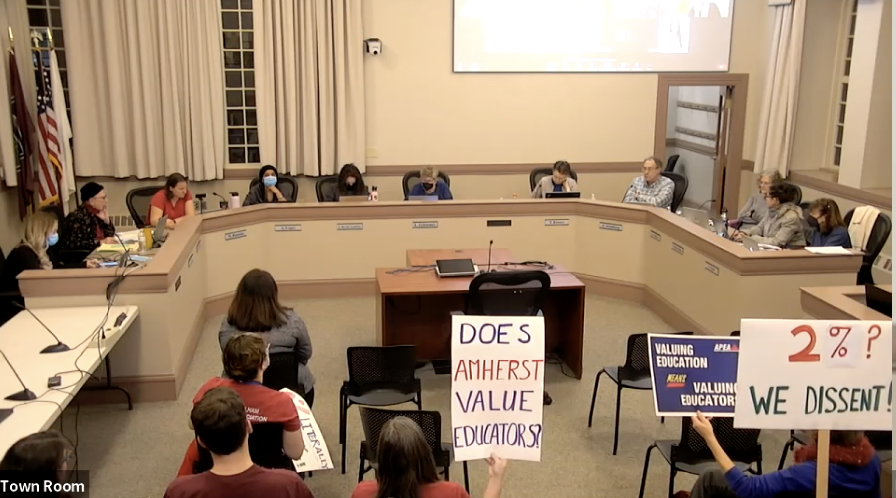 Report On The Joint Meeting Of The Town Council, School Committee, Library Trustees, And Finance Committee, Part 1. November 7, 2022
This meeting of the Budget Coordinating Group was held in hybrid format with people present in the Town Room at Town Hall and participating over Zoom. It was recorded and can be viewed here and here.
For the first time since the pandemic began in March, 2020, the Town Room had a large number of members of the public present, many carrying signs supporting educators. Some signs said "School Committee Negotiate With Us!" and "Value Education? Value Educators!" There were also people carrying signs outside Town Hall and in the hall outside of the town room. Two Cress responders were present to monitor the attendees to keep capacity within allowable limits.

Budget Indicators
The Special Town Council meeting regarding budget indicators for FY2024 preceded the regular council meeting. No public comment was allowed during the special meeting. (It was allowed after, during the regular meeting.)
Members of the Finance Department, including Finance Director Sean Mangano, Comptroller Sonia Aldrich, Principal Assessor Kim Mew, Treasurer Jennifer LaFountain, and Assistant Comptroller Holly Drake, combined to outline town income and expenses anticipated for next year. There will be a public forum on the budget on November 21.
Town Manager Paul Bockelman said the town's financial standing remains strong, with an AA+ bond rating. Mangano said that there has been a shift in revenue to property taxes, which now comprise 68% of the town's revenue, as opposed to 63% in 2014, mostly due to a decrease in state aid. Uncollected property taxes are low at 1.48%. The town is anticipating about a $2 million increase in property tax collected due to the apartment and mixed-use buildings constructed in recent years.
Although operating costs have increased, they are lower than the rate of inflation. The town has added 10 full-time equivalents of staff over the past 10 years to reach 202 employees in 2022, but is still well below the peak of 213 employees in 2007. This figure will increase for 2023 with the formation of the CRESS responders program and the Department of Diversity, Equity, and Inclusion. Amherst has a very low rate of expenditures per capita, owing to the fact that about a third of the population live on college campuses and do not contribute to the tax base.
Debt service has decreased to 1.1% of the budget, but many authorized borrowing expenses have yet to be paid, such as funds approved for the Jones Library expansion and the new pumper truck for the fire department. Reserves are currently 27% of the operating budget, an increase over most years, in anticipation of the major capital expenditures expected. Mangano also announced that the town will be accepting residents' requests for capital expenses until December 31. The new, streamlined application is available here.
Amherst is currently engaged in collective bargaining with several town employee unions. Three of six negotiations remain unsettled for town positions and four of six in the schools are ongoing.
Mangano projects a budget that increases expenditures by 2.5% leading to a deficit of $200,000 for FY2024, but much is speculation since the fiscal year does not start until July, 2023 and state aid will not be known until spring. Residents can follow the budget process here.
Comments From Town Officials
Amherst School Committee member Peter Demling noted that the School Committee is currently in negotiations with educators' unions but is powerless to increase contracts unless the Town Council approves a larger expenditure for the school budget. Committee member Jennifer Shaio asked how and when the schools can provide input to the council about their needs. Bockelman said that residents can let the council know their priorities at public forums. Finance Committee Chair Andy Steinberg noted that the Finance Department will present its budget guidelines to the council on December 5 for comments, after which the Finance Committee will incorporate the suggestions and bring the document back to the council for a vote on December 19.
Public Comment
After the regular Town Council meeting began, shortly after 8 p.m., the council held a hearing on tax classifications that lasted until almost 9 p.m. before opening the floor to public comment. Councilor Michele Miller (District 1) noted that many in the audience had waited a long time to make their comment and that some had had to leave prior to having an opportunity to speak. What followed was an hour of pleas from educators and their supporters for a satisfactory resolution to collective bargaining.
Vira Cage noted that many town employees, including more than 25 Amherst police officers, make six figure salaries, and it is jarring to know how much money is allotted to parks and some other projects while the town says it cannot support its lowest paid workers, such as the paraprofessional workers in the schools.
ARHS Student Julian Hynes said that educators need their wages to keep pace with the cost of living. He said it is embarrassing that the school system needs to have a "mini survival center" for some of the para educators who are not paid a living wage.
Lamikco Magee, an arts educator, noted that the value of homes is tied directly to the quality of education in a town. "Amherst can't afford to have poor schools," she said and added that she would love to have a new school, but it is the people in the schools that matter most.
Gabriel Davila said that the union has been asking for direct negotiations with the School Committee, rather than going through a mediator. He added that para educators deal with the most vulnerable students and should be valued as much as police officers, parks, and a new library. Alex Lopez, who works as a paraprofessional at Summit Academy, said the school doesn't have money for substitutes, so he ends up filling in for staff who are absent. He noted that people are leaving the school system or need to work a second job in order to make a living wage.
Margaret Sawyer requested that the town release more money so that the School Committee can negotiate fairly with the educators. She noted, "The council is the one with the purse strings."
Laura Pagliarulo said she and her husband moved from Washington, D.C. five years ago with their two children because of the school system. Even with the two percent wage increase the teachers are requesting, their salaries would essentially decrease by six percent because of the current eight percent inflation rate. She said the school budget only allows for about $18 /child in total expenditures, which is what she pays a babysitter, so it doesn't seem that this town prioritizes education.
Danielle Seltzer lives in Turners Falls but has worked in the Amherst schools for many years and is a member of the negotiating team. She said that last year's cost of living increase was only 0.6% and that the retention rate for staff immediately dropped from 92% to 77%, worse than nearby towns.
Jeff Friedman is a 24-year teaching veteran. He said he moved to Amherst so his children could attend the public schools. He values the tradition of excellence of the schools and added that employees are the keepers of this excellence.
Shauna (unknown last name) and Nellie Gonzalez work as paraprofessionals and make less than $18 an hour, which they said is much less than is paid in Northampton.
Manny Weinman, a teacher at Fort River Elementary School, quoted Barbara Ehrenreich's Nickel and Dimed: Not Getting By in America saying, "When someone works for less pay than they can live on, when they go hungry so that you can eat more cheaply, then they have made a great sacrifice for you. They have made you a gift of some part of their abilities, their health, and their life. The working poor … are in fact the major philanthropists of our society."
Molly Cooksy, a dual language kindergarten teacher at Fort River, said she can't afford to live or vote in Amherst, but is especially concerned about the paraprofessionals she works with. They are mainly responsible for carrying out the individual education programs (IEPs), legally binding contracts that many students have with the schools. She added that the paras work for about what they would be paid at Walmart. "I am so ashamed of the town I came from. I thought I would be 'coming home' when I came to work here, yet it is unbearable to see my colleagues come to work and have to run out the door to go to their second or third job. I don't know how people can sit and tell us that's acceptable. I don't know how anyone can look at their children and tell them, 'Well this is what we can do for you.' "
Jeff Kalman said that he and his wife both work in the schools, and they have two children at Amherst Regional High School. They are invested in this community, he said, but the schools are not doing well and morale is low. "It is not a pretty picture to have negotiations come to a complete standstill."
Remy Fernandes-O'Brien, a dance teacher at the regional schools, said that like a lot of teachers, they got COVID and long COVID from being at the school, but they continue to work because "there is no way I'm not going to be there for my students".
Councilors' Reactions Cut Off Because School Budget Was Not An Agenda Item
Dorothy Pam (District 3) said she is embarrassed for Amherst and that she'd had no idea that the wage inequity was this bad. She asked, "What do we do? We are planning these grandiose projects when some of the people educating our children are paid so poorly."
Anika Lopes (District 4) agreed, saying, "With all due respect, I think some of us on the council are so far removed from what it is to work three and four jobs or be hungry, what it is for it to be normal to work a 12-hour day without choice. The fact that people are surprised is surprising and that people live this way in our community is also beyond me."
Councilors Shalini Bahl-Milne (District 5), Ana Devlin Gauthier (District 5), Pam Rooney (District 4), and Cathy Schoen (District 1 ) also raised their hands to comment, but discussion was cut off by Council President Lynn Griesemer (District 2), who noted that the topic of educators' salaries was not on the agenda and should not be discussed at this meeting. She said the Finance Committee will discuss the budget proposal in more detail at its November 8 meeting and that input from the various departments could be given to the Budget Coordinating Group when it meets again. Mandi Jo Hanneke suggested that the topic could be raised at the end of the meeting under "unanticipated topics".
Shortly before midnight, Bahl-Milne asked when the subject of educators' salaries would be discussed again. Griesemer said the Finance Committee will deal with it first, and it will be again brought up at the November 21 public forum. Steinberg clarified that the Finance Committee would be working on budget guidelines to present to the council on December 5 for discussion and approval by December 19. He explained that the council can allocate money to the schools, but it is up to the School Committee to decide how it's spent.
Bockelman cautioned councilors against taking a stand on contract negotiations after only hearing from one side. He said that the School Committee is the bargaining entity with the educators' unions, and that he is the town's representative to these negotiations. Griesemer also noted that these negotiations will affect negotiations with all of the other unions in town. She suggested that if councilors want to send letters in support of the educators to the Finance Committee and School Committee, they should do so individually, rather than sending a letter from the council as a whole..
The meeting was adjourned at midnight. The council will next meet on November 14 to discuss the motions put forth on the July 5 incident between police and BIPOC youth.