Finally! Council Votes For Parking Changes On Lincoln Avenue.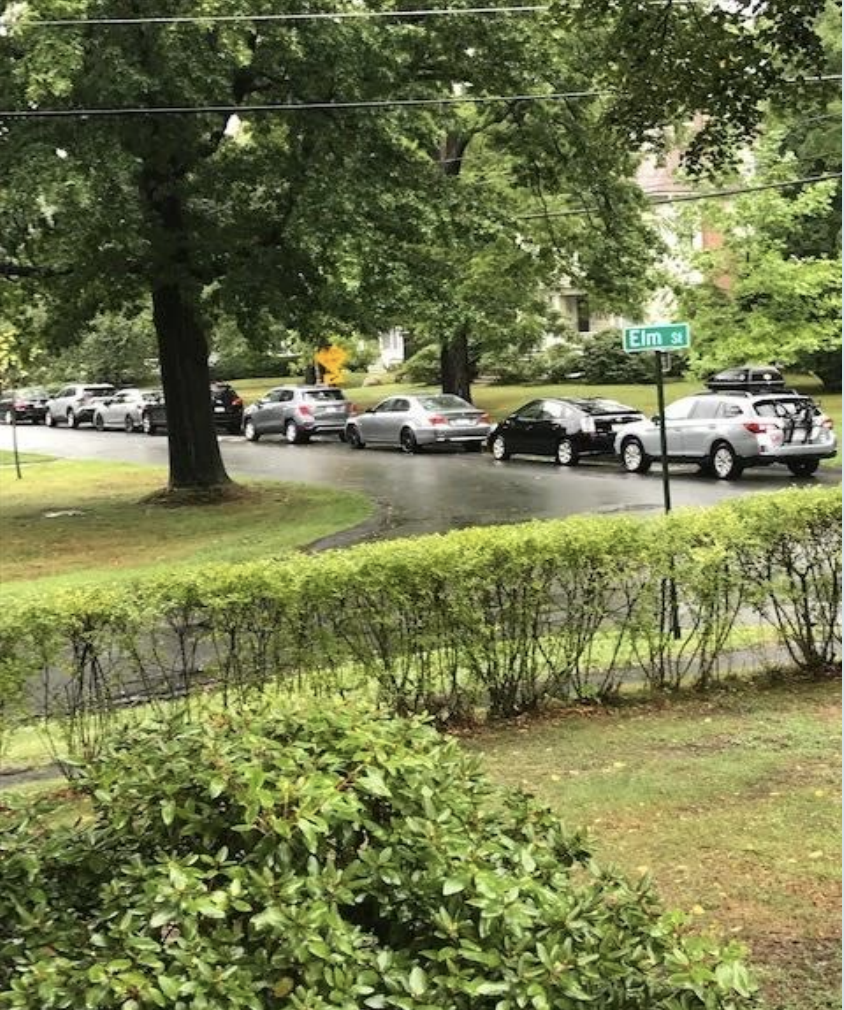 Report On The Meeting of the Amherst Town Council, Part 2. November 7, 2022
This meeting was held in hybrid format and was recorded. It can be viewed here and here.
Present
Councilors in the Town Room: President Lynn Griesemer (District 2), Mandi Jo Hanneke and Andy Steinberg (at large), Michele Miller and Cathy Schoen (District 1), Pat DeAngelis (District 2), Jennifer Taub (District 3), Pam Rooney and Anika Lopes (District 4), Ana Devlin Gauthier and Shalini Bahl-Milne (District 5)
Griesemer, Taub, Devlin Gauthier, Miller, and Lopes were wearing masks for at least part of the meeting, as was Town Manager Paul Bockelman.
Staff: Paul Bockelman (Town Manager) and Athena O'Keeffe (Clerk of the Council)
Participating on Zoom: Ellisha Walker (at large) and Dorothy Pam (District 3)
Highlights
Motion regarding the Amherst 9 incident postponed until November 14
New parking restrictions adopted for Lincoln and Sunset Avenues
Single property tax rate approved for FY 2024
Board of Health has not yet reviewed safety of artificial turf for high school
Town Manager reports on a successful year for achieving goals
New designs previewed for new elementary school
Discussion Of Motion Regarding Amherst Nine Postponed To November 14
Discussion of a motion made by Council President Lynn Griesemer near the end of the marathon meeting between the council and the Community Safety and Social Justice Committee on November 1 was postponed until November 14 at 6:30 p.m. Griesemer said several councilors have offered amendments to her motion, and others have submitted alternative motions, so the discussion will take more time than available at this meeting. Therefore, she scheduled an additional meeting for November 14.
Because of late notification to the council, the approval of the appointment of Melissa Loiodice-Walker as Human Resources Director was also postponed to November 14.
Resolution To 10-Year Saga Of Lincoln Avenue Parking
The town council approved long-sought parking changes on Lincoln and Sunset Avenues by a vote of 10-3.
The Town Services and Outreach (TSO) Committee's plan to eliminate parking on Lincoln Avenue between Amity and McClellan Streets from 8 a.m. to 5 p.m. Monday through Friday from September through May, as well as prohibiting parking on the east side of Sunset and one side of Elm Street at all times, was referred to the full council. Pat DeAngelis (District 2) removed the measure from the consent agenda because she was concerned that other, less drastic measures to control parking in the area, such as painting parking lines and erecting signs to remind drivers not to block driveways, had not been tried before removing parking on a public street. She suggested that the Town Manager ask the Department of Public Works to take these measures and monitor the streets for improperly parked cars.
At that point, Mandi Jo Hanneke (at large) made a motion to refer the matter back to TSO to consider making Lincoln and Sunset Avenues one-way in opposite directions with parking on one side of each only. This motion drew immediate disagreement from several councilors. Michele Miller (District 1) said she was concerned about the process, because the issue has been through many discussions in committee and received lots of public input. She was frustrated that Hanneke made a motion to send it back to the committee before the committee's motion was even considered.


Cathy Schoen (District 1) noted that, shortly after the first Town Council was seated, residents from Lincoln Avenue brought forth a petition to limit parking on the street due to safety concerns because of closely parked cars on the east side of the street interfering with residents backing out of their driveways and with cars traveling in opposite directions. Schoen reminded the council that it also heard from the DPW, fire department, police department, and Transportation Advisory Committee (TAC). In November, 2021 TSO established criteria for parking on town streets according to traffic volume, speed, and street width. The proposed parking plan for Lincoln was referred to TSO for evaluation, but was defeated in a tie vote when it came back to the council because then TSO Chair Evan Ross changed his vote to "nay". Schoen said that the problem is that UMass does not provide enough parking for its students and staff, and that those parking on Lincoln may not even be residents of Amherst. Andy Steinberg (at large) added that the issue predates the council. He was on the Select Board when it also considered changing the parking on Lincoln.
In response to Hanneke's motion, sponsor Jennifer Taub (District 3) said that TSO had considered one-way traffic on Lincoln but, according to the Transportation Advisory Committee making streets one-way can increase traffic and speeds. She added that Lincoln is a collector road and is one of the busiest roads in Amherst. The new dorms on Lincoln will bring 843 new residents to the area with only 100 parking spaces provided for them. Because there is no parking time limit on Lincoln now, those students could leave their cars parked on the street 24/7. She said the new plan will only decrease the number of parking spaces in town by 26 for the specified hours. Parking is not a problem on the street at other times.
TSO had recommended the new plan by a 5-0 vote on October 20, but Chair Anika Lopes (District 4) expressed doubts about the validity of the safety concerns and that the new dorms would worsen the parking situation on Lincoln and Sunset. She recommended that the council re-evaluate the parking situation by December 31, 2023.
Taub objected to this because the new dorms will not open until fall of 2023, so there would only be three months of data to examine. Dorothy Pam (District 3) also pointed out that DPW Superintendent Guilford Mooring said there have been more accidents on Lincoln than on similar streets, and that parents are worried about children crossing the street because of closely parked cars interfering with sight lines. Miller pointed out that the council can review any issue at any time and she doesn't agree with specifying a deadline for a review of this.
The motion for a time limit for a review failed by an 5-8 vote (Hanneke, Lopes, DeAngelis, Shalini Bahl-Milne (District 5), and Ana Devlin Gauthier (District 5) voted yes).
The original motion to eliminate parking Lincoln between Amity and McClellan from 8 a.m. to 5 p.m. on weekdays when the university is in session and on the east side of Sunset, and on one side of Elm at all times passed by a 10-3 vote (Hanneke, Lopes, and DeAngelis were opposed).
Single Property Tax Rate Approved For FY 2024
In a public hearing, Principal Assessor Kim Mew briefly reviewed her presentation from October 24 on property tax classification. Because some councilors and members of the public had expressed interest in a residential exemption for owner-occupied homes, the study on the effects of this measure done in October 2021 was included in the meeting packet. Mew pointed out that the residential exemption shifts the tax burden only within the residential class, so that some homes with higher values will pay more in property tax and said that the measure tends to penalize renters in apartment buildings because their landlords would probably pass an increase in taxes down to their renters. The assessed value of the average home in Amherst is $446,900, she said. She also said that adopting the residential exemption for owner-occupied residences would require more work for her department, which would have to monitor the status of each property. .
Mew also advised that the town continue with a single tax rate for residential, commercial, industrial, and personal property. Only 6.5% of property is classified as commercial, 4.3% as personal, and less than 1% as industrial. The vast majority of property (88%) is residential, so adopting a split rate that charges nonresidential properties at a higher rate would slightly reduce tax on residential property, but greatly increase it on the small number of businesses in town. (Note: large apartment and mixed-use buildings must be classified, by state law, as residential, not commercial.) She also recommended against a "small commercial exemption" (10 or fewer employees and valuation of less than $1 million) because almost all businesses in Amherst are included in this category.
There was no public comment on the tax classification, and the motion to again adopt a single tax rate passed as part of the consent agenda.
Board Of Health Has Yet To Review Safety Of Artificial Turf For High School Athletic Field
At the October 17 Town Council meeting, councilors declined to approve $900,000 from free cash to complete the town's share for remodeling the track and enclosed athletic field at the high school, due to concerns about the safety of the artificial turf proposed, and requested an evaluation by the Board of Health (BOH). Miller asked for the status of that evaluation, noting that the topic was not on the board's November 10 agenda.
Bockelman replied that the subject is apparently not a priority for the board and said it may discuss the safety of turf after the first of the year. He added that the Amherst Regional School Committee feels that the composition of the field is its decision to make, and it has already decided on artificial turf. The only question for the council, he said, is whether or not to appropriate the $900,000 for Amherst's final share of the project. Bockelman said he doesn't know of any entity in town other than the Board of Health that could evaluate the safety of artificial turf, which contains PFAS ("forever chemicals") and cannot be recycled when it needs to be replaced.

Town Manager Lauds A Successful Year In Meeting Goals
As part of the annual Town Manager evaluation, Bockelman submitted a slide deck of the town's progress in meeting the goals established by the council as well as a 28 page narrative self-evaluation. Griesemer noted that there were some errors in the draft summary she compiled from comments from councilors, staff, and the public. She will correct these mistakes and any others pointed out by councilors and will submit the final document for approval at the November 21 meeting.
Bockelman said that his self-evaluation was actually a nine-month review of his accomplishments, since it was written in October. He highlighted the major initiatives of 2022, citing the formation of the CRESS responders program and the creation of the Department of Diversity, Equity, and Inclusion. He noted that the CRESS program is working with the police and fire departments to develop protocols that assure safety in situations that they deal with.
He praised the Town Hall staff, especially Athena O'Keeffe, Clerk of the Council, who provides invaluable support and advice. Bockelman said he appreciates feedback from the council and from staff. He and the staff at Town Hall try to align their efforts with the budget goals set by the council, but sometimes they must say "no" to certain goals that are not feasible. He said 2022 has been a hard year, but the staff works extremely hard and accomplishes an incredible amount. "This town never sleeps," he said.
New Designs Available For Elementary School
Cathy Schoen, Chair of the Elementary School Building Committee, said the latest designs for the new school show outdoor learning spaces and playgrounds while preserving space for the playing fields at the Fort River site. She recommended that people look at the 3-D renderings presented at the November 4 meeting. (go to 41:50 for a two minute + video providing a three dimensional tour of the proposed new campus)
Hanneke asked if the Percent for Art bylaw applies to the school. Schoen said the committee assumes it does, and has set aside $250,000 for artwork indoors and out. Once the school design is finalized, the plans for artwork will be better defined.
The council meeting ended at midnight. The next regular meeting will be November 21, but there will be a special meeting on November 14 to discuss proposals on the council's response to the July 5 incident involving the police and nine youths. The November 21 meeting will be preceded by a public forum on next year's budget.