Council Denies Funding For Artificial Turf At High School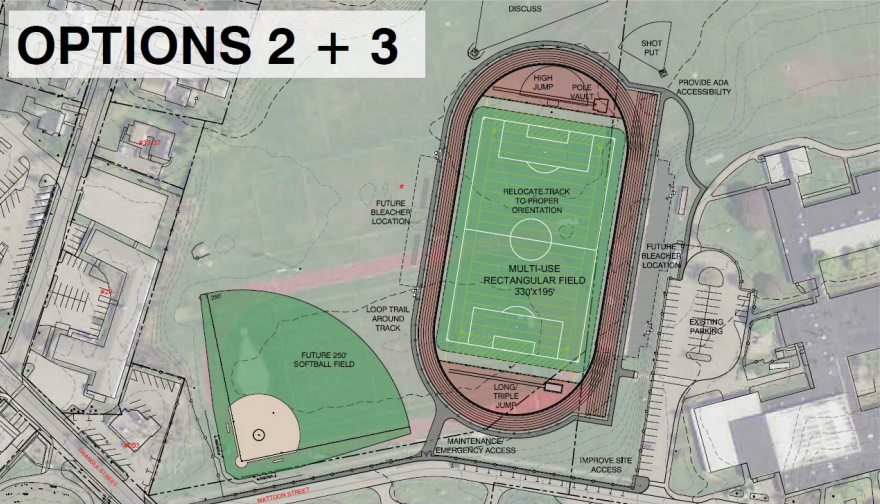 Report On The Meeting Of The Amherst Town Council, November 21, 2022
This meeting was held in person and over Zoom. It was recorded and can be viewed here and here.
Present
Councilors in the Town Room at Town Hall: President Lynn Griesemer (District 2), Mandi Jo Hanneke and Andy Steinberg (at large), Jennifer Taub (District 3), Pam Rooney Anika Lopes (District 4) , Ana Devlin Gauthier and Shalini Bahl-Milne (District 5)
Participating on Zoom: Ellisha Walker (at large), Dorothy Pam (District 3), Michele Miller and Cathy Schoen (District 1)
Absent: Pat DeAngelis (District 2)
Staff in the Town Room: Paul Bockelman (Town Manager) and Athena O'Keeffe (Clerk of the Council)
About 25 members of the public were present in the Town Room including many young people, and 26 on Zoom. Several members of the Regional School Committee and Finance Department were also in attendance.
Safety Of Artificial Turf Proposed Questioned
The Finance Department has proposed using $900,000 in free cash from the FY22 budget to complete Amherst's contribution to the remodeling of the track and field at the high school, reorienting the track, increasing its size to eight lanes, as well as installing artificial turf for the field in the center. In a tie vote, of 6-6, the council denied allocating the funds, citing the adverse environmental effects of the artificial turf.
In February, 2022, the Regional School Committee (RSC) had voted unanimously to promote the redesign of the track and field, and to use artificial turf for the field. The council then voted to support the project with a 10-1-1 vote of the council and allocation of $800,000 of Community Preservation Act (CPA) funds. The motions included a clause saying that if most of the $4.7 million needed for the project in its entirety was not raised by January 16, 2023, the regional committee would spend $1.5 million to resurface the six-lane track only.
Since that time, however, concerns have been raised about the safety of artificial turf for athletes and the environment especially with regard to  the PFAS or "forever chemicals", which are widely believed to be carcinogenic. At the October 17 Town Council meeting, the council requested a review by the Board of Health, but this has not yet been done. 

Council President Lynn Griesemer outlined the four options for the council at this meeting:
Vote to allocate $900,000 in free cash to support the plan put forth by the RSC.
Vote against the allocation (leaving it to the Hurricane Boosters (a non-profit organization that raises money and provides other forms of support for high school sports in Amherst) to raise more money by January 16, 2023 to advance the project.
Postpone the vote, recognizing the January deadline.
Ask the RSC to reconsider their decision and start the process anew.
Cathy Schoen (District 1) noted that CPA funding cannot be used to pay for artificial turf. She asked if the RSC could move quickly to consider a grass field as an option, which would mean reconsidering its prior proposal and vote. Andy Steinberg (at large) expressed concern that in order to consider a grass field, the process would have to begin again and be brought before the town meetings of the other three towns, which could delay the process for a year.
Dorothy Pam (District 3) replied that the complexity of the process used an excuse to approve a controversial plan. She added, "Yes, the track is disgusting. Yes, we've let the athletes down. Yes, we have to do something. But for us to go into artificial turf at a time when the early adopters are moving away from it, for very good reasons, would be a silly and expensive mistake."
Mandi Jo Hanneke (at large) proposed an amendment to the funding motion that the RSC form a study group about how to "minimize" the PFAS content of the artificial fields. Pam Rooney (District 4) agreed with forming a study group if it also studies options for a grass field.
Members of the RSC and staff noted the difficulty of maintaining grass fields, especially with the heavy use they receive at the high school, stating that artificial turf fields can be used almost continually while grass fields have to "rest" between uses. Also, wet conditions at the high school mean that grass fields are often unusable, especially during the spring season, forcing teams to practice indoors and contests to be canceled or moved to other schools. Also, turf is ready to use almost as soon as it is installed. Finance Director Sean Mangano said consultants in a 2019 study of the fields at the high school said the grass fields were being used at 150% capacity, and recommended at least one turf field.
Hanneke's amendment was defeated by a 6-6 vote with Hanneke, Shalini Bahl-Milne and Ana Devlin Gauthier (District 5), Griesemer, Anika Lopes (District 4), and Steinberg voting yes.
Public Comment
Support for artificial turf was voiced by the majority of the high school students, parents, coaches, and officials who commented. Many said that the current grass fields put Amherst student athletes at a disadvantage compared with students from schools in Western Massachusetts that have installed artificial turf fields. Several cited ankle injuries caused by uneven surfaces on the grass fields. Others noted that UMass has six turf fields and that Amherst College recently installed its third.
Marcus Smith, a field hockey official, noted that Amherst is renowned for its fields being among the worst in the area. He added that the town and school do not put enough money into maintenance of its fields, as is done at Frontier High School, Smith Academy, and Longmeadow high school. Greenfield uses incarcerated inmates to maintain its fields, he said. He recommended a low-PFAS artificial turf. Long-time Amherst coach, teacher, and track official Liz Haygood said she was sad to have to deem the Amherst track unsuitable for competition. She said that it is not only athletes who suffer, but students who can't use the fields for accessible physical education classes because they are being prepared for competitions.
Stephanie Hockman said the condition of the fields is putting her daughter's desire to play Division I soccer at risk. She added that Tantasqua High School recently installed a low-PFAS artificial turf field that does not produce excessive heat (a problem of turf fields) and has a pad of recycled material and coconut husk and corn infill.
Several commenters raised concerns about the use of artificial turf. Sara Ross said she attended a conference put on by a turf manufacturer, where she learned that "there is no such thing as artificial turf without PFAS" and that "the industry has continued to shape shift and prey on overworked parents, athletic directors, and coaches. If we choose artificial turf, we are committing to years of monitoring of compliance with whatever chemicals we deem safe. This is an obvious role for our Board of Health, whose director has already expressed her opposition to the field. Also, there are other issues with artificial turf. Evidence shows that on an 80-degree, sunny day, the temperature on the field was 139 degrees."
Concern about PFAS contamination was also voiced by Lyons Witten, chair of the Water Supply Protection Committee, and Felicia Mednick, who noted concerns on the state and national level that are serious enough for them to limit the use of the chemicals if avoidable. Mednick also pointed out that the artificial fields have to be replaced regularly and are not recyclable.
Long And Contentious Council Discussion Ensues
School Superintendent Mike Morris introduced the discussion, saying that if the Town Council decides against an artificial turf field, it should make a commitment to maintain the grass fields, which is costly. He added that the Hurricane Boosters have made it clear that they are only interested in fundraising for a turf field.

Schoen and Pam noted that artificial turf needs maintenance with specialized equipment and can be damaged by excessive heat, metal, and even regular sneakers. Morris asserted that the Boosters are trying to raise money for an artificial turf maintenance fund as well as the installation. Michele Miller (District 1) said that Springfield College has an organic program for maintaining its grass athletic fields and that Amherst can have a state-of-the-art grass field that furthers "the vision we have as a community to move toward reducing harm, to move toward environmental consciousness, to move toward climate action that is so necessary".
After the defeat of Hanneke's amendment, the discussion became quite contentious. Bahl-Milne pointed out that she doesn't eat meat, has geothermal at her home, and is not in favor of adding more plastic to the environment, but that "we can't change everything at once, and this is only one field." She added that the Council should accept the deliberations of the school committee. Miller noted that the Council has ignored some of the deliberations and suggestions of the Community Safety Working Group regarding racial relations in Amherst. Devlin Gauthier disagreed, saying we should accept the RSC recommendations "without question". Hanneke said that the RSC members are elected officials, rather than a group appointed by the Town Manager. She claimed that "if the boosters cannot raise an additional $1.2 million by January 16, it saddles multiple generations of athletes with an east-west field position and a track that is only six lanes with a field inside that is not the right dimensions for athletic events. We would still not be able to host track championships." She went on to say, "A no vote today says we don't care about giving students those options [and] we're OK with wet fields. I can't do that to these students."
Miller responded," I'm not OK with Mandi [Hanneke] asserting that a no vote on this means that we care less or that we have not heard fully the comments that have come through tonight. That's an unfair statement. It's a bullying tactic, and I do not accept it, and I want to be very clear about that. That's not how we make decisions, by bullying each other, and I see it all too often in this Council and in this community. It really hurts. And it makes decisions like this so much worse than they need to be. I think it's dishonest to say there are only two options [artificial turf or nothing] without seeing what it would cost to maintain natural grass fields, to have a vision where we are proactive in addressing all of our fields."
Pam said she totally agrees with Miller and that it is not the fault of this Town Council that the students have been deprived of what they need for years. She said, added, "The motion we are given is not a good motion, and that some of us choose not to support that motion does not mean we did not listen, did not hear, are not aware of the serious problems right now. We've been given false choices, and I feel like there's been great attempts to manipulate emotion. I totally agree with the superintendent that we need to make a strong commitment to the students and residents of this town for safe, viable, playable grass fields."
Ignoring the fact that the artificial turf field would cost $1 million more than grass and that no maintenance expenses were put into the budget, Hanneke estimated that the cost of maintenance of each of the eight grass fields over 10 years would be $1.5 million each, so she calculated the total cost of grass fields over the estimated 10-year life of an artificial turf field would be $11.5 million, not including the four extra fields needed because the current fields are overused.
Ellisha Walker (at large) then voiced her frustration that the Council was being backed into a corner to make a very specific recommendation without having all the information it needed. She said she is in favor of fixing the problem of the fields, but that this controversy is pitting short-term usability against long-term environmental hazards. She noted that many towns are now removing their synthetic fields.
At midnight, Schoen said that she could not see that anyone was going to change their vote by continuing the discussion and called the question. The Council then voted 6-6, which meant that the proposal failed and the town would not allocate $900,000 in free cash to the project. Voting yes were Griesemer, Hanneke, Steinberg, Devlin Gauthier, Lopes, and Bahl-Milne. Voting no were Walker, Pam, Taub, Schoen, Miller, and Rooney. DeAngelis was absent.