Nantucket School Committee Undertakes Rigorous Evaluation Of PFAS Risks In Synthetic Turf Fields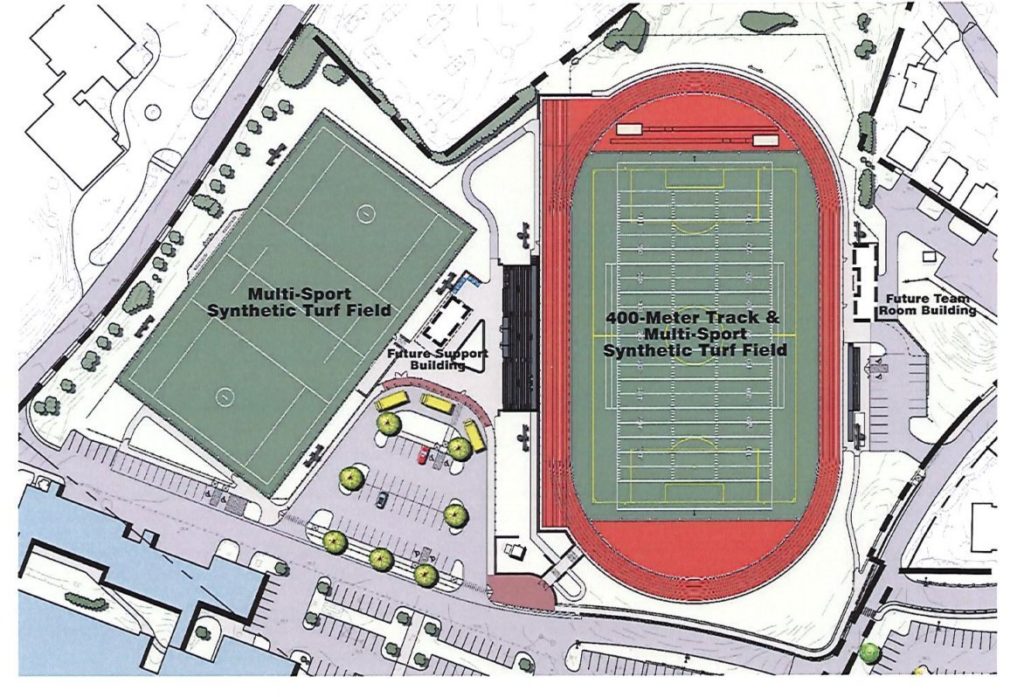 The Nantucket School Committee assembled an expert panel on PFAS risks from synthetic turf to help them determine whether to install synthetic turf or natural grass in their planned $17M renovation of their athletic fields. The panel met in a public workshop on February 8, 2022. The recording of that meeting can be viewed here. The minutes from the meeting can be viewed here. The school committee subsequently voted on March 7, 2022 (see also here) to postpone a final decision on the nature of the fields for a year to enable further study of the hazards posed by synthetic turf, after the town's Campus Wide Master Plan Committee voted to recommend only installation of natural grass fields.

The Workshop
The panel consisted of six experts from the fields of analytical chemistry and environmental toxicology and two representatives from Weston and Sampson (W&S), the engineering consultants advising the island on the purchase and installation of synthetic turf fields (Note: Weston and Sampson are also the consultants advising Amherst), and a landscape architect from SMRT Inc. Also participating were the Nantucket School Committee (SC) and representatives from the Nantucket Board of Health, the Nantucket Land Council, and the Wannacomet Water Company.
The consultants from Weston and Sampson were Steve Larosa, a Vermont-based hydrogeologist, senior technical leader and project manager at Weston and Sampson, and a specialist in PFAS remediation; and Marie Rudiman, risk assessor and toxicologist. Landscape architect Richard Webb represented SMRT Inc.
In addition, the panel included six independent consultants:
* Dr. Kyla Bennett, Director of Science Policy at PEER (Public Employees For Environmental Responsibility). She is an attorney and ecologist and was a ten-year employee of the EPA.
* Dr. Graham Peaslee, Professor of Physics and Biochemistry at the University of Notre Dame with a research focus on materials analysis. He has done extensive exploration of the presence of PFAS in water supplies adjacent to turf fields.
* Dr. Jamie Dewitt, Professor of Pharmacology and Toxicology at Eastern Carolina University.
* Kristen Mello, a graduate of UMass Amherst, who holds a M. Sc. in analytical chemistry and is an authority on PFAS testing.
* Dr. Courtney Carignan, Assistant Professor in the Department of Food Science and Human Nutrition with a joint appointment in the Department of Pharmacology and Toxicology at Michigan State University. She specializes in exposure science and environmental epidemiology.
* Heather Whitehead, doctoral candidate in analytical chemistry at Notre Dame University.
The Weston and Sampson and SMRT Inc. consultants were physically present at the workshop. The other consultants participated remotely. Courtney Carignan pointed out that all of the independent consultants had volunteered their time and participated without compensation.
The School Committee's Chair, Dr. Timothy Lepore (who is also Nantucket high school's team physician), opened the workshop by stating that the purpose of bringing all of these people together was to learn. A lot of information, much of it technical, was shared in the one hour and forty minute session. The proceedings involved a back and forth between the School Committee asking very pointed questions and the experts responding in detail. Weston and Sampson consultants assured the School Committee that they had little to worry about while the scientists told them that the risks of adopting synthetic turf were grave. The testimony was gripping and deep.. The School Committee wanted to know all they could learn about the implications of their choices. There was no effort to limit discussions or directions of inquiry. No questions nor public comment were taken from the general public at the workshop.
Discussion Highlights
Both the W&S consultants and the independents were able to agree that PFAS are toxic, that the study of these compounds is in its infancy, and that only about a dozen of the roughly 12,000 PFAS compounds have been studied with any rigor. But they did not agree on much else.
Perhaps the most contentious issue was that W&S frequently referred to "safe levels" or "background levels" of PFAS while the independent consultants insisted, a bit testily towards the end, that there is "no such thing as safe PFAS levels". They also insisted that PFAS does not occur naturally in the environment. The independents dismissed W&S's LaRosa's contention that there would likely be more PFAS in organic soil brought in for grass fields than there would be in the synthetic turf itself. The only time that the exchanges got notably testy was when Bennett reminded the W&S consultants that they had come to her town (which she did not identify) and sold them a field that was allegedly PFAS-free and now the taxpayers are stuck with a $9.5M bill to construct a water filtration facility to manage runoff from the fields that do indeed contain PFAS and contaminate surrounding ground water.

Jamie Dewitt was the first to challenge the W&S contention that their tests show only background levels in recently installed fields. She said that PFAS are synthetic compounds so there is no "background" concentration. They are turning up in local soil because they have been added or result from contamination. Furthermore, she said, "Zero is the only safe level in the environment and in our bodies. Anything else is what we are determining to be acceptable risk."
Larosa insisted that W&S' tests show that levels of PFAS leaching into the soil and water are "quite low". Several of the independents countered that no amount of leaching is acceptable. Graham Peaslee said, "It comes off the surface [of the turf] and is a source of PFAS in the environment. They come off in small quantities but they accumulate."

Threat To The Aquifer
Kristen Mello noted that while no community needs more PFAS, the situation on Nantucket is especially dangerous because the aquifer is the sole source of water for the island. She said that there's no plan B should the aquifer become contaminated so the community needs to be very cautious about adding threats. She said, "I have looked at data from several different communities to determine what is coming off the fields[(i.e. how much PFAS] and I will tell you not one has had nothing." She noted that "the Island is already contending with PFAS contamination at the airport from fire fighting foam so the situation is already precarious."
Kyla Bennett reported that PFAS compounds are unregulated and that the EPA has only done toxicity risk assessments for a handful of the nearly 12,000 that are known at this point. "But every risk assessment that I've seen thus far shows toxicity," she said.

A School Committee member asked, "We've seen what's happened in Portsmouth [NH] — what if we put in turf and we find out that it's not PFAS-free, that there's a contamination problem. Who will pay for remediation?"
Bennet said that remediation costs would likely be borne by the community. She cited a case from Connecticut (but did not name the town) where the community was assured in their contract that their new synthetic turf field was PFAS-free, but PFAS levels in surrounding soils doubled after the installation of the field. The manufacturer insisted that the doubling could not have come from the turf and ultimately was not held liable, and she , warned, "Once you put in the field, you're going to have a hard time holding the manufacturer accountable… PFAS is bioaccumulating so once it's there it's there forever and there are no safe limits."
Health Risks For Athletes?
When members of the School Committee asked about dangers to the athletes from exposure to the field itself, Rudiman responded, "Our research shows that there are no detectable levels of PFAS on the fields," whereupon the School Committee asked if there was additional research to support that claim. Rudiman replied that there have not been any long-term studies of the effects of PFAS on the players.
But Bennett pushed her concerns about danger to athletes from ingestion, inhalation, and dermal absorption. "We already know the risks to firefighters who are exposed to considerably higher amounts than athletes on turf would be," she said. "The studies of health risks for casual exposure have not yet been done but that doesn't mean they don't need to be done."
Courtney Carningan added that she believes that the risks of such casual exposure are real,based on her 20 years of experience studying exposure risks. She warned of incidental dust ingestion from fields, noting that this has not been assessed but ought to be a real concern.
Dewtt added, "What we do know about the health effects of PFAS [most of the studies have been done with only two PFAS:PFOA and PFOS] have mostly focused on drinking water. There have been very few studies on inhalation. What we know is that they are regarded as multi-system toxins; they can affect the liver, lipids, reproduction, and they are carcinogenic, and are especially implicated in kidney cancer, testicular cancer, breast cancer, and bladder cancer. There is emerging data linking some cancers specifically to artificial turf."

Bennett added that there are additional environmental risks from microplastics that are constantly being shed by the fields. A synthetic turf field contains about 40,000 pounds of plastic. Microplastic particles are continuously breaking off from the synthetic grass blades and released into the environment due to wear and tear, aging, and degradation from exposures to ultraviolet radiation. She estimated that between 55 and 281 kg of microplastics come off a single field each year and that each particle released into the environment is an "environmental time bomb".
The School Committee asked if there were equivalent dangers from fertilizers that are used to maintain grass fields. Dewiit said that of course there are dangers from fertilizers as well but they are not as long-lasting as PFAS. "PFAS are forever", she emphasized. "They accumulate in the soil and are not broken down the way fertilizers are, and the long-term dangers are more substantial," she said. She cited an ongoing study by UMass Lowell of organic turf management of a grass athletic field in Springfield, Massachusetts as an alternative to using harsh chemicals to maintain grass fields.
Near the end of the meeting, Emily Mouldin, the Executive Director of the Nantucket Land Council, said that the site of the proposed athletic fields is within the contribution zone for the island's aquifer. She said that overall, the risks are currently unquantifiable, but at this time, the Land Council feels that it is not one the community ought to be taking within the wellhead contribution zone.