Board Of Health Advises Unanimously Against Use Of Artificial Turf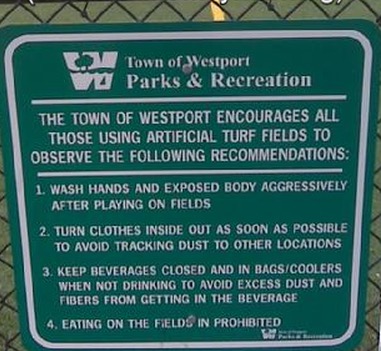 This meeting was conducted over Zoom and was recorded. The recording can be viewed here.

Present
Nancy Gilbert (Chair), Lauren Mills, Maureen Millea, and Timothy Randhir
Staff: Jennifer Brown, (Health Director), Edmund Smith (Health Inspector)
Discussion About Dangers Of Artificial Turf
Chair Nancy Gilbert noted that, although the Town Council requested an evaluation of the risks of artificial turf from the Board of Health (BOH) at its special meeting on October 18, the BOH never received a written request and did not learn of the request until November when she was out of town attending the annual meeting of the American Public Health Association. Thus, this discussion took place after the council voted unanimously on December 5 to award additional funds to the high school track and field project which is now designed to have synthetic turf on the field inside the track.
Gilbert opened the discussion, saying that the board would discuss the planned artificial turf from a public health standpoint. Under Massachusetts General Law, the BOH is responsible for: 1) protection of public health, 2) control of disease, 3) promotion of sanitary living conditions, and 4) protection of the environment from damage and pollution.
Although BOH member Lauren Mills said she was sympathetic to the pleas of many students and coaches for an artificial turf field, the other members were explicit in their warnings about potential risks of synthetic material to the water, soil, and athletes. BOH member Timothy Randhir, Graduate Director of the UMass Department of Environmental Conservation and Professor of Watershed Management and Water Quality, said that not only does synthetic turf contain per- and polyfluoroalkyl substances (PFAS, which have been dubbed "forever chemicals"), but also other plastics, microplastics, and heavy metals that will be shed as the turf degrades. He noted that some of these materials are carcinogens and also that the carbon sequestration provided by a natural grass field would be obviated by replacing it with artificial turf, causing a "heat island". 
Gilbert reported on the risk of injuries and infections to athletes using artificial turf fields, citing a 2019 study by Dr. James Voos of Case Western Reserve University in Cleveland, Ohio that found a higher risk of injury to high school lacrosse and soccer players on artificial turf fields as opposed to grass fields. A California study showed a two- to threefold increased incidence of abrasions on artificial turf fields, and professional football players and women's soccer professionals have recently started to speak out about the larger number of injuries on artificial turf. These concerns were echoed by nurses at schools that have artificial turf fields, she added.
Gilbert also said that artificial turf is not maintenance free—that it requires periodic "fluffing" and replenishment of the infill, testing of surrounding soil and water, disinfection, and seam repair, as well as regular watering to mitigate the heat it generates. She added that the material has a limited life-span of about 10 years, after which there is a high cost of disposal.
Maureen Millea agreed with the above concerns. She referred to signs at artificial turf fields in Connecticut which warn users not to sit on the field, and to wash their hands and shake out and remove outer clothing and shoes before entering their homes. She mentioned that the Toxic Use Reduction Institute at UMass-Lowell is an excellent resource for information on artificial turf and that it recommends organic grass fields instead.
Millea stated that she is supportive of the concerns of the athletes and coaches and realizes that the athletic fields are not serviceable in their current condition, but she is not confident that putting down artificial turf will improve them (especially since only one field is involved). She felt that organic grass is a better choice, adding that because of the uncertainties about the safety of artificial turf, and at the same time that several towns now have to ameliorate contamination from synthetic fields or remove them altogether, Amherst should not proceed with laying down tons of plastic material. She said, "We shouldn't hop on a bandwagon that is heading toward a cliff," and that maybe there will be better options for the fields in the future. 
Gilbert made the following motion: "Given the responsibility of the Amherst Board of Health under Massachusetts General Laws (MGL) for the protection of the public's health and the protection of the environment from damage and pollution, we are using the Precautionary Principle that states if a product, an action or a policy has a suspected risk of causing harm to the public or to the environment, protective action should be supported before there is complete scientific proof of risk. Therefore, the Amherst Board of Health does not support the installation of artificial turf in the Amherst Regional High School's athletic field at this time." The motion passed unanimously, 4-0.
BOH To Discuss PFAS At January Meeting
Gilbert said she attended a seminar on PFAS in the environment at the recent APHA meeting and would like to convene a public seminar on the subject as a community engagement event.
Randhir noted that there has been increasing awareness of PFAS and its risks in recent years, and he would like to bring the topic to the forefront of BOH discussions. He said that PFAS chemicals are present in many things we accept as normal, such as fire retardants and water repellents, and there may be more confirmation of exposure and its risks in the future. He added that there is much uncertainty surrounding these chemicals now and said "if we don't know, we have to be conservative," since the chemicals accumulate in the body and the environment.
The topic was placed on the January agenda for the BOH.
.