Compromise Reached On Using Free Cash For Artificial Turf At High School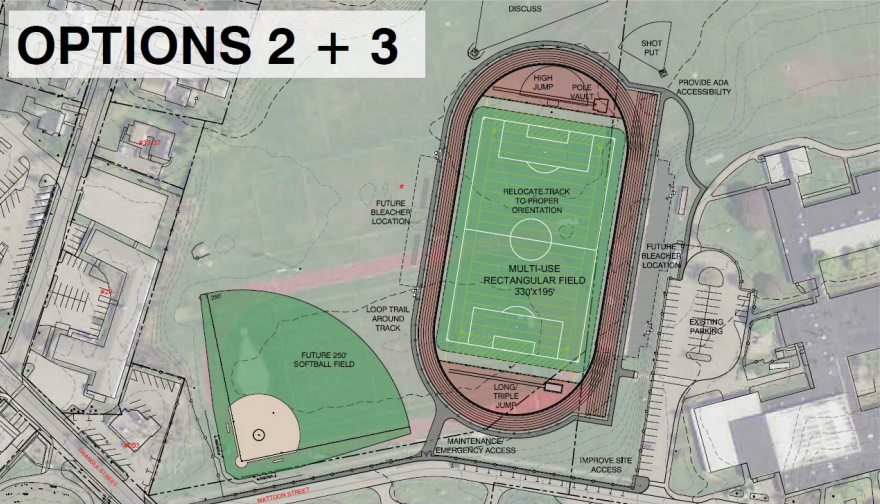 Report On The Meeting Of The Amherst Town Council, December 5, 2022. Part 1
By Maura Keene
This meeting was held in a hybrid manner and was recorded. It can be viewed here (beginning at 1:10) and here.
Present
Councilors in the Town Room: President Lynn Griesemer (District 2), Mandi Jo Hanneke and Andy Steinberg (at large), Cathy Schoen and Michele Miller (District 1), Pat DeAngelis (District 2), Jennifer Taub (District 3), Anika Lopes (District 4) , Ana Devlin Gauthier and Shalini Bahl-Milne (District 5)
Participating on Zoom: Ellisha Walker (at large), Dorothy Pam (District 3), and Pam Rooney (District 4).
Staff: Paul Bockelman (Town Manager) and Athena O'Keeffe (Clerk of the Council)
There were about 25 people in the public present in the Town Room, including many young people, and 35 on Zoom. Several members of the Regional School Committee and Finance Department were also in attendance.


Extended Public Comment About Installing Artificial Turf
After the council denied allocating $900,000 from FY 2023 free cash to support the redesign of the high school track and its enclosed field by a tie vote at the November 21 meeting, Council President Lynn Griesemer brought the issue back for reconsideration. This highly unusual process allowed proponents for and against the project to again present their arguments during public comment.
In the 90 minutes of public comment, several coaches and students spoke to the poor condition of the existing grass fields, especially after rain, which leads to canceled games and practices and sprained ankles, and said that artificial turf is the best possible solution at this time. Some were adamant in their arguments. Deb Leonard said, "I'm tired of doing this. A handful of people can torpedo good projects by late-stage fear mongering. Personally, I trust the decision of the athletic director and school officials who obtained public input at appropriate times." She urged the council not to "give overly proportioned weight to the opinions of armchair quarterbacks."

Former athletic director Rich Ferro urged residents to work together for the good of the students, athletes, and community. He admitted that there are no good solutions for the situation the town faces in its athletic facilities. He remembers the track being labeled as unsafe for competition in 2012, and disabled students and family being unable to access the stands to watch their friends and family compete, and said that nothing has been done to improve the situation. "People are so passionate about their stance on this issue that they'll demean each other and make completely inaccurate statements," he said. He pointed out that Amherst is not actually the only town without artificial turf and that the town can afford to renovate and maintain good grass fields, as he and Adam Feltman of the DPW succeeded in doing with intensive work and less than $10,000 for several years in the mid-teens. But because the town's equipment has become outdated, he thinks an artificial turf field would best meet the needs of the students and community. Mike Isabel, who helps maintain the grass fields at UMass, agreed that grass fields take intensive work and that the high school fields are not maintained well.
Stephanie Hockman, treasurer of the Hurricane Boosters fundraising group, brought in a sample of the turf being proposed. She began with describing a shock pad made from recycled artificial turf, a layer of sand, infill made from coconut fiber, and the artificial grass made from a mix of "monomicrofill", which allows for the turf to be the same temperature as normal grass. She described a "balanced, ecofriendly approach" used to select this material.
However, claims about the safety of artificial turf were countered by several regional experts in the audience, as well as a number of community members. Diana Carpinone of Dover, New Hampshire, president of the organization Nontoxic Communities, a national nonprofit that focuses on eliminating pollution from landscaping practices, warned that officials "must question and verify every single claim made by engineering consultants and manufacturers, and to beware of anyone telling you that just a little more plastic or other pollutant is OK to add to your community in perpetuity." She cited the case of Portsmouth, New Hampshire, where PFAS from a field that had been sold as "PFAS free" leached into the stormwater drainage and into the watershed.
Kristin Mello, an analytical chemist from Westfield, said that Amherst doesn't have a "field problem — it has a stormwater problem" and that putting down acres of impermeable surface, which is what artificial turf is considered, will make the situation worse. She also said that artificial turf adds PFAS to three distinct communities: the one where it is manufactured, the one where it is installed, and the one where it is discarded. She pointed out that, since the field material Amherst plans to use contains recycled turf in the pad, the town will be a recipient of two of the three, and a contributor to the first.
Kyla Bennett, New England Director of PEER (Public Employees for Environmental Responsibility) and former EPA employee, said she is trying to help Amherst avoid the mistake her town of Easton, Massachusetts made by installing an artificial turf field in 2019. She said her organization has tested dozens of these fields and all of them contain PFAS. She added that there is no safe level of PFAS exposure and that artificial turf fields also emit greenhouse gasses and methane.
Art Keene read from a letter written by the Children's Environmental Health Center at the Icahn School of Medicine, Mount Sinai Hospital, NY in response to a request by Maplewood, New Jersey about artificial turf. The pediatricians elucidated the particular dangers of the chemicals in artificial turf to developing bodies, and urged Maplewood to not install it.
Several community members commented that one artificial turf field would not provide playing and practice time for all sports and the high school, and the other eight fields would also need to be "improved".
Decision To Reconsider Previous Vote Questioned
The town charter allows a member of the non-prevailing side to call for reconsideration of a previous vote if new information has come to light. Using this provision, Griesemer added the reconsideration of the November 21 vote to the agenda for this meeting. She stated that a letter received from Superintendent Mike Morris and Athletic Director Victoria Dawson as well as a newly distributed table of relative costs of different options constituted new information.
Councilor Ellisha Walker (at large) requested clarification as to what constituted the new information in this case, since the letter from Morris and Dawson merely requested, among other things, that all Community Preservation Act funds be devoted to athletic field maintenance until all fields were in good condition. The table of relative costs have been available as part of the 2019 Weston and Sampson report about the project. A letter from Lauren Goldberg at K-P Law was noncommittal, saying that the council president sets the meeting agenda, and if the majority of the council does not feel there is new information, they can vote down the reconsideration.
In response to Morris and Dawson's letter, Town Manager Paul Bockelman pointed out that the town can only allocate CPA funds to projects recommended by the CPA committee, and no proposal for the athletic fields has been submitted. The window for applications for FY2024 is closed, and almost three times more money has been requested in the current round of applications than is available in CPA funds. Plus, Bockelman said, most of the fields belong to the regional schools and should be supported in the regional school district budget and not solely by the town of Amherst.
The vote to reconsider passed 9-3-1, with Walker, Dorothy Pam (District 3), and Pam Rooney (District 4) voting no, and Cathy Schoen (District 1) abstaining. When Walker persisted questioning what was the new information in this case, Griesemer replied, "You voted no, but your colleagues voted yes to reconsider. In this case, it was my judgment."
Compromise Motion Approved
Michele Miller (District 1) agreed with Walker's concerns about the validity of the "new information", but proposed an amendment to the original motion about allocating the $900,000 in free cash to the field and track redesign project. She added a provision that the money could be used for either a grass or artificial turf field, leaving the final decision up to the Regional School Committee (RSC), based on the funds that are raised as well as safety considerations. The original project approved by the RSC only allows artificial turf to be used. After discussion, the amended motion passed unanimously.
Miller also offered a nonbinding resolution regarding the safety of the Amherst Pelham Regional High School Athletic Complex that encourages an evaluation of the safety of PFAS and artificial turf and at the same time research about the best option to improve the fields. The opinion of the Board of Health (BOH), requested by the council, has not yet been received; the topic is on the BOH agenda for December 8.

The council continued the discussion about the safety and cost of artificial turf. Schoen noted that artificial turf is much more expensive, and that Williamstown recently decided against installing it due to the high cost. She pointed out that the money saved by using grass in the redesign is enough to rehabilitate several fields.
Walker said that, although artificial turf may seem OK right now, new scientific information is emerging. Not having a back-up plan to using artificial turf is inviting something bad to happen, she said. Rooney noted that she is uncomfortable with how decisions are being made by, and presented to, the council, saying, "We were fed a lot of carefully worded information to make the desired outcome most evident, and I don't think that's the way we should be doing business."
Shalini Bahl-Milne (District 5) cited an email received from Dr. David Reckhow of the Massachusetts Interagency PFAS Task Force which stated that the task force did not discuss athletic fields because PFAS are not a "high concern" in athletic fields. She went on to claim, "There is so much evidence right now that environmentally or health-wise, the artificial turf is not going to be harmful." Jennifer Taub (District 3) called out Bahl-Milne, citing an extensive data submitted to the council regarding studies about the dangers of PFAS including the aforementioned letter from the Children's Environmental Health Center, but this did not deter Bahl-Milne, who again denied the existence of any evidence of PFAS risk in artificial turf fields. She went so far as opposing the statement in Miller's resolution that it needs to be studied. Then she used the right to single handedly postpone all further discussion of Miller's non-binding resolution until the next council meeting.
Walker then made a motion that would commit the town to maintaining all of the high school athletic fields over time. Because Amherst only owns one of the fields, Community Field on Triangle Street, several councilors questioned how the motion would be implemented. The motion was defeated by a vote of 4-7-2 (Miller, Pam, Taub, and Walker voted yes, and Bahl-Milne and Lopes abstained). Walker indicated that she may bring a revised motion to the December 19 meeting.
Because of the length of the athletic field discussion, zoning articles regarding Food and Drink establishments and the FEMA flood maps were postponed to an added meeting scheduled for December 12 at 6:30 p.m. This also moves the discussion of Miller's resolution to that meeting.