Community Resources Committee Debates Hanneke–DeAngelis Zoning Proposal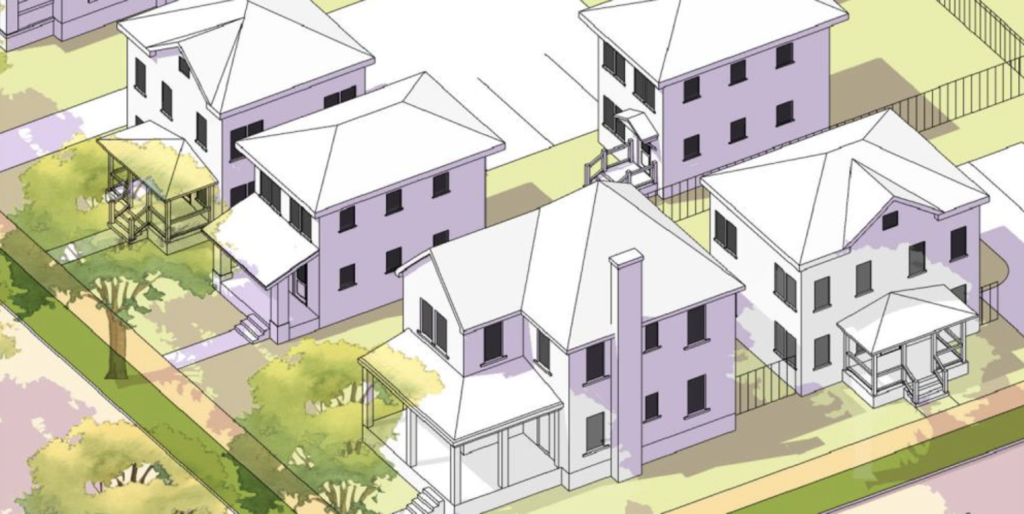 Report On The Meeting Of The Community Resources Committee of the Town Council, February 16, 2023
This meeting took place on Zoom and was recorded.
Present
Shalini Bahl-Milne (District 5), Pat DeAngelis (District 2), Mandi Jo Hanneke (Chair, at-large), Pam Rooney (Vice Chair, District 4), Jennifer Taub (District 3)
Staff: Christine Brestrup (Planning Director), Rob Morra (Building Commissioner), Jon Thompson (Senior Code Enforcement Officer Building Inspector)
The number of public participants was not announced.
The Community Resource Committee (CRC) advises the Town Council on matters concerning the long-term economic vitality and quality of life in Amherst. It consists of five town councilors, appointed to the committee by the Town Council president. For more information about CRC, see the committee charge.
Mandi Jo Hanneke (at large) announced that the first topic of the meeting would be the zoning law proposal she is co-sponsoring with Councilor Pat DeAngelis (District 2), followed by public comment and then the rental registration proposal. She appointed Vice Chair Pam Rooney to chair the discussion about her and DeAngelis's 40-page "Duplex, Triplex, Town House, and Converted Dwellings Zoning Revisions" proposal.

In a brief introduction to the proposal, she expressed the hope that the proposed zoning requirements will encourage more housing, especially "non-single-family housing", in Amherst, and that this in turn will increase the availability of affordable housing. For the next 15 minutes, she did a deep dive into details of the proposal, pointing out that the new regulations would be a logical continuation of the town's recently relaxed permitting process for owner-occupied accessory dwelling units (ADUs) and the construction of many apartment buildings in places that were not automatically allowed. Why not continue to expand upon that practice, she asked.
Shalini Bahl-Milne was the first to respond, thanking the pair for the amount of work they had done to create the proposal, which would have significant impacts on the town. Hanneke took the opportunity to observe that she and DeAngelis had looked at the town horizontally and vertically, zone by zone, and district/neighborhood by district/ neighborhood. Bahl-Milne asked for an explanation of what the changes would actually look like for each zone and neighborhood, and how they would impact infrastructure here.

Jennifer Taub reminded Hanneke that "we all share the goals of wanting to provide housing for low-, moderate-, and middle-income households," but added that these are the very households that are being lost in Amherst. She noted that the proposed changes would have little impact on her own district because it already welcomes duplexes, triplexes, and townhouses, under the current permitting system. Duplexes and triplexes in her neighborhood are rented by the bedroom, at rates as high or higher than $1,000, which is not affordable for families with young children or for a diverse population. To maintain diversity, she said that some college towns regulate the percentage of student rentals on a street or in a neighborhood.
According to Pam Rooney, there is an urban myth that anyone would shy away from building a duplex because they need a special permit. Rather, she said, areas of Amherst requiring special permits are full of diverse housing, including numerous farmhouses and other dwellings that have been converted into duplexes and triplexes. She recommended studying the guidelines developed by Northampton, which she said are sensible.
Co-sponsor Pat DeAngelis said that there is no difference between students and anyone else, and that it is divisive to disagree about that.
Hanneke expressed outrage at towns that impose minimum distance requirements for student rental houses, pointing out that students are not the only people who don't live with their families. "We have a number of immigrants that may be undocumented, that work at some of our restaurants, that crowd into some of our rentals because that's all they can afford — and they are unrelated… By regulating the number of unrelated people who can share a unit, you are sending a message that people who can't afford townhomes aren't welcome here, even in a high-density area." She explained that "…if you limit what you can build, you can use it as a proxy for who can live there."
Taub disagreed. "That is a complete smoke screen. Students are not a protected class [and] nobody is discriminating against students. We live in a university town — students drive the market rates of the rents."
Aquifer recharge areas came into the discussion because they are exempted from medium- and high-density housing. Bahl-Milne said she made a sacrifice to live in one of those areas (Amherst Hills), choosing space over convenience, and understands that there is room there for duplexes." She said she follows articles published by the organization Strong Towns about zoning reform. "Trash, litter, noise — we don't want that, so we want to definitely think about how to enforce regulations. [Strong Towns] recommends incremental development, so some areas wouldn't be changed for a while so that we can see what kind of unintended consequences there will be." She also said that the term "missing middle" is often used incorrectly. "It does not refer to income. It refers to housing that is between apartments and houses. Like duplexes and triplexes."
Planning Department Director Christine Brestrup took her turn to clarify some frequently misunderstood aspects of zoning and permitting. "The ZBA," she explained, "rarely denies a special permit. Sometimes special permits are withdrawn…but I think the general tenor of the work of the ZBA is to work with the developer to get to 'yes' and 'how can we make this project, whatever it is, acceptable to the town and the abutters, and make it a better project. Because a special permit can be denied, it often gives a developer more of an incentive to work with [the ZBA] and adjust the plan so that it is more acceptable to the town. I think the project that was recently approved on Sunset Avenue is…an example of that. The developer and the ZBA worked together to make it a better project."
She also pointed out that a special permit does not in general take longer nor cost more than a site plan review, but Hanneke questioned that, asking, "Don't special permits take longer on average than site plan review?"
"No," said Brestrup. "They don't."
"Doesn't [a special permit] make it much more costly for the builders?"
"No," said Brestrup. "It doesn't."
Bahl-Milne said that she has spoken to an (unnamed) doctor, and to (unnamed) small businesses "who think you have to hire a lawyer every time [you] go to the town, so it increases costs, and [the permit process] should be as affordable as possible, especially if they will be owner occupied."
Then she changed the topic. "We were supposed to hire a design consultant, a form-based consultant. Can we get an update?" she asked Brestrup, who responded that the town has raised $175,000 for a consultant and is almost ready to begin the search.
Returning to the zoning proposal, Brestrup added, "I did want to comment about that comment about attorneys. People often bring attorneys to site plan reviews as well as for a special permit. For either one, they might bring their whole team of designers, architects, engineers, attorneys. There's no particular need for an attorney at the special permit process."
In public comment, Carol Lewis of Ward Street said the housing crisis exists everywhere and she wishes more families could afford to live in Amherst. She thinks more housing will bring more affordable housing to the town.


Town Councilor Dorothy Pam, who lives on Amity Street, agreed with Lewis but added that "what we're talking about in many of the neighborhoods is money, and I think if we did a risk study of the changes in rent in the last number of years we'd see that we're talking about outside money coming in and building homes that workforce people, people who work for the university, who work in the town, could not possibly afford and that young families could not possibly afford. Homes and streets that were affordable are not affordable now…None of us could afford [$8,000 in rent] unless you have secret money we don't know about. So we need to increase housing, but housing that's affordable. Perhaps instead of arguing with each other, let's get a study to show the effect of the housing boom and the rental thing happening here. And there isn't a word in this whole [zoning proposal] about home ownership, but when we talk about reparations, we talk about generational wealth, and the fact that Black people were denied the opportunity to enter into many of the [government] programs which made home ownership possible. Who are we? Do we want a good number of year-round residents here? We have streets in our district which don't have any year-round residents, and you wouldn't want to live there…because the landlords there didn't keep the houses up. Some people just see students as a cash cow." She said that residents see students as neighbors. "We have students who live in apartments in homes here and come to [neighborhood events] all the time and are part of the neighborhood. It's not an anti-student move! It's about how money is being used and it's about the rents being charged and how there's little possibility for workforce housing and new families coming in. We need to kind of clarify what we're really talking about. When a neighborhood is an investment, it stops being a neighborhood, it stops being an asset to the town and becomes an asset to people…who are seeing this as a place to invest and walk away."
The meeting turned to details of a proposal about proposed changes in residential rental registration, including questions of inspection and enforcement of regulations.