Indy Rewind: The Role Student Housing Plays In Communities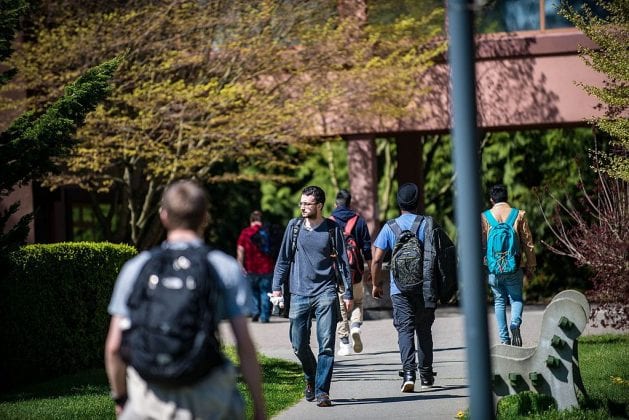 By Karen Black
Editors' note:  The following article, The Role Student Housing Plays In Communities appeared originally in Shelterforce on 9/6/19. We reposted it with permission in July of 2021 and again in September of 2021 in response to a request from our readers and as a supplement to the ongoing discussion of housing in Amherst and the role UMass plays in creating and meeting current housing needs.  Given that those discussions have been roiling again, including in the pages of the Indy, we are featuring it as part of our Indy Rewind, an occaisional feature that reprises previously posted news stories and opinion pieces that speak to the current moment and that are worth revisiting. Readers may also wish to visit a past Indy post in which we offered some links to other articles about student housing developments in college towns.
---
Off-campus housing for college students has grown extensively over the last decade, and communities across the country are hoping to gain control over its spread and potential negative impact on neighborhoods and available affordable housing.
An increase in rental housing for students can infuse a needed boost in consumer demand for weak real estate markets within walking distance of a college campus, or it can inflict significant pressure on limited affordable housing in tight markets.

For college students, living in an off-campus house can be a rite of passage—it can introduce them to the real estate rental market and their obligations as a tenant while offering their first taste of independence. For landlords, student rentals are an incredibly lucrative real estate opportunity as students pay by the room, allowing landlords to charge more per square foot as there are several roommates paying a monthly rent. As a website for real estate investors recently noted, "a home that might rent for $1,000 a month to a single family could be rented by the room for nearly twice that." In addition students sign one-year leases so rents can be raised each year if the market allows. For neighbors, student housing can be disruptive as students keep different hours and enjoy different activities than their neighbors, such as late-night parties. And for real estate markets near college campuses, student housing can be transformative as investor capital competes with homeowners, making it so sale prices and rents increase. Local governments in college towns across the country are adopting proactive strategies to gain a measure of control over the spread of student housing and limit any negative impact on real estate markets and affordable housing stock supply near college and university campuses.
A Typical University Only Provides Enough Housing For One-Fifth Of Its Student Body
Since the decline of manufacturing in the 1970s and 1980s, anchor institutions like colleges and universities have played an outsized role in bolstering the local economy. These institutions of higher learning can fill housing near campus with students, staff, and professors, while providing jobs, local business procurement opportunities, and often community amenities like shared green space or facilities that are open to the community.
Over the past 20 years, student enrollment at colleges and universities has increased by 6.4 million students, according to Axiometrics. And colleges and universities appear to be going strong with 69.7 percent of high school graduates attending college, according to the Bureau of Labor Statistics. But the growth of student enrollment has not matched up with the availability of on-campus housing. For example, in 2017, University of Virginia students compiled a report stating that while enrollment has increased by about 4,700 over the past 25 years, the university has only added 700 beds.
According to an analysis of student housing supply from RealPage, a typical university only provides enough on-campus housing for roughly one-fifth of its student body, which means 80 percent of students must live off campus.
In response, developers have built significant amounts of off-campus housing. In 2017, 45,000 off-campus beds were added which is a bit less than the 48,100 beds added the year before. About one-quarter of students who live off campus rent rooms in an apartment community designed specifically for students, but the majority live in single-family homes and small rental buildings near campus. In weak real estate markets, transient student housing can provide a lucrative use for older single-family homes that would otherwise be abandoned and lost. In strong markets, student housing creates another competing use for limited affordable single-family homes and can result in displacement of lower-income households. In all types of markets, student housing raises the cost of rentals.
A 2014 analysis by Tom Laidley of NYU of 20 college towns found that an increase in the size of a college's off-campus population is associated with higher market rents, particularly in areas that have a relatively high concentration of undergraduate students. Similarly, a 2009 Rutgers University analysis of New Jersey institutions found that the presence of a college is associated with a 10 percent increase in home prices. A 2017 regional housing study for the Bloomington-Normal Illinois region found that student housing rental rates in university towns drive up housing costs for family renters. Student housing may also attract predatory landlords who rent poorly maintained housing using questionable leasing practices to indiscriminate students.
Some municipalities are taking action to accommodate for the need of student housing while also maintaining the character of surrounding residential neighborhoods and preserving affordable housing units for long-term residents. To create and maintain this balance, municipalities have adopted a diverse set of zoning tools, rental ordinances, university policies, community land trusts, and collaborative agreements between schools, the city, or a community civic organization.
Separate Regulations for Student Housing
Federal district courts in Pennsylvania have upheld the ability of municipalities to regulate student housing differently than other rental housing because college students are not a protected class as they have not faced historical prejudice. In contrast, federal courts in Ohio limit a municipality's authority to regulate student housing as distinct from all rental housing, so the first stop when evaluating the adoption of any of these legal approaches should be a check on the level of protection accorded to students in your state.
Code Enforcement
The most basic and least controversial regulation to address student housing is to enforce clear housing quality standards. Strategic code enforcement can ensure every student house is code compliant utilizing a municipality's powers, as described by the United States Supreme Court in Berman v. Parker, 348 U.S. 26 (1954) to ensure "that the community should be beautiful as well as healthy, spacious as well as clean, well-balanced as well as carefully patrolled."
As a result, several cities like Bethlehem, Pennsylvania, have adopted regular code enforcement inspection of student rentals in cooperation with Lehigh University and agreed to share the cost of the salaries for code enforcers who ensure students are living in safe, healthy housing.
Student Occupancy Limits
Another common legal tool that local governments use to regulate student rental housing is to establish occupancy limits, limiting the total number of students who can live in a single-family home to between two and five. By limiting the number of students who are able to reside in a home, communities better align rental income from student housing to that of permanent single-family rental housing. Yet that is rarely the motivation for occupancy limits. Instead this regulation is typically motivated by the belief that reducing the number of students per house will reduce student behavioral issues that may negatively impact the surrounding neighbor, issues like noise, or empty beer bottles strewn on the sidewalk after a late-night party.
There is no clear evidence to support the belief that restricting a house to two or three student-occupants will reduce student misconduct. In fact, in 2018 in Providence, Rhode Island, a judge upheld a three-student limit but stated that he did not believe it would have the desired impact of altering student behavior. Occupancy limits for students are often contained within broader laws that restrict occupancy for non-related households and thus are in danger of violating the Fair Housing Act's prohibition on discrimination based on familial status. Another potential weakness of this approach is that, in areas with a competitive housing market, reducing occupancy tightens a scarce housing market by requiring a larger number of single-family homes to provide shelter for the same number of students.
Prohibition of Student Rental Housing in Specified Areas
Philadelphia took the extraordinary step of prohibiting all student housing—including apartment houses, fraternity and sorority houses, and multiple-family dwellings—within a district surrounding Temple University in 2005 and expanded that area in 2011. The dramatic move was in response to neighbor concerns about rental costs increasing and the loss of affordable single-family homes to student housing. Temple University transitioned from a commuter school to a university with on-campus students in 2005 without building new on-campus housing until 2013. As a result, investors rehabilitated single-family houses in the area to address the need.
The Commonwealth Court of Pennsylvania upheld the restriction as constitutional in 2011. This regulation lead to the increase of student housing in areas outside of the district, including in high-rise, multi-family apartment buildings to accommodate Temple's growing student population that increased from 26,000 full-time students in 2005 to 34,500 in 2018.
Caps on Rental Licenses
A growing number of cities are adopting rental registration and licensing laws that require landlords to obtain an annual license to rent properties or to register their rental properties. Some jurisdictions in Minnesota have limited the total number of rental licenses available in certain neighborhoods to encourage homeownership and restrict the number of student housing and investor-owned rentals. For instance in Minnesota, five cities have enacted some type of rental density ordinance, including Mankato, Northfield, Saint Paul, West Saint Paul, and Winona. Each city allows a different percentage of rental licenses (10 percent in Mankato to up to 30 percent in Winona) and varies in enforcement and penalties for violations.
In 2014, the Minnesota Court of Appeals allowed the 2005 Winona law to stand. In Minnesota, North Mankato enacted a rental density ordinance in 2010 that limits rental properties on a block to 10 percent in order to maintain high homeownership rates. The ordinance survived a legal challenge because the municipality had commissioned a detailed housing study that established the need for a cap on rental licenses. The housing study showed that conversions of single-family houses to rentals had increased by an average of 4.3 percent per year, and if left unregulated would lead to 70 new licenses in a five-year period. The housing study found that rental concentrations are linked to increases in nuisances, city code violations, and calls to the local police department (renter-occupied homes represent 16 percent of properties and are responsible for 31 percent of all police calls). These caps on rental housing presume there is sufficient market interest by homeowners to purchase and maintain these homes. Ames Iowa also enforced rental license caps in 2018 for neighborhoods around Iowa State University.
Minimum Distance Requirement
In Pennsylvania, many municipalities have imposed a minimum distance requirement between student rentals. These requirements grandfather in all existing student housing and then accommodates new student rental housing within a dispersed pattern. The goal is to ensure regulated rentals cannot achieve a "tipping point" on any one block, and to limit market pressures from investors for available single-family homes.
There is no available evidence to show the impact of these requirements, but several Pennsylvania towns and cities have adopted this approach. Since 2012, student homes in Reading, Pennsylvania, cannot be located within 500 feet of each other except by variance. In State College, Pennsylvania, an ordinance was passed in 2013 setting separation requirements for student housing so that in R-1 districts, new student homes are not permitted within 720 feet of an existing student home, and in R-2 districts they are not permitted within 675 feet.
Zoning and Neighborhood Overlay Districts
Neighborhood overlay design guidelines appear to have success in achieving a balance of diverse housing types. A neighborhood overlay typically uses zoning and design standards to define the physical characteristics of a district surrounding a university, including height, density, and scale of the new development, as well as to specify the acceptable density of student housing. These overlays can encourage higher density construction that includes multi-family, student-oriented buildings within high-activity areas, such as a transportation and commercial corridors, with the express purpose of diverting demand for student housing from existing single-family neighborhoods.
In order to minimize any negative impact on single-family neighborhoods from the higher density construction, overlays like San Diego's 30-year-old College Area overlay explicitly requires multi-family housing to be designed for compatibility in bulk and scale with surrounding lower density, single-family development. Other overlays seek to impose strict design guidelines to maintain the character of the community over time, such as State College Borough's 2015 "Ordinance 2062" Collegiate Overlay. The City of Cortland, New York, experimented with higher-density student housing within walking distance of campus, but it is considering the elimination of the overlay this year due to resident concern about increased density.
Mandate a Campus Plan for Growth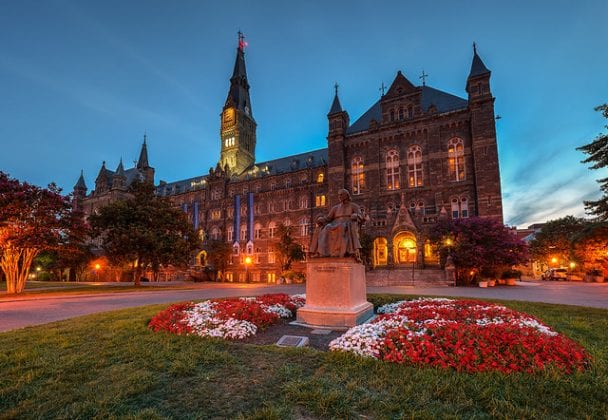 Washington, D.C., requires all universities in an area that is zoned as residential, (i.e. Georgetown) to submit a campus plan to the D.C. Zoning Commission for approval each decade. The plan covers physical and enrollment growth, and is required to address ways in which the university will mitigate "objectionable impacts" on the surrounding community. Requiring universities to share their plans to house students may also avoid the risk that a university will suddenly reverse course and build on-campus housing, leaving off-campus apartments vacant as Illinois State University is considering now.
When applied with attention to local particularities, some of these forms of land-use regulations can help to protect and ensure the balance of rental properties.
The University Side of the Equation
Healthy and sustainable neighborhoods require the mutual commitment of both universities and their surrounding communities to support existing homeowners and long-term renters in neighborhoods that are attractive to transient students. One successful way universities have proactively embraced this role is by offering generous employer-assisted living programs for employees living nearby to help them compete with investors who have an advantage when competing for limited housing. For example, Duke University bought, rehabilitated, and sold 40 houses to faculty and staff as part of its Trinity Heights Homesites program. Restrictive covenants require that the owner occupy the house and sell to faculty and staff. The University of Chicago provides $10,000 in downpayment assistance for employees who want to live in the Woodlawn neighborhood, and $5,000 for other neighborhoods. University employees who rent are now eligible for university assistance, too—up to $2,400 if they rent in the focus area, which goes for seven blocks south of the university and 13 blocks east to west. The University of Chicago funds this program in an effort to revitalize surrounding areas and promote mixed-income neighborhoods.
Another method to help stabilize neighborhoods that accommodate substantial student housing or border the university is the use of home repair loans for homeowners or small landlords, which help them maintain and repair their older properties. This is particularly important in metro areas like Philadelphia, which, according to a 2018 report by the Federal Reserve Bank of Philadelphia, experiences 75 percent or higher home improvement loan denial rates. Virtually every city has a home repair grant program, but loans allow limited dollars to be recycled and used again. Philadelphia started a homeowner loan repair program in 2019 and is about to launch a program for small mom-and-pop landlords as well.
Thinking Forward
Given the structure of the real estate market, contemporary American cities face a paradox—at the moment when universities and colleges ascend as cities' paramount anchor institutions, their ability to have a corrosive effect on their neighbors is also climbing. More fatalistic understandings of university growth view student renters as a malevolent force that will inevitably decompose the integrity of the community. In reality, the role of student housing is much more nuanced.
Off-campus student housing investments offer an opportunity for revitalization and vibrancy to older neighborhoods, as well as the liability of distorting neighborhood real estate markets with "studentification." The determining factor between these two possibilities is whether universities and cities can successfully support and protect balance and sustainability in these neighborhoods.
---
Karen Black is the CEO of May 8 Consulting, a woman-owned social impact consulting firm based in Philadelphia that helps communities to attract and regulate investment to achieve equitable growth. Black is also a professor at the University of Pennsylvania.