Amherst Educators Rally For Resumption Of  Contract Negotiations
More than 250 Amherst-Pelham educators and their supporters marched from Amherst Regional High School (ARHS) to the town common on Thursday (3/9) to protest their lack of a contract and the unwillingness of the Amherst School Committee to return to the bargaining table. Teachers have been without a contract for 400 days. In June, the school committee broke off negotiations with the Amherst Pelham Education Association (APEA) and brought in a mediator. But there have only been a handful of mediation sessions since then, and they have not produced any progress.
The union seeks a 3.25% increase to teacher and clerical staff salaries this year, followed by 4% and 5% increases for the next two years. They asked for a 6% raise for paraeducators to compensate them for what they say is "challenging and necessary work". Beginning paraeducators are currently paid at the rate of $17.11/hour. Even the requested increases would not keep pace with inflation, they explain; the increase in the cost of living in 2022 was over 7 percent, but last year, teachers and staff received a meager 0.6 percent increase and in 2020, they received a 1.5 percent raise. . Amherst School Committee Chair Allison McDonald said the School Committee made three proposals for a Cost of Living Adjustment (COLA) in response to the union's original request of an annual 9% increase. The first proposal, in March of 2022, was for 2% each year for three years. The second, in June, was 2.5% for one year followed by 2% for the next two. The third, in November, was 2.5% for two years followed by 2% in the third year.
Educators said this does not fairly compensate them for the work they do. "It makes me feel underappreciated," librarian Ella Stocker said at a previous public forum. Educators noted that they have steadily lost ground in their capacity to support themselves over the last six years. In 2021, teachers willingly took a mere 0.6% COLA — a concession to allow paras to gain a $1/hr increase. (Meanwhile, the district gave back $700,000 of unspent funds to the municipalities that same year.) In 2020, educators received a 1.5% COLA. In 2019, they received a 2% COLA. In 2018, most educators received only a $300 increase. In 2017, they received a 1.5% COLA. And in 2016, they received a 1% COLA.
The union points out that among the ways that salary increases are not keeping pace with escalating costs is in the area of health insurance, the burden of which increasingly falls on school employees. In 2022–23, the increase in health insurance costs was 3.8%, and in 2023–24, the projected increase in health insurance is 7.94%. According to the APEA, "The union estimates that the call for COLA increases would not exceed $1.2 million in the budget" and that there is "$8 million dollars in unencumbered [town funds] that could be used."
School Committee member Peter Demling suggested at a recent schol committee meeting that the union should direct its ire at the Amherst Town Council, which controls the purse strings, because it has not alloted enough in its budget to pay the educators more. Demling has also urged the union to join the school committee in looking to the state for relief.
Rally On The Common
Led by a corps of drummers, the protesters marched from the high school up Triangle Street to North Pleasant Street and on to the town common, chanting, "No contract, no peace" and "Two percent won't pay the rent." The line of protestors extended for blocks, stopping traffic for minutes at a time at intersections. Motorists for the most part cheered and honked their horns in support as the marchers passed by, and clusters of parents and their children held signs in support of them. Among the groups joining teachers, para-educators, students, and their families were Valley Free Radio, MTA Wisdom Warriors, AFSCME, SEIU, South Hadley Education Association, ARPS retired teachers, Democratic Socialists of America, and the Western Mass Area Labor Federation.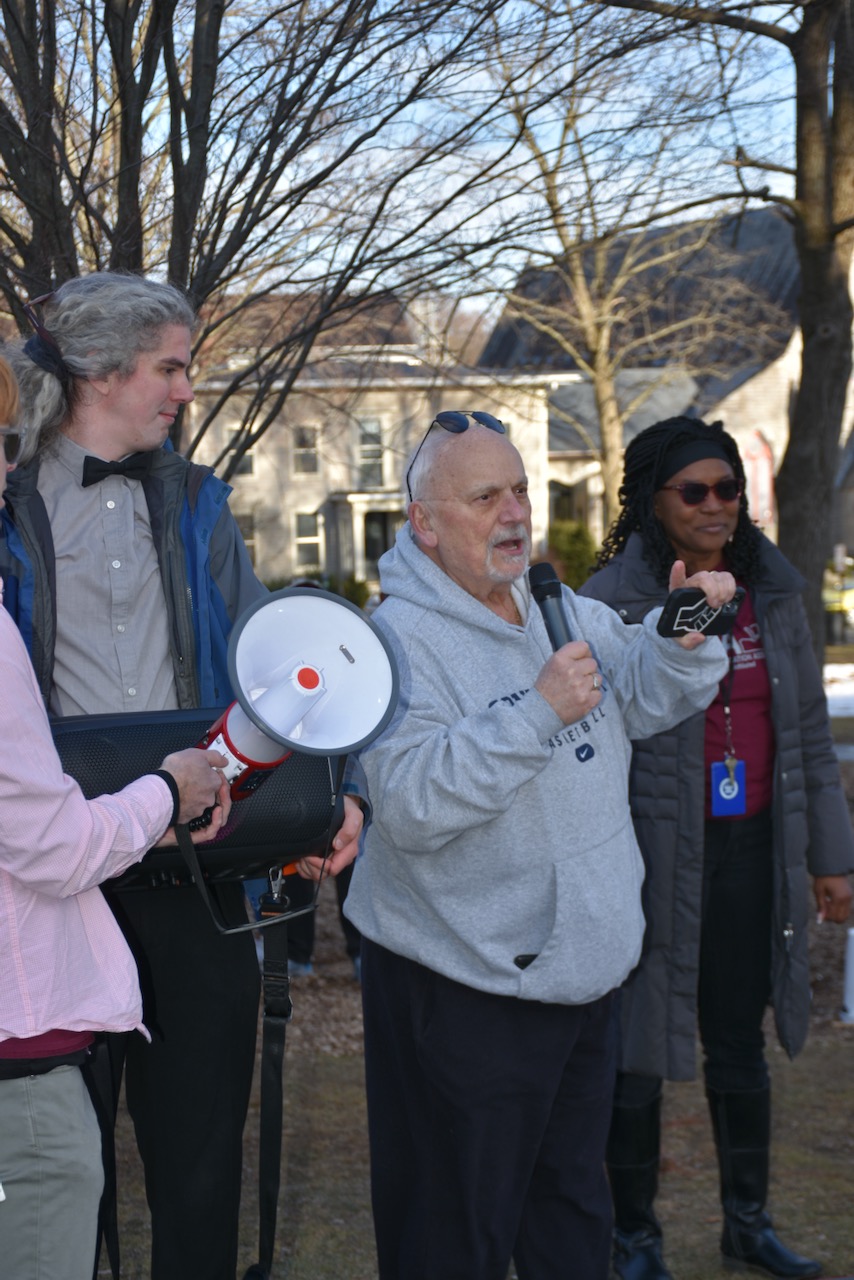 At the common, a series of past and present union members encouraged the assembled to be strong and stay the course. Kip Fonsh, a past president of the APEA and retired teacher at ARHS,said:  "Forty years ago, in my first year as president of the APEA we marched downtown for a fair contract. And we got it. And we got it because back then, you guys didn't give up. And you can't give up now.  They can't get away with telling you there's no money – not if they are building a new school and a new firehouse and a new library. Fight on and fight on to victory."
Educators Are Currently Working To Rule
The APEA has been working-to-rule since February 27, when a vote to do so was supported by 95% of their membership. In a statement on their Facebook page, they said, "We are taking action to show the community all we do and all that is involved in a given school day… As part of 'Working to Rule', we will no longer work voluntarily beyond our required obligations and will enter and leave our classrooms for the day exactly at our contracted work times. This means we are doing only the required parts of our jobs and not going 'above and beyond.' We are taking this action to call attention to our ongoing contract struggle and the lack of progress made related to our expired contract. Our goal is to settle a fair contract that is beneficial to our students, families, and community. We will continue to work during contract hours. We will NOT stay in the building after our contractual work day is over. We will not do any work that is voluntary and unpaid. This will look differently in different schools, but may include tasks such as writing newsletters, purchasing snacks, writing grants, not staffing non-stipended clubs or activities, or working on voluntary faculty committees after hours. We will participate in extracurricular activities that are paid through stipends."
Read More: What It Means When Amherst Teachers To Work To Rule by ARHS teacher Sara Barber-Just