Updated: Assistant Superintendent Doreen Cunningham Placed On Administrative Leave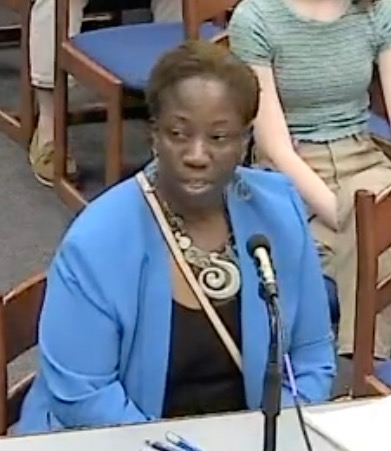 The indy has received reports from two independent and reliable sources requesting anonymity that Assistant School Superintendent Dr. Doreen Cunningham has been placed on administrative leave. No further details were available at the time we went to press. The Indy reached out to acting school superintendent Doug Slaughter for confirmation and comment on late Friday (5/19) afternoon but was unable to connect. A formal announcement is expected after the weekend.
Cunningham has been the target of multiple complaints from parents and school staff for hiring and protecting the three Amherst Regional MIddle School counselors who have been accused of harassing LGBTQA+ students, for unfair hiring practices, and for creating a toxic work environment. Many community members called for her resignation at a school committee meeting on May 16. The Amherst Pelham Education Association issued a letter of no confidence in Cunningham and in Superintendent Michael Morris on May 13. Morris is currently on an indefinite medical leave.

Slaughter Confirms Cunningham's Leave
Acting Superintendent Doug Slaughter confirmed on Monday May 22 in an email to the Amherst Regional Public Schools community that Cunningham had been placed on administrative leave pending the conclusion of an ongoing Title IX investigation at the Middle School. The full text of Slaughter's email follows.
---
Dear ARPS Community:
Many of you are probably aware that last Thursday, May 18, 2023, the Union 26 and Regional School Committees appointed me to serve as the Acting Superintendent for the Amherst, Pelham and Amherst-Pelham Regional Schools while Dr. Morris is on medical leave. As the Districts' Finance Director and an employee of ARPS for 17 years, I care deeply about our students, families and staff and am honored to serve in this role. I look forward to working with everyone in the ARPS community to bring the 2022-2023 school year to a joyful conclusion that celebrates not just our students' milestones, such as graduation, but also their countless daily successes and achievements.
I want to also inform the community that, based on concerns raised in recent days, Assistant Superintendent Doreen Cunningham has been placed on administrative leave pending the conclusion of the current Title IX investigation. Since this is a personnel matter, no further information can be shared until the investigation is complete and the District receives the independent investigator's final report.
As has been said before, if you have concerns or additional information, please reach out directly to Title IX Officer Marta Guevara at guevaram@arps.org or at 413-362-1871.
Sincerely,
Douglas Slaughter, Ph.D
Acting Superintendent