The Pressure Of Students On Amherst Housing And How To Address It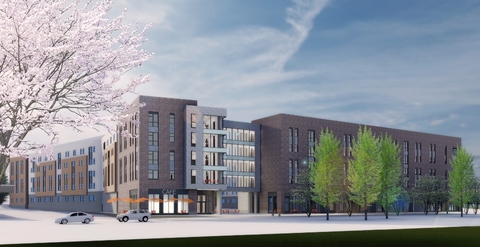 Report On The Meeting Of The Amherst Planning Board August 30, 2023

This meeting was held in hybrid form in the Town Room of Town Hall. It was recorded.
Present
Doug Marshall (Chair), Bruce Coldham, Fred Hartwell, Jesse Mager, Johanna Neumann, and Karin Winter. Janet McGowan was present for most of the meeting on Zoom.
Staff: Chris Brestrup (Planning Director), Nate Malloy (Senior Planner), David Ziomek (Assistant Town Manager), Pam Field Sadler (Assistant)
Communication Between The Town And UMass
Planning Board (PB) Chair Doug Marshall recused himself from this discussion because he works in planning for UMass. Johanna Neumann chaired this section of the meeting.
Town Manager Paul Bockelman told the board that representatives of the town meet with two representatives from UMass every Monday. When the university is in session, he also has on-call meetings on Mondays with public safety officials to review any weekend incidents involving students that took place. In addition, a campus and community coalition formed several years ago to reduce problem drinking among students; it includes people from several social service agencies and is chaired by the fire chief. Town officials also meet with the university chancellor once each semester. And there are three meetings a year about economic development, housing, and infrastructure, attended by relevant town and university staff. Bockelman said he is proud of the strategic partnership agreement recently signed that specifies the obligations of the university to the town.
PB member Karin Winter stated that the housing needs of UMass students crowd people working in town and at the university out of affordable housing. She wants the PB to be involved in communication with the university and to be more proactive in advocating for family housing in town. Bockelman said that the PB can invite university officials to a meeting and give suggestions to university officials, but cannot represent the town in formulating policies or serve as a negotiating party for the town.
Jesse Mager said planning officials at UMass have reminded him that the university has added 800 beds this year and said that it is the town's job to add more. According to Planner Nate Malloy, Amherst has added about 1,500 new beds in the past 10 years. Mager also mentioned that he has received six calls in the past month alone from investors in Boston asking whether he wants to sell his house.
Fred Hartwell said that he has owned a three-family house in Amherst for 50 years and that because the house is owner-occupied, student tenants do not cause problems. He said that off-campus housing for students is a regional problem that should not be solely borne by Amherst.
Bruce Coldham has been talking to planning departments in towns like Amherst, small towns with large universities. He said UMass is about average in providing on-campus housing to about 50% of its students. He said he has been unable to ascertain the total student population in Amherst, the relative proportions of graduate and undergraduate students, the number of each group living on and off campus, living in Amherst, in surrounding towns, and in multifamily (apartment) complexes as opposed to converted single-family homes. He would like to know how this has changed in the past 10 years, and asks, 'what are the predictions for the future?' Malloy said he could probably get most of this data from UMass.
Bockelman boiled down the issues to the effect of student housing on housing and rental prices, and the effect of students on the quality of life in neighborhoods. Winter said, "We want both the university and neighborhoods to thrive. A strong town makes people want to come here to live and go to school." She pointed out that it would be advantageous for UMass if faculty members found it easier to find housing in town.
In public comment, Rani Parker asked if there were any minutes from the meetings between the town and the university. She said that she likes the students, but has concerns about how their housing is managed with small places that are expensive and not well maintained.
Planning For Housing In Amherst
Although the Planning Board did not endorse the zoning proposal put forward by Town Councilors Mandi Jo Hanneke (at large) and Pat DeAngelis (District 2), it did agree with the goals of iTo further its goals of increasing affordable housing for workforce and low-income residents,  and to increase the diversity of the housing stock, the Planning Board will continue its discussions from last spring and has  scheduled three special meetings this fall (see also here). 
Coldham noted two ways to reduce the number of student rentals in neighborhoods: reducing the number of unrelated cohabiting individuals (Amherst currently allows four unrelated individuals; Ithaca, New York allows two) and establishing a minimum distance between student rentals, but both of these actions reduce the amount of housing. He thought a more effective way to reduce the use of single-family homes for student rentals would be to build more multifamily housing in locations desirable for students. The PB had previous identified seven possible locations for additional multifamily housing:
North of UMass, near Puffton Village and Brandywine
University Drive south of Amity
East Amherst Center along Belchertown Road
The north side of College Street near East Street
South Amherst along Pomeroy Lane
Olympia Drive
North Pleasant Street in the Gateway to town
He said that some of these locations may be appropriate for 40R zoning, which eases permitting in exchange for more affordable units and dense development.
Mager asked if the town can place caps on the number of rental permits in town or can designate certain units as student rentals, which could help those not designated be more affordable for families. Planning Director Chris Brestrup said that rental registration permits are in the General Bylaws, not the Zoning Bylaw, and are the purview of the Town Council. The Community Resources Committee of the council has been working to revise the permits for the past year. She said she would be hesitant to put a limit on the number of permits because that might mean that landlords avoid getting a permit. (The proposed rental registration bylaw will increase fees and oversight of rentals.)
Neumann thought that it would be difficult to enforce minimum distances between student rentals in neighborhoods, and Coldham said that some restrictions on student rentals have resulted in legal challenges related to limiting business in State College, Pennsylvania and Newark, Delaware. Both Neumann and Marshall favored housing more students in Amherst to minimize the amount of commuting that students do, but Hartwell noted that parts of Hadley and Sunderland are closer to the university than much of Amherst.
PB members leaned toward plans to revise zoning to permit denser development in certain areas in order to protect neighborhoods. Mager pointed out that this strategy takes time and does not solve the immediate problem of investors buying up single-family homes in order to rent them to students. Winter emphasized a need to protect historic neighborhoods. Brestrup noted that the areas zoned Professional Research Park are underutilized and could be rezoned for housing. Also, the university and colleges own land that could be developed with encouragement from the town. Ziomek mentioned available land in Cushman, North Amherst Center, and Atkins Corner. Neumann suggested that the west side of Kendrick Park, north to the university, be used for student housing; resident Maura Keene shared a visiting friend's comment about how "ugly" the downtown has become with the tall brick buildings right up to the sidewalks. Keene spoke against encouraging similar development on the other side of Kendrick Park.
Malloy said that he would like to designate some areas for students and others for families. He stated that unless there is a way to specify the end user, most new housing will be occupied by students. He also pointed to a need to diversify housing, so that not all new units are studios and one-bedrooms. In addition, he said that there is a need for senior housing in Amherst, and that building more senior housing units might free up single-family homes for new families. Marshall said that most seniors he knows who sold their homes in Amherst have moved away because of the dearth of senior housing here.
In public comment, Hilda Greenbaum suggested that the town hire a firm such as Dodson and Flinker to help revise the Zoning Bylaw, as done in Northampton. The PB will continue its discussion of housing at another special meeting on September 27.
Positions For The Coming Year
By 6-0 consensus votes, the following Planning Board members were selected to serve in the noted roles for the 2023–2024 year. Janet McGowan was not present for the discussion.
President: Doug Marshall
Vice President: Johanna Neumann
Clerk: Bruce Coldham
Representative on the Pioneer Valley Planning Commission: Coldham
Representative on the Design Review Board: Karin Winter
Solar Bylaw Working Group: Janet McGowan
Community Preservation Act Committee: will vote on September 20
Liaison to Community Resources Committee of the Town Council: Chris Brestrup
Next Meeting
There will be no Planning Board meeting on September 6. The next meeting will be on September 20.