Police Chief Listening Sessions Emphasize Need For Change In Agency Culture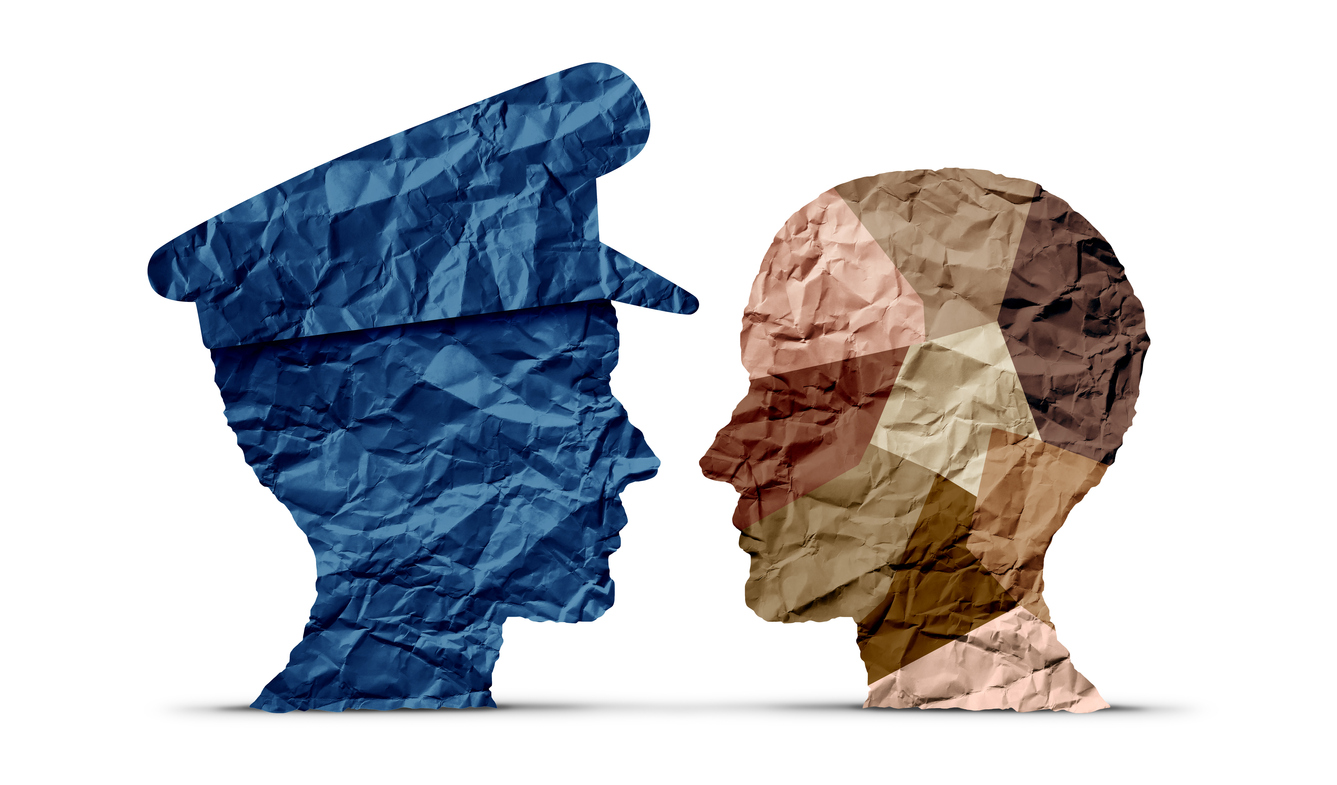 The Town of Amherst hosted two public listening sessions on September 12 to collect feedback on the job search for a new police chief. A morning session was held at the Bangs Community Center and was attended by 31 people. The evening session was held at the Jones Library and was attended by 24 people. Both sessions were moderated by Jon Fehlman and Rachel Glisper from GovHR, the search firm that has been retained by the town to manage the search for a new chief. There was also a session held for students at Amherst Regional High School on September 13 at the request of Town Manager Paul Bockelman. Dean of Students Mary Custard reported during public comment at the Community Safety and Social Justice Committee meeting of September 13 that only a small number of students were invited and participated. She said she thought there ought to be another opportunity for students to offer their perspectives.
According to Glisper, these listening sessions will be the only opportunities for public input to the hiring process. A description of the overall hiring process and timeline is provided further below.

Guiding Questions
Glisper provided attendees with a series of guiding questions to elicit their input.
What qualities and skills do you want to see in a new chief?
What do you want to see the chief prioritize?
Do you feel the police department feels supported right now?
What can the chief do to begin to make systemic changes?
Does the chief have to come from a college town?
What minimum experience do you seek in a chief?

The responses below are taken largely from the morning session. Attendees at the evening session reported that the concerns and suggestions raised were similar to those in the morning session. Members of the public did not identify themselves when they spoke but the crowd was made up largely of people who were well known in town affairs and several were easily identified.
Major Issues
The major issues raised by multiple speakers, were:
Diversity. Amherst is a diverse and culturally complex town and the new chief will need to have the experience and the skills to navigate that complexity.

Relationships. The chief needs to be a good listener and diplomat and be skilled at forging and sustaining relationships and working collaboratively.

Anti-racism and anti-classim. People of Color and residents of low income neighborhoods have historically been targeted, harassed, and over-surveilled in Amherst. This has produced long-standing tensions that can be repaired. Amherst has a reputation for being progressive that is perhaps not entirely earned. The town needs someone who will emphasize building relationships with different constituencies in the community from the start.
Police Culture. The chief needs to understand the history of policing in this country and the role of racial bias in that history.  The culture of policing is a national problem. There is a clear need for change in the intra-agency culture of the Amherst Police Department (APD). There are persistent  tensions between the agency and communities of color. (Several people cited the reports of the  Community Safety Working Group  and those of their consultants). Police responses to public concerns about bias have been consistently defensive, resentful, and isolating. Resolving those persistent problems will require a chief committed to changing the internal culture of the agency and to have the leadership skills to make that happen. The chief has to like his police officers and also set higher expectations for them. 

Build On Prior Work. The new chief should arrive with an awareness of the multiple reports that came out of the CSWG and their consultants and of the specific recommendations from those reports, and should arrive with a commitment to embrace them.
CRESS. There was much concern about the future of the town's community responders department, CRESS, and concern that the new chief be aware of the founding intention that CRESS be an independent agency and not within the police chain of command and that it exists to respond to public safety issues that are more effectively addressed outside of the sphere of policing.

Public Involvement. A concern (especially at the evening session) that this search will be another insular search process that largely excludes the public. Residents warned that failure to include the public in the process beyond these listening sessions is setting up the new chief for failure. The public should be involved in all stages of the search and should have an opportunity to meet and engage with the finalists. Concerns were raised that only two listening sessions were scheduled and that both were in-person. 

A Sampling Of Specific Comments
While issues of racism and white supremacy were raised by several attendees at both sessions. at least two residents at the morning sessions questioned whether this was an issue with the APD. Former Town Councilor George Ryan said that he believes Amherst police officers feel judged and condemned and that he has spoken with several police officers about this. "All they hear is the criticism and not praise for the good work that they do," he said.
But Paul Wylie and Russ Vernon-Jones responded that the role of racism in police culture in general and within the APD in particular, can't be minimized.  Wylie said "There's a lot of racial bias built into the system, which  produces mistrust and judgment on the part of  both cops and the public. And there are problems built into policing in general — that systemic bias has to be dismantled.  I'm thinking about what's happening in Minneapolis (police misconduct, excessive use of force, and racism, see, e.g., here and here)  – the things that happen nationally do trickle down.  A new chief will need some humility and accept what needs to be done and that the cops can't do everything."  He later added, "Police culture is part of the problem. And the emphasis has to be on the vulnerable, the inequities, the power differential."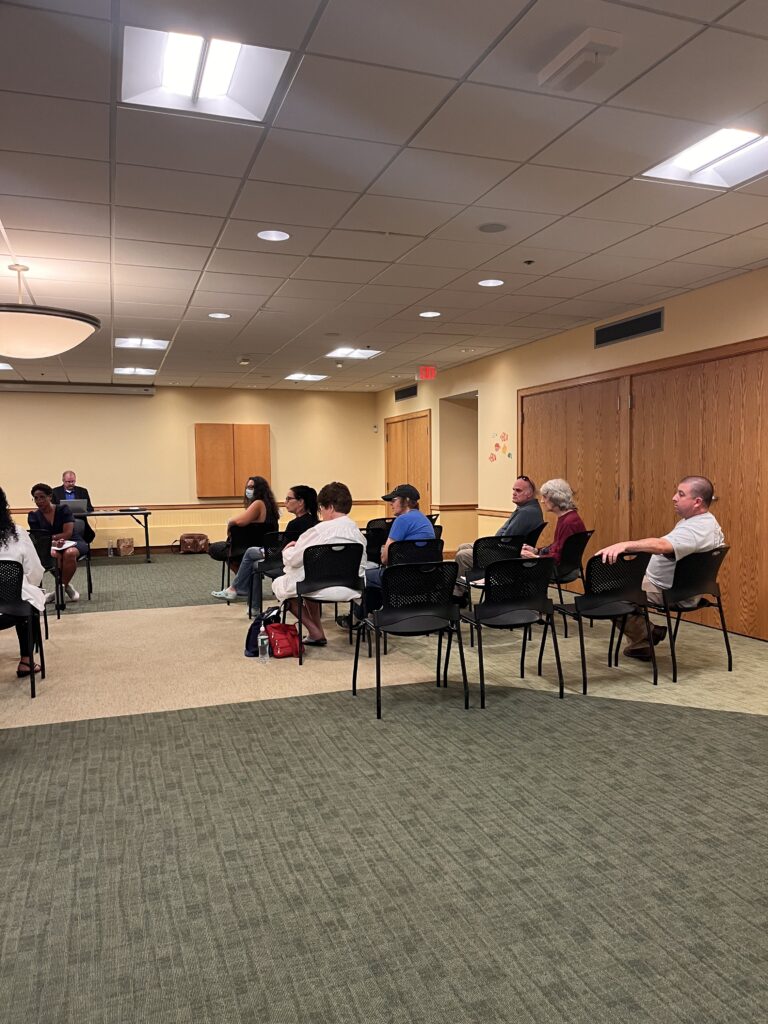 Wylie emphasized that this is an issue throughout the country.

Others raised their concern about the July 5, 2022 incident in Amherst where black teenagers were detained by the APD and told they had no rights.

Vernon-Jones, who was a member of the Community Safety Working Group (CSWG) said that their work revealed that many white people in Amherst felt that they were well-served by the police whereas many BIPOC people felt surveilled by the police. He said there is a lack of trust among these BIPOC residents and the police chief needs to be able to build trust and improve this situation.  He said that there is not a good history of the police listening to the BIPOC community and that coming off of last summer's incident, there is a high level of fear among youth of color toward the police. He said, "We need a chief who will support genuine oversight, an empowered Resident Oversight Board, and not just give lip service. This  means communicating and engaging with people in the community and especially those who are currently not being served well."

Vernon-Jones later said that all of this comes down to culture and leadership that is less about command and more about building a better culture, a chief who is more of a coach than a top-down commander. He said that the CSWG has recommended getting rid of low-level traffic stops and that this could be a jarring suggestion for the agency. He said that we need a chief who is open to what the CSWG has learned. He noted that while we haven't had the violent traffic stops in Amherst like those that have been reported elsewhere, the BIPOC community has testified to being harassed in low-level stops.

Maria Kopicki noted that current town leadership has not been inclined to communicate with or respond to the public's concerns and that has intensified existing problems. She suggested that the chief ought to be a good communicator who is quick to respond to the public's concerns. She also said the chief needs to recognize that there is a power differential here – and indeed all people with power in town need to recognize that differential. She said the chief is going to have to help dismantle the siege mentality in the town where power defends power.

Kat Newman, a member of the new acting management team at CRESS underscored the importance of the chief embracing the mission of CRESS and seeing CRESS as a partner in promoting public safety. She said, "It's important that the new chief does not see CRESS as a threat to the police but as a valued partner in public safety in Amherst. He or she should be someone who understands that the police are not often the best responders to a dispatch call." She said CRESS should be an independent entity with its own leadership and agenda and not subordinate to the police. "There's still some stuff to be worked out about dispatch and we need a police chief who will support CRESS having the independence to handle the calls that are appropriate for them," she said.
Others said they hope to have a chief who is fair and reasonable and open to new ideas and  receptive to hearing from the community – someone who will work well with his or her staff and with CRESS and with the diverse public constituencies.

Almost everyone thought that it is important that the chief understand the unique nature of a college town and have some experience working in a college town. Someone noted that the way you police college students is different from the way you police the elderly. And college towns are quite different from an urban setting. Newman noted that "there's a marked difference in the way the Springfield police officers engage with their community and the way that they police and that just wouldn't work here. The new chief needs to understand that." 
Most of those who commented felt that someone coming into a town like this with three colleges and most of the population being students needs to have small college town experience. They said a chief without this experience might feel a "culture clash" and that would be a recipe for failure. Some felt those things can be learned if the person has the relationship building skills. Several said they would be open to considering someone who had no college town experience if they checked all of the other boxes.
Someone said the town needs a chief who will be a culture builder in the department and that means there has to be some intention to stay here for a while. Another noted that many younger people don't have the same issues with prejudice and racism that their parents have and that, therefore, we might find someone more receptive to what we need in a younger candidate. A few respondents voiced their preference for a  younger person but with sensitivity to the needs of Amherst's sizeable aging population.

Maria Kopicki closed out the session raising concerns about the process – concerns that were echoed in the evening session. She said "What will be the process here? In this town there are lots of listening sessions but they are often not connected to the actual final decision and the process is often not inclusive and mostly opaque. It is critical that this not be the case here because underlying a lot of the tensions in our town is a lack of trust."
BIPOC And LGBTQ Groups Weigh In At The Evening Session
At the evening session representatives of the ad hoc Black, LGBTQIA+, and Latinx caucuses of Amherst read the following statement:
The ad hoc Black, LGBTQIA+ and Latinx Caucuses of Amherst are unified in our commitment to advocating for accountability, equity and transparency in all places where power is held and people are impacted, including the Amherst Police Department. In an effort to protect the safety and wellbeing of marginalized people in the Amherst community we make the following asks about the process and selection of a new police chief:
Asks Related To The Search/Process:
1. Paul Bockelman cannot determine who sits on the hiring committee. A democratic process is needed to determine who sits on the committee.
2. The police chief should not report to the town manager. He or she is appointed. He or she should report to the Town Council which is an elected body.
3. There must be a way to ensure equal access to this process. There must be representation on a hiring committee inclusive of gender, race, age, socio-economic, etc.
4. Paul Bockelman should not unilaterally be making the final hiring decision. The voices of those on the hiring committee should determine who the Chief will be. The process should involve some sort of collective consensus/ rating system that determines who the clear top candidates/finalists are for the position.
5. Do an extensive background check to ensure that this person is who they appear to be. This should include a plan to go to neighborhoods where the finalists work and see what people's thoughts/ interactions/ experiences have been.
6. We want a public forum in which the finalist can answer questions and interact with people in real time before any final determination is made.There should be time after the forum for members of the public to provide feedback for the hiring committee to review before any final decision is made.
Asks Related To The Chief:
1.) Commitment to transparency with demographic data collection that the public can easily access on the town website.
2.) Commitment to a reduction of police department size and budget.
3.) Support for the Residential Oversight Board that will provide oversight for the Amherst Police Department.
4.) Experience building trust and confidence among marginalized groups.
5.) Willingness to ensure equitable language access to residents to improve trust and cooperation.
6.) Commitment to communicating with the public promptly and following a process with transparency and accountability whenever there is a complaint of police misconduct or a police misconduct incident involving the public.
7.) Commitment to supporting restorative justice and warnings instead of arrests.
8.) Commitment to refraining from a predetermined number (quota) of tickets to generate revenue unrelated to safety issues.
9.) Commitment to reforming policies and procedures that target low income neighborhoods and push vulnerable individuals into the legal system.
10.) Commitment to anti-oppression with a background that demonstrates their commitment through meaningful actions in prior leadership roles.
11.) Commitment and plan to diversify the police department itself.
A Brief Summary Of The Search Process

Two listening sessions and meetings with key stakeholders
GovHR – report that highlights themes for town manager and HR director
Town staff will create the recruitment document
Job Posted
Appoint screening committee (apparently to be drawn from town staff)
Applications vetted by town staff
GovHG will be interviewing candidates and will take a deep dive into credentials including a social media review. GovHG will submit 3-5 candidates to the town manager.
Town manager makes a recommendation from among the finalists, which will then go to the Town Council for approval.

Search Process Details
Hiriing Protocol Proposed In Town Manager's Memo Of August 12, 2023