DISTRICT FIVE RESIDENTS FORM NEIGHBORHOOD ASSOCIATION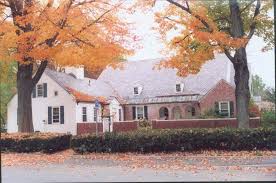 Thirty Two residents from District 5 met at the Munson Library on Wednesday evening (9/25) to discuss the formation of a neighborhood association. The event was organized by former Charter Commission member and District 5 resident Irv Rhodes. Currently only District 1 has an active neighborhood association. That group, known as DONA, (District One Neighborhood Association) has been meeting for about 15 months. bringing neighbors together both to socialize and to mobilize around issues of common interest. (Read more about DONA here).
Need for a Neighborhood Association
Rhodes shared his belief that District 5 would benefit from similar organizing. He noted that District 5 is the largest and most diverse of the town's five districts. He summarized the substantial issues facing the district including the impending purchase of Hickory Ridge Golf Course, the planned location of a new DPW complex and Fire Station, the possible construction of a new school and many traffic and safety issues. And he suggested that all residents would benefit by studying these issues together so they can make their interests clearly known to their elected representatives and get out in front of issues rather than reacting to them after key decisions have been made.

Some people at the meeting expressed perplexity at how government decisions get made and Rhodes pointed out that an association would help residents better understand how government works and would enable them to work more effectively with our government.

Rhodes reminded the group that the Charter Commission envisioned a new government with robust civic participation and that a neighborhood association is one way of promoting that. And he said that it is good if our representatives know well in advance of making decisions, how people who will be impacted feel about things.
The DONA Model
Two speakers from DONA, Meg Gage and Mary Jane Laus shared their stories about the work that DONA has been doing. They noted that District 1 is Amherst' s most rural district and it's most economically challenged, having been designated as an economic opportunity zone, that is, an area designated by the federal government which is eligible for special investment consideration as a "blighted area". They pointed out that there are 11 apartment complexes in District 1 and that it is both culturally rich and affordable. And they said that they see DONA as a "chamption of the wonderfulness of their district" and also a concerned body of citizens who are able to organize to meet their district's special challenges. They emphasized that a core organizing principle of DONA is that it is politically neutral and draws its membership from across the political spectrum. Gage noted that DONA tends to stay away from issues that might divide them politically and focuses instead on the issues that people agree are of common concern. "We like to think or ourselves as providing an effort to counter the polarization that came out of the charter campaign" she said. Hence, DONA has focused on things like traffic and safety concerns in North Amherst, on bringing restrooms to the North Amherst Library, on social events that bring the community together such as a picnic and a district hike and on civic education, such as a recent gathering in which residents had a chance to pose questions to one of the developers of the proposed Eruptor project.

Gage said –" we want to be the conduit for addressing issues that impact our district, to advocate for our district and for mobilizing around our common interests". The idea is to help people understand how our new government works and how/where to plug in. Gage noted that the work of DONA has been impactful. District 1 has two dangerous intersections. DONA mobilized 30 people to attend the last Transportation Advisory Committee meeting, and brought people from both sides.of the issue. DONA doesn't so much take advocacy positions as it enables/facilitates advocacy for issues. But, Gage noted "we have been advocating for sidewalks and as a result the town has undertaken a study". "We have also undertaken a capital campaign to pay for installing toilets in our library " she said.

DONA does not collect dues but does take up a collection at every meeting and people involved tend to donate money or food. Gage recommended that in getting started , District 5, would need a core group of at least six people to keep things going and to run the separate committees.

Creating an Association in District 5
Rhodes then led a discussion of what such an organization might look like in District 5 and on why it would be a good idea.

John Hornik noted that "there are things that we could get ahead of and figure out what we would like to see while proposed projects are in the early stages." He suggested the examples of the future disposition of the abandoned South Amherst School building and the impending purchase of Hickory Ridge.

One resident expressed concern that an association might be seen as adversarial by our elected officials or might be perceived as working at cross purposes to the government. Rhodes assured them that he has been consulting with the District's two councilors, Darcy Dumont and Shalini Bahl-Milne and that both have encouraged his efforts.

Hornik pointed out the participating and being informed is not adversarial. But what gets people upset is when they feel that they have been left out of the process or when committees do all the work and information or feedback only comes in after decisions have been made.

Laus shared that the really gratifying thing about DONA is that they have been able to pull neighbors together to work on things together with the goal of breaking down the us/them polarization that remains from the charter and school issues.

Rhodes wrapped up the meeting by calling for volunteers to form the core committee that will meet to set up an organizational structure and schedule future meetings. The following people volunteered.

Marian Templeton
Bruce Penniman
Amy Crawley
Jan Marquardt
Paul Goulston
Maria Dye
Contact
Residents who would like more information or who would like to help with the association's start-up can contact Rhodes at rhodesamherst@aol.com