Not Bread Alone Will Host Thanksgiving Dinner on Thursday November 26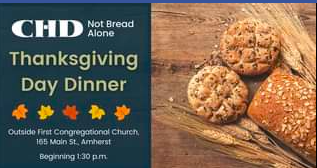 Source: CHD

The Center For Human Development's Not Bread Alone Community Meal Program in Amherst will continue its tradition of serving a Thanksgiving meal on Thanksgiving Day, Thursday November 26, at the First Congregational Church, 165 Main Street in Amherst beginning at 1:30 PM.

As Not Bread Alone continues to serve meals in a "to-go" style and guests will be able to pick up their Thanksgiving meals from the covered sidewalk behind and alongside the church. Volunteers will be preparing and distributing meals beginning at 1:30 PM.

For more information on Not Bread Alone look here.
For a story about area meal services during the holiday season, look here.