Teachers' Union Officials & School Committee Meet After Long Impasse In Attempt to Rebuild Working Relationship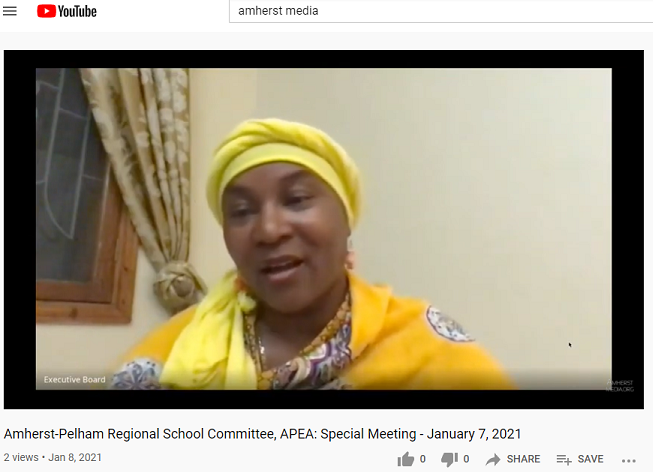 Union To Announce Tuesday If It Will Negotiate Again Over Opening Schools During Pandemic
The Amherst Regional School Committee (RSC) and the Amherst Pelham Education Association (APEA) executive board met virtually on Jan. 7, amid a new effort to restore trust between the two parties.
"There may not be any closure, or any solutions that will take place tomorrow, or answers to some of the pressing questions … it's just the start of a conversation," said Assistant Superintendent Doreen Cunningham. who served as moderator. (Amherst Media's video of the meeting is here.)
The agenda called for discussion on "meeting the educational needs of our students during this pandemic, and how we can safely get students and staff into buildings." Details about the return of students were not explored.
Communication between the school committee and the union of teachers, paraprofessionals, clerks and school nurses has been minimal in recent months, as district officials pressed for changes to a Sept. 30 agreement on opening school buildings during the COVID-19 pandemic.
Most Amherst Regional Public Schools (ARPS) students are learning remotely and have not been in school buildings since last March. After some building renovations, purging of clutter, HVAC improvements and classroom reconfigurations, among other measures to reduce COVID-19 transmission, district officials planned a phased reopening last fall. The plan called for initial return of the district's youngest children, English language learners and those with special needs, with gradual addition of later grades, but was stalled by regional case numbers rising above the agreed limit.
The possibility of additional, regular meetings between the APEA and RSC was suggested Thursday by Cunningham, but no future dates were set publicly.
"We believe it is critical for us to work together and communicate respectfully," said APEA Acting President Lamicka Magee on Thursday, adding that she hoped the meeting would lead to "a common understanding of what we need to do to serve our students and our families."
 
Regional COVID-19 Caseload Now Over 10 Times The Agreed Limit for Opening Amherst Regional Public School Buildings

The existing "Memorandum of Agreement" between the school committee and the union calls for school buildings to close when the region's COVID-19 cases reach more than 28 per 100,000 people over seven days. As of Jan. 8, the weighted formula's result (combining data from Hampshire, Hampden and Franklin Counties) surged to 298.3 cases per 100,000 people over seven days, more than ten times the agreed limit.
However, some parents and school committee members have cited concerns about extended remote learning. The difficulties include child isolation and mental health issues, lack of daytime supervision on computers for children of working parents, and increased absences among the district's low-income and minority students. Remote learning is not beneficial or practical for all children, some parents have said, adding that Individualized Education Plan (IEP) terms are not being upheld.
"For some students, there is a ceiling to what remote learning can provide," School Committee member Peter Demling said at Thursday's meeting.
Two hundred and forty district parents signed a petition filed with the Amherst Town Clerk and the school committee on Dec. 21, calling for an "Open Meeting of the Residents" under the Amherst Home Rule Charter. The petition was drafted by Amherst parent Bill Kaizen, whose Dec. 18 letter to the school committee is here. (Kaizen is an Amherst Indy editor.) Planning for the "community forum" is listed on the school committee's agenda for its next meeting on Tuesday, Jan. 12. (The full agenda is here.)
"Positive Vibes" Noted, But Meeting Was Not A Negotiation Session

Magee said many statements in the media have questioned the union's dedication to students and the community.
"Educators have worked tirelessly to serve our students remotely," she said, adding that it is untrue that teachers don't want to be in school buildings. "We want everyone to be healthy and safe," she said.
The APEA has said it will respond to the school committee's most recent request for new negotiations on Tuesday, following a Monday meeting of its executive board and representative council.
Thursday's special meeting between the APEA and RSC did not constitute actual negotiations, School Committee member Peter Demling noted. "It is good to hear the positive vibes here," he said. "(But) nothing that we're talking about here is about resolving differences, and the MOA (Memorandum of Agreement)."
APEA board member Margaret Todd said she was unhappy to receive emails from parents wanting open buildings, who asked staff to attend union meetings "and vote in their favor."
"I just feel like this is a huge violation of boundaries," Todd said, adding that the school committee and administration "really missed the opportunity to stand up for educators."
Cunningham, who is assistant superintendent for diversity and human resources, discouraged further discussion of the email issue, stating that parents were not present at Thursday's meeting to respond.
(An Amherst Indy article regarding an email sent by 151 parents to teachers and staff in early December is here.)
The attendees were asked about their decision-making process, and RSC Chair Allison McDonald said her committee of volunteers has to consider the well-being of many stakeholders. It has been "exceptionally challenging," to try and balance their competing needs, McDonald said.
"All of us have been struggling to make choices that we never in a million years thought we'd have to make this year," added School Committee member Kerry Spitzer. Spitzer said there is a "whole spectrum of needs," in the community, and flexibility will be required to "meet the needs of at least the most vulnerable."
Mangala Jagadeesh of the APEA Board said the meeting was "a first step to repair the relationship between the APEA and the RSC," and that the media should not be used in an attempt to bully or direct the parties involved.
School Committee member Ben Herrington, who is also the district's assistant facilities director, said that for school buildings to reopen, district officials and teachers will need to trust one another. "What we need to step into our schools right now is faith – not blind faith, but informed faith," he said.
District To Seek Waiver Of Remote Learning Time Requirement Over Related Class Size Concerns
Schools Superintendent Michael Morris was given the go-ahead by the RSC on Tuesday (Jan. 5) to request a waiver from the Department of Elementary and Secondary Education from a new requirement that students receive a minimum of four hours per day of live or "synchronous" instruction. The requirement followed a Board of Elementary and Secondary Education vote in mid-December, based on growing concerns over childrens' mental health.
Morris said the Amherst and Pelham elementary schools are below the minimum, and achieving it would require that children meet virtually in large groups, a model which the district found was not effective for young children. An electronic survey found that the majority of district families -about 70% – believe their children receive enough live instruction, and would like them to remain in smaller groups, Morris said. "Based on the survey data, I feel comfortable applying for a waiver," he said.
Although the state minimum for live instruction was adopted out of concern for children's mental health, Morris said "there is no evidence that there is any magic number," of hours that would lead to improved well-being.
Meanwhile, Morris and the RSC discussed that the district is expanding "remote learning center" capacity. The centers provide adult supervision while students learn remotely on their laptops. By the month's end, there will be 40 seats in the Amherst Recreation Department's program, and 20 in the Mark's Meadow Afterschool Program, both located in the middle school. The district can service 15 students with intensive special needs in a separate program at Amherst Regional High School.
Statewide Caseload in Public Schools Declines Following Winter Break
Massachusetts public schools reported 431 new cases of COVID-19, including 178 among students and 253 staff who had some access to school buildings during two weeks from Dec. 24 to Jan. 6. Most schools statewide were closed for part of the time, for winter break. The new total number represents a decline of 518 cases from the prior one-week tally. A related Masslive article is here.
On Friday, Gov. Charlie Baker also announced a new "pooled testing" program for public schools, where 10 nasal swabs will be bundled together for less-expensive monitoring of infection rates. (A related article is here.) Amherst is also among the 134 school districts approved for a rapid symptomatic testing program begun in November.
Permanent Later Start Time Proposed for Middle & High School
This week, the School Committees endorsed a two-month community engagement process, about the prospect of a permanent later start time for secondary schools.
Morris said the district received a lot of feedback from families and students noting their appreciation of the 9 a.m. start adopted this year for remote learning. Morris said that research is "incredibly conclusive" that later start times for secondary school students contribute to better outcomes, particularly among underserved populations.
The RSC had considered the change in 2011, but ultimately tabled the matter. Northampton has just recently adopted a later start time for its middle and high school.
Morris said a later start time for the middle and high school would impact elementary school schedules due to bus transportation issues. Various scenarios were discussed at Tuesday's meeting, including that elementary schools could start at 8:15 a.m., and secondary schools at 9:05 a.m. All district bargaining units would have to be involved in schedule changes, Morris said.
After December Decline, UMass COVID-19 Caseload Rises
Amherst held its place in the "yellow," or moderate-risk category in this past week's state Department of Public Health report, while 27 western Massachusetts cities and towns were deemed high-risk, according to a Western Mass. News article. Those municipalities include Belchertown, Chicopee, Easthampton, Granby, Hadley, Holyoke, Ludlow, Palmer, South Hadley, Springfield and others.
The DPH report shows an adjusted average daily caseload in Amherst of 20.2 per 100,000 people.
Town-wide, there were 126 "active" COVID-19 cases in Amherst as of Jan. 8. The Town's COVID-19 website shows a total of 927 cases here since the pandemic began.
The case numbers among off-campus students at UMass slowed in late November when winter break began, but the UMass COVID-19 Dashboard, last updated on Jan. 8. shows an uptick, including 35 cases tied to testing on Jan. 4. The dashboard shows a cumulative total of 651 cases in the UMass community since early August, including 552 cases among off-campus students, 27 on-campus, and 72 among staff and faculty.
In the 14 days ending Jan. 5, there were 130 new COVID-19 cases in Amherst, according to DPH.